Systematic review
Open Access
Open Peer Review
This article has Open Peer Review reports available.
Identifying the barriers and enablers for a triage, treatment, and transfer clinical intervention to manage acute stroke patients in the emergency department: a systematic review using the theoretical domains framework (TDF)
Implementation Science
2016
11:157
Received: 18 May 2016
Accepted: 18 November 2016
Published: 28 November 2016
Abstract
Background
Clinical guidelines recommend that assessment and management of patients with stroke commences early including in emergency departments (ED). To inform the development of an implementation intervention targeted in ED, we conducted a systematic review of qualitative and quantitative studies to identify relevant barriers and enablers to six key clinical behaviours in acute stroke care: appropriate triage, thrombolysis administration, monitoring and management of temperature, blood glucose levels, and of swallowing difficulties and transfer of stroke patients in ED.
Methods
Studies of any design, conducted in ED, where barriers or enablers based on primary data were identified for one or more of these six clinical behaviours. Major biomedical databases (CINAHL, OVID SP EMBASE, OVID SP MEDLINE) were searched using comprehensive search strategies. The barriers and enablers were categorised using the theoretical domains framework (TDF). The behaviour change technique (BCT) that best aligned to the strategy each enabler represented was selected for each of the reported enablers using a standard taxonomy.
Results
Five qualitative studies and four surveys out of the 44 studies identified met the selection criteria. The majority of barriers reported corresponded with the TDF domains of "environmental, context and resources" (such as stressful working conditions or lack of resources) and "knowledge" (such as lack of guideline awareness or familiarity). The majority of enablers corresponded with the domains of "knowledge" (such as education for physicians on the calculated risk of haemorrhage following intravenous thrombolysis [tPA]) and "skills" (such as providing opportunity to treat stroke cases of varying complexity). The total number of BCTs assigned was 18. The BCTs most frequently assigned to the reported enablers were "focus on past success" and "information about health consequences."
Conclusions
Barriers and enablers for the delivery of key evidence-based protocols in an emergency setting have been identified and interpreted within a relevant theoretical framework. This new knowledge has since been used to select specific BCTs to implement evidence-based care in an ED setting. It is recommended that findings from similar future reviews adopt a similar theoretical approach. In particular, the use of existing matrices to assist the selection of relevant BCTs.
Keywords
ImplementationBarriersEnablersTheoretical domains frameworkAcute strokeEmergency department
Background
Clinical guidelines recommend that the assessment and management of patients with stroke should commence early in the pre-hospital setting and hospital emergency department (ED) [1]. Despite the recent advances in interventions for the management of acute stroke, only a small proportion of individuals receive recommended evidence-based treatment in the hours following acute stroke [1, 2]. For example, thrombolysis using intravenous tissue plasminogen activator (tPA) is currently one of the few evidence-based treatments available for acute ischaemic stroke, however, internationally rates are variable, ranging from 5% in the USA [3] to 14% in some European Centres [4]. Furthermore, outcomes are improved by early administration (within hours) of tPA after symptom onset. However, in-hospital delays are often a significant obstacle in achieving early administration of tPA [5].
Determining the inhibiting factors (barriers) and supporting factors (enablers) for implementation of research evidence, is a well-established requirement to improve the quality of patient care [6]. It has been demonstrated that a theoretical approach to assessing barriers and enablers can effectively be used for developing tailored informed strategies to support the effective implementation of evidence-based practices, such as hand hygiene [7]. Systematic reviews offer a way to synthesise the broad range of barriers and enablers reported in individual studies and provide a broader understanding of the influences on evidence-based treatment uptake. Findings from such reviews can be used to inform the development of effective interventions to implement evidence-based care in clinical settings.
In stroke, systematic reviews have been conducted to identify barriers and enablers to implementing elements of stroke guidelines. These have usually been studied at an organisational level and have included pre-admission barriers such as non-recognition of stroke [8], triaging of stroke as non-urgent by both ED and ambulance staff [8, 9], delays in accessing imaging [8] and inefficient hospital processes and protocols [8, 9]. Data included in these reviews were based on retrospective analyses of hospital databases [5, 10] national registries [11], or prospective cohort data. The main limitation of these reviews is that the barriers and/or enablers were based on the authors' perceptions or explanations rather than based on healthcare staffs' perceptions or beliefs.
Recently, within the implementation science literature there has been increasing importance placed on the development of behaviour change interventions [12, 13] using theoretical models or frameworks such as the Theoretical Domains Framework (TDF) [14]. The use of theory is important to understand the factors that influence healthcare professionals' behaviours, to inform the use of possible behaviour change techniques (BCTs) and to provide clarity as to how these techniques might work [15, 16]. Interventions are said to be more effective if interventions are based on evidence-based principles drawn from theories of behaviour and behaviour change [17].
The TDF is a framework of originally 12 domains [14] (now 14 domains [18]). The theoretical domains were derived from 33 behaviour change theories and developed using a process of expert consensus with subsequent validation work. To facilitate the application of BCT taxonomy and to assist the selection of relevant BCTs a matrix has been developed which is based on identifying links between specific BCTs and theoretical constructs such as those used in the TDF [19]. The TDF has been used in a number of healthcare settings to study implementation and more specifically assist in the development of implementation interventions [16]. The TDF has also been used as a coding framework for the analysis of barriers in systematic reviews [20–22]. In one study the TDF allowed the researchers to explore, explain and potentially target, using sophisticated behaviour change interventions, complex relationships, for example, limited "knowledge" appeared to influence healthcare professional's 'emotions' [21].
In the Quality in Acute Stroke Care Study (QASC) the investigators demonstrated significant benefits for patients who were cared for in acute stroke units (ASU) in which staff had received support for implementation of protocols to manage fever, hyperglycaemia, and swallowing dysfunction [23]. The QASC trialists recommended future trials to examine the multidisciplinary intervention in other settings, such as the ED, to ensure patients had rapid access to these evidence-based protocols [23]. Prior to the development of an implementation intervention to deliver such evidence-based protocols, we undertook a systematic review of qualitative and quantitative studies to identify the barriers and enablers specific to an ED setting. The findings from this systematic review will inform the use of specific BCTs to develop an implementation intervention.
Aim
The aims of this systematic review were to:
Identify the reported barriers and enablers to implementing the following evidence-based care elements (hereonin referred to as target clinical behaviours): appropriate triage, thrombolysis administration, monitoring and management of temperature, blood glucose levels, and of swallowing difficulties and rapid (within 4 h of arrival to ED) transfer to the ASU

Classify reported barriers and facilitators using the TDF

Select the BCT that best aligned to the strategy each enabler represented using standard taxonomy
Methods
Inclusion and exclusion criteria
Studies were eligible for inclusion, regardless of design, if the study:
Aim was to identify the barriers and/or enablers for any one or a combination of the target clinical behaviours in the ED of a hospital (Table 1) and

Included the views/perceptions of healthcare professionals regarding the target behaviours who worked in ED.
Table 1
Target clinical behaviours
Clinical behaviour

Description

Triage

All patients presenting with signs and symptoms of suspected acute stroke should be triaged as Australian Triage Scale Category or 2 (seen within 10 mins)

Thrombolysis

All patients to be assessed for tPA eligibility

All eligible patients to receive tPA

Management of temperature

All patients to have their temperature taken on arrival to Emergency Department (ED) and then at least four hourly whilst they remain in ED

Temperature 37.5 °C or greater to be treated with paracetamol (acetaminophen) within one hour

Management of blood glucose levels

Venous blood glucose level (BGL) sample sent to laboratory on admission to ED

Finger prick BGL recorded on admission and finger prick BGL monitored every 6 h (or greater if elevated)

Insulin administered to all patients with BGL > 10 mMol/L within one hour

Swallow assessment

Patients to remain nil by mouth until a swallow screen by non- Speech Pathologist (SP) or swallow assessment by SP performed

All patients who fail the screen to have a swallowing assessment by a SP

Transfer

All patients with stroke to be discharged from ED within 4 h

All patients with stroke to be admitted to the hospital's stroke unit
Abstracts, letters, editorials, and commentaries were excluded. No restrictions were placed on country, written language, or year of publication.
Search methods for identification of studies
The search strategy was developed using search concepts (groups of words; Appendix). Potentially relevant studies were identified through a search (inception to August 2016) of the following electronic databases: CINAHL, OVID SP EMBASE, OVID SP MEDLINE, and Web of Science. Other databases that were searched included: OVID SP PubMed Central; The Joanna Briggs Institute EBP; Database ProQuest Dissertations & Theses Full Text. The following grey literature databases also were searched: Agency for Healthcare Research and Quality (AHRQ); Open Grey and Grey Literature Report.
The Science Citation Index (Web of Science) was searched to identify further studies that had cited the studies included in the review. Reference lists of included publications were searched to identify additional studies.
Search strategy
The search strategy applied to the databases was a combination of Medical Subject Headings (MeSH) terms such as: "Health Plan Implementation" and "Evidence-Based Practice", as well as additional keywords such as "barrier", "uptake," and "enabler", and relevant synonyms. The MeSH terms and keywords were generated for each of the search concepts by examining the terminology and database indexing used in relevant papers. The search strategies were reviewed by a University Librarian with experience in database searches, prior to the search being undertaken.
Screening process
The titles and abstracts of retrieved references from the search were screened by a single reviewer to exclude obviously irrelevant studies. The full article of any study that met the inclusion criteria was reviewed by at least two of the authors (EM, LC, or SM).
Data extraction
Data were extracted using a standardised form by one reviewer (LC), with a sub-set of included papers (
n
 = 15 [30%]) being extracted by a second reviewer (EM or SM). Data collection included full study characteristics such as author, date of publication, study design and the reported study findings, i.e., barriers and/or enablers. Barriers and/or enablers based on primary data were extracted using theme headings and theme descriptions in qualitative studies and extracted from tables presenting questionnaire responses to pre-specified barriers and/or enablers in the quantitative studies (Table
2
). Six of the nine included studies [
24
–
29
] focused on one target behaviour which was easily identifiable from the title on screening and the aim and method sections on data extraction. The remaining three studies [
30
–
32
] focused on stroke pathways or key stroke care recommendations whereby the target behaviours of interest were identified in the methods and results sections of the individual studies. If the lead author was unclear which target behaviour the data represented this was cross-checked and discussed with another author (SM or EM). Authors of included studies did not distinguish between modifiable and non-modifiable barriers/enablers.
Table 2
Characteristics of included studies
Author/date

Aim of study

Design

Method of data collection

Source of barrier/enabler data extraction

Participants

Daniels et al. (2013) [24] USA

To identify strategies for effective implementation of swallowing screening in patients with stroke symptoms that presented in ED

Qualitative

Staff interviews

Barrier and enabler themes

ED nurses (n = 8)

Gache et al. (2014) [30]

France

To identify the main barriers to effective implementation of Stoke Care Pathway in France

Qualitative

Semi-structured interviews

Barrier typology derived from data

Emergency physicians, neurologists, geriatricians, social workers, health care workers in rehab and nursing homes (n = 33)

Grady et al. (2014) [25] Australia

To assess emergency physicians' perceptions of individual and system enablers to the use of thrombolysis in acute stroke

A web-based survey

Questionnaire

Responder's agreement to pre-defined enabler statements

Australian fellows and trainees registered with ACEM (n = 429)

Hargis et al. (2015) [26] USA

To identify factors that may limit the administration of rt-PA in the emergency department at multiple stroke centres

A web-based survey

Questionnaire

Responder's agreement to pre-defined enabler statements

ED nurses and pharmacists (n = 37)

Johnson MJ et al. (2011) [31] USA

To describe emergency nurses' perceptions of specific barriers and enablers to the care of stroke patients in the emergency department

Qualitative

Focus groups

Barrier and enabler themes

Emergency nurses currently employed in an emergency department (n = 10)

Meuer et al. (2011) USA

To describe the pre-identified barriers to clinicians compliant with guidelines recommending the use of thrombolysis

Qualitative

Focus groups and one-to-one interviews

Barrier listed in the coding guide with definitions

Emergency physicians, nurses, neurologists, radiologists, hospital administrators, and hospitalists and pharmacist (n = 30)

Skecksen A et al. (2014) Sweden

To identify and analyse the barriers and enablers to implementing national thrombolytic guidelines

Qualitative

Semi-structured interviews

Barrier and enabler themes

Stroke healthcare professionals (nurses and physicians) (n = 16)

Van Der Weijden et al. (2004) [32] The Netherlands

To explore the opinion on possible barriers for working according to key recommendations for the acute phase a stroke care among neurologists

Paper-based survey

Questionnaire

Responder's agreement to pre-defined barrier statements

Registered neurologists (n = 16)

Williams J et al. (2013) [29]

Australia

To identify barriers which prevent rural health care providers from utilising thrombolysis in acute ischamic stroke

Paper-based survey

Questionnaire

Responder's agreement to pre-defined barrier statements

All rural sites within NSW Australia that had an implemented thrombolysis service as defined by the NSF and an Stroke Care Coordinator position were deemed eligible for inclusion (n = 11)
Qualitative studies
Verbatim supporting quotes, where available, were extracted to illustrate the barriers and enablers. Author interpretations or findings from secondary analysis of routine data were not included.
Quantitative studies
To ensure that the review presented findings that were representative and important, certain decisions were made about the data extraction for the survey data. Pre-specified barriers where zero or only one of the participants selected were not extracted [26, 29]. A decision was made to extract only the pre-specified barriers where the majority of participants agreed (>50%) for one study [25] and a further decision was made to extract pre-specified barriers which scored a level of agreement >3 (1 = fully disagree; 5 = fully agree) for the remaining survey [32].
Quality assessment
Quality assessment of qualitative studies was conducted using the Critical Appraisal Skills Programme Qualitative Checklist (CASP) [33]. For the assessment of quantitative studies the Centre for Evidence-Based Management "Appraisal of a Survey" tool was used [34]. Critical appraisal was conducted by one reviewer (LC) for all studies, with second reviewer appraisal (EM or SM) for a sub-set of included papers (the same sub-set subject to second reviewer data extraction). The findings from the two reviewers were compared and any contrasting items were discussed and re-reviewed to reach an agreement.
Data analysis
The extracted data were classified using the TDF [18]. Classification of barriers and enabler data was conducted independently by two researchers experienced in the application of the TDF (LC and NT). Reference was made to the original article regarding the development of the TDF to ensure accurate interpretation of the domains [14]. The TDF constructs [18] and contextual information reported for an individual barrier/enabler were also used to allocate the data to the most appropriate domain. Using the descriptors of each TDF domain, the individual barriers and enablers were classified accordingly. There were two disagreements between the two researchers resulting in the re-classification of two barriers, one from the beliefs about capabilities domain to the social influences domain and the other from the beliefs about capabilities domain to the intentions domain. The TDF was used as a relevant framework to narratively summarise the individual barriers under the relevant theoretical domains; but no thematic synthesis was conducted to identify themes.
Allocating BCT labels to reported enablers
A matrix which assigns the most appropriate BCT to each of the TDF domains has already been developed by Cane et al. [35]. Primarily, this resource has been used in the past to develop behaviour change interventions to address identified key barriers. However, the studies included in our review did not report strategies to overcome specific barriers, so BCTs could not be assigned. However, the enablers reported in each study were able to be aligned with BCTs listed in the Cane matrix, as each reported enabler essentially represented a strategy to promote behaviour. The BCT that best aligned to the enabling strategy was then selected for each of the reported enablers using this matrix [36]. The assignment of BCTs to enablers was independently conducted by two researchers. Both researchers then discussed the allocations collectively and resolved any disagreements by discussion. This approach to classifying enablers to BCT enhances reporting as it provides a standardised label for the reported enabler using a common BCT taxonomy and subsequently increases the transferability of the findings.
Results
The search identified 2114 studies. Following the initial screening of titles and abstracts, duplicate and irrelevant studies were excluded, and the full-text articles of 44 studies were assessed in detail (Fig.
1
). One further article was identified through citation searching. No further articles were identified from reviewing the reference lists of the included studies. Overall, nine studies met the selection criteria and were included in the review [
24
–
32
].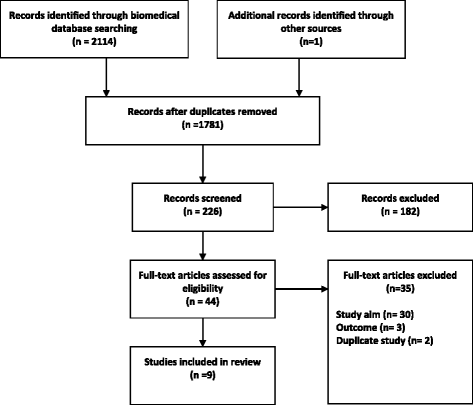 Discussion
This study produced new knowledge on the barriers and enablers for the delivery of key evidence-based protocols in an emergency setting and interpreted within a relevant theoretical framework. Barriers and/or enablers were identified for triage, thrombolysis, swallow assessment and patient transfer related clinical behaviours. Barriers relating the environmental context and resources domain such as a lack of time, stressful working conditions and ED delays were common to all four behaviours. Barriers relating to the skills domain such as inconsistent administration of swallow screen tools, and to the memory, attention, and decision processes domain such as difficulty recalling screening items during administration were relevant to only one clinical behaviour. There were no studies which identified barriers or enablers with regards to two of the six target behaviours: monitoring and management of (1) temperature and (2) blood glucose levels. There were no barriers or enablers derived from the systematic review findings that could not be accounted for by one of the TDF domains, indicating that this framework is highly relevant to behaviour change within this clinical context.
The use of the TDF has allowed the comprehensive identification of barriers and enablers for areas such as these where existing evidence is lacking. This process has identified several domains of the TDF where no primary barriers or enablers were identified in the included studies: reinforcement, goals, and emotion. As significant emotional issues such as excessive fear of harm and complications have been identified in other literature [37, 38] regarding thrombolysis in stroke, this emphasises that there remain gaps the published literature where barriers and enablers have not been reported. Evidence suggests that individuals find it more difficult to verbalise their affective attitudes (i.e., emotions) [39]. The TDF has been found to elicit emotion related barriers to behaviour change more effectively than a-theoretical approaches to identifying barriers [7].
Interestingly, only one included study subsequently used the data from a barrier and enabler assessment to develop an implementation intervention (a dysphagia screening bundle) [24]. The evaluation revealed that swallowing screening practices significantly improved after the implementation of this bundle; however, the author did not state whether this could be attributed to the information yielded by the barrier assessment. Indeed, the findings from this systematic review have since been used to inform the development of an implementation intervention for an ongoing trial (the T3 trial) to target these clinical behaviours in an ED setting. The T3 trial investigators aim to evaluate the supported implementation of key best practice acute stroke care clinical elements relating to the appropriate triage, treatment with tPA, management and monitoring of blood glucose levels, temperature and of swallowing difficulties, and transfer from ED to the ASU.
Although barriers and enablers are often hypothesised to be determinants of behaviour, their actual influence on performing a certain practice has been questioned as other contextual factors may play more significant roles [40]. The large number of barriers and enablers within the environmental context and resources domain highlight the importance of health system environments. A broader health systems approach has been used to investigate the association between health system factors such as urban location and tPA treatment rates [41]. Paul et al. concluded that to improve tPA treatment rates, specific health system factors need to be targeted.
Limitations
There were few studies that met the inclusion criteria for this review included in this review, most likely due to the limited published literature in this field. Due to the limitation of subject headings for the terms "barriers" and "enablers," electronic indexing synonyms were used for key words to ensure the search was sensitive; however, this may have compromised the precision of the search and as for other reviews of barriers and enablers in healthcare there is potential for studies not to be identified [42]. The quality of the included studies was comprised by small sample sizes for the quantitative studies and the limited reporting and/or lack of robust sampling techniques. The different approaches used to analyse the qualitative and quantitative data within the included studies posed challenges for data extraction. For example, some of the studies referred to stroke care in general, making it difficult to ascertain which barriers related to each of the target clinical behaviours. The use of the TDF for secondary analysis required some subjective interpretation due to the lack of contextual detail reported for some of the barriers and enablers. This limitation has been reported by other authors [21]. No included study used a behaviour change theory, standard taxonomy, or framework to interpret findings.
Researchers have reported that barriers can be represented by more than one domain and have also acknowledged the complex relationship between domains [21]. In this study this was evident when attempting to interpret and map the barriers to the framework with often limited contextual information. For example, "inaccurate interpretation of screening items" in performing a swallow screen was mapped to skills as the primary TDF domain but may also be related to the TDF domain memory, attention, decision processes. In this study, we agreed and reported the primary domain only. Further, research is required to guide how best to select a theoretical domain in these instances, e.g., what process should be taken to identify which of two (or more) domains primarily represents a specific barrier.
There were instances whereby the BCT used in the enabling strategy reported in the included studies did not align with the BCTs that the Cane et al. matrix recommends for use to target domains. For example, the BCTs used in the enabling strategies (habit formation; feedback on outcome of behaviour; feedback on behaviour) for the behavioural regulation domain do not align with the BCT recommended by the Cane et al. matrix (self-monitoring of behaviour). This indicates that Cane et al. matrix is a useful, but not comprehensive tool to identify appropriate enabling strategies. It is likely that the discrepancies are due to individual contextual factors, not accounted for by the matrix; highlighting the ongoing importance of local barrier and enabler assessments for any implementation strategy.
Strengths
Both qualitative and quantitative primary studies were focused on capturing barriers and enablers as reported by healthcare professionals. This provides novel data in comparison to existing reviews in this area which often relied on observational or registry data to characterise barriers, i.e., investigate causes or consequences of pre-determined factors such as in-hospital delays. The review processes used were robust and transparent adhering to the Preferred Reporting Items for Systematic Reviews and Meta-Analyses (PRISMA) standard. The search strategy underwent extensive review and iteration to ensure efficiency and accuracy in the conduct and output of the search. The data collection process was conducted in duplicate and decisions were cross-checked with another researcher.
The use of the TDF in systematic reviews is an emerging methodology and has only been applied in a few recent studies. The assignment of BCTs to barriers was not conducted as part of this review as the information was not available in the individual studies. However, one potential application of the barrier data is to select; using a panel of experts for example, the most appropriate behaviour change techniques to address the barriers to further inform the T3 trial implementation intervention development. For example, one of the BCTs recommended by the mapping conducted by Cane et al. [18] to overcome barriers classified within the skills domain is behavioural practice/rehearsal [35]. The enabler data from this review could then be applied to inform how this technique can be feasibly employed in clinical practice. For example, the enabler "giving physicians the opportunity to treat stroke cases of varying complexity" could be viewed as a deliverable form of this technique. This approach has been successfully used to develop an implementation intervention to improve the management of traumatic brain injury in the ED [43]. Furthermore, classifying the enablers to the best aligning BCT enhances the reportability and transferability of findings in this process.
Area of future research
The authors of one survey presented and analysed the data by decision makers and non-decision makers and revealed significant difference between the two groups [25]. Therefore, it may be important to further identify and explore the differences and similarities in perceptions between different disciplines, especially when implementing a multidisciplinary intervention. It would be worthy to further investigate whether the barriers identified by the review could be feasibly addressed, possibly by devising a panel of experts to make this judgment. If the barrier is deemed non-modifiable, then it is not likely to be a feasible target for an implementation intervention. The monitoring of barrier status during the implementation of an intervention would provide evidence for the types of barriers that can easily be overcome, the type of barriers which may be intractable and the effectiveness of particular BCT directed at barriers/enablers within various theoretical domains. Currently, mapping of BCTs to the TDF domains is largely based on expert opinion and a more robust higher level of evidence is required. There also needs to be more illustrations of how barrier and/or enabler data has been used to develop implementation interventions. Consistent use of a theoretical framework will assist with progressing this work by enabling meaningful compilation of evidence from a variety of sources. In addition, none of the studies reported monitoring the status of barriers over time or conducted a pre-and post implementation barrier assessment. Such design would add significant weight to the evidence regarding the value of barrier and enabler assessment, and subsequent use to target interventions.
Gaining patient's and family member's perceptions of stroke care in the ED were not considered by any of the studies and in the context of shared-decision making is an area that warrants further research. Patient and family preferences for and against practices such as tPA [44] and "nil by mouth" [45] has the potential to impact on the implementation of certain practices.
Conclusion
Barriers and/or enablers have been identified for the majority of the target clinical behaviours which could be used to inform barrier and enabler assessments in similar acute settings. Due to the likely gaps in the evidence base, barrier, and enabler data for some of the clinical behaviours and within some of the theoretical domains, could not be identified. The novel assignment of BCT labels to reported enablers will allow researchers and clinicians to use and potentially modify these techniques to deliver these important clinical behaviours in routine practice. When considering the findings from reviews of barriers and enablers, it is recommended that a reporting framework as illustrated in this paper should be adopted. This would facilitate the comparison, contrasting, and synthesis of barrier and/or enabler data within a consistent context framework and facilitate recognition identification of proven strategies to address such barriers [19].
Abbreviations
ASU:

Acute stroke unit
ED:

Emergency Departments
T3:

Triage, Treatment and transfer
TDF:

Theoretical domains framework
tPA:

Thrombolysis
Declarations
Acknowledgements
Daun Jung conducted the hand searching and searching of grey literature during her Undergraduate Research Internship program at the Nursing Research Institute. DC was supported by a fellowship from the National Health and Medical Research Council (NHMRC; 1063761 co-funded by National Heart Foundation).
Funding
The T3 trial (registry number is ACTRN12614000939695) is funded by the National Health Medical Research Council ID APP1024812. This project was supported by an infrastructure grant provided by the Australian Catholic University to support the International Stroke Research Collaboration (ISReC).
Availability of data and materials
Not applicable.
Authors' contributions
LC conducted the systematic review which involved developing the search strategies, running the searches in the databases and screening of references. EM and SM extracted data from a sub-set of included papers. Decisions were cross-checked with EM and SM at both the screening for exclusion, data extraction, and critical appraisal stages. LC and NT classified the barriers and enablers to the relevant domains of the TDF. LC wrote the first draft of the paper with contributions from EM, NT, RG, DC, JC, and SM. All authors read and approved the final manuscript.
Competing interests
The authors declare that they have no competing interests.
Consent for publication
Not applicable.
Ethics approval and consent to participate
Not applicable.
Open AccessThis article is distributed under the terms of the Creative Commons Attribution 4.0 International License (http://creativecommons.org/licenses/by/4.0/), which permits unrestricted use, distribution, and reproduction in any medium, provided you give appropriate credit to the original author(s) and the source, provide a link to the Creative Commons license, and indicate if changes were made. The Creative Commons Public Domain Dedication waiver (http://creativecommons.org/publicdomain/zero/1.0/) applies to the data made available in this article, unless otherwise stated.
Authors' Affiliations
(1)
Nursing Research Institute, St Vincent's Health Australia (Sydney) and Australian Catholic University, Sydney, Australia
(2)
Centre for Healthcare Resilience and Implementation Science, Australian Institute of Health Innovation, Macquarie University, Sydney, Australia
(3)
Sunshine Coast Hospital and Health Service/Sunshine Coast Clinical School, The University of Queensland, Nambour, Australia
(4)
Translational Public Health and Evaluation Division, Stroke and Ageing Research, School of Clinical Sciences at Monash Health, Monash University, Clayton, Australia
(5)
Public Health: Stroke Division, Florey Institute of Neuroscience and Mental Health, University of Melbourne, Parkville, Australia
(6)
Deakin University, Geelong, Australia
(7)
Eastern Health – Deakin University Nursing and Midwifery Research Centre, Box Hill, Australia