Research article
Open Access
Open Peer Review
This article has Open Peer Review reports available.
Institutionalizing evidence-based practice: an organizational case study using a model of strategic change
Implementation Science
2009
4:78
Received: 23 October 2008
Accepted: 30 November 2009
Published: 30 November 2009
Abstract
Background
There is a general expectation within healthcare that organizations should use evidence-based practice (EBP) as an approach to improving the quality of care. However, challenges exist regarding how to make EBP a reality, particularly at an organizational level and as a routine, sustained aspect of professional practice.
Methods
A mixed method explanatory case study was conducted to study context; i.e., in terms of the presence or absence of multiple, inter-related contextual elements and associated strategic approaches required for integrated, routine use of EBP ('institutionalization'). The Pettigrew et al. Content, Context, and Process model was used as the theoretical framework. Two sites in the US were purposively sampled to provide contrasting cases: i.e., a 'role model' site, widely recognized as demonstrating capacity to successfully implement and sustain EBP to a greater degree than others; and a 'beginner' site, self-perceived as early in the journey towards institutionalization.
Results
The two sites were clearly different in terms of their organizational context, level of EBP activity, and degree of institutionalization. For example, the role model site had a pervasive, integrated presence of EBP versus a sporadic, isolated presence in the beginner site. Within the inner context of the role model site, there was also a combination of the Pettigrew and colleagues' receptive elements that, together, appeared to enhance its ability to effectively implement EBP-related change at multiple levels. In contrast, the beginner site, which had been involved for a few years in EBP-related efforts, had primarily non-receptive conditions in several contextual elements and a fairly low overall level of EBP receptivity. The beginner site thus appeared, at the time of data collection, to lack an integrated context to either support or facilitate the institutionalization of EBP.
Conclusion
Our findings provide evidence of some of the key contextual elements that may require attention if institutionalization of EBP is to be realized. They also suggest the need for an integrated set of receptive contextual elements to achieve EBP institutionalization; and they further support the importance of specific interactions among these elements, including ways in which leadership affects other contextual elements positively or negatively.
Keywords
Staff NurseLeadership BehaviorContextual ElementStrategic ChangeFormal Leader
Background
Organizational context is receiving attention from researchers across multiple disciplines as a potential factor in the successful implementation of evidence into practice [1–5]. Although individual-level determinants of research use have received primary emphasis historically, findings from the fields of quality improvement (QI), research utilization (RU), and evidence-based practice (EBP) increasingly are demonstrating that a number of contextual factors may also play an influential role. More specifically, contextual factors at micro-, meso-, and macro-levels, such as leadership [6–10], culture and climate [11, 12], access to resources [13, 14], team climate [15], organizational slack [16], and organizational support [17, 18] have emerged as potential mediators.
Despite this growing evidence base, we still do not know which contextual factors are more important, or how they operate or inter-relate to result in the successful implementation and use of evidence in practice. Furthermore, much of the existing research has been conducted with a focus on isolated practices or guideline and procedure-focused projects. There is little implementation research that focuses primarily on the overall context itself or, more specifically, on contextual factors related to institutionalization of EBP as a routine way of practicing (See definitions, Appendix 1). If one considers EBP institutionalization as an example of a strategic organizational transformation, then Harrison and Kimani's observations seem relevant to this knowledge gap [19]; i.e., 'accounts of transformation initiatives often reveal little about past organizational and contextual conditions that contributed to success. Instead, these accounts concentrate on change barriers.' While there are exceptions in the research literature [20, 21], and pragmatic cases can be found where selected organizations are moving forward to routinize EBP [22–24], rarely are rigorous evaluations of related contextual and strategic processes presented. In summary, we know little about what specific set of contextual conditions interact to facilitate the institutionalization of EBP [25].
Against this background, there continue to be calls for more research. For example, there is a need to enhance our level of understanding of context sufficient both to guide organizational-level intervention studies as well as individual improvement/implementation practice change projects [1, 11, 26–28]. There is also a need to better understand configurations and the related combined presence or absence of contextual factors in relation to an organization's capacity to improve [29]. This paper presents the main findings from a case study addressing such gaps in the literature. Specifically, this theoretically-based study sought to identify key contextual elements and related configurations and relationships in an organization where EBP was perceived to be used routinely, in contrast to one in which it was not.
Study purpose and framework
A published protocol [25] provides in-depth information about this study's background, theoretical framework and methods. This section of the paper provides a summary.
The study's primary research questions were:
1.

What key contextual elements support and facilitate institutionalization, i.e., routine implementation of EBP and related projects, within a healthcare system at multiple institutional levels?

2.

What strategic processes are used to create institutionalization of EBP within a healthcare system at multiple institutional levels?
The Content, Context, and Process model of the strategic management of change [30–35] was the study's theoretical framework. It has the following components: 'Elements' or signs and symptoms of receptivity related to more successful strategic change; and 'essential dimensions' of strategic change, i.e., the WHY/motivation for change, the HOW/process of change, and WHAT/content of change.
The framework also allows differentiation between a receptive and a non-receptive context. A receptive context has 'features ... (and also management action) that seem to be favourably associated with forward movement'; and a non-receptive context has 'a configuration of features which may be associated with blocks on change' [34].
Methods
The study was a multi-method explanatory case study [36], with a core qualitative component and simultaneous supplementary quantitative component [37]. It focused on exploring the role and evolution of context in the routine use of evidence in practice within targeted services ('case'). A case was a department of nursing within a hospital.
Sampling and recruitment
Sites
Two sites from different regions of the United States (US) were purposively selected to provide contrasting results for predictable reasons [36]. First, a 'role model' site was selected through a nomination process involving the American Organization of Nurse Executives (AONE) [25]; i.e., members of relevant AONE Boards were asked to identify '...widely recognized acute care hospital-based nursing departments that appear to have demonstrated the capacity to successfully implement and sustain EBPs to a greater degree than other nursing departments in the US ..., that is, nursing departments that appear to understand 'how to make EBP happen' and are seen as a role model by other nurse executives.' (See Additional File 1, 'Nomination panel letter for role case.') The selected department met the criteria of high ranking by the AONE panel; high self-rated level of institutionalization, with a brief substantiating rationale; and willingness to participate in the study and facilitate site access.
Second, a 'beginner' site was selected from AONE member volunteers self-reporting their department as 'early in the journey to institutionalization.' The selected site had low self-rated institutionalization, with a brief substantiating rationale, and willingness to participate in the study and facilitate site access. From among all volunteers, this site was a best match with the role model hospital's characteristics (Table
1
).
Table 1
Chief characteristics of the case study sites
Characteristic

Role model site

Beginner site

Bed size

Over 350

Approximately 400

In-patient units

20

24

Type of hospital

Academic medical center

Community hospital (With multiple nursing school affiliations)

Chief nursing officer authority

Full administrative authority, with financial resources control

Full administrative authority, with financial resources control

Chief nursing officer type of position

A vice president of patient services in general, with responsibilities beyond nursing

A vice president of patient services in general, with responsibilities beyond nursing

Magnet status

Magnet designated hospital

Magnet application hospital

Other status

Non-Union

Non-Union

Self-perceived EBP status upon selection

More than three-fourths progress* along the scale toward full EBP integration

Also self-reported: 'an intense focus on EBP'

Not even one-fifth progress along the scale* toward full EBP integration:

Also self-reported: 'implemented some EBP initiatives... basic, nothing high level'

Case mix index, all payors

At the time of their site visit, both hospitals reported case mix indices in the low to medium intensity of resource use, with the role model site** reporting lower resource needs more similar to that of community hospitals, and the beginner site experiencing resource use suggesting moderate needs, higher than most community hospitals but lower than tertiary medical centers.

Nursing education mix

The role model site had a very high proportion of BSN nurses, virtually double that of the beginner site.

Hours per patient day (HPPD)

▪ Critical care: Last quarter (Jan-Mar 07) 19.8

▪ Critical care: 14.62

▪ Med-surg: 9.92

▪ Med-surg: 5.22
Site participants
Participants within each site were identified in two ways. Three embedded units within each site (medical/surgical, specialty, critical care) provided a pool of staff nurse participants. Second, within each site, a list of members of the hospital-wide nursing leadership/management team and other relevant EBP key informants was created by the site facilitator and local study sponsor, in collaboration with the principal investigator/PI (CBS). This list included both formal leaders, i.e., those in managerial positions at all levels of the hierarchy, and informal leaders, i.e., those in support/staff positions as well as other individuals perceived to influence EBP at either central or unit-based levels. Such informal leaders included educators, researchers, various specialists (such as clinical nurse specialists/CNSs, or QI resources), chairs or facilitators of EBP groups, and others viewed as 'leaders in EBP.' In particular, bedside nurses perceived to influence EBP, and thus defined in the study as informal EBP leaders, were sought. A purposively sampled set of all types of leaders was drawn from this list for individual interviews [25].
Data collection methods
1.

Individual interviews with leaders and focus group interviews with staff nurses: Interview questions were primarily developed within the framework's essential dimensions of the WHY, WHAT and HOW of strategic change [25].

2.

Focused observations of pre-formed nursing and interdisciplinary groups relevant to EBP initiatives and naturally occurring at the time of the site visit, e.g., policy/procedure committee.

3.

Document review of relevant EBP information, e.g., role descriptions [25].

4.

Field notes from site visits by investigators.

5.

Surveys including organizational learning survey/OLS for culture [38], multi-dimensional leader questionnaire/MLQ [39], nursing work index/practice environment survey/PES [40], and a research utilization (RU) tool [41], along with demographic information. Surveys were collated into a package and sent to all listed formal and informal leaders, as well as all staff nurses on the embedded units. Leaders were asked to focus their responses based on assessment of the chief nursing officer/CNO (MLQ), department as a whole (PES and OLS) or staff nurses as a whole (RU). Staff nurses were asked to focus their responses based on assessment of their unit (PES and OLS), nurse manager (NM)/ward sister (MLQ) or self behavior (RU).
Analysis
Qualitative data analysis
Data were analyzed within site-specific data sets and then triangulated across site-specific data sets before making comparisons across sites. Analyses focused specifically on identifying content related to institutionalizing EBP.
An initial coding scheme was developed deductively based on basics of EBP change (
e.g
., definitions and barriers) and elements and dimensions in Pettigrew [
33
,
34
]. In terms of the latter, in addition to WHY, WHAT and HOW sub-categories under strategic management of essential dimensions, eight receptive elements (Figure
1
) formed the basis for another major coding category (receptive context for change). This included sub-nodes for 'receptive' and 'non-receptive' content, per element. An inductive approach also was used to allow for creation of emerging codes. Data were managed in NVivo.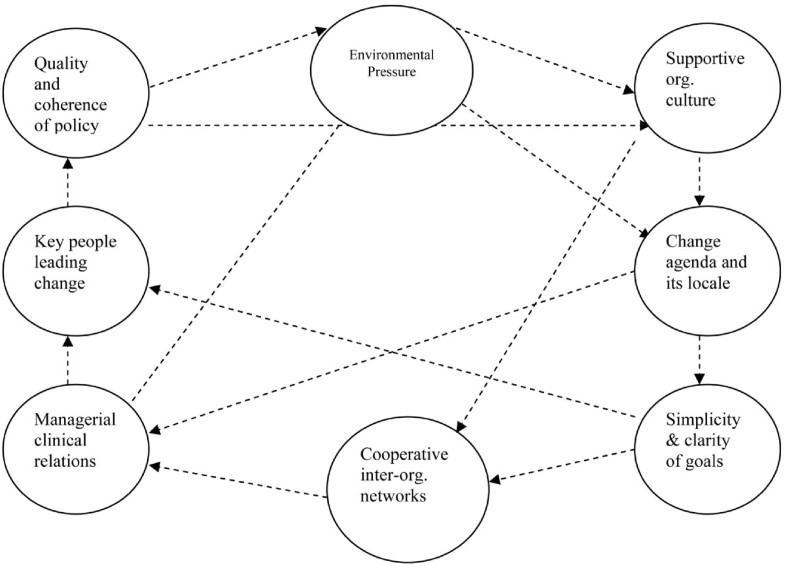 The role model site was coded first. This initial coding framework also applied to the beginner site data but required the addition of new sub-codes (
e.g
., Magnet and staffing). The PI took the main role in analysis, with other team members continuously checking/validating the approach and emerging findings. This often necessitated revisiting raw and coded data as well as clarifying and operationalizing definitions of contextual elements. The latter was needed as some of the framework's elements--culture, leadership, and coherence (Table
2
)--did not have sufficiently clear definitions to enhance consistent coding decisions. Through this iterative team approach, agreement was reached on key findings and comparisons for each site. An audit trail was maintained throughout the analysis process.
Table 2
Elements of receptivity
| Pettigrew et al. elements[34] | Study definition and observations |
| --- | --- |
| Change agenda and its locale | The element's focus is on the fit between the agenda and factors in the local, external environment that might influence internal change efforts. |
| Cooperative inter-organizational networks | Development and management of links with other agencies, e.g., through boundary spanners. |
| (Long term) Environmental pressure | The intensity and scale of pressures from influential agents external to the organization. |
| Key people leading change | • Defined by the team in terms of roles in which an individual influences others, more specifically, in terms of strategic versus operational influence, i.e., influencing others to behave in certain ways toward preconceived group goals (Schein) ___ in this case EBP in a department of nursing. |
| | • Types of roles were defined as formal, or managerial and related to positions of authority at all levels; or informal. Informal leaders included both clinical support personnel, such as APNs (Advance Practice Nurses) and special types of staff or EBP roles, either formal or informal. |
| Quality and coherence of policy | • The meaning of policy is broad, e.g., in the form of a broad vision, and not specifically about local policies and procedures. |
| | • More focused on strategic decisions relative to change, with quality referring to the related evidence base, related conceptual thinking about such decisions, and eventual buy-in |
| | • Coherence reflects initial exploration of a vision's congruence among related 'goals'; attention to politics and needed negotiation with key stakeholders; feasibility; and skill in terms of how the targeted strategic change was managed. In this study such congruence was defined as not only including development/refinement of organizational components on paper but the actual operationalization of such infrastructures for EBP; i.e., organizational structures, systems, roles, processes, relations, alignments, and capabilities. |
| Managerial-clinical relations | The quality of the interface between staff and management. |
| Simplicity and clarity of goals | • The ability 'to narrow the change agenda down into a set of key priorities, and to insulate this core from the constantly shifting short-term pressures' [34]. |
| | • Demonstrates managerial '... persistence and patience in pursuit of objectives over a long period' [34]. |
| Supportive organizational culture | Defined by the study team as the way things are done in an organization that is supported by its values, norms and expectations. Such forces in an organizational social system affect behavior of individuals. |
| |    Culture can be characterized as strong or weak. In an organization with a strong culture there is high agreement among individuals regarding expectations and values, whereas the level of agreement regarding values and expectations is low or highly variable in a weak culture. |
| |    Regarding EBP, values and expectations regarding use of evidence are direct aspects of a culture supporting evidence based practice. Related characteristics of a culture, such as values supporting collaboration and teamwork, are expected to support EBP. |
Triangulation
Within the qualitative data analysis process, triangulation was used to refute or confirm emerging findings within each data set. For example, as leadership began to emerge as a key issue within interview data, this also was explored within focus group data and field notes.
Findings from our qualitative data helped provide a focus for what to report from survey data. For example, given leadership's emergence as a key qualitative finding, we were interested to investigate MLQ findings. In this way, triangulation provided us with a validation process, thereby increasing the trustworthiness of our findings.
Quantitative data analysis
Numeric data analysis was managed in SPSS, Version 15. Analysis of each survey instrument was conducted separately and followed the analysis procedures recommended by the originators. Two-tailed, independent sample t-tests were used to test mean differences between sites overall and between their leadership. Staff nurse samples were not compared statistically between sites due to their small size.
Discussion
Two sites were sampled to provide contrasting results for predicable reasons. As predicated, findings showed a difference between sites with respect to institutionalization of EBP and corresponding contextual features. However, findings also provided theoretically-related, new insights regarding those differences.
While data were collected at a particular point in time, participants were able to provide historical and contemporary insights about EBP within their organizations. These resulted in a rich picture of their journeys to date. By using a strategic model of change [30–35] to compare sites, what emerged were 'key' contextual elements, the nature of those elements, and key inter-relationships that appeared to facilitate the ongoing and integrated use of evidence in practice--and thus may be critical to EBP institutionalization efforts.
Given those patterns of positive connections between key elements (Figures 2 and 3), the most influential element that appeared to affect the institutionalization of EBP was that of multiple, key people leading change. Within the role model site, this referred to people in both formal and informal leadership positions, at all levels of the institution, including bedside nurses.
Leadership
In nursing, models to enhance the uptake of evidence into practice have been available for a more than a decade, e.g., the Iowa, Ottawa and Stetler models [43–45]. Such EBP frameworks are now referenced along with other implementation models (e.g., Grol et al. [46]) as 'planned action theories' that focus on steps needed to 'engineer change' for a focused EBP practice [47]. Although leadership may generally be recognized as important to such uptake processes, the concept of leadership does not appear as a core element in related visuals of these long-standing models. Nor do the above implementation models focus on the role of leadership in institutionalization of EBP as a routine.
Newer models regarding EBP or the more general concept of innovation in healthcare, however, are explicitly highlighting leadership. Some continue to focus on leadership relative primarily to an individual innovation [2], but others are beginning to reference leadership more broadly, for example in terms of: holistic conditions or ingredients for change needed for 'successful implementation' [48]; the context needed for strategic change or transformation in healthcare [32, 33, 49]; and institutionalization of EBP as a routine norm for practice [50].
Emerging research is also providing evidence regarding the influence of leadership at multiple levels on sustained use of research evidence in practice and related organizational change [7, 8, 26, 27, 49, 51, 52]. Our findings support such models and cited EBP research, which suggests that multi-leveled leadership by managers, educators, senior leaders, staff nurses, APNs, and supervisors characterizes organizations that have successfully implemented evidence into practice [8, 53, 54]. Additionally, as our research also found, an integrated approach coordinated by these leaders towards a common vision and goal appears to be key [8, 49, 54].
As Gifford and Davies [54] point out, there is a debate in the literature about the differentiation between leadership and management. They state it is likely that both effective leadership and skilled management are necessary to effect change in nursing practice [8, 54]. Indeed our research, both in the qualitative and MLQ data, suggests that both leadership behaviors and management practices had a key role to play in creating a context receptive to EBP in the role model site, relative to an integrated set of receptive elements. Specifically, key leadership behaviors in the role model site included creating and sustaining a clear vision, role modeling, developing supportive relationships, and mentorship. Their management practices also went beyond a focus on isolated projects and included embedding/integrating EBP into the fabric of the organization through building structures, providing resources, monitoring progress, providing feedback, and changing formal leaders who didn't 'fit' with the strategic change/vision.
To realize the sustained, routine, and integrated use of evidence in daily nursing practice, our findings have implications for the development of formal leadership and management capacity, as well as for the development of capability within the nursing workforce for informal leadership. However, such findings and the role of key people leading change are not confined to nursing. Other disciplines and healthcare organizations appear to have the same challenges and needs relative to EBP, innovation, or strategic service change [5, 49]. For example, Lukas et al. [49] found that leadership from top to bottom of an organization is a critical 'driver' of strategic organizational change focused on improvement of clinical quality.
Culture
A number of scholars have suggested that culture is a contextual mediator of EBP and related strategic service change [20, 48–50]. However, to date there has been little empirical evidence to support these assertions. Pepler et al. [12], through case study research, found culture to be a key factor in the use of research evidence within clinical units. They nevertheless found it difficult to disentangle the elements of culture in various units such that identifying one particular configuration of a culture that enabled research use was not possible. Lukas et al. [49] also cite culture as a key organizational component in sustainability of organization transformation. Our findings suggest that organizational culture is a contextual determinant of EBP institutionalization. As such, we argue that strategic leadership behaviors and management practices have the potential to create a culture of critical enquiry and scholarship, as observed at the role model site, in which EBP can become institutionalized.
Inter-related elements
As noted above, we found a pattern of positive connections between key contextual elements in the role model site. However, this overall pattern of connections (Figure 2) is different from that found by Pettigrew et al. in their receptive sites (Figure 1) [33, 34]. Additionally, we did not find the change agenda/locale element to be relevant, nor was the environmental pressure (Table 2) as significant as in Pettigrew et al. [33, 34]. Newton et al. [5], in an exploration of a stalled change effort in a general medical practice, had similar findings for the latter two elements. However, they had yet another pattern of connections.
Pettigrew et al. [33, 34] suggest that the receptive elements dynamically link and 'form a pattern receptive to desired change or innovation' but without a 'common, exact path or recipe by which these common factors come together to create success' [25]. Given different organizations and healthcare professionals, patterns might naturally vary. So too might some of the elements when the target of change varies or is as broad as institutionalization of EBP. In any case, the relevance of various connections remains unclear and needs further research to better understand whether they are significant, and if certain linkages create greater potential for success. Nonetheless, the involvement of leadership in those linkages, positive or negative, appears to be critical to overall receptivity or non-receptivity.
In summary, our research presented a 'snap shot' in time of both sites, albeit tapping into an historical context. In future research, tracking contexts over time would be useful; i.e., by taking a longitudinal perspective it would be possible to capture some of the complexities and dynamics occurring in contexts during the process of successful or unsuccessful EBP transformation [49]. In the meantime, the Pettigrew et al. model, in the context of the lessons learned in this study and other cited literature, may provide a useful lens for strategizing transformational efforts related specifically to EBP institutionalization.
Limitations
While this study provides a comprehensive, in-depth picture of the potential influences of context on the routine use of evidence in practice, findings should be considered in the context of its limitations.
The study included only two sites. Therefore a consideration should be made of the findings' theoretical transferability to other contexts, rather than their generalizability. It is also possible that participants provided socially desirable responses. Potential threats to credibility were limited by data triangulation and the intensive period of time spent by the research team in the field. Additionally, the team was cognizant of the potential for 'leading' questions and took pains to review questions posed in the transcripts along with related types of participant responses. The team members routinely focused on affirmation of coding; and interview transcripts showed that participants generally provided balanced and open accounts. Overall, it was the team's judgment that interviewees were not unduly influenced nor coding selectively interpreted.
Although the study was limited in its historical data, and we could not pinpoint timing of various events precisely, the study team did obtain a clear sense of a continuing, strategic progression in the role model site over a period of more than five years. Data from multiple key leaders at the role model site provided a clear and consistent sense of the type of strategic decision making that occurred--given the site's vision and goal of continuous improvement toward that vision. Such EBP-related strategic progression was not found at the 'beginner' site. The team's ability to obtain historical information was more limited at the latter site, in part due to the tenure of some of the newer, key players and the lack of time and resources to pursue various 'historians.'
Summary
Our findings provide evidence of some of the key contextual elements that may require attention if the institutionalization of EBP is to be realized. The most critical element in this study appeared to be key people leading change, which in turn impacted on the operationalization of other key elements of the strategic change model. A number of propositions have been developed from our findings, as follows:
Organizations that achieve a highly receptive context for EBP, as described by Pettigrew et al., are more likely to exhibit a higher level of EBP institutionalization.

Organizations with elements of receptivity (as described by Pettigrew et al.) and that monitor and act on elements of non-receptivity are more likely to exhibit a higher level of EBP institutionalization.

Efforts to transform an organization for institutionalizing EBP requires the proactive, meaningful engagement of formal and informal leaders at all levels of the organization, including staff nurses.

A greater number of positive two-way inter-connections between key people leading change and other key contextual elements in the Pettigrew framework will enhance an organization's potential for institutionalization.

An organization with a majority of BSN staff nurses and competent, EBP-oriented nurse/ward managers will exhibit greater integration of EBP in routine practice.

Executive leaders who have the ability to proactively influence an organization's culture to support EBP and can buffer the related strategic vision from periodic pressures are more likely to institutionalize EBP over time.

Inconsistent operationalization of EBP-related infrastructures (coherence in the Pettigrew framework) by formal leaders will negatively impact an organization's ability to institutionalize EBP.

Organizations that develop a strategic plan to institutionalize EBP using Pettigrew's key contextual elements as a foundation for professional practice are more likely to have a higher level of EBP activity within three to five years.
These propositions could be tested in future research and/or considered by those embarking on the institutionalization of EBP. Importantly, our findings indicate that there are a number of contextual factors that are modifiable; and they also show that related modification requires strategic intent and operational follow-through, with changes continuously monitored and sustained over time.
In conclusion, our findings regarding individual organizational elements such as leadership may not appear to be new. However, there remains a need to increase our knowledge both about the elements that overall and together support EBP institutionalization (or even use of EBP) and about the ways such factors influence achievement of these goals. What specifically is new from the study and needs further theory-based affirmation or clarifications are the following: The apparent need for an identified set of receptive contextual elements to achieve EBP institutionalization; the observed interaction among identified elements, including the ways in which leadership affects other elements positively or negatively; use of the Pettigrew et al. framework to guide EBP institutionalization/research; focus on the concept of non-receptivity, which is seldom found in the literature; and the way in which a nursing department achieved institutionalization through use of strategic actions (the HOW) in relation to key receptive elements (the WHATs).
Appendix 1. Refined study definitions
Context/organizational context

:

◦ Overall: The healthcare environment in which practice takes place; characterized by organizational culture, leadership, basic organizational components, and type of clinical setting.

◦ Pettigrew/Whipp: an essential dimension or the WHY/motivation behind strategic change to EBP and related enablers/barriers.

Content: One of Pettigrew/Whipp's essential dimensions, in this case the WHAT of strategic change; i.e., the organizational elements or processes in the system changed to enhance or support the use of evidence.

Evidence-based practice (EBP): Practice derived from the best available evidence to achieve positive outcomes; this practice may range on a continuum from implementing a discrete practice (e.g., consistently using an evidence-based scale to assess the situation and implementing research-based interventions) to consistent ways or patterns of decision-making and practice (e.g., consistently seeking the best evidence in all decision-making to achieve positive outcomes).

Evidence

: Knowledge derived from a variety of sources that has been subject to testing and has been found to be credible. This includes:

◦ Research,

◦ Patient experiences and preferences, and

◦ Practical knowledge and local data (e.g., audit, quality assessments, planning and project data)

Infrastructure: Organizational structures, systems, roles, processes, relations, alignments, and capabilities.

Institutionalization: Integration of EBP into the routine fabric of the organization [50]; also known as institutionalization.

Levels within the institution/institution levels: Individual, group/team, organization, larger external system. In this study, these levels refer to individual clinicians and leaders; EBP-related project teams or committees; clinical units; clusters of units within a service; department of nursing; hospital; and external healthcare-related environment.

Magnet status: The Magnet Recognition Program for Excellence in Nursing Services®, provided by the American Nurses Credentialing Center (ANCC), recognizes outstanding healthcare facilities and systems that demonstrate excellence in patient care and work environments that attract and retain nurses, primarily in the US. Facilities are evaluated on their excellence in nursing leadership, shared governance, staff decision-making, the generation of new knowledge through nursing research, and the use of best evidence to support nursing practices and improve patient outcomes http://www.nursecredentialing.org/Magnet.aspx. Magnet has 14 forces; i.e., quality of nursing leadership, organizational structure, management style, personnel policies and programs, professional models of care, quality of care, quality improvement, consultation and resources, autonomy, community and the healthcare organization, nurses as teachers, image of nursing, interdisciplinary relationships, professional development. Expectations for the use of evidence are threaded (integrated) throughout the forces.

Non-receptive context for change: 'A configuration of features which may be associated with blocks on change' [34].

Norm or routine per EBP: Integrated into the everyday work of the clinical setting, in the policies, in the practices, in documentation, in the infrastructure, etc.

Nurse manager: The leader on a particular patient care unit/ward. Such a role has direct responsibility and accountability for one to two clinical units or wards in terms of budget, hiring, firing, evaluation, quality, and daily operations.

Process: One of Pettigrew/Whipp's essential dimensions [30], in this case the HOW of strategic change; i.e., the methods, strategies, or implementation interventions used to try to enable the use of evidence.

Receptive context for change: 'A combination of factors from both the inner and outer context that together determine an organization's ability to respond effectively and purposively to change [2].

Strategic: Refers to planned, organizational approaches to change and its deliberate management.

Sustainability: Changes (practice and outcomes) based on evidence that continue over time as related to specific projects.
Declarations
Acknowledgements
This study is funded through a research grant from the Robert Wood Johnson Foundation to the Boston University School of Public Health. It has been endorsed by AONE and the AONE Institute for Patient Care Research and Education. The protocol evolved out of a Development/Planning Grant from the Canadian Institutes of Health Research International Opportunity Program and networking provided by the international Knowledge Utilization Colloquium http://www.ualberta.ca/~cmmiller/ku0x_website/index.html. Though they cannot be named, the case sites and the local facilitators, CNO and lead researchers made this study possible.
Authors' Affiliations
(1)
Health Services Department, Boston University School of Public Health, Independent Consultant, Amherst, USA
(2)
McGill University Health Centre & School of Nursing, McGill University, Montreal, USA
(3)
Centre for Health-Related Research, School of Healthcare Sciences, Bangor University, UK
(4)
Alyce A Schultz and Associates, LLC, Chandler, USA
(5)
VA HSR&D Center for Organization, Leadership and Management Research, Boston, USA
(6)
Health Policy and Management Department, Boston University School of Public Health, Boston, USA
Copyright
© Stetler et al; licensee BioMed Central Ltd. 2009
This article is published under license to BioMed Central Ltd. This is an Open Access article distributed under the terms of the Creative Commons Attribution License (http://creativecommons.org/licenses/by/2.0), which permits unrestricted use, distribution, and reproduction in any medium, provided the original work is properly cited.