Systematic review

Open Access

Open Peer Review
This article has Open Peer Review reports available.
Exploring the factors affecting the implementation of tobacco and substance use interventions within a secondary school setting: a systematic review
Implementation Science
2017
12:130
Received: 13 January 2017
Accepted: 26 October 2017
Published: 14 November 2017
Abstract
Background
The aim of this mixed-methods, systematic literature review was to develop an understanding of the factors affecting the implementation of tobacco and substance use intervention programmes in the secondary school setting using NPT as an analytical framework.
Methods
A search strategy was developed that combined implementation, school and intervention search terms. Literature searches were conducted in MEDLINE, Embase, PsycHINFO, Scopus, ERIC, CINAHL, Web of Science and the Cochrane Library. PROSPERO was also searched for similar systematic reviews and a grey literature search of policy documents and relevant material was also conducted. Papers were eligible for inclusion if they were based in a secondary school and focused on the implementation of a tobacco or substance use programme. Both quantitative and qualitative methodologies were considered for inclusion. Normalisation Process Theory (NPT) was used as a conceptual framework to identify facilitators and barriers of implementation and to structure the synthesis.
Results
Inclusion criteria were met by 15 papers. The included papers were both quantitative and qualitative and focused on a range of tobacco and substance use interventions, delivered by differing providers. Key facilitating factors for implementation were positive organisational climate, adequate training and teacher's and pupil's motivation. Barriers to implementation included heavy workloads, budget cuts and lack of resources or support. Quality appraisal identified papers to be of moderate to weak quality, as papers generally lacked detail.
Conclusion
NPT highlighted the need for studies to extend their focus to include reflexive monitoring around appraisal and the evaluation processes of implementing new tobacco or substance use programs. Future research should also focus on employing implementation theory as a tool to facilitate bridging the gap between school health research and practice.
Keywords
Systematic literature review
Implementation
Secondary school
Substance use
Tobacco
Normalisation Process Theory
Background
Adolescence can be identified as a critical development phase and therefore a key stage within the life course. It is a time when adverse health-related behaviours, such as tobacco or substance use, are frequently established and 'tracked' into adulthood [1–4]. Adolescence—or the 'secondary school years'—thus provides a key period for the delivery of interventions [2, 5–7] to deter uptake of unhealthy behaviours. The uptake of health risk behaviours are more likely to occur in the later stages of adolescence, between the ages of 15 and 19 years [8, 9]. This is largely due to the fact that a young person in late adolescence is more susceptible to social influences, such as peer pressure, experimentation and rebellion. These social influences are associated with an increased tendency to undertake in risk-taking behaviour, such as drug taking or risky alcohol consumption, and can play a substantial role in influencing long-term health outcomes [8, 10, 11].
As it remains compulsory for young people, in the UK, to engage in academic education until the age of 16 years; the secondary school setting acts as a platform in which to deliver preventative health education and complex interventions to tackle tobacco and substance use. Recent feasibility research exploring the delivery of brief alcohol interventions (ABIs) in secondary schools has proved effective, highlighting the potential as a setting to deliver such interventions [2, 7]. However, the effectiveness of school-based substance use interventions has often proved inconclusive. A specific example of this is a systematic review conducted by Foxcroft and Tsertsvadze, aiming to explore the extent of research around the effectiveness of school-based, alcohol primary prevention programmes [12]. The review identified that some studies showed no evidence of a primary intervention being effective in a school setting, whilst others presented statistically significant results, indicating a degree of effectiveness [12].
Breaking this down further, to assess whether complex substance use interventions have a place within secondary schools, although there remains to be a series of factors affecting the effectiveness of such an intervention, there does appear to be a gap between generating school-based, tobacco and substance use intervention research evidence and the implementation of this research in practice [13]. Very few of these papers offered a significant assessment of the factors affecting the implementation of their substance use interventions, or how varying the implementation process of such an intervention could have the potential to affect the effectiveness. Therefore, this systematic review was proposed as a way in which to collate the available evidence from studies, which present evidence around the factors affecting the implementation of a tobacco or substance use interventions, within a secondary school setting. It builds upon the current work in this area [14, 15], to provide an account of factors specific to secondary school level education and specifically the implementation of tobacco and substance use interventions.
The field of implementation science has been born as a result of recognising the importance of the gap between research and practice [13]. This gap has expedited the use of multitudinous theoretical constructs, aiming to enhance the implementation process, identify the barriers and facilitators and acting as valuable tools in evaluating implementation [16, 17]. Much of the advancing knowledge on barriers and facilitators to implementation has been construed within health care and the provision of primary care, and implementation theory has been frequently employed within this context [18, 19]. The use of theory has been less widely associated with school implementation research [20]. Therefore, this systematic review seeks to interpret and synthesise determinants of implementation in the school setting by using a specific implementation theoretical framework.
The Normalisation Process Theory (NPT) provides an explanation of the factors affecting whether an intervention can be incorporated into practice, with reference to the context in which the work of the new intervention occurs [
21
]. It focuses on understanding the implementation, embedding and integration of new technologies and organisational innovations by considering four theoretical constructs: Coherence, Cognitive Participation, Collective Action and Reflexive Monitoring [
16
,
21
,
22
]. Table
1
presents an overview of the four NPT constructs and its respective subconstructs.
NPT construct

Definition

Sub constructs

Coherence

The sense-making work that people do individually and collectively when they are faced with the problem of operationalizing a set of practices.

• Differentiation

• Communal specification

• Individual specification

• Internalisation

Cognitive Participation

The relational work that people do to build and sustain a community of practice around a new technology or a complex intervention.

• Initiation

• Enrolment

• Legitimation

• Activation

Collective Action

The operational work that people do to enact a set of practices, whether these represent a new technology or a complex healthcare intervention.

• Interactional Workability

• Relational Integration

• Skill set Workability

• Contextual Integration

Reflexive Monitoring

The appraisal work that people do to assess and understand the ways that a new set of practices affect them and the others around them.

• Systematisation

• Communal appraisal

• Individual appraisal

• Reconfiguration
NPT is our chosen framework as it has demonstrated value in synthesising research findings to identify knowledge consistencies and gaps regarding implementation determinants [23, 24]. Although NPT was designed for implementation and integration problems in healthcare, the constructs are transferable and thus can be applied fluidly to consider the review's focus of factors affecting implementation in the school setting [25]. As this field is currently small and studies of implementation are heterogeneous, NPT offers advantage as a theoretical framework for integrating both qualitative and quantitative findings to develop an assessment of the factors which can affect implementation in this context [25]. To our knowledge, NPT has not previously been used to synthesise findings in the context of secondary school implementation research.
Aim
The aim of this systematic review was to identify and synthesise the factors affecting the implementation of tobacco and substance use interventions in the secondary school setting, by applying the Normalisation Process Theory.
Methods
Using a registered protocol (PROSPERO: CRD42016039354), systematic review methods were undertaken to identify eligible literature. Developing specific inclusion and exclusion criteria allowed the selection of papers.
Study inclusion and exclusion criteria
Both quantitative and qualitative studies were eligible for inclusion. Papers were not excluded by their methodology alone, and to minimise the risk of bias, papers were not excluded by their background, ethnicity or language. To be included, papers had to be based within a secondary school or the international equivalent, and focusing on students aged between 11 and 18 years. Papers based outside the secondary school (e.g. primary, universities and community locations) were excluded. Included papers were those that reported any factors affecting the implementation of a tobacco or substance use intervention. Studies conducted pre-1980 were excluded due to subsequent school system reforms, which would likely limit the relevance of findings.
Literature searches
The electronic databases, MEDLINE, Embase, PsycHINFO, Scopus, ERIC, CINAHL, Web of Science and the Cochrane Library, were searched using specific key words to obtain eligible papers, as shown in Table
2
. Search terms were modified to accommodate the differences in the databases, and Boolean search terms and MeSH terms were employed to ensure all relevant literature was searched for.
Table 2
Search Terms for each Database
Databases

Search terms—combined with 'AND'

School

Implementation

Intervention/change

Health

Cochrane Library

EMBASE Via OVID

ERIC Via EBSCO host

Medline Via EBSCO host

SCOPUS

Web of Science Via Thomson Reuters

school*

implement* OR adopt* OR integrate* OR normali*

improvement* OR innovation OR knowledge* OR organisational change* OR quality improvement OR readiness to change* OR behaviour change* OR intervention* OR school based intervention*

health*

CINAHL Via EBSCO host

school*

implement* OR adopt* OR integrate* OR normali*

CINAHL Search Terms: Health Behaviour exp. OR Behavioural Changes OR Behaviour Modification exp. OR Health Education Key Words: improvement* OR innovation OR knowledge* OR organisational change* OR quality improvement OR readiness to change* OR behaviour change* OR intervention* OR school based intervention*

health*

PSYCHINFO Via EBSCO host

school*

implement* OR adopt* OR integrate* OR normali*

MeSH Terms: Behaviour Change OR Health Education OR School Based Intervention Key Words: improvement* OR innovation* OR knowledge* OR organisational change* OR quality improvement OR readiness to change* OR behaviour change* OR intervention* OR school based intervention*

health*
Grey literature, such as national government school curricula and local government websites, were searched for via common search engines using key words reflecting the formal research strategy. Potentially relevant material was obtained and assessed using the same inclusion and exclusion criteria. In addition, the PROSPERO database was searched to identify whether any similar reviews had been conducted.
Study selection
Screening was undertaken by two of the review authors (GW and DNB). In the first round of screening, GW assessed papers against the criteria by reviewing the title and abstract and DNB was responsible for double sifting 20% of the results. If papers appeared relevant, the second stage involved full papers being obtained, assessed and retained if they continued to meet the inclusion criteria. One hundred percent of the papers at the second stage were double sifted by DNB. Any screening discrepancies between reviewers were resolved by further discussion and a third reviewer (TF) was consulted if necessary.
Data extraction
A data extraction form was developed and piloted on the first five studies. The information extracted from each paper was based around the following: Paper Reference and Location—The author information and which country the study had been conducted in, Intervention—Whether the intervention was an alcohol, drug or substance use intervention or a combination of some or all, Study Population—How many young people or providers participated in the study, Study Design—The methods the study employed, Implementation Measurement—What was measured in relation to implementation, Data Analysis—What methods were used to analyse the collected data, and the Key Results—These were the key results stated in the paper that specifically identified as factors affecting implementation. The information extracted was used to formulate a summary table, which is displayed in Table 3, Additional file 1.
Data synthesis
A narrative approach to synthesis was undertaken due to the expected heterogeneity of the included studies. The Normalisation Process Theory (NPT) [22, 25] was used as a novel way to structure the synthesis and to guide the assessment of established implementation factors reported in the included studies. NPT-based interpretations of the study findings were assessed by two authors (GW and TF) and discussed as necessary within the wider review team.
Quality assessment
Included papers were assessed using quality assessment tools appropriate to the study design. However, due to the limited availability of relevant literature, quality was not used as an indicator of exclusion. The Effective Public Health Practice Project (EPHPP) appraisal tool was used to assess quantitative studies [26]. Each component of a paper was rated, with each rating being combined to obtain a global rating of Strong, (0 weak ratings), Moderate (1 weak) or Weak (2+ weak). The Critical Appraisal Skills Programme (CASP) tool was employed to appraise qualitative papers [27]. CASP assessed the included papers with three questions: Is the study valid? What are the results? and Are the results useful? [27].
Results
Figure
1
shows a PRISMA diagram displaying the number of papers excluded at each sifting stage [
28
,
29
], whilst Table
3
presents a summary of each paper, their key findings and the results of quality appraisal.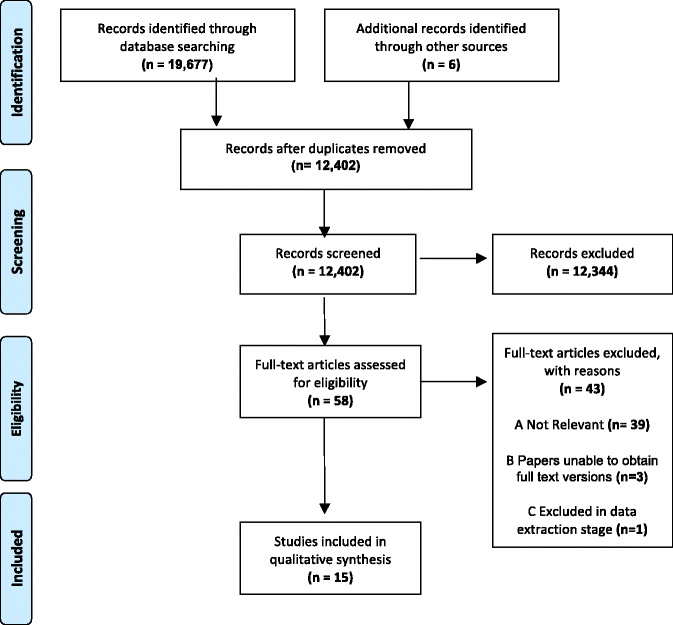 Table 3
Summary table of included studies
Study

Intervention

Study design

Population

Implementation measurement

Data analysis

Key results—factors affecting implementation

Quality appraisal

Audrey et al., 2008 [34]

UK

Tobacco

A Stop Smoking In Schools Trial (ASSIST)

cRCT.

questionnaire interviews

30 ASSIST schools & 29 control

Process evaluation to examine the context, implementation and receipt of the intervention

Framework method of data management. (reading, coding & identifying themes, & sorting material according to key issues)

Teachers welcomed external training—it interested pupils, prevented difficulties of discussing smoking with teachers and relieved staff burden. Implementation appeared compatible with the school ethos and timetable. Smoking was perceived as a difficult issue and staff welcomed a new initiative. Disruption to the timetable was inevitable, and the importance of communication between ASSIST staff and teachers was important

CASP:

Moderate

Barr et al., 2002 [33]

USA

Tobacco

Tobacco Use Prevention Education (TUPE)

Telephone survey

296 middle school teachers & 282 high school teachers

Relations between TUPE teachers' receptivity or amenability to implement TUPE programs and features of implementation settings

Cluster analyses for amenability to implementation. A one-way ANOVA for associations between amenability and implementation. A hierarchal multiple-regression for staff effectiveness perceptions

Indicators of staff amenability were variable. The most amenable staff reported consistently covering each activity with few barriers. For staff perceptions of effectiveness to prevent smoking initiation: Tobacco related norms accounted for 9.9% of variance, staff training & TUPE support or barriers—4.2%, and class activities—4.0%. For staff perceptions of TUPE for cessation: Tobacco norms—6.6% of variance, staff training & TUPE support—6.3%, class activities—5.5%

EPHPP:

Moderate

Basen-Engquist et al., 1994 [31]

USA

Tobacco.

Minnesota Smoking Prevention (MSPP)

Questionnaire

39 districts in live training & 33 in video training. Mean number of pupils was 41, 2.8 teachers

Assessing how the type of teacher training affects implementation via a live workshop or video training

Fisher exact test & Mann-Whitney U for differences in teacher implementation

Two group t-tests tested differences between students in the live and video districts

The relationship between type of training and use of the curriculum was significant. Districts who were assigned to the video training condition were less likely to teach the curriculum. However, implementing teachers from both groups reported high levels of implementation. Students in live workshops were more likely to recall discussions and activities

EPHPP:

Weak

Garrahan 1995 [40]

USA

Substance Use

Systems approach model

800 students

Not stated

Baseline substance use data was collected via a survey & analysed

Involving school personnel in a building-wide manner and monitoring efforts and outcomes was important. All implemented intervention aspects were linked to existing components of the school, and this gave the impression that what was implemented was based on common sense or self-evident reasoning

EPHPP:

Weak

Jarrett et al., 2009 [35]

USA

Tobacco

Not-On-Tobacco (NOT)

Survey

769 pupils who reported regular smoking.

Perceptions of facilitator characteristics & the relationship between perceptions & outcomes

Descriptive analyses used to determine overall ranking of facilitator characteristics. Chi-square test to determine if facilitator ratings differed by race or sex

88.7% of pupils rated facilitators as favourable. No nagging or preaching, nonjudgmental, trustworthy, caring, & confidentiality were scored highly. There were few differences in ratings by race. Favorability scores were associated with changes in smoking (quit or reduce). Pupils who perceived facilitators favourably showed significant smoking reduction and cessation rates, regardless of sex or race

EPHPP:

Weak

MacDonald and Green 2001 [44]

Canada

Substance Misuse

Interviews and observations with Project Workers (PWs)

100 interviews in 6 sites with school admins, teachers, pupils, parents, & agency staff

Participants were probed around the level of understanding and support for prevention, implementation experiences, implementation barriers & facilitators, support for PWs and the school's problem with drug and alcohol issues

Constant comparative method of grounded theory

Field notes were recorded and used to support analysis

PWs needed to establish legitimacy and familiarity within schools, by overcoming staff opposition. They had to address conflicting expectations, resulting from poor preparation. Schools had to be ready and willing to implement, and PWs faced issues selling the model, and facilitating participation. Training sought to teach PWs to understand the model, but this did not occur and PWs realised they did not understand it enough to implement to others and few achieved it as intended. Some tried, but were discouraged by school barriers. Some retained key features, but omitted elements due to admin pressure or context demands

CASP:

Strong

McBride et al., 2002 [43]

Australia

Alcohol

The School Health & Alcohol Harm Reduction Project

(SHAHRP)

Longitudinal study

41 classes.28 teachers 6 schools

Series of methods to optimise and assess implementation fidelity including training, critical assessment and self report

Spearman's rank measured fidelityTheme matrices described qualitative responses

SHAHRP was taught 80.7% as intended, with fidelity ranging from 78.9 to 83.4%. Implementation was optimised by: training, staff and pupil motivation and timing. Teachers found too much work in some lessons, interruptions reduced classroom time and implementation effectiveness was pupil dependent. Expectations needed to be lowered for difficult pupils and some activities were not implemented as intended

CASP:

Weak

EPHPP:

Strong/Moderate

McCormick et al., 1995 [32]

USA

Tobacco

RCT

21 districts, 50 schools, and 3000 pupils.

Districts were assigned to control or intervention.

Use of 'Level of use' tool and implementation check-sheets

Population means, median, frequencies & correlations used for summary. Non-parametric tests tested for differences between control and intervention

Overall implementation completeness was low, with the mean % implemented being 70% and 23% implemented ≥90%. Larger districts were more likely to implement than small ones. Districts with favourable climates were more likely to implement and reported higher usage. Trained teachers were more likely to implement curricula and more likely to implement higher proportion

EPHPP:

Moderate

Pettigrew et al., 2013 [42]

USA

Substance use

keepin' it Real (kiR)

Ethnography

39 schools; 14 Control, 14 Rural: Mean number of pupils per school = 99, with a range from 27 to 226

An assessment of teacher implementation using the indicators; delivery methods, consistency of delivery, teaching standards

Coding provided; quantitative implementation ratings—quality adherence, adaptation, delivery and engagement, whilst qualitative codes identified adaptation and engagement

Analysis identified teacher control as passive, coordinated, or strict, and pupil participation as disconnected, attentive, or participatory; serving as a classroom typology for kiR implementation. Passive teachers were linked with passive pupils, strict teachers had attentive pupils, whilst classes with participatory pupils were taught by coordinated teachers. Teachers who taught kiR frequently tended to display similar control and pupils participated consistently

CASP:

Moderate

Rohrbach et al., 2007 [37]

USA

Substance Use

Project Towards No Drug Abuse (TND)

RCT

18 schools—6 in each different condition. Pupils ranged from 13 to 19 years of age

Study compared teachers with Program Specialists (PSs). Questionnaire assessed implementation fidelity of TND via adherence, classroom process and perceived pupil acceptance

Inter-rater reliability was calculated for each item. To test the effect of implementer on fidelity and outcomes, a mixed-linear model was used

Of the 4 indexes of fidelity, only delivery quality differed between PSs and teachers. Both teachers and PSs achieved effects on 3 of the 5 immediate outcome measures, including program knowledge, addiction concern, and self-control. Pupils' posttest ratings of the program and the quality of delivery showed no difference between teacher and specialist-led classrooms

EPHPP:

Moderate

Skara et al., 2005 [36]

USA

Substance Use

Project Towards No Drug Abuse (TND).

Questionnaire

18 schools—6 in each different condition. 2735 students completed pretest questionnaires: 85% completed post-program

Questionnaire assessed implementation fidelity of TND via questions open and closed questions

Data was analysed using a generalised mixed-linear model using SAS

The curriculum was implemented as intended, received favourable ratings, and significantly improved knowledge. Providers reported high adherence to lesson plans and lessons were not difficult to teach. Adherence and delivery quality did not differ by curriculum or school. Individual ratings of delivery quality were favourable, including providers' perceptions of pupil participation, pupil interest, provider's maintenance of class control & providers' perceptions of effectiveness

EPHPP:

Moderate

Sloboda et al., 2009 [39]

USA

Substance Use

Take Charge of Your Life (TCYL)

Observation and surveys

TCYL was delivered by 140 Drug Abuse Resistance Education (DARE) officer instructors

Implementation fidelity measured using instructional strategy (IS)

Descriptive statistics & analyses between content coverage and IS & scores from targeted lessons were conducted using hierarchical linear modelling to gain 2-level random intercept models

Higher content was correlated with IS. There were no correlation between age, sex, race, education, content coverage or use of IS. Pupils with higher coverage scored higher on the consequences measure. Results indicated pupils with a higher proportion of the content had greater perceptions of negative consequences. Greater exposure and greater content coverage was related to negative alcohol expectancies

EPHPP:

Weak

Stead et al., 2007 [38]

UK

Substance Use

Blueprint

Observations and interviews

30 schools in 4 Local Authority areas: 24 intervention & 6 control.

Year 7 (11–12 years) & Year 8 (12–13 years)

Implementation fidelity measured via adherence, exposure, participant responsiveness, quality of delivery and program differentiation

Observation schedule used to generate descriptive statistics.

The mean content fidelity was 72%. As teachers got familiar with lessons, they were likely to modify or omit elements. Fidelity was highest in teacher-pupil lessons & lowest for pupil-pupil. Resource use was variable and teachers found timing and completing content difficult. Teachers were unsure of interactive sessions due to disruption & unpredictable outcomes. Some teachers expressed concern about answering questions about drugs, but there was no difference in delivery quality of teachers with experience & those without

CASP:

Moderate

Sussman et al., 1993 [30]

USA

Tobacco

Project Towards No Tobacco Use

Questionnaire

4852 7th grade pupils. 9 Health Educators. 76 observers collected teacher data

Key implementation measures were around program completion and delivery (fidelity- adherence, exposure, reinvention)

Pupils & educators gave ratings of implementation. Post hoc comparisons were used between pairs of means and one-way ANOVAs predicted response means

Adherence did not vary by condition and high levels of implementation were observed in all conditions. Pupils preferred physical consequences and enthusiasm was rated the lowest. Health educators' enthusiasm, effort and class enthusiasm differed by condition. Teachers did not differ in their ratings of class control or understandability

EPHPP:

Weak

Thaker et al. 2008 [41]

USA

Substance Use

Reconnecting Youth (RY) program

Organisational diffusion study

At risk of drop out students from grades 9–12. 5 schools from each district took part

Three diffusion of innovation indicators used: perceived advantage, complexity and compatibility. Capacity, school turbulence and leadership/admin support were also explored to assess how they could affect implementation

Survey data was analysed using SPSS whereas interview data was transcribed and analysed using qualitative content analysis

Teachers reported learning RY difficult, as they were not prepared & needed to plan. RY was rigid, complex and difficult to implement the timelines & content. School capacity (skills and resources) varied & affected implementation. Other issues were budget shortfalls, funding cuts, difficulties finding rooms and school turbulence (transient pupil populations, school reorganisation, schedule changes, & staff turnover). RY lacked leadership and admin support. Only 50% of staff reported principles being supportive. Whilst only 1/3 of district admins considered RY important

EPHPP:

Weak
Fifteen papers were deemed eligible for inclusion in the review. Six papers focused on tobacco interventions [30–35], four focused on drug use interventions [36–39], three focused on general substance use interventions [40–42], one focused on an alcohol intervention [43] and one focused on a dual alcohol and drug intervention [44]. All but one paper lacked the use of an implementation theory [44, 45] and no reference was made within the included papers to the use of implementation strategies.
Discussion
Despite the 15 included papers being heterogeneous, common factors affecting the implementation of tobacco and substance use interventions in the secondary school could be identified. During quality appraisal, the majority of papers were classified as weak or moderate quality. A common weak area was found to be the reporting of confounding and contextual factors affecting study results, which was also identified in the review of healthcare innovation by Greenhalgh et al. [18]. By offering more of a focus to confounding factors, which have the potential to affect implementation, it is likely to add value in providing a richer understanding of the context and facilitate implementation within the secondary school setting.
This is a common thread within the implementation field, and advances in implementation science has led to the identification that implementation studies often display insufficient and inadequate reporting, requiring intervention [46–48]. Therefore, the recently published Standards for Reporting Implementation Studies (StaRI) Statement was developed as a set of guidelines to increase the transparency and accuracy of implementation study reporting [46]. This would particularly be of use within the school setting, as the reporting was shown in the review to be largely disparate. By employing the StaRI guidelines, within future implementation studies in the school setting, it would likely have a significant impact on the structure and reporting of implementation outcomes, and would not only ensure the delivery of higher quality papers but would increase the comparability and work towards improving implementation in practice in this setting [46].
NPT was used to provide a common interpretative framework to apply across the full set of papers and ensured that a comprehensive assessment of the factors affecting implementation could be made. This sought to be a novel element of this paper as NPT's use outside of the healthcare setting has been limited, and no previously published work has used it within the secondary school context. This has implications for broader implementation research, as it emphasises the usefulness of NPT in the school setting, and highlights the transferability of NPT in settings outside of healthcare.
A key result, relating to the implementation determinants of tobacco and substance use interventions, was that few papers reported providers being able to distinguish the intervention from their current ways of working. This is likely to create difficulties with staff engagement, which was also reported as a key factor affecting implementation, as there is no clear discernible benefit to a new practice. However, if an intervention is highly removed from current practice, providers may struggle with role identity conflicts, if it is perceived as being outside their traditional role. This is of increased importance within the secondary school setting, as staff in the included papers reported heavy workloads and time pressures, indicating the adoption of a new role or practice may provide a degree of conflict.
Another key factor determining implementation was the providers' level of comfort with delivery and the topic. This has not been observed in a similar way in general health promotion implementation studies in schools [15] but is largely unsurprising when focusing on tobacco or substance use interventions, as they are often associated with negative stigma [49, 50] indicating a consideration for future work. Results highlighted providers feeling unprepared or that specialist knowledge was required to deliver interventions effectively [44]. This links with the conflict around role identity and the importance of training, which was emphasised in several papers [32, 34, 41, 42]. Comprehensive training can therefore be highlighted as an implementation strategy, which can positively affect implementation, if it is able to address how to deliver controversial topics and leaves providers feeling adequately supported.
Support and provider buy-in were consistently portrayed as factors facilitating and determining implementation and good engagement were seen to positively influence student behaviour [30]. In addition, provider support was linked with the need for an implementation driving force. Due to the disparate nature of the papers and their context, this was explored differently, with students, teachers, project workers and outsider providers acting as implementation drivers. Organisational support, which has previously been identified as a key implementation determinant [45, 51, 52], was also identified as a key factor affecting implementation, with the most effective support being gained pre-implementation and providing long-term maintenance [32].
Another result specific to the school setting included student engagement, which was observed as a factor affecting implementation in Pettigrew et al. [42]. Although the school settings were shown to be highly heterogeneous, this is likely to be common across schools, as individual differences will affect students' engagement levels.
Moving on to consider the finding around the implementation outcome fidelity, implementation fidelity appeared to be variable across the included papers and was affected by multiple factors. In some papers, providers felt it necessary to modify intervention components, leading to emphasising the importance of establishing which components are essential for implementation and which components should possess flexibility. Implementation fidelity is often considered as being complex and a key source of variability [37, 53, 54]. A specific example from the surrounding literature is within the review of implementation fidelity of school-based drug use interventions by Dusenbury et al. [55]. The idea that school providers can reduce implementation fidelity, but ultimately increase the 'implementability' , is an important area to discuss. Although, it was seen as beneficial to possess flexibility, as programs that were too rigid experienced low fidelity, it is important to identify critical intervention components, to ensure that modifications do not affect the intervention's effectiveness. Therefore, to facilitate future school-based tobacco or substance use intervention implementation, core elements should be identified and complemented with flexible components, in order to be salient for the differing school contexts. This observation is also supported by several papers reporting teachers struggling with adhering to timelines; as although teachers were seen to be appropriate providers, heavy workloads made it difficult to maintain fidelity due to the preparation or time constraints. It is likely to be inappropriate to allocate teachers large implementation activities, and it may prove advantageous, if feasible, to source training or delivery to outside providers.
Even though this review highlights factors unique to the school setting, such as provider factors and pupil engagement, fitting this review into the wider implementation literature context; the findings around organisational host support, adequate resources and the need for appropriate feedback echo the findings of previously conducted implementation work [14, 45, 56, 57]. NPT was useful as an organising framework for synthesising findings from disparate study designs, to not only identify the factors affecting implementation, but also to highlight the knowledge gaps and areas warranting future research and or action in terms of intervention modification.
A unique finding of the review was that few of the included papers reported results indicative of NPT's Reflexive Monitoring construct. This could have resulted from methodological reasons, such as participants were not asked or the intervention effects were not known, or could simply be a result of the previously discussed limited reporting. However, as evaluations can provide value to implementation studies by identifying ineffective areas, such as provider or host support, it is likely that building in feedback or evaluation components into future work in the school setting would be advantageous.
Other gaps included papers lacking reporting around the use of predefined implementation strategies, which can be complemented by the use of implementation theory. As stated, almost all of the review's included papers lacked a theoretical driving mechanism. We argue that future school implementation work would significantly benefit from being theoretically driven, and this has frequently been raised when considering existing implementation studies [46, 58–60]. By employing the use of a conceptual framework to underpin the implementation research in the secondary school setting, it could have facilitated implementation strategies and the reproducibility and clearly highlighted specific areas of improvement for future implementation and sustainability.
This finding has broad implications for future work, and one of the goals of this systematic review has been to inform the development of a school-based intervention implementation model to facilitate the implementation of novel substance use interventions in the secondary school setting. Although the model will be developed with reference to the rapidly advancing knowledge on implementation determinants assessment [61] implementation strategies [62] and progress and outcomes assessment and measurement [63], it will be informed by in-depth qualitative research currently being undertaken with local school staff and key stakeholders in the implementation process to ensure targeting of key challenges in the secondary school setting. This review thus represents initial advancement in understanding the challenges of implementing substance use interventions in the school setting, as part of a programme of work that moves more towards the development and testing of tools for facilitating improved implementation of such interventions. Conceptual and practical developments stemming from this work will therefore be useful in the wider school implementation field and will be publicly available for use in future implementation research in this setting.
A final gap identified was there was little to no focus, within the included studies, around the cost effectiveness of implementation. This could benefit from playing a role in future work as small budgets and cuts to school funding were reported to be factors negatively affecting the implementation of a tobacco or substance use intervention, specifically within the context of UK secondary schools [41]. There remains limited available research evidence investigating how altering the implementation of a such an intervention, could influence the total cost, and which costs can be directly attributable to implementation. Therefore, as the secondary school setting remains to be a financially restricted setting, it highlights a key area of investigation for school-based intervention implementation research and one which will be explored within the future planned work.
Limitations
Although systematic search procedures were followed, it is possible that key studies were missed, or published after searching concluded. However, the authors minimised the likelihood of this by double sifting, reference list searching and re-running searches during the period of research.
The included papers were highly heterogeneous, making synthesis and interpretation of authors' findings challenging. NPT did, however, provide a common framework against which to link and synthesise study findings, and best practice approaches to narrative synthesis (including multiple team member checking of data interpretation) add to our confidence in the presentation of findings. Our findings in relation to policy and practice at this moment in time should thus be deemed as tentative, but will be further explored in in-depth qualitative research with key stakeholders.
We acknowledge that other implementation theories or frameworks could have been employed differently to further classify and interpret the results. NPT was most useful for the purpose of our review, given the small but diverse literature we synthesised. However, a more elaborate tool such as that offered by Flottorp et al. could be used to map existing theories by their corresponding constructs and is likely to be useful future reviews in this field [61].
Conclusion
This review identified and synthesised factors reported to affect the implementation of tobacco and substance use interventions within the secondary school setting. Key factors affecting implementation that were identified, such as contextual factors, and support and training and provider perceptions, should be understood and addressed when implementing secondary school-based interventions. However, increased exploration should be provided to NPT's reflexive monitoring construct, the appraisal and evaluation processes of implementing new interventions, as findings around providers reflecting upon components they believe facilitated the implementation process and which aspects could benefit from modifications, were limited and are likely to add value in facilitating improved implementation and sustainability of interventions in the future.
This review sought to reinforce the importance of considering the factors affecting introducing a new intervention into practice. As there were relatively few papers specifically focusing on the implementation of tobacco or substance use interventions in the secondary school, it demonstrated that the school health field could benefit from more work in this area and should build on the findings and lessons from the existing school implementation work. Research should focus on bridging the gap between research and practice, and reflective collaborative working involving educators and practitioners will be conducted, in order to generate an implementation model with the most salience for this setting. Working collaboratively to develop implementation strategies, which employ the use of implementation theory and which comprehensively consider the implementation outcomes, such as adoption, feasibility and acceptability in practice, would be advantageous and would likely contribute to increasing the effectiveness of interventions seeking to reduce tobacco and substance use in adolescents.
Abbreviations
ANOVA:

Analysis of variable
ASSIST:

A Stop Smoking In Schools Trial
CASP:

Critical Appraisal Skills Programme
CINAHL:

Cumulative Index to Nursing and Allied Health Literature
cRCT:

Cluster Randomised Controlled Trial
EPHPP:

Effective Public Health Practice Project
ERIC:

Education Resource Information Centre
IS:

Instructional Strategy
kiR:

Keeping It Real
MSPP:

Minnesota Smoking Prevention
N-O-T:

Not on Tobacco
NPT:

Normalisation Process Theory
PS:

Program Specialist
RCT:

Randomised Controlled Trial
RY:

Reconnecting Youth
SHAHRP:

School Health and Alcohol Harm Reduction Project
TND:

Towards No Drug Use
TUPE:

Tobacco Use Prevention Education
WHO:

World Health Organization
Declarations
Acknowledgements
The authors thank Iain Baird and Julie Hogg, information specialists at the Teesside University Library, for their assistance in the development of the search strategy.
Funding
Gillian Waller is an MRC-funded student via Fuse, the Centre for Translational Research in Public Health (www.fuse.ac.uk). Fuse is a UK Clinical Research Collaboration (UKCRC) Public Health Research Centre of Excellence. Funding for Fuse from the British Heart Foundation, Cancer Research UK, Economic and Social Research Council, Medical Research Council, the National Institute for Health Research, under the auspices of the UKCRC, is gratefully acknowledged. The views expressed in this paper do not necessarily represent those of the funders or UKCRC. The funders had no role in study design, data collection and analysis, decision to publish, or preparation of the manuscript.
Availability of data and materials
The dataset supporting the conclusions of the article is included within the article.
Authors' contributions
GW and DNB constructed and refined the search strategy and GW ran all searches. GW and DNB sifted the generated material and GW completed extraction. Analysis and interpretation of the data using NPT was completed by GW and TF. GW wrote the initial manuscript, but all authors (TF, EG, DNB) were involved with the drafting and critical revisions. All authors read and approved the final manuscript.
Ethics approval and consent to participate
Not applicable.
Consent for publication
Not applicable. Data and materials are available for reviewers upon request.
Competing interests
The authors declare that they have no competing interests.
Publisher's Note
Springer Nature remains neutral with regard to jurisdictional claims in published maps and institutional affiliations.
Open AccessThis article is distributed under the terms of the Creative Commons Attribution 4.0 International License (http://creativecommons.org/licenses/by/4.0/), which permits unrestricted use, distribution, and reproduction in any medium, provided you give appropriate credit to the original author(s) and the source, provide a link to the Creative Commons license, and indicate if changes were made. The Creative Commons Public Domain Dedication waiver (http://creativecommons.org/publicdomain/zero/1.0/) applies to the data made available in this article, unless otherwise stated.
Authors' Affiliations
(1)
School of Health and Care, Health and Social Care Institute, Teesside University, Middlesbrough, UK
(2)
Institute of Health & Society, Newcastle University, Newcastle, UK