Research
Open Access
Open Peer Review
This article has Open Peer Review reports available.
Understanding the implementation of interventions to improve the management of chronic kidney disease in primary care: a rapid realist review
Implementation Science
2016
11:47
Received: 16 November 2015
Accepted: 24 March 2016
Published: 4 April 2016
Abstract
Background
Chronic kidney disease (CKD) is common and a significant marker of morbidity and mortality. Its management in primary care is essential for maintenance of cardiovascular health, avoidance of acute kidney injury (AKI) and delay in progression to end-stage renal disease. Although many guidelines and interventions have been established, there is global evidence of an implementation gap, including variable identification rates and low patient communication and awareness. The objective of this study is to understand the factors enabling and constraining the implementation of CKD interventions in primary care.
Methods
A rapid realist review was conducted that involved a primary literature search of three databases to identify existing CKD interventions in primary care between the years 2000 and 2014. A secondary search was performed as an iterative process and included bibliographic and grey literature searches of reference lists, authors and research groups. A systematic approach to data extraction using Normalisation Process Theory (NPT) illuminated key mechanisms and contextual factors that affected implementation.
Results
Our primary search returned 710 articles that were narrowed down to 18 relevant CKD interventions in primary care. Our findings suggested that effective management of resources (encompassing many types) was a significant contextual factor enabling or constraining the functioning of mechanisms. Three key intervention features were identified from the many that contributed to successful implementation. Firstly, it was important to frame CKD interventions appropriately, such as within the context of cardiovascular health and diabetes. This enabled buy-in and facilitated an understanding of the significance of CKD and the need for intervention. Secondly, interventions that were compatible with existing practices or patients' everyday lives were readily accepted. In contrast, new systems that could not be integrated were abandoned as they were viewed as inconvenient, generating more work. Thirdly, ownership of the feedback process allowed users to make individualised improvements to the intervention to suit their needs.
Conclusions
Our rapid realist review identified mechanisms that need to be considered in order to optimise the implementation of interventions to improve the management of CKD in primary care. Further research into the factors that enable prolonged sustainability and cost-effectiveness is required for efficient resource utilisation.
Keywords
Chronic kidney diseasePrimary careFamily practiceImplementationInterventionsQuality improvementRapid realist reviewNormalisation Process Theory
Background
Chronic kidney disease (CKD) is an increasingly common condition, with a global prevalence estimated at 8–16 % [1]. It is defined as reduced kidney function, demonstrated by decreased estimated glomerular filtration rate (eGFR), or evidence of kidney damage, such as increased excretion of urinary albumin [2]. CKD is rarely diagnosed in isolation and is associated with considerable co-morbidity, especially in the elderly population [3, 4]. Ninety-seven percent of patients with moderate to severe CKD have mostly asymptomatic stage 3 disease, but even this stage of CKD bears a two- to fourfold rise in cardiovascular disease risk and a significant increase in all-cause mortality [5, 6]. Only a small proportion of patients progress to end-stage renal disease (i.e. stage 5 disease), but this requires costly treatments and is associated with substantial morbidity and mortality [5]. Furthermore, evidence shows that CKD is a significant risk factor for patients developing acute kidney injury (AKI) [7]. AKI causes an increase in cost, length of stay and readmission rates to hospitals as well as raised short- and long-term mortality rates [7, 8].
Several international guidelines exist to direct the treatment of CKD, with an emphasis on effective management of early stage disease [1, 3]. Hence, the primary care management of early stage CKD is essential, harbouring the potential to prevent complications and improve health outcomes [3, 9]. To support the implementation of these guidelines from a UK perspective, CKD was included in the national 'pay for performance' scheme for primary care from 2006, called the Quality and Outcomes Framework (QOF) [10]. This scheme has undergone several modifications but included financial incentives for attainments such as the recognition of CKD, blood pressure (BP) management and the appropriate use of renin-angiotensin system agents [4, 10].
However, global evidence repeatedly shows that there is an implementation gap between CKD guidelines and clinical practice [11–13]. This includes variable levels of recognition, difficulties in communicating the diagnosis to patients, poor patient awareness and uncertainty surrounding medication and referrals [14, 15]. Studies have highlighted the need to understand the issues surrounding implementation to close the translational gap and inform healthcare professionals on effective intervention design [4, 16, 17].
The purpose of this study was to deepen the understanding of the factors affecting the implementation of CKD interventions in primary care. Guided by the framework of a rapid realist synthesis, the focus was on the following research questions:
1.

What mechanisms enabled components of a CKD intervention to be successfully implemented into primary care?

2.

What were the underlying contextual conditions that activated these mechanisms?
From this review, the aim was to produce informative results that could be used to inform intervention design and advise policymakers.
Methods
Rapid realist review and Normalisation Process Theory
This study has been informed by the principles of a rapid realist review combined with Normalisation Process Theory (NPT). The RAMESES standards were adopted to conduct the review [18].
Realist methodology is a systematic approach designed for analysing complex interventions. It combines both qualitative and quantitative data to perform a multidimensional investigation [19]. It allows a deeper exploration into the underlying mechanisms that lead to a particular outcome, whilst considering specific contextual factors. Compared to a 'traditional' realist approach, a rapid realist review is less concerned with theory development and more focussed on explanations [20]. It is a time-responsive method allowing the generation of findings to inform policy and clinical practice.
NPT is a middle range theory that is concerned with the underlying processes surrounding implementation [21]. Its development was grounded in primary care and attempts to take into account complex interplaying factors of work and action rather than attitudes and beliefs. It was designed to identify and understand the processes underpinning care, through which existing interventions had become taken-for-granted or 'normalised' [21, 22]. These are described as coherence, cognitive participation, collective action and reflexive monitoring [21]. From a realist perspective, these can be viewed as basic mechanisms through which implementation and therefore normalisation occurs.
Design
Rapid realist methodology was identified as an appropriate approach to construct an analysis of how complex primary care interventions work for CKD in particular situations (i.e. 'what works, for whom and in what circumstances') [19]. From the perspective of a realist approach, we concentrated on identifying the underlying mechanisms activated by interventions and the contextual features required to produce successful outcomes in terms of implementation. As heterogeneous data from both quantitative and qualitative studies were included, the review set out to look for definitions for the outcome of 'successful implementation' within the data. The focus and purpose of the review, along with the review questions, were refined by the research team from the initial scope. This allowed us to modify our application of NPT as a middle range theory to illuminate additional data and theories regarding implementation.
NPT was used as a sensitisation tool to frame both data synthesis and analysis. The approach chosen accepted the body of evidence surrounding the development of NPT and its 'domains' as categories of basic mechanisms. Informed by NPT, we started from the proposition that achieving the basic mechanisms of 'coherence' (that is, sense-making work), 'cognitive participation '(engagement work), 'collective action' (operational work) and 'reflexive monitoring' (feedback and quality improvement work) [21] contributed to successful implementation. In doing so, it provided a framework to identify underlying mechanisms or actions within each of these 'domains' that affect implementation at the micro-level.
Search process
The search process was performed in two stages. The primary search was used to identify published CKD interventions with a strict primary care focus (summarised in Fig.
1
). All study designs were included in order to perform an in-depth exploration of the factors surrounding implementation, taking into account that there would be varying strengths of evidence. Seeking to understand the complexities surrounding implementation, both practitioner and patient interventions were included. Members of the review team have also been involved in developing CKD interventions, and hence, recommendations and unpublished reports were also examined. The primary search was performed to identify results from the years 2000 to 2014. The primary and secondary exclusion criteria and search terms are included in Table
1
.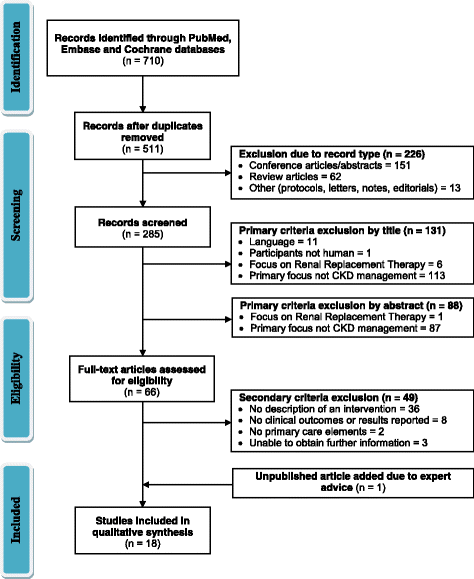 Table 1
The primary and secondary exclusion criteria and search terms for the primary search
Primary exclusion criteria
 • Studies not written in English
 • Studies that include participants which are not human
 • Studies where the primary focus was not on the management of kidney disease
 • Studies which focussed on participants on renal replacement therapy
 • Studies which were letters, notes, conference abstracts or reviews only
Secondary exclusion criteria
 • Studies where there was no description of any intervention
 • Studies that did not report any clinical outcomes or results
 • Studies where there were no primary care elements
 • Unable to obtain further information to make assessment
Search terms used
 ((Chronic Kidney Disease or CKD) and (intervention or interventions or tool or tools or strategy or strategies or project or projects or model or models or scheme or schemes or quality improvement or quality improvements) and (Primary care or family practice or general practice))
The secondary search was an iterative process that was performed throughout the project. From the published interventions identified in the primary search, each study was then isolated and the search was expanded to gain additional insight. This entailed
1.

Searches of relevant articles in the reference list;

2.

Searches of the author on PubMed, Cochrane and Embase;

3.

Searches of the author and research group on Google, to identify relevant grey literature.
Selection, appraisal and extraction
Data from both primary and secondary studies were selected and appraised by assessing their relevance to the research question, transferability of results and the appropriateness of data collection and analysis processes. A data extraction tool (see Additional file 1) was developed in September 2014 by JT and modified after consultation with the other authors. This consisted of three parts to explore the factors surrounding implementation using a realist perspective. Using NPT, Murray et al. [21] further published a series of questions to guide the evaluation of factors affecting the implementation of an intervention on a more practical level. This was included within our extraction tool as a means of data sensitisation to delve deeper into the issues surrounding implementation.
Data extracted included
1.

Background information regarding the intervention, such as the setting and demographics to outline possible contextual factors;

2.

The underpinning theories or key workings that contributed to the design and functioning of an intervention including information within NPT domains—to identify underlying mechanisms;

3.

Information and evidence suggestive of the successes or failures of different aspects of an intervention.
Analysis and synthesis processes
Data was extracted by JT, and weekly data sessions were held between two authors (JT and TB) to critically appraise, analyse and synthesise the data. After each data session, key themes, contexts and mechanisms were summarised and their relationships elicited. NPT was then used to further evaluate the strengths and weaknesses of each component of an intervention regarding implementation.
Specifically, we attempted to identify mechanisms (individual or collective) that were globally observed across different interventions leading to successful implementation. We also focussed on identifying contextual factors that enabled or inhibited the activation of specific mechanisms. It should be noted that we did not test the effectiveness of interventions identified. Rather, the focus was on different components within each CKD intervention that were successfully or unsuccessfully implemented.
Results
The review identified 18 full-text articles of existing CKD interventions in primary care. A descriptive overview of the interventions is provided in Table
2
. The iterative secondary search further identified 137 records that provided further insight into each of these 18 interventions that were explored in the qualitative synthesis. Further detail of the records identified by the secondary search is provided in Additional file
2
, with a summary table in Additional file
3
. Parts of both published and grey literature and the qualitative and quantitative aspects that were linked to these papers provided evidence that all interventions included in the review were complex in nature. They required different members of healthcare and non-healthcare staff and organisations to enable the implementation of different components of each intervention. The literature suggested that different aspects from the same intervention had differences in success with some components being well implemented and other features being discarded. Evidence of successful implementation as an outcome included high percentage of uptake, a low dropout rate of the intervention or repeated inferences of acceptability.
Table 2
An overview of the 18 CKD interventions for primary care identified from the primary search
Intervention type

Author (year)

Main intervention description

Other intervention(s)

Sample size

Country

Summary of findings

Other comments

CKD interventions aimed at healthcare professionals

Educational

Cortes-Sanabria et al. (2008) [28]

Intensive weekly teaching sessions to GP (5 h weekly for 6 months)

Validated test at 0 and 6 months to measure competence

94

Mexico

Increased GP competence, led to improved eGFR and BP control, better prescribing

High enrolment rate. 91 % of GPs increased their clinical competence

Akbari et al. (2004) [26]

2 h of teaching seminars to GPs, with direct access to advice from nephrologist

Automated reporting of eGFR by laboratory

324

Canada

Increased recognition of CKD

Limited data for evaluation, early study

Practice group meetings

De Lusignan et al. (2013) [34]

Audit-based education (twice yearly feedback about quality and performance compared with peers)

Education, peer support

23,311

UK

Improved BP control and increased use of ACEi. No differences in eGFR

Large study including 93 different practices

Humphreys et al. (2012) [16]

Three large practice group meetings with local rapid quality improvement cycles (planned and organised by research collaboration)

Implementation team support

5509

UK

CKD recognition, BP control and proteinuria testing all improved

Included 19 different practices

Multidisciplinary management

Scherpbier et al. (2013) [32]

Shared care between nurse practitioners and GPs (with access to nephrologist or nephrology nurse via digital technology)

Education to both groups

164

Holland

Decreased BP and serum PTH, increased use of ACEi and statins

Limited supporting data for evaluation

Barrett et al. (2011) [25]

Nurse co-ordinated care (with access to nephrologist)

427

Canada

No difference in rate of decline of eGFR or BP. But an increase in mean eGFR

Most patients 'extremely satisfied' with care on questionnaire

Bayliss et al. (2011) [27]

MDT approach (including nephrologist, pharmacy specialist, diabetes educator, dietitian, social worker, and nephrology nurse)

Components included weekly meetings, contact by telephone or email, individualised plans and patient education

2002

USA

Rate of decline of eGFR improved. No differences in BP, lipids or HbA1C

Limited data to determine which individual components were effectual

Richards et al. (2008) [33]

Disease management programme (includes patient education, medication review, dietetic advice and social worker)

Desktop guide for clinicians containing clinical management and referral algorithms

483

UK

Improved eGFR, BP and cholesterol.

An extra resource. 85 % enrolment of practices within one area

Patel et al. (2005) [45]

Pharmacists performing medication reviews

82

USA

Improvement of CKD recognition. No difference in BP, HbA1C or creatinine clearance

99 % of patients had prescription related problems. Only 40.9 % of advice was accepted

Computer software

Drawz et al. (2012) [36]

Access and training for CKD registries

Educational lecture to both groups, academic detailing

781

USA

Increased PTH measurements, but no difference in BP control

Poor uptake: only 5/37 GPs accessed the registry

Erler et al. (2012) [35]

Medication alert software with training

1 h education to both groups, patient info leaflets

404

Germany

Improved prescribing

Lack of contextual integration limited its use

Abdel Kader et al. (2011) [23]

Computer-generated automatic alerts for referral to nephrologist

Two 15 min educational sessions for GPs in both groups

248

USA

No differences in referral to nephrologists or BP control

97 % uptake rate of GPs. No dropouts from study

Fox et al. (2008) [30]

Computer decision support software generating a recommended to-do list

Ancillary staff + monthly academic detailing

180

USA

Mean eGFR, CKD recognition, anaemia diagnosis all improved

Ancillary staff also did extra work including translating patient guides

Financial

Karunaratne et al. (2013) [29]

National pay for performance scheme (Quality and Outcomes Framework)

10,040

UK

Improved BP control, increased use of ACEi

High level buy-in generated engagement

CKD interventions aimed at patients

Patient education

Blakeman et al. (2014) [39]

Patient guidebook, telephone guided help from a lay health worker

Booklet and website linking to community resources

436

UK

Improved BP control, increased QALYs

85.7 % uptake rate

Thomas et al. (2013) [38]

Leaflet, DVD, self-monitoring diary

Single practitioner education and shadowing session

116

UK

Decreased BP

Limited data on level of implementation

Thomas et al. (2014) [37]

Group education session, leaflet, DVD

Practice training and monthly teleconferences. Patient advisory group

671

UK

Moderate decreases in BP

Patient advisory group involved in design, grant application, delivering education and feedback

Other

Cottrell et al. (2012) [44]

Mobile phone text messaging BP service

124

UK

No changes in BP, improved prescribing

Many more BP readings
Discussion
This rapid realist review aimed to understand factors affecting the implementation of CKD interventions in primary care. Based on our findings, the effective management and allocation of resources (encompassing many different forms) was a key contextual factor that enabled mechanisms to facilitate successful implementation. It was important to take into account that this factor changed over time, which affected how mechanisms worked. The heterogeneity of general practice meant that effective resource management had different requirements in each setting. A recent study examining global challenges of CKD has also highlighted the importance of directed and effective resource allocation [54]. However, we also discovered that there were widespread variations in the reporting of contextual data. This is consistent with previous research examining implementation, which all report discrepancies on how 'context' was defined [55–57].
Although the literature did not offer clarity in terms of the importance of one mechanism over another, our review suggests three key intervention features that were particularly important enablers of implementation according to NPT. These were appropriate framing of the intervention, compatibility with existing practices and improvements to create ownership of an intervention. When interventions presented these features, and were supported by adequate resource allocation and management, the core mechanisms functioned effectively and the intervention was successfully implemented.
1.

Appropriate framing of the intervention:

Patients and practitioners are still reported to have a low awareness of CKD [2, 42]. Therefore, to understand the importance of the intervention and the potential benefits of improving CKD management, appropriate framing of the intervention was vital. The UK Department of Health supports the view that work surrounding CKD appears more important when linked into cardiovascular disease and diabetes [58]. Couser et al. [59] also support this view that CKD should be managed and prioritised within the management of other chronic diseases. This approach also appeared to make the workload more amenable and focussed [58].

2.

Compatibility with existing practices:

Both patients and practitioners were reluctant to use interventions that did not fit into everyday practices. This notion of compatibility is emphasised by diffusion of innovations theory and enables a product or idea to become more widespread and better meet users' requirements [60]. This has also been highlighted as a major factor in previous research into the receiving of new technology and interventions, where compatibility is imperative for end-user acceptance [61].

3.

Improvements to create ownership of an intervention:

Allowing users to interact with the feedback process enabled individualised improvements to the intervention to suit their needs, creating an 'ownership' of the intervention and aiding its implementation. Research into translating organisational characteristics from the private to the public sector by Bate et al. [62] has already highlighted the positive effects of ownership and customisable adaptations to systems. Previous evaluations of several national health improvement programmes concluded that it was crucial to generate ownership of an intervention by refining the customisable elements to enable users to further engage with the programmes [63].
Strengths and limitations
We have established a framework to understand the complex processes surrounding implementation by integrating NPT with realist methodology to describe the individual and collective work of embedding and integrating CKD interventions into a particular context. Our methodology allowed the dissection of each intervention to identify separate components within an intervention that were well implemented and other parts that were not. Previous studies have reported variability in understanding the NPT constructs and dealing with overlapping data that could have affected the final analysis [64, 65]. Allowing for this limitation, NPT was useful in grappling with complex issues and the discussion around how the data fit into each construct allowed a deeper exploration into additional factors and challenged assumptions. NPT formed a pragmatic structure to explore complex factors surrounding implementation including the use of an explicit data sensitisation and categorisation tool. Not only did it enhance the analysis to identify factors that enabled or constrained implementation but also allowed an exploration into the relationships between different mechanisms.
As with any theory, NPT offered the potential to both structure and constrain data. A key tension was the danger of 'forcing' data and constructs into the categories delineated by the framework [66, 67]. Our approach adopted the propositions within the NPT and NPM, and assumed the preformed constructs, which were used to categorise our results. Accepting this assumption, the NPT framework allowed further illumination of different types of work concerning implementation at the micro-level and also the relationships between them. Indeed, data could have been missed as analysis was performed through a theoretical lens, as previous studies have noted [68, 69]. However, our approach also identified factors that fell outside the NPT framework. A mechanism that was not explicitly included in the NPT framework for analysis was 'work to prolong sustainability'. NPT appears to be designed to evaluate factors which might increase sustainability [21]. However, long-term sustainability was a different complex process to initial implementation and was heavily affected by the continual changes in resource management. Unfortunately, data was limited regarding which interventions continued to be used and for how long, and this requires further research.
We acknowledge that a rapid realist review is not a comprehensive search and is not explicitly reproducible, rather it is an iterative and adaptable process guided by testing and refining theories and explanations to produce results most pertinent to practice [20]. Our findings are limited to taking face value acceptance of author's accounts, working on the assumption that the authors' understandings were correct. Our synthesis worked mainly with secondary data, and our mechanisms were the third level constructions that were repeatedly tested with the data as part of an iterative process. Another limitation is that we did not have stakeholder engagement as outlined by Saul [20] as part of a rapid realist review. However, the authors of our review team were involved with the development of different CKD interventions and provided access to unpublished data.
A wide range of quantitative and qualitative articles were included in our synthesis, and certain sources provided more data. As all study designs were included, there were differing strengths of evidence and variations in methodological quality. However, excluding study types would limit the amount of data generated to understand processes surrounding implementation. For similar reasons, we opted against the use of a rigid critical appraisal tool, especially with the inclusion of grey literature. Instead, rigour was maintained with frequent discussions regarding the records included and the data extracted by two authors in weekly data sessions. In addition, as consistent with a realist review, in order to enhance trustworthiness, our findings and theories were iteratively tested and retested with the literature.
Our study did not examine effectiveness, but rather how interventions might be implemented to achieve their optimal potential. With this in mind, further research is required to determine the factors that enable CKD interventions to be effective. In addition, there were certainly gaps in evidence within the literature with limited data to perform a cost analysis and also to evaluate prolonged sustainability. Only one study [16] commented on cost and cautioned that their collaborative intervention was resource intensive. It is probable that an optimised intervention designed to enable multiple mechanisms for successful implementation will utilise significant funds and resources. Therefore, cost-analyses of CKD interventions are imperative to identify worthy investments.
Implications for policy and practice
Healthcare resources have always been limited, whether delivered in a private or public setting [70]. In the current economic climate, effective resource management is of increasing importance. From a UK perspective, despite financial incentives that have improved the management of CKD through the QOF, a pilot report from the national CKD audit showed that only approximately 50 % of patients with stages 3–5 of the disease are being correctly coded on primary care systems [71]. CKD indicators have been removed from the QOF CKD domain, and it is uncertain where the extra resources will come from [72]. The National Kidney Foundation (NKF) did not support these changes, hypothesising that millions of patients could go undetected as a result of this change [73]. Policymakers need to be mindful to compensate for fewer resources available to support CKD management.
AKI has been targeted as a preventable condition by several global and national initiatives [7]. However, none of the 18 primary care CKD interventions that we examined included an outcome measure that explored or included AKI. The International Society of Nephrology's '0by25' programme [74] aims to prevent all deaths due to untreated AKI by 2025 and NHS England's 'Think Kidneys' Programme has been established [75] to reduce AKI-related morbidity and mortality in hospital and in the community. The impact of the prevention of AKI needs to be incorporated into CKD interventions in future research, which will broaden the scope of kidney disease work to include the interrelated acute and chronic spectrum. This has the potential to increase the importance of CKD for both practitioners and patients and provide a further link between primary and secondary care CKD work for the future.
Conclusions
This rapid realist review summarises the literature surrounding the implementation of CKD interventions in primary care. Combining NPT with realist methodology allowed an in-depth exploration and helped identify contextual factors and mechanisms that enable and constrain CKD implementation. These factors should be considered to optimise intervention design to improve the management of CKD in primary care. We were unable to draw strong conclusions on long-term sustainability or cost as there was a limited body of evidence, and this requires further research.
Abbreviations
ACEi:

angiotensin-converting-enzyme inhibitor
AKI:

acute kidney injury
BP:

blood pressure
CDSS:

clinical decision support system
CKD:

chronic kidney disease
eGFR:

estimated glomerular filtration rate
GP:

general practitioner
HbA1C:

glycated haemoglobin
IT:

information technology
NKF:

National Kidney Foundation
NPM:

Normalisation Process Model
NPT:

Normalisation Process Theory
PTH:

parathyroid hormone
QALYs:

quality-adjusted life years
QOF:

Quality and Outcomes Framework
Declarations
Open AccessThis article is distributed under the terms of the Creative Commons Attribution 4.0 International License (http://creativecommons.org/licenses/by/4.0/), which permits unrestricted use, distribution, and reproduction in any medium, provided you give appropriate credit to the original author(s) and the source, provide a link to the Creative Commons license, and indicate if changes were made. The Creative Commons Public Domain Dedication waiver (http://creativecommons.org/publicdomain/zero/1.0/) applies to the data made available in this article, unless otherwise stated.
Authors' Affiliations
(1)
NIHR Collaboration for Leadership in Applied Health Research (CLAHRC) Greater Manchester (GM), Centre for Primary Care, Institute of Population Health, University of Manchester, Manchester, UK
(2)
Renal Department, Salford Royal NHS Foundation Trust, Salford, UK
(3)
Alliance Manchester Business School, University of Manchester, Manchester, UK
(4)
School of Nursing, University of Adelaide, Adelaide, Australia