Systematic review

Open Access

Open Peer Review
This article has Open Peer Review reports available.
Implementation of safety checklists in surgery: a realist synthesis of evidence
Implementation Science
2015
10:137
Received: 18 March 2015
Accepted: 24 August 2015
Published: 28 September 2015
Abstract
Aim
The aim of this review is to present a realist synthesis of the evidence of implementation interventions to improve adherence to the use of safety checklists in surgery.
Background
Surgical safety checklists have been shown to improve teamwork and patient safety in the operating room. Yet, despite the benefits associated with their use, universal implementation of and compliance with these checklists has been inconsistent.
Data sources
An overview of the literature from 2008 is examined in relation to checklist implementation, compliance, and sustainability.
Review methods
Pawson's and Rycroft-Malone's realist synthesis methodology was used to explain the interaction between context, mechanism, and outcome. This approach incorporated the following: defining the scope of the review, searching and appraising the evidence, extracting and synthesising the findings, and disseminating, implementing, and evaluating the evidence. We identified two theories a priori that explained contextual nuances associated with implementation and evaluation of checklists in surgery: the Normalisation Process Theory and Responsive Regulation Theory.
Results
We identified four a priori propositions: (1) Checklist protocols that are prospectively tailored to the context are more likely to be used and sustained in practice, (2) Fidelity and sustainability is increased when checklist protocols can be seamlessly integrated into daily professional practice, (3) Routine embedding of checklist protocols in practice is influenced by factors that promote or inhibit clinicians' participation, and (4) Regulation reinforcement mechanisms that are more contextually responsive should lead to greater compliance in using checklist protocols. The final explanatory model suggests that the sustained use of surgical checklists is discipline-specific and is more likely to occur when medical staff are actively engaged and leading the process of implementation. Involving clinicians in tailoring the checklist to better fit their context of practice and giving them the opportunity to reflect and evaluate the implementation intervention enables greater participation and ownership of the process.
Conclusions
A major limitation in the surgical checklist literature is the lack of robust descriptions of intervention methods and implementation strategies. Despite this, two consequential findings have emerged through this realist synthesis: First, the sustained use of surgical checklists is discipline-specific and is more successful when physicians are actively engaged and leading implementation. Second, involving clinicians in tailoring the checklist to their context and encouraging them to reflect on and evaluate the implementation process enables greater participation and ownership.
Keywords
Explanatory Model
Implementation Intervention
Safety Climate
Behaviour Change Intervention
Theoretical Domain Framework
Introduction
Approximately 40 % of adverse events (AE) occur in the operating room (OR), and up to 50 % of these are considered avoidable errors [1]. In industrialised countries, mortality rates associated with surgery are estimated to be 0.4 to 0.8 % [2] but may be as much as 10 times higher in developing countries [3]. In response to the need to minimise the potential of AE in high-risk clinical environments, patient safety experts have advocated the use of standardised processes. Efforts to mitigate the potential for errors and omissions during surgery have culminated in the development and use of strategies that have the potential to improve team performance, with a particular focus on communication. The introduction of safety checklists in surgery represents one strategy aimed at using a consistent approach in interdisciplinary team communications. However, despite the benefits associated with the use of checklists in surgery, universal implementation and compliance has been reported as being variable and inconsistent [4]. Further, there has been limited, if any, synthesis of the contextual issues associated with checklist introduction in surgery using an implementation science framework. In this review, we used a realist synthesis methodology to explain when, why, and how surgical safety checklist implementation adherence interventions work.
Background
Over the last 10 years, the use of checklists in surgery has come into prominence. In 2008, the Surgical Safety Checklist (SSC) was a key outcome of the World Health Organization's (WHO) Safe Surgery Saves Lives campaign. Since its introduction, the use of the WHO SSC has been mandated in operating rooms in over 4130 hospitals across 122 countries [5]. The original WHO SSC includes 19 items across three time-critical checkpoints: sign-in, timeout, and sign-out [6]. These checks are performed when the patient enters the OR, just prior to the procedure, and upon its completion. Checklist items require verbal confirmation by members of the surgical team of the completion of critical steps for ensuring the safe delivery of anaesthesia, antibiotic prophylaxis, availability of equipment, and other essential practices in surgery [6]. The intent of the checklist as a safety tool is to create a dialogue among team members, improving team communications and flattening the hierarchy that often characterises the culture of surgical teams [7, 8]. Checklists also function as an aide memoir for including key information or actions that may otherwise be overlooked or forgotten, thereby reducing the potential for human error [7, 9].
Improvements in team communications, a reduction in interruptions and distractions, and an increase in error identification and prevention of AE have been attributed to the use of surgical safety checklists [10, 11]. In terms of surrogate patient outcomes, there is persuasive evidence to support the effectiveness of checklists in relation to reducing mortality and complication rates following surgery. The results of several meta-analyses suggest that there is an association with checklist use and reductions in mortality [12, 13], wound infection [13, 14], pneumonia [14], blood loss [14], and any complication [13, 14].
Arguably, evidence of checklist effectiveness on outcomes is important [11, 15]; yet, there is often a disconnect between discussion of effectiveness and the manner and context in which the intervention was delivered. Evidence is also needed about the ways in which implementation of checklists vary in practice and across populations and healthcare settings [16]. This is especially crucial when the interventions are underpinned by behavioural change strategies and typically require multiple interactions over an extended period of time. These interactions have been described as being part of an 'implementation chain' that is only as strong as its weakest link [17]. Therefore, greater knowledge of the factors that affect each link of the chain may enable the chain to be strengthened. As such, uncovering these understandings may inevitably determine how a behaviour change intervention will work.
Realist synthesis approach
The framework used to inform this synthesis on implementation and sustained use of checklists in surgery is Pawson's [17] and Rycroft-Malone's [18] realist evaluation approach. The realist approach is an emerging strategy for synthesising evidence and focuses on providing explanations for why implementation interventions may or may not work form whom, in what contexts, how and under what conditions, and why [18, 19]. Realist synthesis involves reviewing the evidence from complex interventions and assumes that no causal theory can always explain or predict outcomes in every context [20]. Thus, realism uses a contextually bound approach to causality: It is especially useful for exposing and disentangling the complexities of context and underlying interrelated mechanisms of implementation interventions [18]. Realism represents a major departure from conventional systematic reviews in that its goal is explanatory rather than summative [17]. This approach is well suited to undertaking a synthesis to develop explanatory models in areas where data are insufficient to identify and test relationships. The end product of the synthesis is not a summary of the evidence in support of relationships between the intervention and the outcome. Rather, the result is an explanatory model or candidate theory focusing on the characteristics of the intervention that makes it work (or not) in a given context and should allow implementation at the level of the mechanisms of action [18]. Complex behaviour-based interventions comprise theories, involve the actions of individuals, consist of an interrelated chain of steps or processes that interact and are rarely linear, are embedded in a social system, and are predisposed to modifications [21, 22]. As such, the underlying premise is that in a particular context, individuals are likely—but not always certain—to make similar choices. Consequently, specific contexts influence decisions that over time become emerging patterns of behaviour [17].
Purpose
The purpose of our review was to explain when, why, and how implementation of surgical safety checklist interventions worked, or did not work well,
and why
. Specifically, our research question was as follows:
What aspects of checklist implementation determined success or failure in various situations and contexts and why?
We addressed this question through the identification and examination of underlying generative mechanisms (M) associated with the intervention, contexts, or conditions (C) under which the mechanisms operate and the outcomes (O) produced [
4
,
18
]. That is, the action of the particular mechanism in a particular context will generate a particular outcome. Therefore,
if
the right processes operate in the right conditions
then
implementation will be sustained. Mechanisms have the potential to change minds and attitudes—and consequently, change behaviour [
19
]. To date, the theory underpinning healthcare professional behaviour change interventions is seldom explicated. In the context of surgery, it was not possible to unpack and explain the many intricacies associated with complex behaviour change interventions used to implement checklist use: Instead, we sought to gain insights and explanations that would be generalizable across multiple situations and contexts. As a starting point, we examined the implementation science literature on behaviour change interventions used in healthcare [
16
,
20
,
21
] and evaluated critically the evidence base that supports them, drawing on empirical data. The consequences of this synthesis were as follows:
1.

Comparative analysis of approaches used to implement surgical safety checklists

2.

Indicators to guide the choice of approaches that match the particular context

3.

Indicators that may lead to the development of an explanatory model that can be used in implementation for healthcare organisations
Methods
Realist review process
The steps involved in the realist review process run parallel to conventional systematic reviews; however, in the former, these steps are iterative as opposed to being linear and sequential [22]. Rather than reviewing a focused literature addressing an a priori set of questions, the realist review itself generated some initial questions and led to the identification of more questions. Hence, a broad range of publications was needed to address questions about why, when, and how the intervention worked. The resultant model must be outcome focussed, uncovering 'what works' within different contexts and circumstances [22]. We adopted the framework proposed by Pawson [17, 19] and Rycroft-Malone et al. [22] which involves the following steps: scoping the review, searching and appraising the evidence, extracting and synthesising findings, and drawing conclusions and making recommendations.
Search methods and data sources
A literature search dating back to 2008 was performed as checklist protocols such as the WHO SSC were developed and introduced from 2008 onwards. Articles were included if they were based on research and used either quantitative or qualitative methods, described the use of checklists in surgery, and focused on some aspect of checklist implementation (i.e. acceptability and/or compliance). Papers were excluded if they were not published as full-text articles, did not describe the process of implementation, or were based on commentaries or discussion papers. A combination of medical subject headings and key words included surgical checklist, safety checklist, WHO checklist, implementation, compliance, and adherence. Databases used in the search included PubMed, Cumulative Index of Nursing and Allied Health Literature (CINAHL), PsycINFO, and ProQuest Central. We stopped reviewing papers when data saturation had been reached.
Middle-range theory identification
The middle-range theories we identified a priori provided a starting point in our efforts to explain what types of checklist implementation interventions work in surgery, for whom, and in what circumstances. The initial identification of middle-range theories in realist synthesis is essentially a speculative and iterative process [17, 23, 24]. As part of this process, we were also able to identify indicators that guided the choice of approaches used across contexts (consequence 2) and which would inform the development of an explanatory model (consequence 3). We initially identified theories which we believed to be evident to explicate the occurrence of certain outcomes. However, a necessary component of realist synthesis is to explore the applicability of these theories and, where appropriate, test their explanatory value [17]. During this iterative process, the validity of prospective middle-range theories was repeatedly questioned and refined, where appropriate. The included studies were again rechecked against the middle-range theories to establish which of the theories—if any—explained the outcome (i.e. sustained use of the safety checklist). In each paper, we sought data to test (i.e. refute, confirm, or refine) the middle-range theory by assessing its relevance and rigour [17]. Where the theories failed to explain the data, we sought new ones that would better explain data in the included studies. We applied the extracted evidence to these theories, iteratively refining our explanatory model to best explain the existing data. We generated broad themes and subthemes and listed propositions in relation to the delivery and sustainment of the implementation interventions.
We identified a priori, two middle-range theories to provide insights into the necessary processes for optimising the implementation and adoption of checklist protocols in practice. The first, Normalisation Process Theory (NPT), is useful in identifying factors that promote or inhibit the incorporation of complex intervention into clinical practice [25, 26]. The theory is also helpful in explaining how the intervention works, not only from early implementation but beyond the point where implementation becomes so much a part of clinical practice that it 'disappears from view', i.e. normalised. The four components of NPT include the following: coherence (sense-making), cognitive participation (engagement), collective action (actions that enable the intervention to be implemented), and reflexive monitoring (formal and informal assessment of the benefits and costs of the intervention) [25, 27]. As part of embedding a practice so that it becomes 'normalised' into routine work patterns, gaining an understanding of what health professionals do and how they work is crucial to inform how such practices can be sustained [26].
In seeking further explanation for our emerging explanatory theory, we also drew on Braithwaite et al.'s [
28
] Responsive Regulation Theory (RRT). In RRT, 'regulation' refers to 'steering the flow of events' and encompasses strategies ranging from persuasion to enforcement that typically involve actors and multiple mechanisms. Responsive regulators use 'softer' mechanisms which traditionally rely on the premise that clinicians will change behaviour voluntarily and on self-regulation by professional groups [
28
]. These mechanisms are based on trust and respect as opposed to opting for immediate enforcement; nevertheless, there is necessarily the capacity to lead to sanction or even punishment. These mechanisms are mapped using twin complementary pyramids that symbolise either supports or sanctions. Figure
1
has been adapted from Braithwaite et al.'s [
28
] original model. This middle-range theory provides a nuanced approach given that implementation of complex behaviour change interventions in healthcare settings often requires both graduated and multiplex regulation [
28
].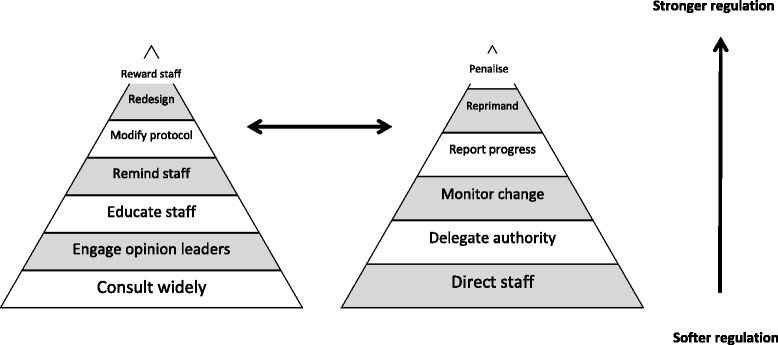 Quality appraisal
In realist synthesis, the reviewer 'data mines' each publication for evidence of its contribution to the development of the explanatory model [17]. Each piece of data is appraised for its utility and relevance, and the value of the evidence is based on its contribution to understanding of the questions in the review.
Data abstraction and synthesis
As a precursor to data abstraction, we developed a data extraction tool to cover a broad range of information and to permit consolidation of the data across studies. Pawson [17] has warned against using such tools as they do not account for diversity in the data and, thus, may constrain flexibility. To address this potential, we ensured our extraction tool was broad enough to capture diversity in the research methods used. An overview of the information extracted on contextual factors that may affect the implementation process is presented as Additional file 1. We applied this template to the introduction, methods, results, and discussion sections of each report. Differences in coding were discussed with other team members and resolved by consensus.
Explanatory focus
We focussed the review based on (i) the authors' speculations about the barriers and facilitators to successful implementation; (ii) the authors' speculations about the effects that characteristics of the intervention, context, and participants had on implementation; (iii) analysis of mediators or moderators that influenced implementation or outcomes (where mediators suggest how and why an intervention produces its effect and moderators suggest on whom or under what conditions an intervention produces its effect [29]); (iv) the ways in which the authors addressed challenges during the implementation process; and (v) participants' reports of satisfaction, feasibility, and/or acceptability of implementation.
Conclusions and recommendations
Rather than attempting to control contextual factors, they need to be harnessed because they inevitably determine the mechanisms that are activated to generate the outcomes. Despite that the explanatory model generated herein is in its early stages of development, it may be used to inform areas where further translational research in this area is needed. Through the use of realist evaluation methodology, we envisage these findings may assist clinical leaders and hospital administrators to select appropriate interventions to their particular context. We recommend that future researchers test the explanatory model developed through this synthesis specifically focussing on yielding more data on checklist implementation, viz undertaking process evaluations and designing studies across multiple healthcare settings and then collecting data on how implementation varied across contexts. The explanatory model developed herein is intended to provide the evidence needed to strengthen each link in the implementation chain.
Declarations
Acknowledgements
We gratefully acknowledge Emeritus Professor Anne McMurray for the insightful critique that she provided on an earlier version of this manuscript. BMG was supported by a National Health & Medical Research Council (NHMRC) [Australia] Translation into Practice (TRIP) Fellowship, and the study was funded through a Griffith University and Gold Coast University Hospital Foundation Collaborative Grant.
Open AccessThis article is distributed under the terms of the Creative Commons Attribution 4.0 International License (http://creativecommons.org/licenses/by/4.0/), which permits unrestricted use, distribution, and reproduction in any medium, provided you give appropriate credit to the original author(s) and the source, provide a link to the Creative Commons license, and indicate if changes were made. The Creative Commons Public Domain Dedication waiver (http://creativecommons.org/publicdomain/zero/1.0/) applies to the data made available in this article, unless otherwise stated.
Authors' Affiliations
(1)
NHMRC Centre for Research Excellence in Nursing (NCREN), Centre for Health Practice Innovation (HPI), Menzies Health Institute Qld (MHIQ), Griffith University, Gold Coast Campus, Gold Coast, Australia
(2)
School of Nursing and Midwifery, Griffith University, Gold Coast Campus, Gold Coast, Australia
(3)
Gold Coast University Hospital, Gold Coast Hospital and Health Service, Southport, Australia
Copyright
© Gillespie and Marshall. 2015