Research
Open Access
Open Peer Review
This article has Open Peer Review reports available.
Explaining Matching Michigan: an ethnographic study of a patient safety program
Implementation Science
2013
8:70
Received: 12 March 2013
Accepted: 11 June 2013
Published: 20 June 2013
Abstract
Background
Quality and safety improvement initiatives in healthcare often display two disconcerting effects. The first is a failure to outperform the secular trend. The second is the decline effect, where an initially promising intervention appears not to deliver equally successful results when attempts are made to replicate it in new settings. Matching Michigan, a patient safety program aimed at decreasing central line infections in over 200 intensive care units (ICUs) in England, may be an example of both. We aimed to explain why these apparent effects may have occurred.
Methods
We conducted interviews with 98 staff and non-participant observation on 19 ICUs; 17 of these units were participating in Matching Michigan. We undertook further telephone interviews with 29 staff who attended program training events and we analyzed relevant documents.
Results
One Matching Michigan unit transformed its practices and culture in response to the program; five boosted existing efforts, and 11 made little change. Matching Michigan's impact may have been limited by features of program design and execution; it was not an exact replica of the original project. Outer and inner contexts strongly modified the program's effects. The outer context included previous efforts to tackle central line infections superimposed on national infection control policies that were perceived by some as top-down and punitive. This undermined engagement in the program and made it difficult to persuade participants that the program was necessary. Individual ICUs' histories and local context were also highly consequential: their past experience of quality improvement, the extent to which they were able to develop high quality data collection and feedback systems, and the success of local leaders in developing consensus and coalition all influenced the program's impact on local practices.
Conclusions
Improved implementation of procedural good practice may occur through many different routes, of which program participation is only one. The 'phenotype' of compliance may therefore arise through different 'genotypes.' When designing and delivering interventions to improve quality and safety, risks of decline effects and difficulties in demonstrating added value over the secular trend might be averted by improved understanding of program mechanisms and contexts of implementation.
Keywords
Patient safetyImprovement programsContextEthnographyHealthcare-acquired infections
Background
Health systems worldwide face the frustration of a mass of evidence repeatedly showing problems in the quality and safety of patient care, but much less compelling evidence on how such problems can be tackled effectively [1–3]. The Michigan Keystone project [4] is one important exception. It was widely welcomed as a demonstration that improvement in patient safety could be secured through a large-scale interventional program, following its report of a dramatic reduction in rates of central venous catheter (central line) bloodstream infections (CVC-BSIs) in over 100 Michigan intensive care units (ICUs) [4]. The cohort study design used in evaluating the Keystone project could not establish a causal relationship between the program and the outcomes, but later research using controlled designs suggested that the effects were probably real. One retrospective analysis reported decreased in-hospital mortality in 95 of the Keystone hospitals compared with 364 control hospitals in the surrounding region [5], though declines in 30-day mortality were not significantly different in Keystone. A cluster randomised trial in a new non-Keystone setting found that hospitals using the program outperformed the secular trend towards decreasing infection rates [6].
Keystone's success is sometimes attributed simply to the introduction of a checklist summarizing five evidence-based practices linked to infection control for CVCs [7]:
Appropriate hand hygiene

Use chlorhexidine for skin preparation

Use full-barrier precautions during central venous catheter insertion

Subclavian vein placement as the preferred site

Review and remove unnecessary CVCs
Other analyses propose that a more complex set of mechanisms is more likely to explain the results, however [8]. These accounts recognize that the evidence-based practices are essential to any effort to reduce infection. They further recognize that checklists of these practices may have a potentially very useful role—not least by providing cognitive prompts or reminders of good practice. But a long history of failed or partial implementation makes it clear that evidence-based procedures and guidelines rarely directly impact on practice without facilitating mechanisms [9].
Based on a synthesis of the original program specification, the Keystone program team's experience, and social scientific expertise, a post hoc theorization proposed six mechanisms that might explain the effects seen in Keystone: generating isomorphic pressures (the desire to conform to group norms) among participants; creating a densely networked community, with strong links between units, encouraged by regular meetings and communication, that reinforced these norms and enabled sharing of information; taking on many of the characteristics of a social movement and reframing CVC-BSIs as a social problem capable of being solved through grassroots activism; using multiple interventions that functioned in different ways to shape of culture of commitment to doing better; harnessing data on infection rates, collected systematically, as a disciplinary force; and deploying mainly soft tactics, such as persuasion, but also making some limited use of harder tactics such as threatening sanctions against laggards [10].
Some have questioned whether the success of Keystone could be replicated under different circumstances [
11
]. An important opportunity to address this question was presented by
Matching Michigan
(Figure
1
), a program led by the UK's National Patient Safety Agency (NPSA) following the announcement in the National Health Service (NHS) Next Stage Review [
12
] of a 'dedicated national patient safety initiative to tackle central line catheter-related bloodstream infections, drawing lessons from [the] remarkably successful Michigan initiative on the same topic' (p45).
Matching Michigan
recruited more than 200 ICUs in England in four staged clusters. It ran between April 2009 and March 2011, with the results published in 2012 [
13
].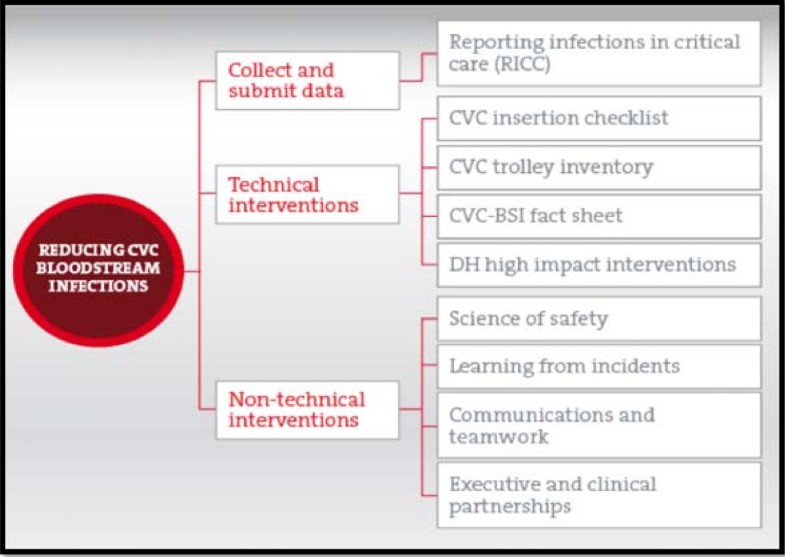 One interpretation of Matching Michigan is that it 'worked': it reported a final rate of 1.48 CVC-BSIs per 1,000 CVC patient days across 215 adult ICUs, thus 'matching' the rate of 1.4 seen by the end of the Keystone project [13]. However, the study design used to evaluate Matching Michigan—a modified form of a stepped wedge study involving clusters of ICUs that joined in staged sequence—permitted a more complex story to emerge, by detecting a strong secular trend towards decreasing rates of CVC-BSIs. Clusters of ICUs that were waiting to join the program were reducing their CVC-BSIs at the same rate as those already in the program, and infections acquired outside ICUs (in settings not targeted by the program) were reducing at the same rate as infections acquired inside ICUs (which were the target). This meant that the improvements seen in Matching Michigan could not confidently be attributed solely to program participation [13]. Thus, an alternative interpretation is that Matching Michigan did not work, in the sense that its additional impact on change that was occurring anyway was not clear.
The results of Matching Michigan illustrate two recurring themes in the literature on quality and safety in healthcare. First, many improvement programs fail to exceed the overall 'rising tide' [14–17], and thus have difficulty in proving that they have added value. Yet what has happened in non-intervention settings to secure improvement usually remains obscure in such programs, even though it is unlikely that the improvement is without cause. Second, Matching Michigan is a possible example of the so-called 'decline effect' associated with the challenges of replicating what appear to be initially promising results in scientific fields [18]. Neither secular trends nor decline effects have been well explored in the literature on quality and safety in healthcare. In this paper, using data from an ethnographic study conducted concurrently with the program, we seek to explain Matching Michigan's apparently disappointing additional impact.
Methods
We conducted an ethnographic study involving observations, interviews, and documentary analysis. Sites were purposively selected for participation in the study by sampling from the population of adult ICUs in England based on location, size, participation/non-participation in Matching Michigan, and types of patients served (speciality/general). ICUs joined the program in a series of four staged clusters (a design that allowed the secular trend to be detected). ICUs were sampled from each of the first three clusters; timing did not permit recruitment from the fourth. Research Ethics Committee approval for the study and research governance approval at each site was obtained.
Fieldwork involved non-participant observations on the ICUs. Face-to-face interviews were conducted with nurses and doctors of varying grades. These interviews were semi-structured, guided by a prompt list that had been developed through review of the literature, pilot work, and discussions in the project team. The prompt list was modified, albeit modestly, over the course of the project to explore some issues in more detail as their relevance became evident. The prompt list was not used rigidly and not all questions were asked of all participants, nor were they asked in the same order. This enabled flexibility and responsiveness to the particular interests, experiences, and roles of different participants. Further telephone interviews were conducted by JW (see acknowledgements) with staff, including managers and clinicians, who had attended Matching Michigan training events but were not part of the ethnographic study. Signed consent was obtained to interviews, which were recorded using a digital recorder, transcribed, and anonymized. In addition, we attended all training events and analyzed relevant documents relating to the program.
Analysis was based on the constant comparative method [19]. We initially generated open codes based on transcripts and fieldwork notes, which were then grouped into higher order organizing themes. Analysis was recursive, constantly moving from the specific to the more general, with the aim of producing more generalizable categories and explanations for our findings. This enabled us to identify commonalities and patterns across the large number of settings in which we conducted our study. We actively sought disconfirming cases to enable us to check our emerging constructs. The transcribed field notes and interviews were coded by ML using NVivo software, with checks on coding and interpretation undertaken by CT and MDW.
Results
We conducted ethnographic visits to 17 of the 196 adult ICUs in England that participated in Matching Michigan. Most (96%) of ICUs in England took part in the program, but we were able to secure access to two non-participating units. Thus, 19 ICUs were included in the study in total. We conducted around 910 hours of observations and 98 semi-structured across the 19 ICUs. Our analysis is focused primarily, though not exclusively, on the 17 units that participated in the program. We carried out 29 telephone interviews with training event participants.
We found that Matching Michigan was challenged both in showing that it was outperforming the secular trend and in defending against the decline effect for reasons relating to the design and execution of the program, the national context into which it was introduced, the impact of individual ICUs' histories, and local approaches to measurement and engagement. We found little evidence that Matching Michigan functioned in the way the post-hoc theory hypothesised that the original Keystone project had worked [10].
Discussion
Our qualitative study is consistent with the quantitative evaluation of Matching Michigan[13] in suggesting that improvements in infection control practice for CVCs preceded the program and were likely to have continued to occur thereafter, but could not easily be directly attributed to the program in many instances. Consistent application of the evidence-based procedures for controlling infection risk in insertion and care of CVCs were likely to be the single most important determinant of rates of CVC-BSIs. There is no serious question about whether these practices 'work,' but our study makes it clear that there were multiple routes to promoting reliability in their implementation. English ICUs had a much lower starting rate of infection than in Keystone, suggesting that they had already made gains in infection reduction without the program, and improvements continued to occur in units in clusters that were waiting to join the program over its course. Compliance with good practice and low CVC-BSI rates could therefore be achieved by units without participating in Matching Michigan. Compliance with procedural good practice and low infection rates could also be achieved by units in the program without implementing—or only partially implementing—the program's non-technical interventions. The phenotype of compliance with good practice could therefore arise in different ways, of which full and authentic engagement in the program was only one. That improved compliance could occur through many different routes or 'genotypes' may help to explain the finding that Matching Michigan did not exceed the secular trend; most ICUs had begun incrementally improving their practices before the program began, and continued to do so thereafter, sometimes introducing innovations not part of the program. Our analysis suggests that whatever explains the declines in central line infections observed over the course of Matching Michigan, it was not the set of mechanisms that were theorized [10] to have explained the effects seen in Keystone original.
The program bore a strong resemblance to the original, but primarily at the level of components rather than hypothesized mechanisms [10]. There was little sense that Matching Michigan built the social movement thought to have characterised Keystone, not least because there was so little contact between participants over the course of the program. Absence of ongoing contact also suppressed the possibility for the remaking of professional norms; participants believed that whatever they were doing locally was standard. The delivery vehicle mattered hugely. Keystone may have been able to engage emotional commitment and create a sense of a community-based enterprise by mobilizing the star qualities of its leaders, by building on the bonds people felt with their local hospital association, and by partnering with a highly prestigious out-of-state university with a track record of achievement in the area of patient safety [11]. ICU staff in England did not feel the same affection, identification with, and sense of ownership for a program led by a government agency across four cohorts, notwithstanding the clinical leadership provided by a senior ICU physician and nurse. Given that professionals prefer to take their directions for performance from inside rather than outside the clinical community [21], this was not a trivial problem. These features may help to explain the possible decline effect between the original Keystone program and the attempt to replicate it in England. They suggest that program fidelity needs to be assessed holistically, with a focus on mechanisms of change as well as program components [10].
The challenges of program design and delivery were intensified by the contexts into which Matching Michigan was introduced. Staff's experience of previous centrally-led programs as harsh and performance-oriented contributed to alienation among some. Collecting data on infection rates often did not always produce a norm-disrupting effect that challenged units to change their practices and cultures; instead, in some units, it reinforced the status quo. Features of ICUs' internal context also appeared relevant to explaining how they responded to the program. In units where change—either transformative or boosting—was attributed by staff to Matching Michigan, several things needed to happen. At least one senior physician needed to exert strong leadership, and to work in coalition with senior nurses. These leaders needed to be recognized by their peers as committed, credible, and engaging, and to communicate a sincere belief in the program. They needed to do enough listening to ensure peers felt heard, but also know when to 'push it hard.' Data collection systems needed to be rigorous enough to command credibility. Leaders also needed to be canny enough to appropriate the centrally-led, external nature of the program to confer authority and legitimacy on their efforts and to drive through improvements that would otherwise have been difficult to achieve.
The broader context in which Matching Michigan was launched was highly influential in modifying its possibilities for effecting change, and further helps in explaining the possible decline effect. The Keystone project had the benefit of newness and freshness; ICUs in England, on the other hand, had been exposed to a long series of initiatives and pressures in relation to infection control, and believed that they had already made changes in response.
The possibility that staff in English ICUs would, as was theorized to have occurred in Keystone, come to recognize CVC-BSIs as a social problem capable of being solved [10] was undermined by their perception that it was a problem that had already been solved. Matching Michigan was seen by some staff as a failure to respect what they had already achieved, and, given the other challenges facing hospitals, a misdirection of resources. The goals, interests and priorities of the program were therefore widely seen as misaligned with those of staff at the sharp-end. Further, it may well have been the case that in some units there genuinely was very little headroom for improvement: all the gains that could be made had already been made, and in such contexts improvement programs characteristically struggle to demonstrate further change [14, 22].
Importantly, our study does not challenge the efficacy of the Matching Michigan interventions (data collection, non-technical and technical) in improving compliance with evidence-based practices and reducing infection rates. Much depended on context: program interventions were able to deliver positive change where they were implemented. As the 'transformed' unit showed, under the right conditions and deployed appropriately, these interventions could be used to bring about substantial improvements. The disappointment of the program is that it did not achieve these effects on a larger scale; some ICUs that could have benefited from strengthening their organizational culture and consistency of good practice did not take advantage of the opportunity to do so. We propose that though the interventions 'work,' Matching Michigan did not fully work as program because of features of program design and delivery and contexts of implementation.
None of this is to deny that improvement in rates of CVC-BSIs did occur while Matching Michigan was running. Almost two-thirds of units across the program reported no infections, meaning a median of zero—the same as seen in Keystone. A 60% decline in infection rates over the course of the program is non-trivial, even if it is difficult to pin the credit on the program.
Only one other study appears to have concurrently studied CVC-BSIs acquired outside the ICU, and this too identified a strong secular trend [23] suggesting that 'rising tides' could have contributed to the apparent success of other studies in this area. Our study offers some insights into the causes of the rising tide and why it was hard to detect a program effect in excess of the secular trends. Matching Michigan came into being because there was already strong policy and professional pressure—not least because of the success of Keystone—to do better in reducing rates CVC-BSIs. A recently published analysis of 20 years of data shows that CVC-BSI rates began to plummet from 1990 onward, and the increasing rarity of the infections is likely to have undermined the view that they were the price of doing business in ICUs [24, 25]. The forces that brought the program into being continued to intensify over the course of the program. All ICUs in England were all part of an institutional ecology exposed to the same environmental pressures that caused them, over time, to become increasingly sensitized to expectations of good practice. Each initiative, program, and statement of professional and scientific consensus is likely to have played a cumulative and mutually reinforcing role, though none that could easily be discerned individually. A similar effect is often seen in community health promotion programs [26]. The main function of programs such as Matching Michigan in a context where there is an overall trend in a particular direction may be to add to the pressures and provide structures and legitimacy for change. Had the relevance of the context been more fully acknowledged, and the program more faithful to the hypothesized mechanisms of the original, more might have been achieved.
Our study has a number of important limitations. Our ethnographic visits to units were not longitudinal, but rather snapshots in time; changes in response to the program could have occurred after our visits. We did not conduct a systematic audit of culture and practices, and thus some inaccuracies in our assessments may be present. We did not evaluate possible modifiers of effect of factors such as size of unit, number of consultants and nurses, and other environmental features. We had access to ICUs' reported infection rates only if they provided them directly to us; for information governance reasons, these rates could not be verified. It is possible that we have offered too pessimistic an interpretation of whether Matching Michigan 'worked': the quantitative evaluation [13] may have underestimated the effects of the program (or over-estimated the secular trend), since the 'waiting' clusters were not true controls that were unexposed to the interventions. It is also possible that our comparison with the original Keystone program may be flawed in the direction of optimism: it is possible that it did not function in the way theorized. There is no way of verifying its mechanisms, because contemporaneous ethnographic data were not collected, and the study design lacked controls.
Conclusions
Our study points to the need for clear understanding of the mechanisms by which improvement programs work. Though Matching Michigan reproduced many of the components of the original Keystone project, it did not reproduce many of the features of Keystone that were theorized to have enabled it to work. This, together with the contexts in which it was introduced, helps to explain both the decline effect and the apparent failure to outperform the secular trend. Our analysis will inform future research in this area [27] by demonstrating the importance of distinguishing technical interventions from implementation strategies, and the need for careful attention to the contexts in which improvement programs are introduced if they are to deliver maximum benefit for patients.
Ethical approval
A favorable opinion was obtained from Berkshire NHS Research Ethics Committee was obtained for this study.
Declarations
Acknowledgements
We very gratefully acknowledge the help of the participants in this study. We thank the National Patient Safety Agency for their help with this study. We thank Janet Willars for conducting the telephone interviews. We thank the members of the Advisory Group, including the two patient representatives, for their constructive feedback throughout the project.
Access to data
MDW, CT, and ML had full access to all data and can take responsibility for the data and accuracy of data analysis. For ethical reasons it was not possible to share all raw data with JB. He did not have access to any primary data from 'Lining Up' while Matching Michigan was running, and analysis of the 'Lining Up' data was conducted independently of him.
Funding
This study was funded by the Health Foundation, Charity Number 286967. The funder approved the design of the study and had the opportunity to comment on the manuscript. It did not have a role in the collection, analysis or interpretation of the data or the writing of the manuscript, nor did it influence the decision to submit for publication.
Authors' Affiliations
(1)
Department of Health Sciences, University of Leicester, Leicester, UK
(2)
Armstrong Institute for Patient Safety and Quality, Johns Hopkins University, Medical Institutions, Baltimore, USA
(3)
University of Birmingham, University Department Anaesthesia & Intensive Care Medicine, Edgbaston, UK
Copyright
© Dixon-Woods et al.; licensee BioMed Central Ltd. 2013
This article is published under license to BioMed Central Ltd. This is an Open Access article distributed under the terms of the Creative Commons Attribution License (http://creativecommons.org/licenses/by/2.0), which permits unrestricted use, distribution, and reproduction in any medium, provided the original work is properly cited.