Systematic review
Open Access
Open Peer Review
This article has Open Peer Review reports available.
The sustainability of new programs and innovations: a review of the empirical literature and recommendations for future research
Implementation Science
2012
7:17
Received: 22 April 2011
Accepted: 14 March 2012
Published: 14 March 2012
Abstract
Background
The introduction of evidence-based programs and practices into healthcare settings has been the subject of an increasing amount of research in recent years. While a number of studies have examined initial implementation efforts, less research has been conducted to determine what happens beyond that point. There is increasing recognition that the extent to which new programs are sustained is influenced by many different factors and that more needs to be known about just what these factors are and how they interact. To understand the current state of the research literature on sustainability, our team took stock of what is currently known in this area and identified areas in which further research would be particularly helpful. This paper reviews the methods that have been used, the types of outcomes that have been measured and reported, findings from studies that reported long-term implementation outcomes, and factors that have been identified as potential influences on the sustained use of new practices, programs, or interventions. We conclude with recommendations and considerations for future research.
Methods
Two coders identified 125 studies on sustainability that met eligibility criteria. An initial coding scheme was developed based on constructs identified in previous literature on implementation. Additional codes were generated deductively. Related constructs among factors were identified by consensus and collapsed under the general categories. Studies that described the extent to which programs or innovations were sustained were also categorized and summarized.
Results
Although "sustainability" was the term most commonly used in the literature to refer to what happened after initial implementation, not all the studies that were reviewed actually presented working definitions of the term. Most study designs were retrospective and naturalistic. Approximately half of the studies relied on self-reports to assess sustainability or elements that influence sustainability. Approximately half employed quantitative methodologies, and the remainder employed qualitative or mixed methodologies. Few studies that investigated sustainability outcomes employed rigorous methods of evaluation (e.g., objective evaluation, judgement of implementation quality or fidelity). Among those that did, a small number reported full sustainment or high fidelity. Very little research has examined the extent, nature, or impact of adaptations to the interventions or programs once implemented. Influences on sustainability included organizational context, capacity, processes, and factors related to the new program or practice themselves.
Conclusions
Clearer definitions and research that is guided by the conceptual literature on sustainability are critical to the development of the research in the area. Further efforts to characterize the phenomenon and the factors that influence it will enhance the quality of future research. Careful consideration must also be given to interactions among influences at multiple levels, as well as issues such as fidelity, modification, and changes in implementation over time. While prospective and experimental designs are needed, there is also an important role for qualitative research in efforts to understand the phenomenon, refine hypotheses, and develop strategies to promote sustainment.
Keywords
Innovation CharacteristicImplementation EffortInitial ImplementationSustainability OutcomeFull Text Version
Background
All systems and organizations are faced with the challenge of implementing new practices at one time or another, yet many of the innovations that are initially successful fail to become part of the habits and routines of the host organizations and communities. Why do some take root and flourish while others languish? Recognizing the need to promote the use of best practices to achieve better outcomes in healthcare, many government agencies and community organizations have devoted significant resources to promoting research on evidence-based practices (EBPs), clinical guideline implementation, and quality-improvement programs [1, 2]. The National Institutes of Health, for example, have given priority to research on the implementation of best practices and evidence-based interventions, and many systems and communities have endeavored to implement specific healthcare interventions or programs to promote improved health outcomes. One consequence of these emerging priorities is the rapid development of the field of implementation science. Most studies in this field thus far have focused on identifying the factors that are critical to the success of initial implementation efforts. While this is a promising start, policy makers and other stakeholders are increasingly concerned with the long-term impact of their investment. However, as Greenhalgh and her colleagues (2004) pointed out in their review of the dissemination and implementation literature, there is a "near absence of studies focusing primarily on the sustainability of complex service innovations" [3].
The results of program evaluation and research to date suggest that sustainability must be studied as a distinct and dynamic phenomenon [4, 5]. Although a variety of factors may create conditions that facilitate initial implementation, their presence or influence may diminish over time [6–8]. Even when initial implementation efforts are successful, interventions or programs do not necessarily continue as originally implemented. At times, discontinuation of a particular intervention may be the result of development or discovery of more effective, efficient, or compatible practices [9]. Adaptations, partial continuation of a program or intervention, or integration of new practices may occur in response to new evidence, changes in priorities or resource availability, or other contextual influences. At other times, however, failure to maintain an effective program or intervention at a sufficient level of quality, intensity, or comprehensiveness once implemented is at odds with the original goals and intentions of the host systems or organizations [10–12]. New practices may simply be added on top of existing ones rather than becoming fully integrated [13], which may make them particularly vulnerable to erosion over time [14]. Unintentional "slippage" can occur as a result of factors such as local staffing conditions, lack of resources, or competing demands [4]. If these processes result in failure to achieve desired outcomes, negative appraisals of the value of the interventions themselves [15] can in turn make discontinuation more likely. Understanding these processes and determining how to foster the continuation of effective practices at a level that is sufficient to yield desired health outcomes is at least as important as understanding how to implement them in the first place [16].
Many factors make it difficult to study sustainability and draw conclusions in the current literature. A fundamental challenge is the tension that exists between the continuation of interventions as originally designed and the need to adapt them for use in contexts that may differ in important ways from those in which they were originally developed and tested [5, 16, 17]. A number of conceptualizations of sustainability have been proposed that reflect differing priorities and perspectives on this issue [18]. In some models, the intervention, rather than the system into which it is introduced, is the focal point of interest. Such models tend to identify a set of factors or conditions that increase the likelihood of sustainability of a specific intervention [17]. This approach is very different from models and studies that examine sustainability from an ecological or complex-systems perspective. These models emphasize the interconnection between broader environmental forces, contextual influences, and the program or intervention itself [19, 20]. The differing approaches have important implications for the way that research is conducted and the conclusions that can be drawn. For example, the former perspective may reflect an emphasis on determinants of the preservation, fidelity to, or discontinuation of a program or intervention. In contrast, research conducted from an ecological perspective would seek to understand the ways in which the intervention and the local context mutually adapt and evolve [21] and how this process impacts sustainability. Additional challenges to the study of sustainability and interpretation of the literature include the numerous definitions and related but not entirely equivalent terms that have been used in differing fields, and variation in the timing and method of assessment employed across studies. Furthermore, the assessment of programs, practices, and interventions as varied as community-level prevention programs, medical records systems, psychotherapies, and quality-improvement programs will necessarily limit the extent to which assessment can be standardized.
To better understand the state of research on sustainability to date, we reviewed studies that investigated whether or to what extent programs or interventions that had previously been implemented were sustained, and those that sought to understand factors that influence their sustainment. We present an overview of the ways that some key research considerations have been addressed from this perspective in a variety of fields, and we allow what we found using this approach to guide our synthesis of the results and recommendations. For the purposes of this review, we consider relevant studies to be those that identified interventions, procedures, or programs that were implemented to achieve specific program-, patient-, or population-level benefits. We reviewed studies that examined (1) sustainability outcomes [22] (such as the continuation of some or all components [23] or the desired recipient-level outcomes that occurred after initial efforts to implement, fund, or study a new practice were complete) or (2) influences on the sustainment of these programs or innovations. This review included studies that used a variety of terms to describe sustainability (e.g., "maintenance," "durability," "institutionalization," and "routinization" [9, 24, 25]) and the decision to discontinue or the failure to sustain programs or interventions (e.g., "de-adoption," "divestment," "exnovation," and "discontinuation" [6, 26, 27]). However, for the purpose of consistency in the current review, we will primarily use the terms "sustainability" (or "sustainment") and "discontinuation," respectively. Specific questions that guided our review include the following:
How has sustainability been defined?

At what levels and units of analysis has it been studied?

What research methods have been used?

Over what time periods?

What outcomes have been reported in the empirical literature?

What were the findings?

What has research told us to date about influences on sustainment?
Our findings provide an overview of the current state of the research literature on the sustainment of specific interventions and programs that were implemented to achieve particular goals or benefits. By looking broadly at efforts to study the phenomenon, it may be possible to distill those considerations that should be integral to programs of research that examine the sustainability of specific interventions, programs, and practices [23]. Based on these findings, we will make a number of recommendations for defining, assessing, and studying this topic in future research.
Methods
Search method
We searched the MEDLINE, ISI, PsycINFO, Academic Search Premier, Health Source, ERIC, and Google Scholar databases using the terms "sustainability," "implementation," "long-term implementation," "routinization," "discontinuation," "de-adoption," "durability," "institutionalization," "maintenance," "capacity building," and "knowledge utilization." Truncated forms of these terms (e.g., "sustai*", "routini*", "institutionali*") and alternative spellings were included in the search. We also employed a snowballing strategy, in which we searched the reference sections of reviews and theoretical papers on implementation and sustainability [2–4, 19, 23, 25, 28, 29] and those found in our review. We searched the tables of contents of key journals and journals that had published more than one relevant study on sustainability. These journals included the following: Academy of Management Review, Academy of Management Journal, Administrative Science Quarterly, American Journal of Public Health, Administration and Policy in Mental Health and Mental Health Services Research, American Journal of Evaluation, Implementation Science, Health Services Management Research, Health Services Research, Healthcare Management Review, Journal of Healthcare Management, The Journal of Nursing Administration, The Journal of General Internal Medicine, Medical Care Research and Review, Millbank Quarterly, and Psychiatric Services. Additionally, we examined papers that had cited influential models or reviews of implementation or sustainability [2, 3, 5, 19, 25, 30–32]. Finally, we provided the list of articles that were found using these strategies to four individuals known to the investigators who study implementation or sustainability and asked them to share additional articles that they were aware of that had not been included. This yielded nine additional studies.
Inclusion and exclusion criteria
Our inclusion criteria included peer-reviewed studies that addressed sustainability of specific interventions or programs, were written in English, and were published or in press by July 2011. Because sustainability has been defined in numerous ways, we included all studies in which the authors used one of the terms described above or in which an effort was made to determine the extent to which a program or intervention continued after an initial period of training, implementation, or study. Studies were coded only if they included a methodology or procedure designed to identify (1) the status of the program after the initial implementation effort or funding has ended (e.g., fidelity, percent implemented, presence or absence of key components, or discontinuation); (2) the program-, service-, or recipient-level outcomes measured after external support or funding was withdrawn; or (3) the influences on the persistence of the implementation, whether or not the primary focus of the article was sustainability. Articles were excluded if they (1) reported only on initial implementation efforts, (2) were purely narrative accounts or papers on "lessons learned" that did not examine sustainability using qualitative or quantitative research methodologies, (3) reported only long-term follow-up of individuals after a clinical trial or intervention study, or (4) contained insufficient information to determine whether inclusion or exclusion criteria were met (e.g., ambiguity or failure to report the timeframe during which measures were collected). Studies were considered to focus on initial implementation efforts if the original training, supervision, monitoring, or funding support was ongoing throughout the time period of the research (unless monitoring was considered a central element of the program or conducted strictly to assess sustainability, with minimal or no feedback provided).
Review methods
All titles and abstracts retrieved by electronic searching were reviewed by one reviewer, who screened out papers that were not related to implementation (e.g., articles related to sustainable agriculture or discontinuation of medications in the context of clinical interventions). Where it was not possible to exclude articles based on title and abstract, full text versions were obtained and their eligibility was assessed. Full text versions of all potentially relevant articles identified from the reference lists of included articles were obtained. Papers related to implementation were screened independently by two reviewers, and those studies that did not meet the inclusion criteria were excluded. Raters agreed on 95% of the papers that were excluded and agreed on the reasons for exclusion for 91% of the articles. Disagreements were resolved through discussion and consensus.
Figure
1
is a modified PRISMA (which stands for Preferred Reporting Items for Systematic Reviews and Meta-Analyses [
33
]) diagram summarizing the selection process, which includes reasons that potentially relevant papers were excluded. A total of 460 published articles were found and considered; 125 were determined to be relevant for coding (An additional file lists studies included in the review [see Additional file
1
]). Of the papers included, 100 focused on or explicitly addressed sustainability. The remainder of the papers contained follow-up data on implementation from an intervention or training study, or focused primarily on dissemination or implementation but included information about sustainability.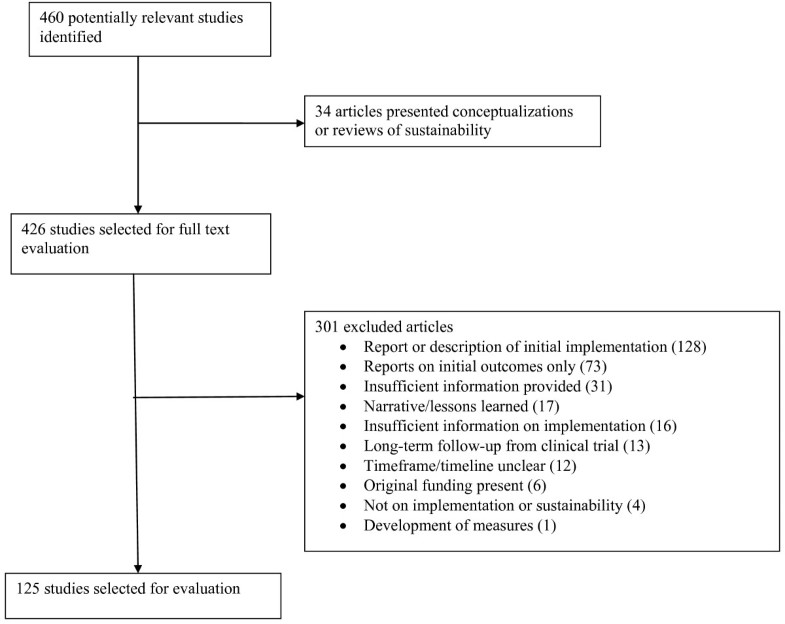 Coding
An initial coding scheme was developed based on constructs identified in previous conceptualizations of implementation [2–4, 9, 34, 35] and sustainability [4, 5, 17, 20, 36–44]. Additional codes were generated deductively by the raters if a construct or process identified in the literature was not represented in the coding scheme. Related constructs among potential influences on sustainability were identified by consensus and collapsed under the general categories described in the findings. Thirty percent of the papers included in the review were coded by two raters and rater agreement was assessed. Agreement (Cohen's kappa) ranged from .85 to 1 ("substantial" to "almost perfect" [45]) on the broad categories and from .61 to 1 ("moderate" to "almost perfect" [45]) on more specific categories, which were later collapsed into the three broad categories. Additionally, disagreements on four items that were coded at lower frequencies with moderate agreement (.61-.80) were resolved by discussion and consultation if necessary with co-authors, resulting in consensus ratings. Two coders also rated 40% of the health-related (medical, public health/health promotion, or mental health) studies that reported sustainability outcomes for assessment method and the presence or absence of an indication of the level of quality or fidelity. Raters agreed on 93% of the ratings for assessment method and 90% for indication of quality or fidelity. The few disagreements were resolved through discussion.
Results
Characteristics of included studies
Area of study
Our search procedure identified studies from a variety of fields. Forty-one (33%) of the studies reported on medical interventions or healthcare programs, 42 (34%) on public health or health promotion programs, 33 (27%) on mental or behavioral health interventions, and 9 (7%) on educational interventions. Eighty-eight (72%) of the studies examined either programs or multicomponent interventions as opposed to a single procedure or intervention, such as a discrete medical procedure.
Unit of analysis
The majority of the studies (67; 54%) reported on sustainability at multiple implementation sites or settings, followed by studies that reported on sustainability at the individual or provider level (15; 12%). The remainder of the studies reported on sustainability within single systems or communities (20; 16%), at a single site (11; 9%), among individual providers within sites (7; 6%), or at the team level (5; 4%).
Timeframe examined
Studies were coded for the last post-implementation timeframe reported. Most studies (80; 64%) occurred two years or more past the initial implementation. Seven (6%) reported outcomes at less than 12 months post-implementation, 20 (16%) at 12 months, and 15 (12%) between 12 and 24 months post-implementation.
Terms and definitions
Sustainability was defined in a number of ways, and different terms were used to refer to the continuation of an innovation within an organization or community. Table
1
includes a listing of authors whose definitions were cited in the literature as working definitions of sustainability, as well as the frequency with which terms related to sustainability were used. Sixty-five percent of the studies examined did not present a definition. Among the studies that did present definitions, definitions were most commonly generated by the investigator. The most commonly used term in the studies examined was "sustainability," which was used in 62% of the articles. Those who cited a specific, published definition as their operational definition most frequently cited Scheirer's definition [
25
], which was based on the framework set forth by Shediac-Rizkallah and Bone [
5
], whose review was the second most commonly cited. Both identified multiple aspects of sustainability: continued benefits, continued activities, and continued capacity.
Table 1
Definitions of sustainability in reviewed studies
| Focused on sustainability | N |
| --- | --- |
|    Yes | 102 |
|    No | 23 |
| Defined sustainability | N |
|    Yes | 36 |
|    No | 80 |
|    Cited multiple definitions; didn't specify an operational definition | 9 |
| Term used a : | |
|    Sustainability | 77 |
|    Long-term/follow-up implementation | 12 |
|    Institutionalization | 6 |
|    Durability | 3 |
|    Discontinuation | 1 |
|    De-adoption | 1 |
|    Maintenance | 1 |
|    Sustained/continued implementation | 1 |
|    Routinization | 0 |
| Definition cited | N |
| | 12 |
|    Created definitions | 8 |
|    Scheirer [25] | 6 |
|    Shediac-Rizkallah and Bone [5] | 4 |
|    Glasgow et al. [24] | 2 |
|    Pluye et al. [57] | 2 |
|    Goodman and Steckler [58] | 2 |
Methods used
Almost half of the studies reviewed employed self-report measures (54; 43%; nearly all were developed specifically for the project or study) or interviews (50; 40%) to assess sustainability or its influences. Fifty-four (43%) included some form of observation, 35 (28%) involved record review, and 23 (19%) included assessment of the fidelity/integrity of an intervention or practice. Eight (7%) of the studies reported on sustainability after an intervention had been implemented in a clinical trial. Solely quantitative approaches were used in 68 (54%) of the studies, qualitative approaches alone were used in 27 (22%), and 28 (23%) of the studies employed both qualitative and quantitative strategies. Nearly all examinations of sustainability were naturalistic rather than experimental. However, seven studies (6%) involved experimental manipulation of training or implementation strategies and assessed self-reported use, skill, or fidelity at a follow-up.
Outcomes reported
Studies discussed or reported on a variety of outcomes, and some reported multiple outcomes. Fifty-seven health-related studies (45% of the studies reviewed) reported outcomes such as the proportion of sites or providers sustaining, or the proportion of eligible patients receiving an intervention. The remaining studies did not report sustainability outcomes or reported data in such a way that it was not possible to determine the extent to which an intervention or practice was continued. For example, some reported on factors related to sustainability, without describing sustainability outcomes. Among the 57 studies that reported outcomes, 51 reported the proportion of sites or providers sustaining or discontinuing an intervention or program. The remaining studies reported the percent of patients or communities that received an intervention during a follow-up period. Seventy-five (60%) of the reviewed studies reported changes in the rate of program implementation and/or recipient outcomes, and two studies reported changes in both. Twenty-seven (22%) of the studies reported some form of health outcome (sustained impact or increases/decreases in desired outcomes), 14 of which were published in or after 2010.
Summary of findings
Figure
2
contains a summary of the sustainability outcomes reported for medical, public health/health promotion, and mental health studies. In general, a wide range of outcomes was reported. Rates of continuation of some, but not all, program or intervention elements ("partial sustainability") were relatively high across fields and units of analysis. Sixteen studies employed a form of independent observation and/or fidelity assessment to evaluate sustainability outcomes. In light of the literature that self-report assessments are often inaccurate [
59
], the figure distinguishes studies that employed observation from those that solely employed self-reports. Few studies that included independent observation or validation reported high rates of continuation at the site or setting level. The studies that reported on full sustainability or high fidelity at the provider level indicated that fewer than half of the observed providers sustained the practices at a high level of skill, intensity, or fidelity.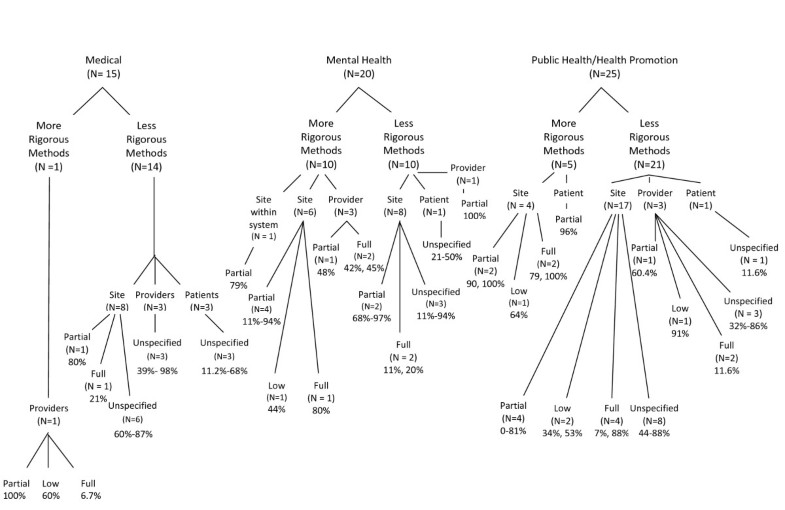 Of the 75 studies that reported on changes in implementation or recipient-level outcomes after initial implementation efforts or funding had ended, 56 studies reported on the intervention or program implementation. Of these, 19 reported lower levels of implementation after initial implementation efforts had ended, 17 reported an increase, and 3 reported no change or a similar level of implementation. Seventeen studies reported varying changes in rates across different intervention or program components. Twenty-one studies assessed changes in outcomes: 5 reported a decrease in desired outcomes, 10 reported an increase, and 1 reported no change. The remaining five studies reported multiple outcomes or indicators that varied in the extent to which they sustained.
Associated elements and influences
Thirty studies employed quantitative methodologies to identify predictors, correlates, or associated factors of sustainability. Thirty-six studies employed qualitative or mixed methodologies to identify influences on or processes associated with sustainability. Twenty of these studies specified that they were guided by a conceptual framework. Four broad categories of potential influences emerged in our coding process: influences related to the innovation, organizational context, capacity (internal and external), and processes. These four categories were common among each of the health-related fields we examined. However, only eight of the quantitative studies that examined elements related to sustainability included all four areas in their analyses, and 12 examined factors related to both the organization and capacity (typically, characteristics or attitudes of the workforce). Twelve of the studies, all of which employed qualitative or mixed methodologies, found that elements in all four categories were associated with sustainability.
Table
2
summarizes the findings, which are organized by study method (qualitative or quantitative) and health-related field (medicine/health care, public health/health promotion, and mental health). Findings regarding specific innovation characteristics and contextual factors were fairly consistent across medical/health care, public health/health promotion, and mental health studies. Findings related to capacity varied somewhat across fields. The presence of a champion was a less frequent finding for public health studies; funding was a much more common finding in this area. Workforce-related findings (e.g., adequate staffing, attributes of personnel) were less frequent findings in health care, and community support was less frequently identified as associated with the sustainment of mental health programs or interventions. Findings related to processes emerged most commonly in qualitative studies and were identified most commonly in public health programs. Perhaps due to the nature of the instruments or assessment procedures used in quantitative studies, processes were rarely identified. Engagement of stakeholders was more frequently associated with sustainability for public health studies, and adaptation of the intervention and alignment between the innovation and the setting were less frequently found in mental health studies.
Table 2
Influences on sustainability
Overall

Health-related field-specific findings

Number of quantitative findings

(n = 30 studies)

Number of qualitative findings

(n = 36 studies)

Number of medical intervention findings

(n = 19)

Number of public health/health-promotion findings

(n = 27)

Number of mental health findings

(n = 22)

Innovation characteristics

11

18

7

12

10

Fit

5

5

2

3

5

Ability to be modified/modifications made

4

7

2

5

4

Effectiveness or benefit

4

5

3

4

2

Ability to maintain fidelity/integrity

2

0

0

1

1

Context

14

13

7

10

10

Climate

0

2

1

0

1

Culture

2

1

2

1

0

Leadership

5

12

3

8

6

Setting characteristics (structure; policies)

11

2

4

4

5

System/policy change

2

5

3

3

1

Capacity

15

23

11

14

12

Champions (internal or external)

5

6

4

3

4

Funding

5

8

3

8

2

Workforce (staffing, attributes)

10

12

4

10

7

Resources

2

7

4

3

3

Community/stakeholder support/involvement

6

10

5

9

2

Processes and interactions

8

27

10

16

8

Engagement/relationship building

2

7

0

7

2

Shared decision making among stakeholders

3

2

2

2

1

Adaptation/alignment

2

5

2

5

0

Integration of rules/policies

3

10

4

6

2

Evaluation and feedback

2

6

1

4

2

Training and education

4

8

3

3

5

Collaboration/partnership

1

11

3

7

2

Navigating competing demands

0

4

1

2

1

Ongoing support

4

11

4

4

6

Planning

0

1

0

1

0
Discussion
We examined 125 published papers to identify the different methodologies, types of innovations studied, timeframes examined, definitions used, outcomes examined, and factors examined in research on sustainability to date. Discussions in the literature over the past two decades [5, 25, 32] regarding the importance of sustainability appear to have resulted in an increase in research on this topic. However, our review found relatively few comprehensive or methodologically rigorous studies. The majority of the studies were retrospective. Most did not provide an operational definition of sustainability, and fewer than half appeared to be guided by a published definition or model of the concept. Few employed independent evaluation or observation.
Conclusions
In the early efforts to study the sustainability of specific programs and interventions that we reviewed, we have identified a body of literature that is fragmented and underdeveloped. In addition to previously noted challenges, limited funding for monitoring programs after initial implementation, challenges to observation in real-time, and the lack of validated measures have complicated the study of sustainability, and much of what is known to date has been determined through post hoc research [4]. The current paper contributes to the literature by reviewing the research on sustainability that has been conducted to date. Our goals in this review were to examine the ways that researchers have approached this challenging topic thus far and to contribute to the development of an agenda for future, high-quality research.
Each of our recommendations to advance what is known about sustainability will require time, resources, and funding, all of which have been relatively limited across the fields that we reviewed. With prospective studies of implementation efforts underway, investigators could make a substantial contribution to the field by planning follow-up studies that assess the degree to which the programs or practices are maintained and the nature and implications of changes that are made once implemented. Furthermore, researchers and policy makers should be encouraged to consider the question of sustainability when developing implementation programs and research. Appropriate planning, assessment, and allocation of funds would result in much better understanding of why and how some interventions and programs last and others do not. In an era of increasing budget pressures and greater scrutiny of new investments, nothing could be more desirable as a practical matter as well.
Declarations
Acknowledgements
We wish to thank the implementation researchers who suggested additional studies for inclusion in our review, our reviewers, and Dr. Sarah Beehler for their comments on previous drafts.
The preparation of this article was supported through funding from the National Institute of Mental Health (R00 MH 01800 [Dr. Stirman] and T32 MH 019836 [Dr. Castro; PI: Keane]); through the Implementation Research Institute (IRI), at the George Warren Brown School of Social Work, Washington University in St. Louis, which is funded through an award from the National Institute of Mental Health (R25 MH080916-01A2) and the Department of Veterans Affairs, Health Services Research & Development Service, Quality Enhancement Research Initiative (QUERI). The content is solely the responsibility of the authors and does not necessarily represent the official views of the National Institute of Mental Health, the National Institutes of Health, or the Department of Veterans Affairs.
Dr. Castro is now affiliated with the VA Maryland Healthcare System
Authors' Affiliations
(1)
Women's Health Sciences Division, National Center for PTSD, Boston, USA
(2)
VA Boston Healthcare System, Boston, USA
(3)
Department of Psychiatry, Boston University, Boston, USA
(4)
Department of Healthcare Management, The Wharton School of the University of Pennsylvania, Philadelphia, USA
(5)
VA Center for Organization, Leadership, and Management Research, Boston, USA
(6)
Department of Health Policy and Management, Boston University School of Public Health, Boston, USA
Copyright
© Stirman et al; licensee BioMed Central Ltd. 2012
This article is published under license to BioMed Central Ltd. This is an Open Access article distributed under the terms of the Creative Commons Attribution License (http://creativecommons.org/licenses/by/2.0), which permits unrestricted use, distribution, and reproduction in any medium, provided the original work is properly cited.