Research article
Open Access
Open Peer Review
This article has Open Peer Review reports available.
A social marketing approach to implementing evidence-based practice in VHA QUERI: the TIDES depression collaborative care model
Implementation Science
2009
4:64
Received: 22 August 2006
Accepted: 28 September 2009
Published: 28 September 2009
Abstract
Collaborative care models for depression in primary care are effective and cost-effective, but difficult to spread to new sites. Translating Initiatives for Depression into Effective Solutions (TIDES) is an initiative to promote evidence-based collaborative care in the U.S. Veterans Health Administration (VHA). Social marketing applies marketing techniques to promote positive behavior change. Described in this paper, TIDES used a social marketing approach to foster national spread of collaborative care models.
TIDES social marketing approach
The approach relied on a sequential model of behavior change and explicit attention to audience segmentation. Segments included VHA national leadership, Veterans Integrated Service Network (VISN) regional leadership, facility managers, frontline providers, and veterans. TIDES communications, materials and messages targeted each segment, guided by an overall marketing plan.
Results
Depression collaborative care based on the TIDES model was adopted by VHA as part of the new Primary Care Mental Health Initiative and associated policies. It is currently in use in more than 50 primary care practices across the United States, and continues to spread, suggesting success for its social marketing-based dissemination strategy.
Discussion and conclusion
Development, execution and evaluation of the TIDES marketing effort shows that social marketing is a promising approach for promoting implementation of evidence-based interventions in integrated healthcare systems.
Keywords
Veteran Health AdministrationSocial MarketingDepression CareCollaborative Care ModelPrimary Care Mental Health
Background
Implementing evidence-based interventions in a healthcare provider organization is a challenging endeavor, requiring changes in attitudes, beliefs and behavior [1]. Mandating change may be a seemingly simple course of action, but is rarely effective [2–4], especially because clinicians have a strong occupational culture and enjoy a high degree of professional autonomy in healthcare organizations [5]. Rather, change is most likely to occur when organizational members' attitudes and beliefs are concordant with the desired change, and they are willing to behave accordingly.
These challenges are amplified in an integrated healthcare organization with multiple points of care (sites) that exhibit significant variation in local cultures and circumstances. For example, USA's Veterans Health Administration (VHA) is a nationwide system of outpatient facilities and medical centers, which is organized into 21 regional Veterans Integrated Service Networks (VISNs) and supervised by a national Central Office [6]. Therefore, successful national implementation in VHA depends upon decisions made at local, regional, and national levels. Other large, complex, integrated healthcare systems, such as the British National Health Service and USA staff model health maintenance organizations, face similar challenges.
Marketing is a discipline whose core goal is affecting behavior. Specifically, commercial marketing campaigns aim to influence consumers' purchasing decisions [7], whereas social marketing campaigns promote socially desirable behaviors such as exercise, recycling, or smoking cessation [8, 9]. Although most healthcare social marketing efforts have been aimed at consumers, recently there has been interest in utilizing these techniques to effect change among healthcare providers [10, 11]. If a social marketing approach can help to address the challenges of decision-making and behavior change in healthcare provider organizations, it may facilitate national implementation of evidence-based interventions.
QUERI and collaborative depression care in VHA
This article follows on from a
Series
of articles documenting implementation science frameworks and tools developed by USA's Department of Veterans Affairs (VA) Quality Enhancement Research Initiative (QUERI). QUERI is briefly outlined in Table
1
and described in more detail in previous publications [
12
,
13
]. The
Series'
introductory article [
14
] highlights aspects of QUERI related specifically to implementation science and describes additional types of articles contained in the
QUERI Series
.
Table 1
The VA Quality Enhancement Research Initiative (QUERI).
The U.S. Department of Veterans Affairs' (VA) Quality Enhancement Research Initiative (QUERI) was launched in 1998. QUERI was designed to harness VA's health services research expertise and resources in an ongoing system-wide effort to improve the performance of the VA healthcare system and, thus, quality of care of veterans.
QUERI researchers collaborate with VA policy and practice leaders, clinicians, and operations staff to implement appropriate evidence-based practices into routine clinical care. They work within distinct disease- or condition-specific QUERI Centers and utilize a standard six-step process:
   1) Identify high-risk/high-volume diseases or problems,
   2) Identify best practices,
   3) Define existing practice patterns and outcomes across the VA and current variation from best practices,
   4) Identify and implement interventions to promote best practices,
   5) Document that best practices improve outcomes, and
   6) Document that outcomes are associated with improved health-related quality of life.
Within Step 4, QUERI implementation efforts generally follow a sequence of four phases to enable the refinement and spread of effective and sustainable implementation programs across multiple VA medical centers and clinics. The phases include:
   1) Single-site pilot,
   2) Small-scale, multi-site implementation trial,
   3) Large-scale, multi-region implementation trial, and
   4) System-wide rollout
Researchers employ additional QUERI frameworks and tools, as highlighted in this Series, to enhance achievement of each project's quality improvement and implementation science goals.
The Mental Health QUERI (MH-QUERI) leads the evaluation and dissemination of Translating Initiatives for Depression into Effective Solutions (TIDES), an initiative for developing and spreading collaborative care models for depression within VHA primary care practices [
15
]. In collaborative care models for depression, shown in Figure
1
, a care manager assists primary care providers with managing depressed patients and facilitates collaboration between primary care and mental health.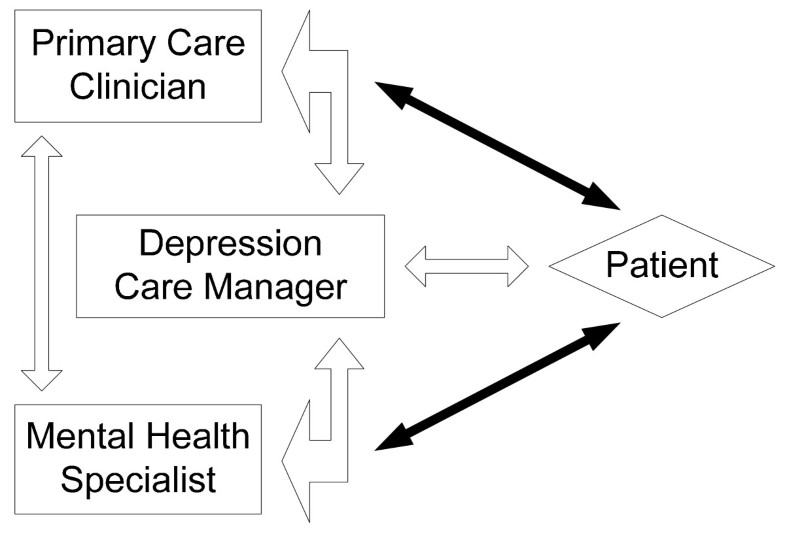 Carefully designed studies have generated clear evidence of the effectiveness [16] and cost-effectiveness [17, 18] of collaborative care for depression in non-VHA and VHA [19, 20] settings. The TIDES model was first implemented in seven "first-generation" VHA sites in three VISNs during 2002-2004. From 2004 through 2008, implementation was expanded to additional second-generation sites in those VISNs, as well as in one additional VISN. Evaluators concurrently collected data at control sites, and also collected data for cost-effectiveness analyses. The collaborative care model developed by TIDES, in partnership with first- and second-generation sites, was incorporated into a national funding initiative for primary care mental health in 2006, and incorporated into national policy in 2008.
Therefore, TIDES can be described as being in Phase 3 of QUERI Step 4 (see Table 1). Formative evaluation activities [21], such as a systematic program of stakeholder interviews and measurement of program penetration and utilization, and spread to additional sites are ongoing.
MH-QUERI works actively with VHA leaders and stakeholders to implement the TIDES collaborative depression care model nationally [22]. Thus it developed a TIDES National Dissemination (Spread) Plan that establishes goals in four areas: 1) Guidelines and Quality Indicators, 2) Training in Clinical Processes and Evidence-Based Quality Improvement, 3) Marketing, and 4) Informatics and Logistics Support. This paper describes how a social marketing approach informed the marketing activities performed under that plan, as well as the underlying marketing theory and associated evaluation activities.
Social marketing: Applying marketing techniques to social problems
Marketing is "the process of planning and executing the Conception, Pricing, Promotion, and Distribution of ideas, goods, and services to create exchanges that satisfy individual and organizational objectives" [23]. Effective marketing is crucial to the success of for-profit firms. Kotler [9] proposed applying marketing principles to meeting societal objectives, such as improving the health and welfare of individuals and society, rather than corporate ones. He termed this application "social marketing." Social marketing is most commonly used to convince the public to adopt socially beneficial behaviors (e.g., recycling, exercise) and eliminate socially undesirable ones (e.g., littering, overeating).
Andreasen suggests several benchmarks against which to assess a social marketing approach [
24
]. As described in detail in Table
2
, they include: a central emphasis on behavior change as the goal of social marketing efforts, systematic use of audience research, segmentation of target audiences, and use of the traditional "4 P's" of marketing (Product, Price, Place, and Promotion). In the context of implementing a clinical intervention in VHA, the Product would be the benefits resulting from successful implementation; Price is the financial and time cost to the implementing site and its clinicians and staff; Place comprises the computerized or interpersonal means by which the intervention can be provided to individual patients; and Promotion includes the range of techniques used to communicate with target audiences.
Table 2
Benchmarks for a social marketing approach.
1. Behavior-change is the benchmark used to design and evaluate interventions.
2. Projects consistently use audience research to: a) understand target audiences at the outset of interventions (i.e., formative research), b) routinely pretest intervention elements before they are implemented, and c) monitor interventions as they are rolled out.
3. There is careful segmentation of target audiences to ensure maximum efficiency and effectiveness in the use of scarce resources.
4. The central element of any influence strategy is creating attractive and motivational exchanges with target audiences.
5. The strategy attempts to use all four Ps of the traditional marketing mix; for example, it is not just advertising or communications. That is, it creates attractive benefit packages (products) while minimizing costs (price) wherever possible, making the exchange convenient and easy (place), and communicating powerful messages through media relevant to--and preferred by--target audiences (promotion).
6. Careful attention is paid to the competition faced by the desired behavior.
Andreasen further observes that social marketing has important similarities to, and shares techniques with, other behavior change approaches [24]. These approaches include: social learning theory, which emphasizes fostering audience members' efficacy in adopting the new behavior [25]; behavioral reinforcement theory that focuses on providing incentives for behavior change [26]; and health promotion campaigns, often based on models such as PRECEDE-PROCEED [27]. Grol, Wensing, and Eccles recognize the marketing approach as one of several (e.g., educational, external influence, and social interaction approaches) used to implement clinical interventions [28]. Linden and Roberts note that social marketing is a comprehensive model--operating at the community, interpersonal, and individual levels--that shares goals and techniques with other healthcare behavioral change models [29]. The social marketing approach also is consistent with the empirically-based conceptual model for diffusion and dissemination of innovations in health services organizations recently proposed by Greenhalgh and colleagues [30].
Most published evaluations of health-related social marketing report on individual interventions or limited numbers of case studies [31, 32]. The Institute for Social Marketing has recently conducted a series of rigorous reviews of the available evidence regarding the effectiveness of social marketing for improving health [33]. They reviewed published reports of 88 interventions targeting diet, exercise, and substance abuse (including smoking). Interventions were included only if they met all of Andreasen's six benchmarks for social marketing (Table 2). Although results could not be aggregated statistically due to the diversity of interventions, the authors conclude that social marketing can be effective, particularly to encourage diet improvement and treatment for substance abuse.
Social marketing and the promotion of behavior change
Social marketing explicitly recognizes that behavior change is a sequential process. New information and the resulting thoughts prompt the adopter to replace existing behaviors (e.g., exercise or eating habits) with new ones. These new behaviors will become routine only if they are reinforcing (i.e., yield positive outcomes for the adopter). For successful implementation of an evidence-based clinical intervention in VHA, behavior change must occur among three broadly defined groups: veterans, frontline providers, and managers.
Robinson proposes a seven-step sequential process through which social marketing can affect behavior change (see Figure
2
) [
34
]. This process can be illustrated by the example of how social marketing could encourage veterans to obtain treatment for depression. The first step is providing the individuals whose behavior the marketer seeks to change with
knowledge
regarding the beneficial behavior. For example, a depression care program might inform veterans that they should seek treatment if they are depressed because it will improve their overall quality of life. Marketing messages also can help instill the
desire
to adopt the new behavior, for example, by convincing depressed veterans that seeking treatment will enhance the time they spend with their spouses, children, and grandchildren.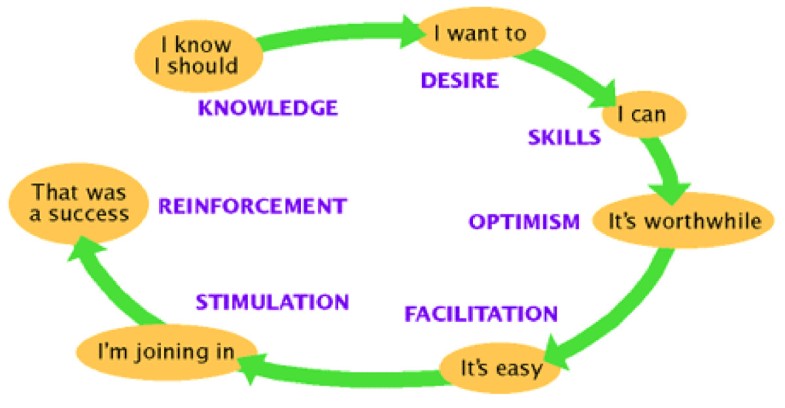 The next step is providing skill sets and resources that enable the individual to make the behavior change. These might include access to educational materials, antidepressant medications, and depression care managers. The marketer must then demonstrate real or potential outcomes of adopting the new behavior (e.g., feeling down in the dumps less often and enjoying life experiences more), so as to instill a sense of optimism.
The next step, facilitation, helps convince the audience that it is feasible, even easy, to adopt the new behavior. Social modeling is one mechanism for achieving this goal [35, 36]. Social models are individuals similar to the audience who model successful execution of the new behavior. When individuals view those who are similar executing a behavior, it enhances their self-efficacy (i.e., confidence) for performing that behavior themselves. And high self-efficacy increases the likelihood that the target individuals also will execute the behavior [35, 36]. Thus, for example, meeting peers who have successfully completed depression treatment can convince veterans that their own depression is treatable as well.
Having demonstrated that the behavior change is feasible, the social marketer must make use of stimuli to create action. For example, the target individuals should now take concrete steps to change their behavior (e.g., taking antidepressant medications as prescribed). Finally, during the reinforcement step, marketing closes the loop by feeding back positive outcomes that help individuals take further steps to form a new habit. Evidence indicates that a "mastery experience," such as confronting a challenging work or family situation without becoming depressed, enhances the likelihood that a newly adopted behavior will continue [35, 36]. The reinforcement step also creates potential "sales representatives" who can be social models for their peers.
Table
3
provides examples of how social marketing messages that support a depression care program could be targeted to the different VHA audience segments of veterans, providers, and managers.
Table 3
Social marketing approach to effecting behavior change in Veterans Health Administration market segments.
Stage of behavior change

Social marketing objectives

Sample messages

Knowledge: "I know I should"

Provide target audience with knowledge about the desired course of action:

• Manager: Support the new depression care program;

• Manager; "I know I should support this program."

• Provider: Utilize the program; and

• Provider: "I know I should refer my depressed patients to this program."

• Veteran: Seek treatment for depression.

• Veteran: "I know I should get treated if I'm depressed."

Desire: "I want to"

Create desire by presenting image of benefits of new behavior:

• Manager: Better patient outcomes and potential for additional funding;

• Manager: "I want to enhance my facility's reputation and obtain additional funding."

• Provider: Increased patient compliance with depression treatment; and

• Provider: "I want my patients to have improved mood."

• Veteran: What life could look like after depression is treated.

• Veteran: "I want to enjoy my life more fully."

Skills and resources: "I can"

Provide skill set, tools, and resources to enable implementation of desired course of action:

• Manager: Resources to implement the depression care program;

• Manager; "I know how to implement this program."

• Provider: Tools and staff support to utilize the program; and

• Provider: "I know how to refer my patients to this program."

• Veteran: Facilitated access to the program.

• Veteran: "I know how to get treatment if I'm depressed."

Optimism:"It's worthwhile"

Demonstrate real or potential outcomes related to desired course of action:

• Manager: Depression care program improves outcomes for a reasonable cost;

• Manager: "The program's quality or financial benefits are worth the cost."

• Provider: Patients have improved mood and are healthier; and

• Provider: "My depressed patients are getting better."

• Veteran: Quality of life improves.

• Veteran: "I feel better."

Facilitation: "It's easy"

Demonstrate the desired behavior is feasible

• All segments: Enhance self-efficacy for implementing, utilizing, or accessing the program (e.g. through social modeling); and testimonials from similar others about their positive experiences.

• All segments: "I am like you, and this depression care program works for me. It can work for you."

Stimulation: "I'm joining in"

Use stimuli to create action, i.e., adopt new behavior:

• Manager: Primary care clinics are beginning to refer patients to the program;

• Manager: "We're seeing benefits from this program."

• Provider: Patients begin to comply with depression treatment; and

• Provider: "I'm learning how to utilize the program."

• Veteran: Small steps toward improved mood.

• Veteran: "I haven't felt really down in a week."

Reinforcement:

Show that positive outcome will help individuals form new personal habits

• All segments: Personal mastery experiences accumulate; and feedback from managers, providers, and veterans regarding their progress.

• Manager: "We're making the depression care program work."

• Provider: "I routinely refer my depressed patients to this program."

• • Veteran: "I'm not letting depression control my life."
A social marketing approach to promote the TIDES collaborative depression care model in VHA
Once the first-generation TIDES sites had developed and demonstrated a safe, acceptable, VHA-adapted collaborative care model with high fidelity to the published evidence, the next challenges MH-QUERI faced were replicating the model effectively at additional sites, and obtaining support and resources from national and regional leadership to disseminate TIDES nationally. By 2004, the TIDES team had used evidence-based quality improvement (EBQI) methods to develop and test, through Plan-Do-Study-Act (PDSA) cycles, a VA-adapted collaborative care model that could be sustained as part of routine care in VA [37]. In 2005, the TIDES team began working with university-based experts in health care management (JL and FH) as part of a VHA Health Services Research and Development (HSR&D) Service implementation research grant to identify approaches to accelerate spread of the model. During this collaboration, it became clear that a social marketing approach could further leverage the expertise of the TIDES team and the knowledge gained at the first-generation sites.
Below we first outline the EBQI method used by the TIDES team, and then describe how the social marketing approach informed TIDES national dissemination efforts. We next outline how social marketing theory and qualitative evaluation findings were used to target marketing messages to different VHA audience segments, and describe the TIDES marketing activities directed at each of those segments. Finally, we briefly discuss evaluation of the marketing efforts as part of the ongoing evaluation of TIDES dissemination.
Discussion
Collaborative depression care models have proven effective in improving patient outcomes within and outside VHA. MH-QUERI is engaged in an effort to implement this evidence-based model nationwide, which requires management decision-making at multiple levels of the VHA organization and provider behavior change at hundreds of patient care facilities.
A social marketing approach explicitly informed several TIDES national dissemination activities. Social marketing applies marketing techniques to promote positive behavior change. Although primarily used to promote healthy behaviors in the general population, social marketing can be adapted to promote management, clinician, and patient behavior change in a large integrated healthcare system.
The TIDES model had been extensively evaluated at first-generation sites by an experienced health services research team. This team also used an evidence-based quality improvement (EBQI) method to clarify which elements of the TIDES model should remain standardized and which elements VISNs or facilities could customize to fit local conditions.
Nevertheless, a social marketing perspective allowed the TIDES team to further leverage its expertise and evidence in ways it would not otherwise have done. For example, the TIDES team segmented its target audience into several distinct groups, each with a defined behavior change goal: managers who must decide to implement TIDES and allocate the necessary resources to it, clinicians who refer their patients, and veterans who enroll in the program to treat their depression. The team also utilized its members' experience, as well as qualitative evaluation findings from first-generation TIDES implementation to tailor marketing messages to specific audience segments. MH-QUERI explicitly included measurable marketing goals in its TIDES national dissemination plan.
An important lesson from the TIDES experience is that social marketing efforts should be considered as soon as evidence demonstrating the effectiveness of an intervention becomes available. That way, the research team can help define audience segments crucial for broader implementation, and distill their expertise and data from evaluation of the intervention into marketing materials. Managers and clinicians from early sites also can be recruited as marketing representatives to support implementation at subsequent sites.
The social marketing approach appears applicable to almost any evidence-based intervention, but researchers and QI experts can benefit from consultation with experts in marketing as they embark on using social marketing. For example, marketing experts can help researchers learn to translate often-complex evidence into audience-friendly marketing materials.
However, the marketing activities described above concern one program - TIDES, in one integrated healthcare system - the VHA. The plan is based on mature theory, empirical findings, and the experiences of a very skilled multidisciplinary research team, but positive findings from ongoing evaluation activities will be needed to confirm its generalizability.
Conclusion
Although social marketing has heretofore been used primarily to promote healthy behaviors among consumer populations, it also appears able to amplify the effectiveness of standard evaluation and implementation techniques. We believe this is one of the first formal applications of social marketing to promote the implementation of an evidence-based intervention among managers and providers in the VHA. Further research by other QUERI centers could explore the applicability of the social marketing approach to facilitating implementation of other interventions, as well as the institutional factors at multiple levels of the VHA that enhance or hinder the effectiveness of social marketing. If such research demonstrates that social marketing can be effective even in a large and internally diverse government agency like the VHA, it also may be an effective approach for promoting implementation of evidence-based interventions in other integrated healthcare systems.
Declarations
Acknowledgements
This work was funded through a VHA HSR&D supplemental grant for enhancing access to implementation research expertise (Project #IMA 04-161) and a VHA QUERI service-directed project, the Cost and Value of Translating Evidence-based Practices Study (COVES) (Project #MNT 02-029). We thank Jennifer L. Magnabosco, PhD, for her coordination and project management support of the joint marketing effort across these studies. Mona Ritchie, PhD, also has provided valuable support to TIDES implementation and evaluation. John Williams, MD, Ed Chaney, PhD, Jeff Smith, PhD(c), and Susan Vivell, PhD provided valuable information about the TIDES implementation effort. Cheryl Stetler, PhD, RN and Brian Mittman, PhD provided conceptual and structural suggestions that greatly improved the manuscript.
Authors' Affiliations
(1)
VA Greater Los Angeles HSR&D Center of Excellence, VA Greater Los Angeles Healthcare System, Sepulveda, USA
(2)
Department of Health Services, UCLA School of Public Health, Los Angeles, USA
(3)
Department of Medicine, UCLA David Geffen School of Medicine, Los Angeles, USA
(4)
Center for Mental Healthcare and Outcomes Research, North Little Rock, USA
(5)
South Central Mental Illness Research Education and Clinical Center (MIRECC), Little Rock, USA
(6)
University of Arkansas Medical Sciences (UAMS) Center, Little Rock, USA
Copyright
© Luck et al; licensee BioMed Central Ltd. 2009
This article is published under license to BioMed Central Ltd. This is an Open Access article distributed under the terms of the Creative Commons Attribution License (http://creativecommons.org/licenses/by/2.0), which permits unrestricted use, distribution, and reproduction in any medium, provided the original work is properly cited.