Research
Open Access
Open Peer Review
This article has Open Peer Review reports available.
How do clinicians use implementation tools to apply breast cancer screening guidelines to practice?
Implementation Science
2018
13:79
Received: 6 December 2017
Accepted: 21 May 2018
Published: 7 June 2018
Abstract
Background
Implementation tools (iTools) may enhance uptake of guidelines. However, little evidence exists on their use by primary care clinicians. This study explored which iTools clinicians used and how often; how satisfied clinicians were with the tools; whether tool use was associated with practice changes; and identified mediators for practice change(s) related to breast cancer screening (BCS).
Methods
Canadian primary care providers who are members of the Practice-Based Small Group Learning Program (n = 1464) were invited to participate in this mixed methods study. An educational module was discussed in a small group learning context, and data collection included an on-line survey, practice reflection tools (PRTs), and interviews. The module included both the Canadian Task Force on Preventive Health Care revised guideline on BCS and iTools for clinician and/or patient use. After discussing the module and at 3 months, participants completed PRTs identifying their planned practice change(s) and documenting implementation outcome(s). Use of the iTools was explored via online survey and individual interviews.
Results
Seventy participants agreed to participate. Of these, 48 participated in the online survey, 43 completed PRTs and 14 were interviewed. Most survey participants (77%) reported using at least one of seven tools available for implementing BCS guideline. Of these (78%) reported using more than one tool. Almost all participants used tools for clinicians (92%) and 62% also used tools for patients. As more tools were used, more practice changes were reported on the survey and PRTs. Interviews provided additional findings. Once information from an iTool was internalized, there was no further need for the tool. Participants did not use tools (23%) due to disagreements with the BCS guideline, patients' expectations, and/or experiences with diagnosis of breast cancer.
Conclusion
This study found that clinicians use tools to implement practice changes related to BCS guideline. Tools developed for clinicians were used to understand and consolidate the recommendations before tools to be used with patients were employed to promote decision-making. Mediating factors that impacted tool use confirmed previous research. Finally, use of some iTools decreased over time because information was internalized.
Keywords
Clinical practice guidelinesGuideline implementationImplementation toolsImplementation strategyBreast cancer screening
Background
An interval of approximately 17 years has been suggested as the gap between publication of research findings and application to patient care [1, 2]. One approach to shorten this interval has been the widespread development and distribution of clinical practice guidelines (CPG). CPGs, however, have not made a significant impact on uptake of recommendations into clinical practice [3–8]. Only 55% of patients receive the recommended health care they need [6, 9]. While there are many explanations for the lack of implementation [10], the development of tools to facilitate application of guideline recommendations has been proposed by guideline developers as one approach to appropriately address this gap between knowledge and implementation [3, 11]. A knowledge translation (KT) tool is defined as "an intervention in a form of a tangible product or resource that can be used to implement best evidence into practice" [12]. One classification of KT tools identifies three categories: implementation tools (iTools) such as printed educational materials and decision aids that facilitate practice change; resource planning tools that support implementation processes; and evaluation tools such as quality indicators [13]. This paper focuses on iTools, which can be directed at clinicians and/or patients to clarify goals of care, understand evidence, assess the risks and benefits of treatment options, and enable informed decision-making [14, 15]. Interviews with healthcare professionals support the need for tools to implement guideline recommendations [16].
Systematic reviews suggest that iTools such as guideline summaries, algorithms, point-of-care checklists, and reminders enhance compliance with guideline recommendations [17–19]. However, a systematic review evaluating the effectiveness of iTools developed and disseminated with guidelines identified only four studies [20]. The tools utilized in these studies targeted only healthcare professionals; none targeted healthcare organizations or patients. Tools included educational workshops tailored to barriers, paper-based educational materials, order forms, or reminders. Only two of the four studies assessed adherence to guidelines, reporting a median 13.5% greater adherence in the intervention group [20].
The features of iTools have been explored by a number of researchers. MacDermid et al. (2013) [12] described a taxonomy for KT tools based on the Knowledge-to-Action cycle with tools directed at each stage of the model. Gagliardi et al. (2014) [3] identified the features of ideal guideline iTools (e.g., stated tool objectives, identification of target users, provision of instructions on tool use, evidence cited for tool content) and proposed a framework for evaluating and adapting existing tools, or developing new tools. However, only 8.7% of guidelines reviewed had accompanying iTools and many did not possess most of the features identified by the framework [3].
Despite the identification of the importance of tools to the implementation of guidelines and the development of checklists and frameworks for assessing these tools, very little research has examined the use of iTools in clinical practice [21]. This study focused on this aspect of iTool use based on the breast cancer screening (BCS) guideline of the Canadian Task Force for Preventative Health (CTFPHC) [22]. A collaboration was created between CTFPHC [23] and the Foundation for Medical Practice Education (FMPE) [24]. The mandate of the CTFPHC is to create and disseminate guidelines designed to optimize the quality of preventive care delivered in primary care [25]. FMPE serves as a knowledge user through the development and dissemination of evidence-based educational modules that provide tools (practice aids, algorithms, recommendations, chart aids, and/or resources) intended to facilitate practice implementation and practice change by clinicians.
In Canadian women, breast cancer is the most common form of cancer and the second leading cause of cancer death [
26
,
27
]. Screening has been shown to be of benefit in certain age groups. Screening rates in Canada, however, suggest that only 54% of eligible women access screening as recommended [
28
]. The CTFPHC guideline made a number of recommendations that balance the benefits and harms of BCS for women who have no pre-existing risk factors [
22
]. These included confirming the previous recommendation against breast self-exam and supporting mammography screening of women 50–69 years. However, timing of mammography was changed from yearly to every 2–3 years. Previous recommendations not to screen women 40–49 years with no pre-existing risk factors were also confirmed. A new recommendation was that mammography screening occurs in the 70–74-year-old age group. Another change was the recommendation to discontinue screening breast exams by clinicians [
22
]. All of the recommendations made by the CTFPHC were considered weak recommendations based on low to moderate quality evidence and therefore, the revised guidelines emphasized the need for discussions between clinicians and patients exploring the balance between harms and benefits and patients' values and preferences. To facilitate implementation of these recommendations into practice, specific tools (Table
1
) were developed or adapted for use by clinicians and patients.
Implementation tools

Location of tool

Target user

Type of tool

Description—information provided in tool

Screening Recommendations for breast cancer with mammography

Module

Clinician

Printed educational \material—Table

Screening recommendations with mammography:

 ➢ For women 40–49 years –(2012) "recommendation against routine screening"

 ➢ For women 50–74 years –(2012) "routine screening every 2–3 years" (70–74 years was new addition)

Includes: numbers needed to screen to save one life from breast cancer; harms, and adverse outcomes

Clinical consideration for implementation: provide information to patients, use decision aid, and use electronic health records to flag screening reminders for patients 50–74 years

Screening recommendations for clinical breast exams and breast self-exams

Module

Clinician

Printed educational material—Table

Screening recommendations for clinical breast exam and breast self-exam:

 ➢ Clinical breast exam—changed from previous (2001) "every year for women 50–69 years" to current (2012) "recommend against"

 ➢ Breast self-exam—changed from previous (2001) "not recommended" was strengthened to current (2012) "recommend against"

Clinical considerations for implementation:

clinical breast exams still appropriate if there are concerns about abnormal breasts

Discussion video: CTFPHC breast cancer video

Hyperlink to CTFPHC website

Clinician

Video

Video (12 min) directed at clinicians, exploring strategies for patient discussion around breast cancer screening issues

Patient handout: breast cancer screening—what is the right choice for me?*

Module

By patient

Decision aid

Questions/answers addressing breast cancer screening:

 ➢ What is breast cancer screening?

 ➢ Should I have a breast exam?

 ➢ Who should have a mammogram?

Includes the following:

Patient check list to review each benefit and harm as it relates to them specifically

Pictorial representation of benefits and harms of breast cancer screening for women age 40–49 years.

Patient handout: CTFPHC patient algorithm

Hyperlink to CTFPHC website

By/with patient

Printed educational material—algorithm

Algorithm guides individuals re mammography:

 ➢ For women 40–49 years—"suggest not screening with mammography"

 ➢ For women 50–74 years—"suggest scheduling mammogram every 2–3 years"

 ➢ For women 75+ − "suggest discussing the benefits and harms of mammography with a family physician"

Patient handout: CTFPHC benefits and risks

Hyperlink to CTFPHC website

With Patient

Decision aid

Patient handout describing benefits and the risks of breast cancer for women between 40 and 49, 50–69, and 70–74 years of age. It includes a pictorial representation of outcome of screening in each age group including false positives, biopsy, and mastectomy

Patient handout: CTFPHC FAQs for patients

Hyperlink to CTFPHC website

Patient

Printed educational material—FAQ for patients

Highlights that CTFPHC recommends that women aged 50–74 schedule a mammogram every 2–3 years.

Questions/answers address:

 • High risk; meaning of screening; best way to screen;

 • Benefits and harms associated with mammography;

 • Reasons for different recommendations for different age groups;

 • Recommendations for breast self-examination and clinical breast exams.
This study explored (a) which iTools clinicians reported using and how often, (b) how satisfied clinicians were with the tools used, (c) perceived usefulness of tools, (d) whether tool use was associated with reported practice changes, and (e) mediators (barriers and enablers) for reported practice change(s) related to BCS.
Methods
A convergent mixed method approach [
29
] explored the use of iTools in this study (see Fig.
1
for study overview). Quantitative data was collected from a questionnaire and survey. Open-ended survey questions, practice reflection tools, and interviews provided qualitative data.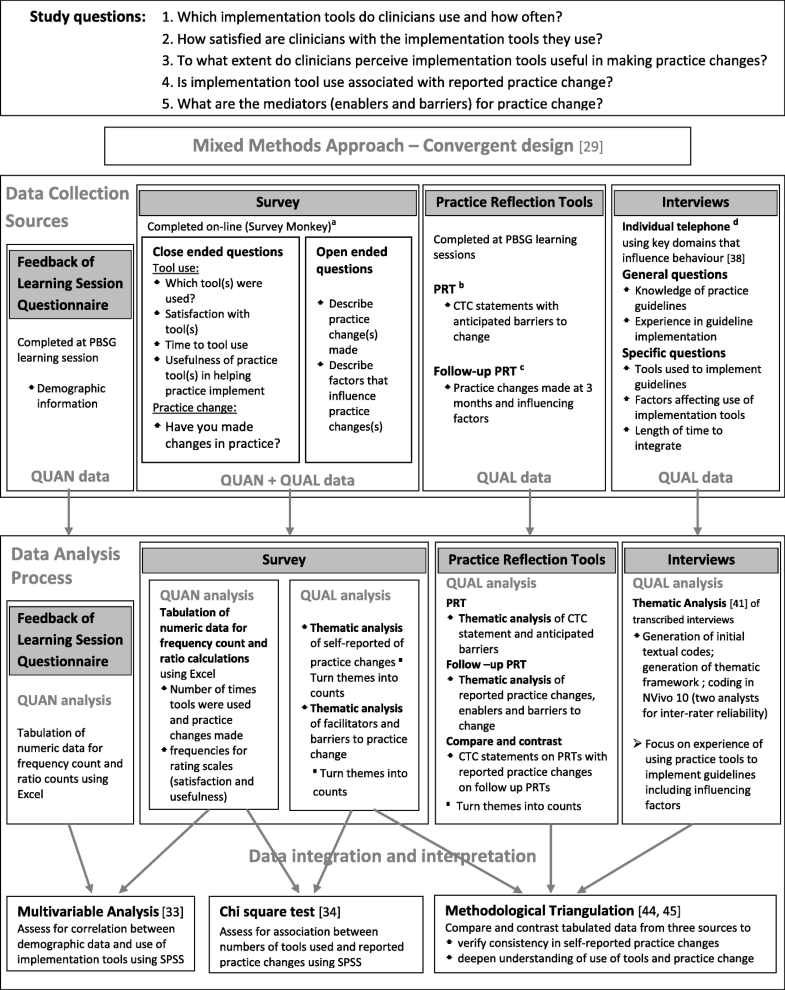 Results
Participants
Of the 183 PBSG groups that were solicited, 79 PBSG groups responded. Twelve groups and 70 of 107 individual members in those groups (65%) consented to participate in the study (Fig. 2).
Participants were from six Canadian provinces: five groups from Ontario, two from each of British Columbia and Nova Scotia, and one from each of Manitoba, New Brunswick, and Saskatchewan. Family physicians comprised 91% (64/70) and nurse practitioners 9% (6/70) of the participants. More than 60% of participants were involved in group practices (43/70), and there was a predominance of female participants (80%, 56/70). There was a fairly equal distribution in years of practice: 1–10, 11–20, and 21–30 years (20, 24, and 20%, respectively); of the remaining participants, 13% were in practice for more than 30 years; 23% did not answer the question. Sixty percent of participants practiced primarily in an urban/suburban setting.
Completion rates for each data source
Of the 70 study participants, 48 (69%) completed the online survey; 43 (61%) completed both the PRT and follow-up PRT and 14 (20%) participated in 1-h individual telephone interviews (Fig. 2).
Twenty-one of the 48 survey participants responded to invitations to be interviewed. Of these, seven participants declined, citing lack of time or lack of information additional to their survey responses. Fourteen - 1hr telephone interviews were completed between May and August 2013. These interview participants included 10 who had implemented practice changes and four who did not make their proposed changes. Fourteen interviews were sufficient to reach data saturation as all themes were identified within the first 11 interviews.
Data utilized to address each of the study questions
Discussion
The use of iTools in routine clinical practice has previously received little attention. This study explored the use of iTools on uptake of BCS recommendations provided by the CTFPHC guideline [22].
Conclusion
The study provides new information about the use of iTools in clinical practice. Use of specific tools was reported by most clinicians, and many used more than one tool supporting the recommendation to increase tool development to support implementation of the CPG recommendations [3, 11, 16]. An exploration using objective measures of tool use would bolster these findings.
The reported sequencing of tool use suggests clinicians may need to consolidate their understanding and application of the guideline recommendations in their clinical practice context prior to the use of iTools directed at patients. Further confirmation and clarification of this finding may impact future tool development.
A surprising finding was that clinicians did not consider the quality of the evidence when deciding about the use of patient decision aids, particularly in the context of recommendations with weak evidence. This suggests that clinician education may be required about their use.
The relationship between iTool use and reported practice change is an intriguing finding and requires further exploration with a larger sample and objective measures of practice change.
Finally, researchers need to be aware that actual use of iTools may decrease over time because information has been internalized.
Abbreviations
BC:

British Columbia
BCS:

Breast Cancer Screening
BSE:

Breast self-exam
CBE:

Clinical breast exams
CMAJ:

Canadian Medical Association Journal
CPG:

Clinical practice guideline
CTC:

Commitment-to-change
CTFPHC:

Canadian Task Force for Preventative Health
dx:

Diagnosis
EMR:

Electronic medical record
FAQ:

Frequently asked questions
FMPE:

The Foundation for Medical Practice Education
Int:

Interviewee
iTool(s):

Implementation tool(s)
KT:

Knowledge translation
NS:

Nova Scotia
OBSP:

Ontario Breast Screening Program
PBSG :

Practice-based small group
PRT:

Practice reflection tool
pts.:

Patients
QUAL:

Qualitative
QUAN:

Quantitative
REB:

Research Ethics Board
SPSS:

Statistical Package for Social Sciences
Declarations
Acknowledgements
The authors wish to thank CIHR for supporting this project, Dr. Jacqueline Wakefield and Dr. Julia Moore for critical feedback of the manuscript, Dawnelle Hawes for helping write the initial drafts of the manuscript, Alekhya Mascarenhas for helping in the qualitative analysis of the interview transcripts, and Lindsay Cameron and Nadia Bashir for coordinating various aspects of the research project.
Funding
SES obtained funding for this project from the Canadian Institute of Health Research (CIHR)–Knowledge to Action (2011–2012); reference number: KAL-122167.
Availability of data and materials
Most of the data generated or analyzed during this study are included in this publication in aggregate format. Additional datasets used and/or analyzed during this study are available from the corresponding author on reasonable request.
Authors' contributions
HA made substantial contributions to conception and design of the project, analysis, and interpretation of data; has contributed substantially in drafting and revising the manuscript. SR made substantial contributions to the acquisition of data, analysis, and interpretation of data; has contributed significantly in drafting and revising the manuscript. TE made substantial contributions to conception and design of the project and in the interpretation of the data; has contributed significantly in drafting and revising the manuscript. SK has made contributions to the acquisition and interpretation of the data and contributed to revising the manuscript. SES made substantial contributions to conception and design of the project, interpretation of data, and contributed significantly to the revision of the manuscript. All authors read and approved the final manuscript.
Ethics approval and consent to participate
Ethics approval for the study was obtained through St. Michael's Hospital Research and Ethics Board, Toronto, Canada, REB 12–220 and through the University of Calgary Conjoint Health Research Ethics Board, Calgary, Alberta, REB14–1676.
Competing interests
The following authors are affiliated with the non-profit Foundation for Medical Practice Education (FMPE) that produces educational modules with implementation tools: HA is the FMPE research director, TE is the FMPE executive director and SR is the coordinator of the research program at FMPE.
SES is an associate editor of implementation science and the chair of the Knowledge Translation working group for the Canadian Task Force on Preventive Health Care.
Publisher's Note
Springer Nature remains neutral with regard to jurisdictional claims in published maps and institutional affiliations.
Open Access This article is distributed under the terms of the Creative Commons Attribution 4.0 International License (http://creativecommons.org/licenses/by/4.0/), which permits unrestricted use, distribution, and reproduction in any medium, provided you give appropriate credit to the original author(s) and the source, provide a link to the Creative Commons license, and indicate if changes were made. The Creative Commons Public Domain Dedication waiver (http://creativecommons.org/publicdomain/zero/1.0/) applies to the data made available in this article, unless otherwise stated.
Authors' Affiliations
(1)
Department of Family Medicine, University of Calgary, Calgary, Canada
(2)
The Foundation for Medical Practice Education, McMaster University, Hamilton, Canada
(3)
Departments of Family Medicine, and Community Medicine and Epidemiology, University of Ottawa, Ottawa, Canada
(4)
Knowledge Translation Program, Li Ka Shing Knowledge Institute, St. Michael's Hospital, Toronto, Canada
(5)
Department of Medicine, University of Toronto, Toronto, Canada