Research
Open Access
Open Peer Review
This article has Open Peer Review reports available.
Collective action for implementation: a realist evaluation of organisational collaboration in healthcare
Implementation Science
2016
11:17
Received: 14 August 2015
Accepted: 4 February 2016
Published: 9 February 2016
Abstract
Background
Increasingly, it is being suggested that translational gaps might be eradicated or narrowed by bringing research users and producers closer together, a theory that is largely untested. This paper reports a national study to fill a gap in the evidence about the conditions, processes and outcomes related to collaboration and implementation.
Methods
A longitudinal realist evaluation using multiple qualitative methods case studies was conducted with three Collaborations for Leadership in Applied Health Research in Care (England). Data were collected over four rounds of theory development, refinement and testing. Over 200 participants were involved in semi-structured interviews, non-participant observations of events and meetings, and stakeholder engagement. A combined inductive and deductive data analysis process was focused on proposition refinement and testing iteratively over data collection rounds.
Results
The quality of existing relationships between higher education and local health service, and views about whether implementation was a collaborative act, created a path dependency. Where implementation was perceived to be removed from service and there was a lack of organisational connections, this resulted in a focus on knowledge production and transfer, rather than co-production. The collaborations' architectures were counterproductive because they did not facilitate connectivity and had emphasised professional and epistemic boundaries. More distributed leadership was associated with greater potential for engagement. The creation of boundary spanning roles was the most visible investment in implementation, and credible individuals in these roles resulted in cross-boundary work, in facilitation and in direct impacts. The academic-practice divide played out strongly as a context for motivation to engage, in that 'what's in it for me' resulted in variable levels of engagement along a co-operation-collaboration continuum. Learning within and across collaborations was patchy depending on attention to evaluation.
Conclusions
These collaborations did not emerge from a vacuum, and they needed time to learn and develop. Their life cycle started with their position on collaboration, knowledge and implementation. More impactful attempts at collective action in implementation might be determined by the deliberate alignment of a number of features, including foundational relationships, vision, values, structures and processes and views about the nature of the collaboration and implementation.
Keywords
ImplementationCollaborationEvidenceCo-productionKnowledgeRealist
Background
The gap between evidence and practice has often been defined as a practice or service problem rather than one of knowledge creation [1]. This perspective is perpetuated by a 'two communities' [2] model of knowledge production in which the producers and users of research occupy separate worlds. Increasingly, it is recognised that such translational gaps might be narrowed by bringing the users and producers of research closer together. As such, initiatives increasingly focus on demonstrating the potential of collaboration. However, little empirical evidence about the conditions, processes or outcomes related to collaboration and evidence use exists. In this paper, we fill this gap by presenting an explanatory theory about collective action in implementation derived from a national longitudinal empirical study of collaboration.
Framing the knowledge use challenge
Over time, there has been a shift (in the literature at least) from seeing knowledge and its use in practice as discrete events to conceptualising them as a process. Alongside this has developed a recognition that such processes are not necessarily linear, but that knowledge use is often multi-factorial and less predictable than is sometimes implied. Frameworks and theories have become increasingly focused on action in context [3–6]. The discourse used to describe this shift, reflecting underlying epistemologies, has moved from the linear (e.g. 'research into practice', 'knowledge transfer') to a more dynamic (e.g. 'knowledge translation', 'knowledge mobilisation', 'engaged scholarship') emphasis.
Practice-based, collaborative and organisational approaches to knowledge and its use are increasingly emphasised in contrast to an evidence-orientated view of knowledge use, which implies evidence as a 'product' needing to be pushed out to its users over an academic-practice boundary from one community to another [7–9]. Pushing out evidence as guidelines has had some, but relatively limited, success (given the investment in such products) in improving health outcomes. In theory, collaborations could blur this academic-practice boundary and the evidence would be co-produced within communities of practice, increasing the relevance to that community and its potential use [2]. It is this conceptualisation of implementation that we adopted in this study.
Collaboration and the 'knowing-doing' gap
A variety of organisational collaborations between academia and practice have emerged over the past decade (e.g. the United States' Quality Enhancement Research Initiative, Dutch Academic Collaborative Centres for Public Health, Australian Advanced Health Research and Translation Centres and England's Academic Health Science Networks and Collaborations for Leadership in Applied Health Research and Care). Whilst collaboration between academia and services is often perceived as an effective means of closing the gap between knowing and doing, the causal pathway from developing partnerships, to the use of evidence in practice, and subsequent translation into improved patient outcomes is yet to be established.
A search of the literature (1994–2014) to answer the question, 'why and how does organisational collaboration between researchers and practitioners enable implementation of evidence within a health service context' [
10
], revealed 10 relevant papers. However, we found little evidence that
directly
linked collaboration to knowledge use, but they did reveal the features of collaborations likely to make them more successful. These included the following:
It is unclear how and whether these collaborative conditions impact on knowledge use itself. Additionally, the existing evidence base is limited by a focus on researching one-off projects and/or events rather than on longitudinal and larger-scale organisational initiatives; consequently, it is not possible to speculate on the sustainability of such initiatives.
Collaborations for Leadership in Applied Health Research & Care
Collaborations for Leadership in Applied Health Research & Care (CLAHRCs) were established in the English NHS in 2008 as collaborations between healthcare services and higher education organisations. Nine collaborations were funded as pilots by the National Institute for Health Research (NIHR) with approximately £100 million funding over 5 years with a further £100 million in 'matched' funds coming from the NHS. CLAHRCs were established following recommendations from a working group charged with developing an action plan for more effective and efficient health care in England [20, 21]. Each CLAHRC was funded to deliver three interlinked functions: conduct high quality applied health research, implement research into practice and increase capacity to engage with and apply research [22]. The implicit 'theory' was that providing a resource and structure would enable the research and practice community to work together to accelerate the implementation of research. We set out to investigate this theory, and fill a gap in the evidence about collaborative approaches to bridging translational gaps.
Methods
Approach
This study was a longitudinal realist evaluation using multiple-qualitative-methods case studies conducted between 2009 and 2014 [23]. Our purpose was to develop an explanatory theory about implementing research through CLAHRCs as collaborative entities and answer the realist question, 'what works, for whom, how, why and in what circumstances?'
Realist evaluation is particularly appropriate for developing explanations about how programmes, which by their nature are complex, work contingently within the context of implementation [23–26]. We followed the realist approach offered by Pawson and Tilley [24]. Each CLAHRC's approach(s) to implementation (the 'programme') was examined to identify what is it about them that 'works': their mechanisms and the contextual conditions that lead to outcomes. According to Pawson and Tilley [24], mechanisms are underlying causal forces that are usually unobservable and involve the reasoning of participants (of the programme/intervention—i.e. CLAHRC), which fire in particular contexts. Therefore, realist inquiry aims to uncover what it is about the context that affects whether or not mechanisms fire to produce outcomes. This configuration is commonly expressed as C + M → O. The study was designed and conducted with participants from CLAHRCs on the research team.
Data collection
We focused on three CLAHRCs as case studies [27]. Sites were selected based on funders' requirements for coverage alongside a need to manage burden (this was one of four projects researching nine CLAHRCs) and a CLAHRC's willingness to engage in project design and development. We use the pseudonyms Oakdown, Ashrove and Hazeldean for the three cases. Consistent with a realist evaluation cycle, we conducted the study through phases of theory generation, theory testing and refining and programme theory specification [23, 26].
Approach
Realist evaluation is theory driven. Theory 'tells us where to look' and 'what to look for…directs us to vital explanatory components…their inter-relationships and the things that bring about those interrelationships' [
25
, p. 62]. The starting point for this study was the development of programme theory, which drove our data collection and analysis strategy [
26
]. We built a conceptual framework that helped to focus the first round of data collection (see [
26
] for fuller details of the framework's development) around some initial hypotheses (Table
1
). Following the analysis of round 1 data, the initial set of hypotheses was developed into context-mechanism-outcome formulae (CMOs), data collection was then focused on refining and finally, in round 4, testing this programme theory.
Table 1
Initial hypotheses (see [26] for more detail about how these hypotheses were developed, including a more in-depth consideration of their content)
The contexts of CLAHRCs will determine how the 'programme' plays out and will provide an explanation of those contexts that might be more appropriate or conducive.
 All action occurs within a context, which is multi-layered and multi-faceted. There is a growing evidence base about factors that have been identified that might explain whether contexts are more or less facilitative of implementation, including culture, communication, resources, leadership and tailoring of approaches/strategies (or not) to implementation contexts.
The way in which CLAHRCs' interpret 'knowledge' will determine the importance and value they assign to different sources of knowledge and how these are privileged.
 Propositional and non-propositional source of knowledge have the potential to impact practice. Types of evidence from these sources (e.g. research, experience etc.) are often valued, and therefore privileged differently by different stakeholders.
How CLAHRCs develop 'facilitation' roles, including how they fit into their overall framework(s) for implementation, and the strategies, approaches and interventions they might employ will determine their success at supporting implementation-related activity.
 Facilitation and facilitators enable or make things easier—there are many roles that might (in theory) fulfil this function with a CLAHRC.
CLAHRCs with more effective patient and public involvement (PPI) strategies will achieve more relevant and impactful implementation.
 There is a very limited evidence base about PPI in implementation, but given what we know from PPI in research, for example through INVOLVE (http://www.invo.org.uk/), more relevant and impactful implementation may be determined by how they engage with stakeholder such as the public and patients in the locale.
How knowledge is prioritised and then particularised will vary within and across contexts, over time, and be prompted by the different choices of many stakeholders.
 How organisations store, share and learn from knowledge provides one indication of their capability as learning organisations. In theory, learning organisations are environments in which implementation and improvement might be more successful.
The way in which CLAHRCs' respond to their local health, human and social geography will determine their ability to address implementation challenges that are important to the region.
 The CLAHRC's commissioning brief was focused on delivering improvement in response to regional health priorities. Therefore, geography is an important aspect of a CLAHRC's context, in that it has the potential to drive, shape and be impacted by service change.
How agents (those involved in producing and implementing CLAHRC work), beneficiaries (those that might profit/benefit from CLAHRC) and victims (those excluded or suffer opportunity costs) respond to the opportunities the CLAHRC offers, will help explain how and why the CLAHRC programme works (or not).
 As an interactive and deliberative endeavour, implementation processes and impacts are dependent on the individual and collective action of actors and agents working at different levels and places within the organisation(s).
A CLAHRC's history, age and stage of development will impact on their approach and ability to implement knowledge.
 The funder's expectation was for CLAHRCs to implement their own research within 3–5 years (this did not preclude them implementing existing research), placing an importance on the concept of time. Time therefore sets a frame of reference for any changes instigated, occurring and explained.
A CLAHRC's approach to developing their formal and informal structures will vary and therefore will provide some insight into architectures that are more or less helpful for implementation through collaboration.
 In theory, structures and processes that enable closer engagement between health services and higher education should be those that facilitate relationship building and collaborative working.
Data were collected over four rounds and included the following:
Semi-structured interviews: with individual participants by telephone or face-to-face and guided by an interview spine. As we were developing explanations over time, the focus and therefore schedule for interviews reflected these iterations. The first round of data collection was exploratory and focused on the initial hypotheses; following analysis of round 1 data, data collected in rounds 2 and 3 were focused on helping us refine the emerging explanations. Interviews in round 4 were focused on 'testing' the explanations. Interviews were audio-recorded and lasted between 30 and 90 min.
Observations: Non-participant observation of some events and meetings (e.g. board meetings and stakeholder events) was conducted and recorded as field notes using nine dimensions of observation as a guide: space, actors, activities, objects, acts, events, time, goals and feelings [28].
Documents: A range of documents were gathered from each CLAHRC including newsletters, progress reports, job descriptions and implementation outputs—e.g. specific assessment tools, publications and outcomes—to help contextualise and complement other data sources.
Stakeholder engagement: We involved patients and the public through a stakeholder group that was set up for the project, and the wider CLAHRC community through attendance and presentations at their joint meetings. In the Interpretive Forum, we engaged policy makers, academics and the CLAHRCs as an opportunity to verify our emerging findings.
Sample
For each round of data analysis, the sampling framework was based on a stakeholder analysis [29] and used both theoretical and criterion sampling that determined which stakeholders were 'essential', 'important' and/or 'necessary' to involve [30]. Details of potential participants were provided by CLAHRC Directors or Programme Managers. Individuals were then invited to participate and given at least 24 h to consider their consent.
Data analysis
Data analysis was iterative in order to build explanations over time and enable us to focus subsequent data collection in areas of productive enquiry. We used a combined inductive and deductive approach to ensure that the process continually focused on the propositional-building function of the CMO [25].
Following each round of data collection, analysis began with reading and re-reading the transcripts and field notes before coding. Consistent with case study methods, data were analysed within data sources, cases and then explanations developed across cases, with attention to the realist task of uncovering contingencies and conditions—i.e. the relationships between factors that explained CLAHRCs' approach to implementation and the conditions in which they operated. We used interview data as our starting point and then moved on to observations and documents to help build explanations. In this sense, they were purposively mined for information that would help us refine/challenge/develop context-mechanism-outcome configurations and as such each stage of analysis (summarised in Fig.
1
) became progressively focused. Practically, this was enabled through the use of mapping and charting both figuratively and through matrices. The analysis process was managed by three members of the core research team with regular engagement with members of the wider team, including those from participating CLAHRCs for sense checking.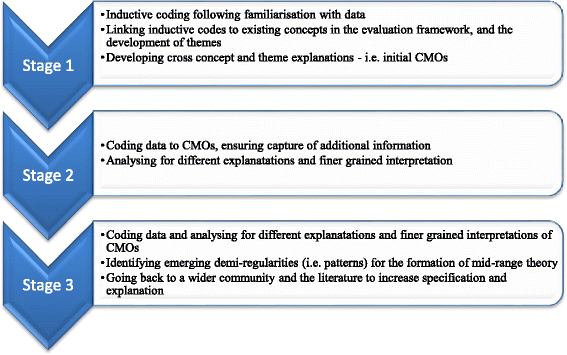 We closed the realist evaluation loop by testing emerging findings with a wider community. An interpretive forum held in April 2014 was an opportunity to reflect on, interpret and surface viewpoints with a different group of stakeholders.
Ethics
Ethical approval for the study was given from a multi-site research ethics committee (11/YH/0155).
Results
See Tables
2
and
3
for participants and data collected.
Data sources

Hazeldean

Oakdown

Ashgrove

Interviews

Rounds of data collection

1

2

3

4

1

2

3

4

1

2

3

4

CLAHRC leadership role

2

–

–

2

3

–

–

2

4

1

2

2

Boundary spanning/implementation role

9

3

7

2

1

3

4

–

4

5

3

1

Academic

5

–

1

2

4

3

–

3

–

3

1

4

Clinical academic

2

–

–

1

–

1

1

1

2

1

–

–

Clinician

2

2

–

1

–

3

1

–

–

1

–

–

NHS leadership role

–

3

–

–

–

2

–

2

–

–

–

–

PPI role

–

–

–

–

–

–

–

1

–

–

–

1

Within case totals

20

8

8

8

8

12

6

9

10

11

6

8

44

35

35

Observation of CLAHRC Board meeting

One meeting (12 participants)

–

–

Feedback from round 1 data collection to those in leadership roles in CLAHRCS

–

3

2

Observation data from feedback sessions/workshops with mixed attendees

One session (24 participants)

–

One session (21 participants)

Sub-total

36

3

23

Documents

17

6

8

Total reach

80

38

58
Table 3
Participants in interpretive forum
| | |
| --- | --- |
| Members of 7 CLAHRCs | 15 |
| Academics with an interest in knowledge mobilisation | 3 |
| Policy makers | 3 |
| Members of the research team | 7 |
| Total | 28 |
Discussion
In contrast to the majority of the evidence base (with some notable exceptions, e.g. [31, 32]), we studied collaboration-based implementation from a longitudinal perspective and presented a temporal narrative explanation for the potential of CLAHRCs or other models of organisational collaboration to close the 'gap' between research and practice.
As might be expected, these collaborations developed and evolved over time, which started with their position on collaboration, knowledge and implementation. These positions influenced how implementation within the context of collaboration was organised and operationalised. The degree of alignment between these positions and other features determined outcomes, including the potential to create shared spaces for collective action. The interplay between starting position, organisation, operationalisation and resultant impacts was influenced by a network of actors, including boundary spanners. These issues are discussed more fully below.
Conclusions
In this study we had the opportunity to trace the journey of three large-scale organisational collaborations grappling with knowledge production and implementation in the context of cultivating meaningful and productive relationships with multiple partners. Our findings have the potential to provide a reusable conceptual platform [
25
] about implementation within the context of organisational collaboration. Within this explanation, we propose the following middle range theory for collective action for implementation.
If working relationships are already established or there has been some pre-formative work, then this is more likely to lead to quicker wins and a greater appreciation of each other's positions and purpose upon which to build plans and activities.

If there is a lack of attention to evaluation/learning, and leadership teams are not reflective, then the initial interpretation of the 'brief' will create a path dependency that is difficult to alter, particularly if it is reinforced by funders' expectations. Therefore, building in mechanisms for evaluation, learning and meta-learning within and across projects/programmes/activities/the collaboration, which feeds into adaption and refinement of implementation plans will facilitate resilient collaborations and sustainable activity particularly in contexts that are in constant flux (i.e. health services).

If the governance framework for the collaboration, including its architectures and processes/activities, facilitates opportunities for physical (and face to face), social and intellectual connectivity between stakeholders, then this is more likely to lead to productive conversations, the shaping of more conducive contexts of action (temporal, cognitive, emotional, professional, physical and political), and implementation and/or co-productive activity that resonates with participants.

If there is a shared vision and some alignment across stakeholders' views about, and position on knowledge production and use as a collaborative act, which is also aligned with the collaboration's governance framework, including targeting of resources then this is more likely to lead to unblocking barriers for purposeful collective action.

If the motivations for engagement ('what's in it for me') are made visible within and across individuals, professions and organisations then implementation activity can be planned so that engagement in it is appropriately incentivised.

If resources are invested in boundary spanning mechanisms, such as in credible and appropriately prepared individuals working in brokering and facilitation roles, and in opportunities to develop tools or artefacts in a way that have the potential to acquire the properties of boundary objects, then this will lead to bridging boundaries, and in catalysing implementation activity.

If there is some tension in the system between collaboration and competition then this can be facilitative, as well as an inhibitory force—therefore, finding and monitoring the balance is an important function of leadership.

If there is strong (clear vision, thoughtful/strategic allocation of resources, reflective, visible) core leadership combined with distributed leadership (e.g. through boundary spanners) then this will facilitate collaboration, and subsequently the potential for collection action around implementation.
Our explanation captures the interactive nature of users and producers of knowledge brought closer together in order to generate and implement applied health research. Table
6
translates this explanatory theory into some action statements.
Table 6
Action statements
• Identify opportunities for quick wins that build on earlier or pre-formative collaborative work and/or dialogue.
• Ensure there are opportunities for learning and evaluation and that these can feed into changes in ways of working around implementation.
• Create a flexible architecture and clear processes for ways of working across the partnership(s), which allow interaction and productive conversations.
• Check out stakeholders understandings of implementation, and build (interactively and iteratively) a middle-ground for collective action.
• Use incentives to drive engagement that reflect the relevant professional and research contexts.
• Build on existing relationships and networks within and across partner organisations.
• Ensure that facilitation resources (including potential for developing artefacts and tools) and skills are situated where required to catalyse implementation activity.
• Create an integrated mix of formal and distributed leadership around both collaboration and implementation.
• Assume the contexts for collaboration(s) and implementation will change over time, and that there is structural and financial agility to accommodate this.
• Use financial resources and flows across the collaboration(s) to renegotiate, rather than create barriers to collective action on implementation.
In the context of increasing calls for co-production to deal with some of the 'wicked' challenges that health and other public services face, our findings highlight that it is not a panacea, and certainly not a quick fix. Furthermore and as a caution, co-production and collaboration could lead to a more complex context that supports additional emergent, unexpected, unintended consequences—and thereby, new 'wicked problems'.
Declarations
Acknowledgements
The independent research reported in this manuscript was funded by the National Institute for Health Research (NIHR). The views and opinions expressed by authors in this publication are those of the authors and do not necessarily reflect those of the NHS, the NIHR, NETSCC, the HSDR Programme or the Department of Health. If there are verbatim quotations included in this publication, the views and opinions expressed by the interviewees are those of the interviewees and do not necessarily reflect those of the authors, those of the NHS, the NIHR, NETSCC, the HS&DR Programme or the Department of Health. IDG is the recipient of a Canadian Institutes of Health Research Foundation Grant (FDN 143237).
Open AccessThis article is distributed under the terms of the Creative Commons Attribution 4.0 International License (http://creativecommons.org/licenses/by/4.0/), which permits unrestricted use, distribution, and reproduction in any medium, provided you give appropriate credit to the original author(s) and the source, provide a link to the Creative Commons license, and indicate if changes were made. The Creative Commons Public Domain Dedication waiver (http://creativecommons.org/publicdomain/zero/1.0/) applies to the data made available in this article, unless otherwise stated.
Authors' Affiliations
(1)
School of Healthcare Sciences, Bangor University, Bangor, UK
(2)
School of Health Sciences, University of Stirling, Stirling, UK
(3)
Alliance Manchester Business School, University of Manchester, Manchester, UK
(4)
School of Nursing, University of Adelaide, Adelaide, Australia
(5)
Division of Nursing, School of Health Sciences, Queen Margaret University, Musselburgh, UK
(6)
Department of Health Sciences, University of Leicester, Leicester, UK
(7)
Said Business School, University of Oxford, Oxford, UK
(8)
Epidemiology and Community Medicine, University of Ottawa, Ottawa, Canada
(9)
Royal College of Nursing Research Institute, University of Warwick, Warwick, UK
(10)
School of Healthcare, Faculty of Medicine and Health, University of Leeds, Leeds, UK
(11)
ScHARR, University of Sheffield, Sheffield, UK
Copyright
© Rycroft-Malone et al. 2016