Systematic review
Open Access
Open Peer Review
This article has Open Peer Review reports available.
Measuring team factors thought to influence the success of quality improvement in primary care: a systematic review of instruments
Implementation Science
2013
8:20
Received: 13 June 2012
Accepted: 11 February 2013
Published: 14 February 2013
Abstract
Background
Measuring team factors in evaluations of Continuous Quality Improvement (CQI) may provide important information for enhancing CQI processes and outcomes; however, the large number of potentially relevant factors and associated measurement instruments makes inclusion of such measures challenging. This review aims to provide guidance on the selection of instruments for measuring team-level factors by systematically collating, categorizing, and reviewing quantitative self-report instruments.
Methods
Data sources: We searched MEDLINE, PsycINFO, and Health and Psychosocial Instruments; reference lists of systematic reviews; and citations and references of the main report of instruments. Study selection: To determine the scope of the review, we developed and used a conceptual framework designed to capture factors relevant to evaluating CQI in primary care (the InQuIRe framework). We included papers reporting development or use of an instrument measuring factors relevant to teamwork. Data extracted included instrument purpose; theoretical basis, constructs measured and definitions; development methods and assessment of measurement properties. Analysis and synthesis: We used qualitative analysis of instrument content and our initial framework to develop a taxonomy for summarizing and comparing instruments. Instrument content was categorized using the taxonomy, illustrating coverage of the InQuIRe framework. Methods of development and evidence of measurement properties were reviewed for instruments with potential for use in primary care.
Results
We identified 192 potentially relevant instruments, 170 of which were analyzed to develop the taxonomy. Eighty-one instruments measured constructs relevant to CQI teams in primary care, with content covering teamwork context (45 instruments measured enabling conditions or attitudes to teamwork), team process (57 instruments measured teamwork behaviors), and team outcomes (59 instruments measured perceptions of the team or its effectiveness). Forty instruments were included for full review, many with a strong theoretical basis. Evidence supporting measurement properties was limited.
Conclusions
Existing instruments cover many of the factors hypothesized to contribute to QI success. With further testing, use of these instruments measuring team factors in evaluations could aid our understanding of the influence of teamwork on CQI outcomes. Greater consistency in the factors measured and choice of measurement instruments is required to enable synthesis of findings for informing policy and practice.
Keywords
Continuous quality improvementPrimary careEvaluationSystematic reviewMeasurementInstrumentConceptual frameworkTaxonomyTeamworkTeam functioning
Background
The use of cross-functional teams to diagnose process-based quality problems, and develop and test process improvements, is an important element of continuous quality improvement (CQI) [1–3]. Cross-functional teamwork aims to capitalize on the varied knowledge and perspectives of team members, encouraging collaboration that is expected to lead to better problem solving, more innovative decisions, and greater engagement in implementing proposed solutions [4–6]. Cross-functional teams may also promote organizational learning [7]. In CQI, the use of cross-functional teams is expected to lead to better processes of care and greater adherence to the new processes [2, 3, 8]. Realizing these benefits requires teams with both task-specific competencies (knowledge and skills required to use CQI methods) and teamwork competencies (knowledge and skills that enable members to function as an effective team). It also requires a context that enables teams to overcome well-documented barriers to cross-functional teamwork, such as professional boundaries and status differences that hinder collaboration [4, 6, 9–11].
Despite the centrality of teamwork to CQI, the extent to which team functioning influences CQI outcomes is not well understood [12–14]. In a systematic review of contextual factors thought to influence QI success, thirteen studies examined team-level factors [14]. Team leadership, team climate, team process, and physician involvement in the QI team appeared to be important, but the supporting evidence was scant [14]. Research on QI collaboratives—an approach in which teams use CQI methods to introduce change—has led to a greater focus on the influence of teams on QI outcomes (e.g.,[15–20]). Yet in a recent review of the impact of QI and safety teams [13], the authors concluded that existing studies provided limited information about the attributes of successful QI teams or factors that influence team success.
One of the challenges to addressing the limited evidence base is the variability in how team-level factors are conceptualized and measured in QI studies [14]. This variability fragments the evidence base, making it difficult to compare and synthesize findings across studies. Recent calls to address these challenges focus on the need for theory development to explain how CQI works and factors that influence its effectiveness, and the identification of valid and reliable measures to enable theories to be tested [21–26].
In this paper, we report a systematic review of instruments measuring team-level factors thought to influence the success of CQI. This review is part of a larger project aiming to aid the evaluation of CQI in primary care by providing guidance on factors to include in evaluations and the selection of instruments for measuring these factors. The project includes a companion review of instruments measuring organizational, process, and individual-level factors [27], and development of a conceptual framework, the In forming Q uality I mprovement Re search (InQuIRe) in primary care framework.
Our initial framework is included in this paper (Figure
1
) to illustrate the scope of the review of instruments and as the basis for assessing the coverage of available instruments. The framework reflects our initial synthesis of CQI theory, a summary of which is reported in the companion review of instruments [
27
]. In brief, we identified recurrent themes about the core components of CQI from landmark papers that stimulated adoption of CQI in healthcare (
e.g.,
[
2
,
28
–
31
]). We built on these themes, refining and adding concepts from the main bodies of CQI research and models of CQI (
e.g.,
[
32
–
35
]). We searched for models, frameworks, and theories intended to describe how context influences quality improvement and change (
e.g.,
[
36
–
39
]). From these sources, we extracted factors salient to primary care, grouping them thematically using existing models to guide categorization. Our analysis was augmented by frameworks for understanding implementation, learning, and innovation (
e.g.,
[
40
–
43
]) and models of teamwork (
e.g.,
[
12
,
44
–
47
]). Both sources contributed new factors and informed the final categorization and structure of our framework. Our analysis of instruments is used to integrate new factors and concepts into the framework. These refinements are reported in the taxonomies presented in the reviews of instruments. The final InQuIRe framework will be reported separately.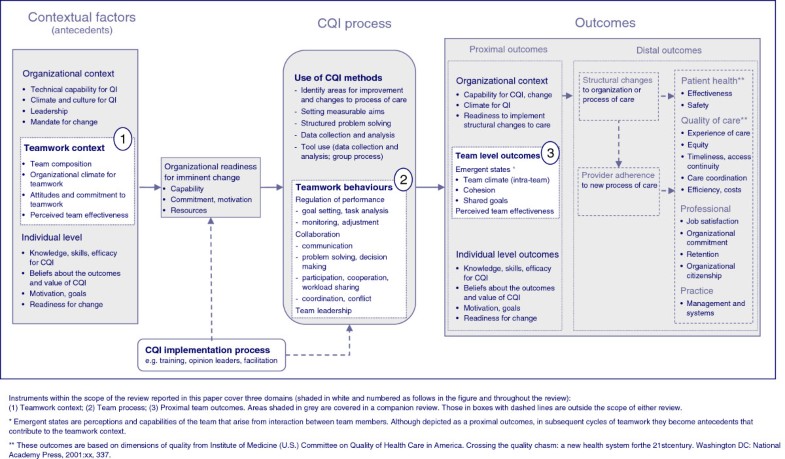 This review aims to provide guidance on the selection of instruments for measuring team-level factors in studies of CQI in primary care. The specific objectives are to: identify self-report instruments measuring team-level factors thought to modify the effect of CQI; determine how the factors measured have been conceptualized; develop a taxonomy for categorizing instruments based on our initial framework and new concepts arising from the review of instruments; use the taxonomy to categorize and compare the content of instruments, enabling assessment of the coverage of instruments suitable for evaluating CQI team function in primary care; appraise the methods of development and testing of existing instruments, and summarize evidence of their validity, reliability, and feasibility for measurement in primary care. We focus on self-report instruments because of their utility in quantitative studies examining the relationship between team context, team process, and outcomes. Alternative measurement methods, such as behavioral observation scales, require substantial resources and are generally not feasible for larger scale evaluation.
Our review differs from two existing reviews of instruments measuring teamwork [48, 49] in its focus on QI in primary care. The existing reviews consider all forms of teamwork in healthcare, including a large number of instruments relevant only to clinical teams [48, 49]. QI teams perform tasks and interact in ways that differ markedly from clinical work [50, 51]. For example, collaborative problem solving in QI involves eliciting views on the underlying cause of problems, questioning existing ways of working, and integrating different perspectives to identify changes to care. In primary care, there may be particular challenges and risks in engaging these behaviors, especially in small practices where the same team works closely to deliver and improve care. Team climate (e.g., trust, open communication, norms of decision-making) may have a heightened role in influencing team function [47], and practices often lack the broader organizational structures and resources that facilitate QI work [52–54]. By identifying instruments suitable for primary care, we aim to help researchers measure factors salient to understanding QI teamwork in this understudied context [55].
Scope of the review: InQuIRe framework
This review covers instruments relevant to three domains of the InQuIRe framework: teamwork context, team process, and proximal team outcomes (shaded in white and numbered one to three in Figure
1
). Teamwork context encompasses organizational, team, and individual factors thought to influence how the CQI team functions [
44
,
46
,
51
,
56
]. Within this domain, organizational climate for teamwork reflects shared perceptions of the extent to which the practice supports and rewards CQI teamwork through its policies, practices, procedures, and behavioral expectations [
57
]. Team process captures interactions between team members during the CQI process, focusing on behaviors required for members to function as an effective CQI team. These behaviors include knowledge sharing, collaborative problem solving, and making full use of members' perspectives [
45
,
58
]. Proximal outcomes (emergent states and perceived team effectiveness) result from interactions between team members [
44
–
46
]. These outcomes include development of a shared understanding of team goals, commitment to achieving these goals, and perceptions of whether the climate within the team is safe for engaging in the behaviors required of CQI teams. In subsequent cycles of teamwork, these factors become antecedents that contribute to the teamwork context. Figure
2
illustrates terms used to describe the framework with an example from the taxonomy (see Additional file
1
for a glossary).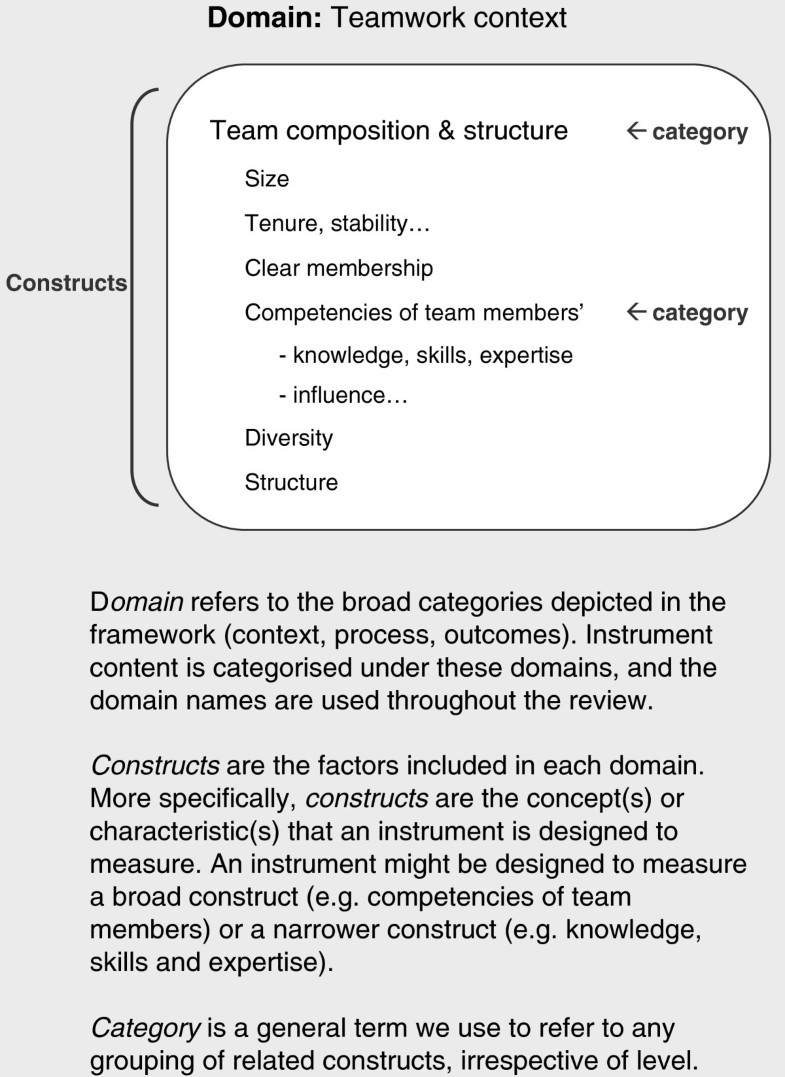 Methods
Figure
3
summarizes the four stages of the review and lists the criteria for selection of instruments at each stage.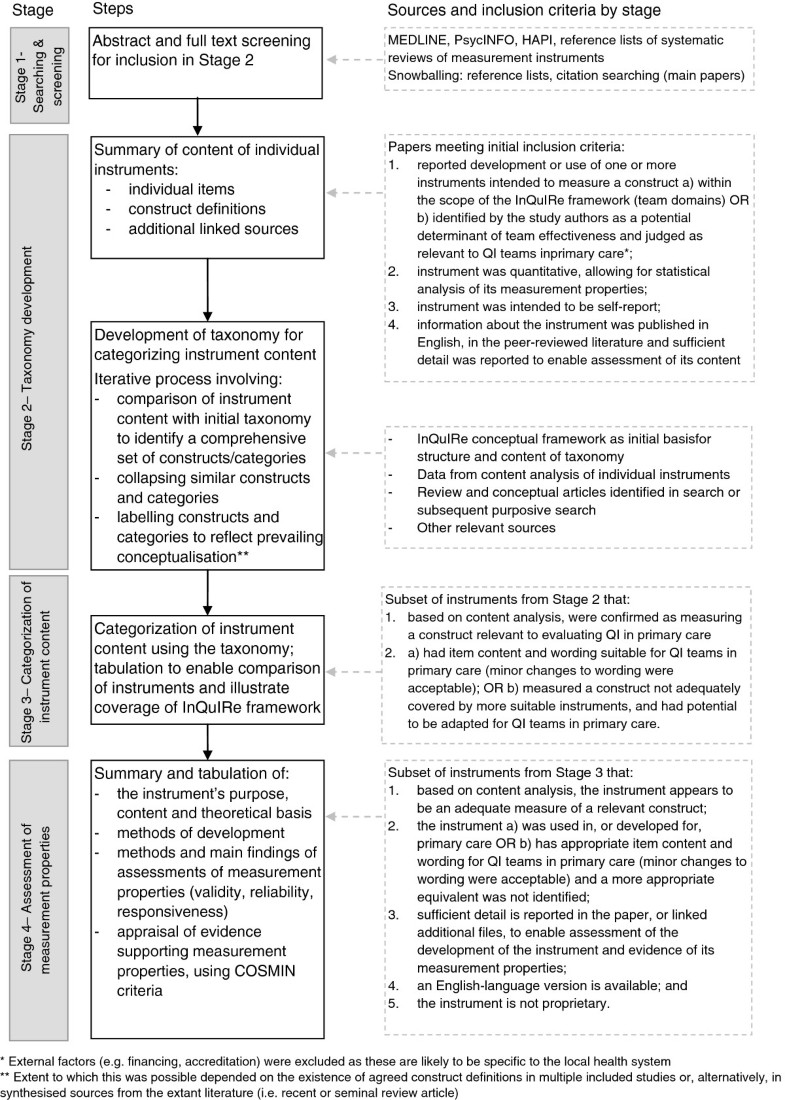 Stage one: searching and initial screening
Data sources and search methods
We searched MEDLINE (from 1950 through October 2011), PsycINFO (from 1967 through October 2011), and Health and Psychosocial Instruments (HaPI) (from 1985 through February 2012) using controlled vocabulary (thesaurus terms and subject headings) and free-text terms. Reference lists of identified systematic reviews were screened. Snowballing techniques (citation searches, reference lists) were used to trace the development and use of instruments included in Stage four. Searches were limited to articles published in English. Search terms and details of the search strategy are reported in Additional file 2. Abstracts and the full text of potentially relevant studies were screened for inclusion by one author (SB). Papers reporting development or use of a quantitative, self-report instrument measuring factors within the scope of the team domains of the InQuIRe framework were included for data extraction (see Figure 3 for initial inclusion criteria).
Stage two: development of taxonomy for categorizing instrument content
Data extraction
One review author extracted data from all studies for all stages of the review (SB). To refine the data extraction guidance and data extraction, a research assistant extracted data from a sub-sample of studies (15 papers, comprising a 10% sample of the studies included in all stages of review). Across the two companion reviews double data extraction was performed on 30 papers. Data extracted for Stage two are described in Table
1
. Data included descriptions of the instrument purpose and format, and data to facilitate analysis and categorisation of the content of each instrument (
e.g.
, constructs measured; theoretical basis).
Table 1
Data extracted at stage two
| Data extracted | Description |
| --- | --- |
| Study characteristics | Study aims |
| | Study design (categorized as experimental, observational, instrument development, model development) |
| | Setting in which the instrument was used |
| Instrument source | Name of instrument |
| | Source paper for the instrument as cited by the authors |
| Instrument purpose | Purpose for which the instrument was used (descriptive, predictive or diagnostic, outcome measure/evaluative) |
| Instrument format | Number of items |
| | Response scale (Likert, ipsative, etc.); response options |
| Instrument content and theoretical basis | Constructs and dimensions measured |
| | Definitions of the constructs; additional description of the content required to illustrate how the construct had been operationalised (e.g., sample items) |
| | Theoretical basis of the instrument and references cited for the theory |
Taxonomy development
Methods for developing the taxonomy were based on the framework approach for qualitative data analysis [59]. This approach combines deductive methods (commencing with concepts and themes from an initial framework) with inductive methods (based on themes that emerge from the data). The InQuIRe framework (Figure 1) provided the initial structure and content for our taxonomy. We used content analysis of instruments to refine the taxonomy, aiming to ensure comprehensive coverage of relevant factors.
Instruments confirmed as relevant to one or more of the three domains of our framework were included for content analysis. To capture the breadth of potentially relevant constructs, we included instruments irrespective of whether item content was suitable for primary care (i.e., items that did not resonate in primary care settings or inferred the team worked within a large organization, e.g., 'I would accept almost any job in order to keep working with this team' [60]). The content of each instrument (items, sub-scales), and associated construct definitions, was compared with the taxonomy. Instrument content that matched constructs in the taxonomy was summarized using existing labels. The taxonomy was expanded to include missing constructs and new concepts, initially using the labels and descriptions reported by the instrument developers.
To ensure the taxonomy was consistent with the broader literature, we reviewed definitions extracted from review articles and conceptual papers identified from the search. We also searched for and used additional sources to define constructs when included studies did not provide a definition, a limited number of studies contributed to the definition, or the definition provided appeared inconsistent with our initial concept or that in other included studies. Following analysis of all instruments and supplementary sources, related constructs were grouped in the taxonomy. Overlapping constructs were collapsed, distinct constructs were assigned a label reflecting the broader literature, and the dimensions of constructs were specified to create the taxonomy.
Stage three: categorization of instrument content
One author (SB) categorized the content of all instruments confirmed as measuring a relevant construct with item content and wording suitable for QI teams in primary care (Figure 3, sources and inclusion criteria for Stage 3). For constructs not adequately covered by suitable instruments, we included instruments with potential for adaptation (e.g., instruments with a strong theoretical basis designed to measure attitudes toward clinical teamwork). Categorization of instrument content was based on the final set of items reported in the main report(s) for each instrument. A second author (MB) independently categorized the content of a sub-sample of ten instruments (12%), including all instruments where there was any uncertainty over categorization. The categorization was discussed to identify revisions to the taxonomy and confirm final categorization. All instruments were then re-categorized using the final taxonomy.
Stage four: assessment of measurement properties
Information about the development and assessment of measurement properties of each instrument was extracted from the main and secondary reports (the latter focusing on studies of QI or change in primary care) (Table
2
). These data included descriptions of the methods and findings of assessments of content and construct validity, reliability, and acceptability of the instrument to respondents.
Table 2
Data extracted at stage four
| Data extracted | Description1 |
| --- | --- |
| Instrument development | Methods used to generate items (e.g., items derived from existing instruments; new items generated from data from interviews or comprehensive review of theory) |
| | Methods used to refine instrument |
| Administration & scoring | Method of administration (e.g., self-administered, facilitated) |
| | Feasibility of administration (e.g., researcher time, resources) |
| | Acceptability to respondents (e.g., views on burden and complexity) |
| | Methods of scoring and analysis |
| Measurement properties | Methods and findings of assessments of: |
| | Content validity (e.g., clear description of content domain and theoretical basis, expert assessment of items for relevance and comprehensiveness) |
| | Construct validity |
| | - Hypothesis testing (e.g., whether scores on the instrument converge with measures of theoretically related variables, discriminate between groups, predict relevant outcomes) |
| | - Instrument structure (e.g., using factor analytic methods) |
| | Reliability (e.g., internal consistency, stability over time, inter-rater) |
| | Responsiveness |
| Other assessments | Interpretability (potential for ceiling and floor effects; guidance on what constitutes an important change or difference in scale scores) |
| | Generalizability (sampling methods, description of sample, and response rate reported) |
We used the COSMIN (COnsensus-based Standards for the selection of health status Measurement Instruments) checklist [61] to appraise the methods used for development and testing of instruments. The COSMIN criteria are intended for studies reporting measures of patient reported outcomes, however the checklist has strong evidence for its content validity [61, 62] and mirrors the Joint Committee on Standards for Educational and Psychological Testing [63] (indicating relevance to measures other than health outcomes). Minor changes were incorporated based on guidance from organizational psychology [64–66], and reviews of organizational measures (e.g.,[67–69]).
Most instruments had undergone limited testing, and reporting of information required to complete the checklist was sparse. Because of the sparse data, for each instrument we tabulated a summary of the extent of evidence available for each property, and a description of the instrument's development and testing. We used appraisal data to provide an overall summary of the methods used to develop and test each instrument.
Discussion
In this review, we aim to provide guidance for researchers seeking to measure team-level factors that potentially influence the process and outcomes of CQI. We identified many potentially useful instruments and scales, with some novel examples from the psychology literature. Collectively, these instruments cover many of the factors hypothesized to contribute to QI success. Inclusion of these measures in CQI evaluations could help address some key questions about the extent to which team function and the context in which teams work influence CQI outcomes. Many of the included instruments had little or no prior use in healthcare settings, especially in primary care, and some instruments had limited evidence supporting their measurement properties. Additional testing of the measurement properties of most instruments in relevant contexts is therefore required. We consider these issues, and the potential application of available instruments, in relation to each domain of the InQuIRe framework. We then discuss key considerations for researchers in relation to the use and development of instruments.
Conclusions
Cross-functional teams are a core element of CQI, yet there is a paucity of evidence about how team-level factors influence the outcomes of CQI. In this review, we aimed to provide guidance to address some of the challenges researchers face in incorporating these factors in evaluations, particularly around the choice of measurement instruments for use in primary care. The conceptualization and measurement of factors that influence CQI is inherently complex, and primary care settings have unique features that heighten the importance of some factors. Yet, there is a need to address these complexities so that we can understand how teamwork influences CQI success and develop and test strategies to optimize team function. Although individual studies can make an important contribution, synthesis of multiple studies in different contexts is needed to identify the factors that contribute to successful CQI. To ensure that individual studies contribute to cumulative knowledge, consistency in the definition and measurement of factors is required. Such consistency enables comparison and synthesis of findings across studies, and underpins our ability to provide guidance for policy and practice on the implementation and outcomes of CQI.
Declarations
Acknowledgements
This project was funded by a Monash University Faculty of Medicine Strategic Grant and SB was supported by a Monash University Departmental doctoral scholarship. We are grateful to Matthew Page for providing research assistance in piloting the data extraction methods and Katherine Beringer for retrieving papers for inclusion in the review. Finally, we gratefully acknowledge the peer reviewers, Sara Singer and Miranda Laurant, for their very helpful comments on the manuscript.
Authors' Affiliations
(1)
School of Public Health and Preventive Medicine, Monash University, Melbourne, Australia
(2)
Central Clinical School, Monash University and National Trauma Research Institute, Melbourne, Australia
(3)
Australian Commission on Safety and Quality in Health Care (ACSQHC), Sydney, Australia
Copyright
© Brennan et al.; licensee BioMed Central Ltd. 2013
This article is published under license to BioMed Central Ltd. This is an Open Access article distributed under the terms of the Creative Commons Attribution License (http://creativecommons.org/licenses/by/2.0), which permits unrestricted use, distribution, and reproduction in any medium, provided the original work is properly cited.