Systematic Review
Open Access
Open Peer Review
This article has Open Peer Review reports available.
A critical synthesis of literature on the promoting action on research implementation in health services (PARIHS) framework
Implementation Science
2010
5:82
Received: 20 May 2010
Accepted: 25 October 2010
Published: 25 October 2010
Abstract
Background
The Promoting Action on Research Implementation in Health Services framework, or PARIHS, is a conceptual framework that posits key, interacting elements that influence successful implementation of evidence-based practices. It has been widely cited and used as the basis for empirical work; however, there has not yet been a literature review to examine how the framework has been used in implementation projects and research. The purpose of the present article was to critically review and synthesize the literature on PARIHS to understand how it has been used and operationalized, and to highlight its strengths and limitations.
Methods
We conducted a qualitative, critical synthesis of peer-reviewed PARIHS literature published through March 2009. We synthesized findings through a three-step process using semi-structured data abstraction tools and group consensus.
Results
Twenty-four articles met our inclusion criteria: six core concept articles from original PARIHS authors, and eighteen empirical articles ranging from case reports to quantitative studies. Empirical articles generally used PARIHS as an organizing framework for analyses. No studies used PARIHS prospectively to design implementation strategies, and there was generally a lack of detail about how variables were measured or mapped, or how conclusions were derived. Several studies used findings to comment on the framework in ways that could help refine or validate it. The primary issue identified with the framework was a need for greater conceptual clarity regarding the definition of sub-elements and the nature of dynamic relationships. Strengths identified included its flexibility, intuitive appeal, explicit acknowledgement of the outcome of 'successful implementation,' and a more expansive view of what can and should constitute 'evidence.'
Conclusions
While we found studies reporting empirical support for PARIHS, the single greatest need for this and other implementation models is rigorous, prospective use of the framework to guide implementation projects. There is also need to better explain derived findings and how interventions or measures are mapped to specific PARIHS elements; greater conceptual discrimination among sub-elements may be necessary first. In general, it may be time for the implementation science community to develop consensus guidelines for reporting the use and usefulness of theoretical frameworks within implementation studies.
Keywords
Successful ImplementationVeteran Health AdministrationResearch UtilizationImplementation ProjectImplementation Study
Background
Only a small proportion of research findings are widely translated into clinical settings [1], often due to barriers in the local setting [2]. The Promoting Action on Research Implementation in Health Services framework, or PARIHS, is a conceptual framework that posits key, interacting elements that influence successful implementation of evidence-based practices (EBPs) [3–7]. Implementation researchers have widely cited PARIHS or used it as the basis for empirical work [8–11]. This body of research has occurred against the backdrop of broad calls to incorporate theoretical frameworks in quality improvement implementation activities and research [12–14].
It has been over a decade since Kitson and colleagues first described the PARIHS framework, and while several papers have been published that update and propose refinements [4–7, 14, 15], there has not yet been a literature review to examine how the framework has been used in implementation projects and research. Our interest in PARIHS grew out of its use by numerous researchers involved in the Veterans Health Administration (VA) Quality Enhancement Research Initiative and their expressed need for guidance in how to use it in implementation projects. The purpose of the present article is to critically review and synthesize the conceptual and empirical literatures on PARIHS to: understand how PARIHS has been used; understand how its elements and sub-elements have been operationalized; and highlight strengths and limitations of PARIHS relative to use of the framework to guide an implementation study. We close with a set of recommendations to increase the value of the PARIHS framework for guiding implementation activities and research.
PARIHS framework
PARIHS outlines the determinants of successful implementation of evidence into practice. It was initially published in 1998 as an unnamed framework inductively developed based on the experience of the authors with practice improvement and guideline implementation efforts [3]. They presented three case examples to illustrate its usefulness with accompanying descriptive analyses. Subsequently, two concept analyses were published exploring the maturity, meaning, and characteristics of facilitation [4] and context [5] as they relate to implementation. These concept analyses were based on non-systematic reviews of the literature. The original authors published a refined version of the framework in 2002 based on theoretical insights from these concept analyses [15]. This article contained the first published use of the PARIHS label. A conceptual exploration of evidence was published in 2004, which rounded out the PARIHS team's review of their framework's three core elements [6]. Kitson and colleagues published a further clarification of PARIHS in 2008. This latest paper proposed that PARIHS is best used in a two-step process: as a framework to diagnose and guide preliminary assessment of evidence and context, and to guide development, selection, and assessment of facilitation strategies based on the existing evidence base and local context [7].
The framework comprises three, interacting core elements: evidence (E) - 'codified and non-codified sources of knowledge' [
7
] as perceived by multiple stakeholders; context (C) - the quality of the environment or setting in which the research is implemented; and facilitation (F) - a 'technique by which one person makes things easier for others,' achieved through 'support to help people change their attitudes, habits, skills, ways of thinking, and working' [
3
]. The core assertion is that successful implementation is a function of E, C, and F and their interrelationships. The status of each of these elements can be assessed for whether it will have a weak ('low' rating) or strong ('high' rating) effect on implementation (Figure
1
).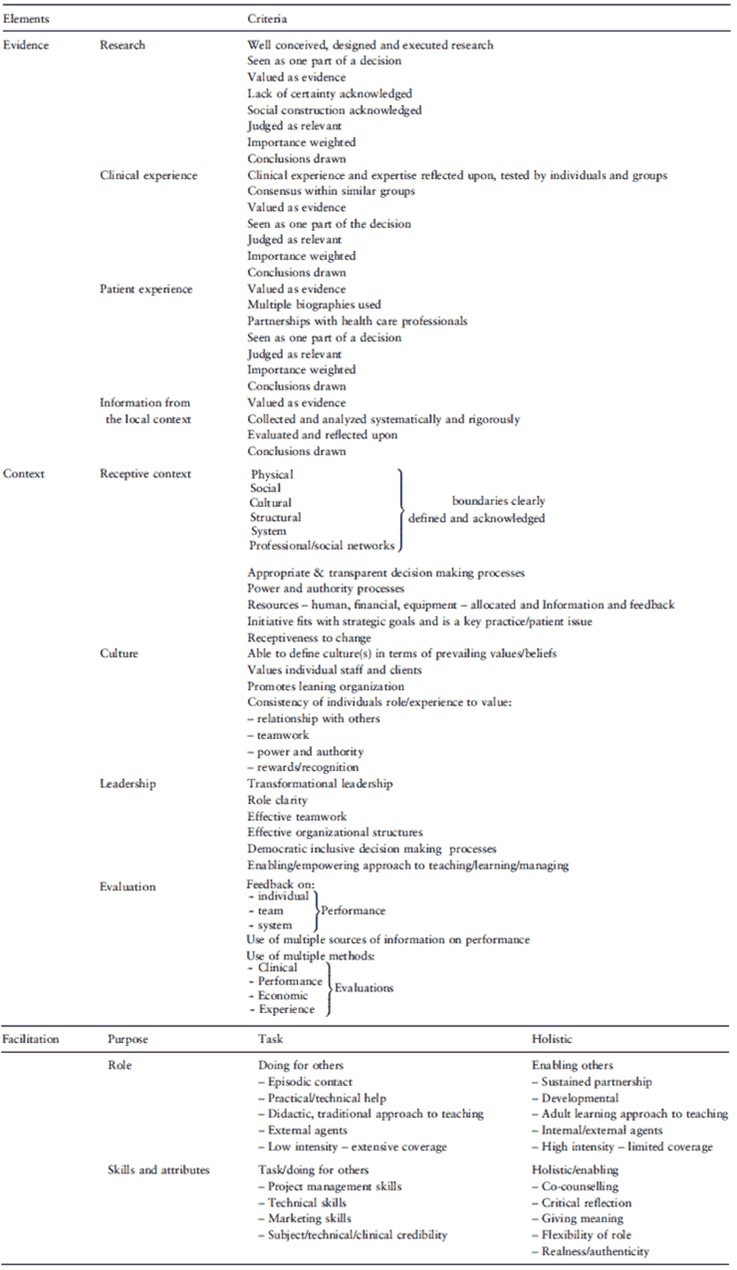 In the PARIHS framework, evidence consists of four sub-elements, corresponding to four main sources of evidence: research evidence from studies and clinical practice guidelines including, but not limited to, formal experiments; clinical experience or related professional knowledge; patient preferences and experiences; and locally derived information or data, such as project evaluations or quality improvement initiatives [6, 7]. A fundamental premise of PARIHS is that while research evidence is often treated as the most heavily weighted source, all four sources have meaning and constitute evidence from the perspective of end users.
Context comprises four sub-elements: receptive context, organizational culture, leadership, and evaluation [5, 7]. All four of these sub-elements are defined in PARIHS core papers [5, 7], and, for culture, leadership. and evaluation, definitions from the broader literature are cited in a related concept analysis [5]. For example, culture is alternatively described as a 'paradigm,' as '`the way things are done around here' and as a metaphor for the organization-something the organization is rather than something it possesses; leadership is described as an indicator or reflection of the 'nature of human relationships' in the organization, pertaining to the types of leadership roles enacted and who enacts them [3, 5]; and evaluation is described largely in terms of feedback [5] and how performance data are collected and reported [7]. Descriptions of the sub-elements for each are provided in earlier papers that reflect 'high' and 'low' ratings that indicate a more or less favorable context for successful implementation, respectively. Indications for high ratings of context include, for example: clearly defined and acknowledged physical, social, cultural, structural and/or system boundaries; valuing individual staff and clients; promoting organizational learning; existence of transformational leadership as well as democratic or inclusive decision making; and existence of feedback on individual, team, and/or system performance [15, 16].
Facilitation includes three sub-elements and an array of mechanisms to influence implementation of evidence into clinical practice. The first sub-element of facilitation focuses on its purpose; e.g., whether facilitation is to support attainment of a specific goal (task-oriented) or enable individuals or teams to reflect on and change their attitudes and ways of working (holistic-oriented) [15]. In the PARIHS framework, these two purposes are arrayed as endpoints on a continuum. The second and third sub-elements of facilitation are the role of the facilitator(s) and their associated skills and attributes, which are described for each of the two purposes. On the task-oriented end of the continuum, the facilitator might engage in episodic contacts and provide practical focused help, which requires strong project management/technical skills but a relatively low level of intensity. On the holistic-oriented end of facilitation, the facilitator might focus on building sustained partnerships with teams to assist them in developing their own practice change skills. This requires a relatively high level of intensity.
Methods
We used qualitative, critical synthesis methods for this review because our objectives were descriptive (e.g., describing how PARIHS has been used) and critical (e.g., appraising relative strengths and weaknesses of the framework), rather than meta-analytic (e.g., calculating an average effect size) [17]. We describe our review process below.
Search strategy and selection of publications
Our literature search included three sources. First, we conducted key word searches of the PubMed and CINAHL databases using the terms 'PARIHS' and 'promoting action on research implementation in health services.' We selected PubMed because it represents the preeminent database of peer-reviewed literature in the health fields, and CINAHL because it focuses specifically on nursing literature, where some of the original PARIHS concept papers were published. We used limited key words because this review was focused on the PARIHS model, rather than implementation models generally. Second, we reviewed the reference lists of included articles. Third, we solicited citations from a PARIHS author and other colleagues familiar with this body of research.
We selected articles based on four a priori criteria: published peer-reviewed literature, English language, published prior to March 2009, and explicit reference to the PARIHS framework either by name or citation of core conceptual articles. We did not specify a priori exclusion criteria.
Appraisal and abstraction of articles
We appraised and abstracted include articles in a three-step process. First, each article was read by a primary reviewer who wrote a narrative synopsis using a template (see Additional File 1, Synopsis template). The purpose of the initial synopsis was to provide an overall summary and critique of the article. Second, the completed synopsis was distributed and reviewed by all co-authors, and discussed and refined on a conference call. Third, one of the co-authors condensed each synopsis using a structured summary table, with a separate table for each article. The purpose of the summary tables was to create a concise, structured appraisal and critique for each article. Some papers were empirical and others were conceptual. Summary tables for empirical articles included the overall method/design, an appraisal of study quality, study outcomes, how PARIHS was proposed to be used and actually used, and assessment of congruency between PARIHS and study methods (see Additional File 2, Empirical article summary table). These tables also listed how PARIHS elements and sub-elements were defined and measured or operationalized in the study, along with findings, barriers, and enablers to implementation. The summary tables for core concept articles focused on the framework's elements, sub-elements, limitations, recommendations, and other observations (Additional File 3, Core-concept article summary table). These summary tables were reviewed by the primary reviewer for that paper and again by all co-authors, discussed as a group, and affirmed or revised as needed. This collection of empirical and core summary tables constituted the analytic foundation for our meta-summary and synthesis.
Meta-summary and synthesis
Four co-authors reviewed the final set of summary tables and independently highlighted key points per article to create a meta-summary. Key points represented concepts, specific findings related to PARIHS generally and/or to specific elements or sub-elements, observations about the use of the framework, and conclusions. Information highlighted as a key point by at least three of the four co-authors was discussed further at a two-day, in-person working conference. The purpose of the discussion of key points was to explore and summarize similarities and differences across the papers (both empirical and core conceptual) and to develop qualitative themes. Some of the themes were descriptive, e.g., regarding the actual versus articulated use of PARIHS. Other themes were interpretive, e.g., our consensus judgments regarding overall limitations, related issues, and strengths of the framework relative to the ability of researchers to effectively use it to guide an implementation study. We developed implications for using the framework as well as related recommendations based on these synthesized findings. As with the article appraisal, the synthesis and recommendations were discussed with all co-authors and refined until consensus was reached.
Discussion
Our objectives in the present synthesis were to understand how PARIHS has been used in implementation studies, how it has been operationalized, and the strengths and limitations of PARIHS and its supporting literature. We found a reasonably large published literature (33 published papers, 18 of which were empirical), but this is a body of findings that reflects many of the current limitations of the broader implementation science literature. These limitations provide great opportunities for improvement, notably three.
First, PARIHS was largely used and operationalized as an organizing device or heuristic, usually post hoc. However, PARIHS developers intended the framework to be used to assess evidence and context prior to implementation and then using these findings to guide facilitation of implementation. To move the framework forward, we need empirical studies that use PARIHS to prospectively design or comprehensively evaluate implementation activities. Researchers should explain the degree to which intervention design decisions and change strategies are based on PARIHS. The lack of prospective implementation studies is not unique to PARIHS; all but a fraction of published implementation studies fail to explicitly use any theory at all [43, 44], so researchers do not appear to be conducting prospective implementation studies based on any conceptual frameworks; a similar lack of theoretical foundation is reported among studies of organizational factors linked to patient safety [45]. Our findings echo those of Kajermo and colleagues in a recent literature synthesis on use of the BARRIER scale, which is intended to prospectively identify barriers to research use by nurses [46]. Based on a paucity of prospective studies, they concluded that no further descriptive studies should be done, and that only prospective studies would move the science forward. We extend the same call for studies using PARIHS.
Second, though a strength of the empirical literature was that some studies showed empirical support for PARIHS, this finding needs to be interpreted in light of the overall study designs, which were retrospective case reports or cross-sectional analyses, and often lacked key methodological details. Furthermore, authors rarely contrasted findings to previous studies; the citation of prior work using PARIHS occurred almost exclusively in the introduction to set the stage for the study or conceptual rationale of the study. This too, may in part, be a function of the current development of the implementation science literature, and the natural evolution of standards and expectations about what details researchers most need to report. It may be time for something akin to CONSORT [47] or MOOSE [48] guidelines for reporting results of implementation intervention studies or implementation project evaluations. While implementation science may not be amenable to the same manner of checklists that have been applied to randomized trials and meta-analyses, there are key elements that could be described in sufficient specificity to provide guidance to both journal editors and researchers. These might include an explanation or rationale for mapping study findings to the constructs of the conceptual framework being used; a rationale for excluding certain elements; details about operationalization of constructs, including coding definitions for qualitative analyses; and discussion of the criteria authors use to draw conclusions about relationships between determinants and implementation outcomes. This might help address a key criticism of efforts to promote more theory-based implementation research, namely that translation of theory into intervention design is too subjective and opaque [49].
Finally, there are opportunities to improve the conceptual clarity of the framework itself, including refining conceptual definitions to more clearly draw distinctions among related sub-elements, such as receptive context, leadership, and culture. This will help provide for more rigorous studies by making it easier for users to map measures back to PARIHS consistently, derive testable hypotheses using the framework, and design more effective implementation strategies. We have drafted an implementation guide, being published separately, which discusses in more detail recommendations for those using PARIHS in task-oriented implementation projects and research, or seeking to refine the framework. Below, we briefly discuss three specific opportunities to refine the PARIHS framework.
First, PARIHS acknowledges the dynamic relationships among elements and sub-elements in the framework and the often unpredictable nature of implementation. However, dynamic implies that elements/sub-elements interact or act as modifiers or contingencies, such that the effects of one is dependent on others [50]. As a result, the same implementation intervention may have wildly different effects in different settings [51]. PARIHS would be strengthened even more by beginning to describe how those dynamics might emerge and provide examples that could eventually help identify more generalizable patterns. Identifying and describing all potential interactions is clearly impossible, but currently, PARIHS elements are described on a continuum, low to high, that strongly implies linear relationships, which are inconsistent both with the broader concept of PARIHS as a dynamic model and with available evidence. For example, we have prospective studies that find senior leadership support changes dramatically over time, with senior leaders shifting among roles ranging from institutional mentors for the change to critics of it [52]; and that senior leadership support is not always a strong driver and certainly not always a necessary condition for implementation [53, 54]. It may be possible to identify generalizable contextual interactions, such as senior leadership support being necessary for EBPs that involve coordination across departments or services, require large capital investments or lack strong professional endorsement.
In part, the lack of specifics about interactions among elements may arise from PARIHS straddling the line between a higher order planned action (or prescriptive) theory (PAT) for use by change agents to guide their implementation strategy, and a classical (or descriptive/explanatory) model meant to describe or explain how change occurs. The core concept articles explicitly propose that PARIHS be used to guide implementation by assessing evidence and context in order to inform facilitation, strongly positioning PARIHS as a prescriptive model, albeit not with the detail of a PAT as described by Graham and Tetroe [53].
Second, we also noted that a more explicit definition for 'successful implementation' is needed. This again is both a key strength of the framework and an opportunity to strengthen it. A clear definition of successful implementation is critical for moving implementation science literature forward, and we may do well to draw on the literatures of other disciplines. For example, researchers in education [55] and health promotion [56] have written specifically about criteria for determining when new programs are fully implemented. Likewise, scholars in management have written about conceptual considerations for defining effective implementation of new practices such as IT systems [57] and banking practices [58], including distinguishing implementation from 'compliant' use that is either incomplete or likely to degrade.
Conceptually, successful implementation might comprise three distinct aspects, identified as part of our aforementioned implementation Guide. All represent seemingly necessary conditions for concluding that a project has achieved successful implementation: realization of the implementation plan or strategy; achievement and maintenance of the targeted EBP; and achievement and maintenance of end-point patient or organizational outcomes. These three components reflect a logic model linking an implementation strategy to ultimate outcomes. This definition of successful implementation affords an understanding of when and how an implementation program has delivered the benefits as hypothesized. To accomplish that, we need to assess whether the implementation strategy occurred as planned, whether the EBP was established as needed, and whether desired outcomes followed.
Third, other conceptual models should be drawn on and compared to better elaborate the core PARIHS elements or to better position work using PARIHS in the broader literature. The PARIHS core concept papers make it clear that the developers envision PARIHS being used in combination with other conceptual frameworks. Findings in some of the studies suggest the value of making additional attributes of the evidence-based change more explicit such as those identified in Rogers' Diffusion of Innovation framework [34]. For example, Rogers' innovation attribute of the observability of a new practice (i.e., the extent to which its use by an individual is readily perceived by others in their social network) [2, 59] does not appear to have an analogue in PARIHS. These types of comparisons and extensions would help build cumulative knowledge and inform refinements to the framework.
The PARIHS authors continue to revisit and refine the framework, recognize its limitations, and call for further research [7]. We consider a critical strength of any framework. Researchers [60] and practitioners [61] continue to use PARIHS and we expect more rigorous studies will be published. Already in the period since we completed our literature search, we are aware of at least five new publications citing PARIHS including two articles presenting results of validations of survey instruments based on the framework [62, 63]. Also, several prospective research studies based on the framework are in progress by both the PARIHS team (http://www.parihs.org) and other research teams, including one conducting research in Vietnam and several conducting research in the Veterans Health Administration QUERI program within the US.
Limitations
Our review had two limitations. First, we did not assess the 'gray' or unpublished literature or publications in languages other than English. In doing so, we may have missed important work relating to PARIHS.
Second, we focused exclusively on the PARIHS framework, and not on literature regarding other frameworks that may include similar or related constructs. Doing so was beyond the scope of our synthesis, though we do comment on the need for greater comparison and linkages between PARIHS and other frameworks.
Some may also view our methods as limited because we did not conduct a quantitative meta-analysis. However, we used methods appropriate to our research questions and to the literature being reviewed, which included few quantitative studies. We also took several steps to increase the transparency and reliability of our results.
Summary
The single greatest need for researchers using PARIHS, and other implementation models, is to use the framework prospectively and comprehensively, and evaluate that use relative to its perceived strengths and issues for enhancing successful implementation. Ultimately, the proof of any implementation framework is its demonstrated usefulness in practical terms to design implementation interventions and make implementation more effective under various conditions. Studies using the framework in this way will move the whole field forward.
Researchers using PARIHS in studies or to guide action research should clearly explain how PARIHS is used and how interventions or measures map to specific PARIHS elements. For example, studies of facilitation activities should explain how facilitation purpose, role and skills and attributes were defined or taken into account. Other reviews have similarly called for more explicit and detailed explanation of how theory is used in implementation studies [43, 44]. It may be time for the implementation science community to develop consensus guidelines for what should be reported.
Declarations
Acknowledgements
This material is based upon work supported by the U.S. Department of Veterans Affairs, Office of Research and Development Health Services R&D Program. We wish to acknowledge the important contributions of Jeffrey Smith to the paper, and the important administrative assistance of Jared LeClerc and Rachel Smith. Also, our thanks to Corrine Voils for providing invaluable feedback on a draft of the paper, and to Lars Wallin and Jacqueline Tetroe for their excellent reviews and suggestions. The views expressed in this article are the authors' and do not necessarily reflect the position or policy of the Department of Veterans Affairs.
Authors' Affiliations
(1)
Northwest HSR&D Center of Excellence, VA Puget Sound Healthcare System, Seattle, USA
(2)
Department of Health Services, University of Washington School of Public Health, Seattle, USA
(3)
HSR&D Center for Clinical Management Research and Diabetes QUERI, VA Ann Arbor Healthcare System, Ann Arbor, USA
(4)
VA Substance Use Disorders Quality Enhancement Research Initiative, Minneapolis VA Medical Center, Minneapolis, USA
(5)
Department of Psychiatry, School of Medicine, University of Minnesota, Minneapolis, USA
(6)
VA Stroke QUERI, HSR&D Center of Excellence, Richard L. Roudebush VA Medical Center, Indianapolis, USA
(7)
Chronic Heart Failure QUERI Center, VA Palo Alto Health Care System, Palo Alto, USA
(8)
Mental Health Quality Enhancement Research Initiative, Central Arkansas Veterans Healthcare System, Arkansas, USA
(9)
Indiana University Center for Aging Research, Regenstrief Inc., Indianapolis, USA
(10)
Spinal Cord Injury QUERI Research Coordinating Center, Center for Management of Complex Chronic Care (CMC3), Edward Hines, Jr. VA Hospital, Hines, USA
(11)
Spinal Cord Injury QUERI, VA Puget Sound Health Care System, Seattle, USA
(12)
Independent Consultant, Amherst, USA
(13)
Health Services Department, Boston University School of Public Health, Boston, USA
Copyright
© Helfrich et al; licensee BioMed Central Ltd. 2010
This article is published under license to BioMed Central Ltd. This is an Open Access article distributed under the terms of the Creative Commons Attribution License (http://creativecommons.org/licenses/by/2.0), which permits unrestricted use, distribution, and reproduction in any medium, provided the original work is properly cited.