Implementation science in resource-poor countries and communities
Implementation Science
2018
13:154
Received: 4 December 2018
Accepted: 5 December 2018
Published: 27 December 2018
Many of the physical constraints that impede the routine delivery of effective health interventions to those who can benefit are (by definition) far more severe in resource-poor than in resource-rich countries. For instance, for each citizen, the resource-poor countries of sub-Saharan Africa spend only a fraction of the amount on health that the resource-rich countries of Western Europe spend, and the numbers of doctors and nurses per population are orders of magnitudes lower in Africa than in Europe (Fig.
1
). At the same time, amenable mortality—i.e., the mortality that existing effective healthcare technologies could eliminate if they were delivered successfully to all those who can benefit—is far higher in resource-poor countries than in resource-rich ones (Fig.
1
) [
1
,
2
]. This "inverse care law" in cross-country comparison—the "availability of good medical care tends to vary inversely with the need for it in the population served" [
3
]—is of course merely a global version of the classic inverse care law, which operates across communities within both resource-rich and resource-poor countries. In this editorial, we are addressing specific features of implementation science for both resource-poor countries and resource-poor communities, recognizing that scarcity and deprivation affecting the delivery of evidence-based healthcare exist worldwide and across all geographic areas and that there is a continuum from resource poverty to resource wealth in all countries.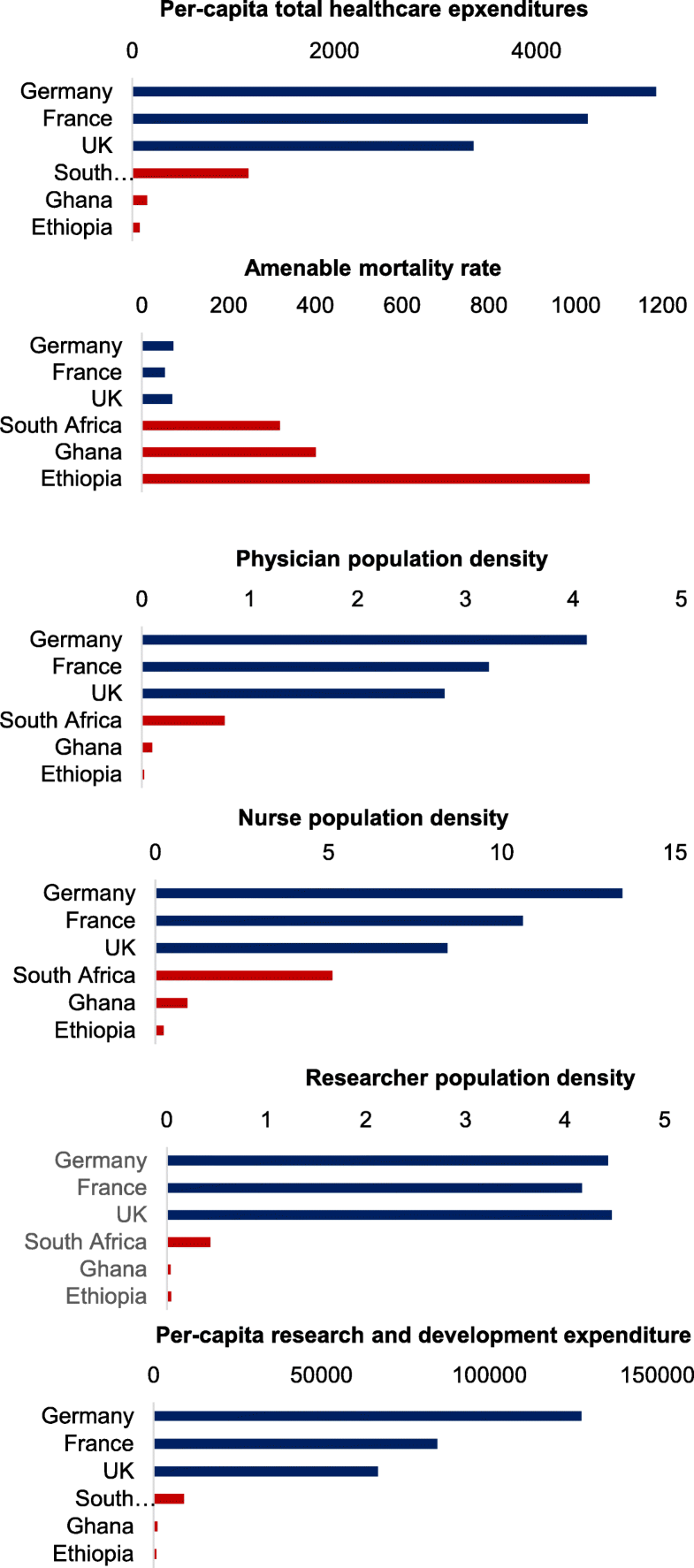 An obvious approach to reduce the high levels of amenable mortality in resource-poor countries and communities is to increase the financial resources available for healthcare. This approach, however, requires either substantial economic growth—which may fail to emerge in both resource-poor countries [4] and communities [5]—a redistribution of existing resources across sectors—which is difficult to achieve for obvious political reasons [6]—or external assistance—which cannot be relied on over the long term as donor priorities shift frequently [7, 8]. Another approach is to create new resources to deliver effective health interventions given the existing financial constraints. Implementation science can contribute to this approach as the science of the discovery, design, and evaluation of novel approaches to deliver evidence-based healthcare practice.
(1)
The Kirby Institute, University of New South Wales, Sydney, Australia
(2)
Africa Health Research Institute (AHRI), KwaZulu-Natal, South Africa
(3)
Department of Global Health and Population, Harvard T.H. Chan School of Public Health, Boston, USA
(4)
Heidelberg Institute of Global Health, Medical Faculty and University Hospital, University of Heidelberg, INF 130.3, 69120 Heidelberg, Germany