Research

Open Access

Open Peer Review
This article has Open Peer Review reports available.
The dynamic influence of human resources on evidence-based intervention sustainability and population outcomes: an agent-based modeling approach
Implementation Science
2018
13:77
Received: 15 August 2017
Accepted: 21 May 2018
Published: 5 June 2018
Abstract
Background
Sustaining evidence-based interventions (EBIs) is an ongoing challenge for dissemination and implementation science in public health and social services. Characterizing the relationship among human resource capacity within an agency and subsequent population outcomes is an important step to improving our understanding of how EBIs are sustained. Although human resource capacity and population outcomes are theoretically related, examining them over time within real-world experiments is difficult. Simulation approaches, especially agent-based models, offer advantages that complement existing methods.
Methods
We used an agent-based model to examine the relationships among human resources, EBI delivery, and population outcomes by simulating provision of an EBI through a hypothetical agency and its staff. We used data from existing studies examining a widely implemented HIV prevention intervention to inform simulation design, calibration, and validity. Once we developed a baseline model, we used the model as a simulated laboratory by systematically varying three human resource variables: the number of staff positions, the staff turnover rate, and timing in training. We tracked the subsequent influence on EBI delivery and the level of population risk over time to describe the overall and dynamic relationships among these variables.
Results
Higher overall levels of human resource capacity at an agency (more positions) led to more extensive EBI delivery over time and lowered population risk earlier in time. In simulations representing the typical human resource investments, substantial influences on population risk were visible after approximately 2 years and peaked around 4 years.
Conclusions
Human resources, especially staff positions, have an important impact on EBI sustainability and ultimately population health. A minimum level of human resources based on the context (e.g., size of the initial population and characteristics of the EBI) is likely needed for an EBI to have a meaningful impact on population outcomes. Furthermore, this model demonstrates how ABMs may be leveraged to inform research design and assess the impact of EBI sustainability in practice.
Keywords
SustainabilityAgent-based modelingEvidence-based interventionHuman resourcesDissemination and implementation scienceOrganizational capacitySystems science
Background
Evidence-based interventions (EBIs) are intended to help ensure beneficial outcomes for the individuals and communities that receive them and have been widely implemented in public health practice. Dissemination and implementation in research is dedicated to understanding the factors that influence the dissemination and implementation of EBIs [1]. Although many EBIs are adopted and initially implemented, adequately delivering and sustaining an EBI is an ongoing challenge in practice [2–4]. Organizational capacity, especially adequate staffing, is commonly reported as a contributing factor to whether or not an EBI is sustained. Without adequate staffing, EBIs may not be appropriately provided to meet community need (e.g., insufficiently available or underused) or may be prematurely abandoned altogether. Furthermore, inadequate EBI delivery may not have demonstrable effects on the intended population outcomes. While there is need to identify the appropriate level of staffing to bolster the successful delivery and sustainability of EBIs in practice, a particular challenge of empirically examining these issues is the longitudinal and dynamic nature between adequate staffing and EBI sustainment [5, 6]. We use agent-based modeling, a computational systems science approach, in conjunction with existing EBI implementation frameworks and empirical data, to examine the relationships between staffing, sustainability, and population health.
Organizational capacity, EBI sustainability, and population outcomes
We frame the relationship between human resources, EBI sustainability, and population outcomes with the general premise that the level of human resources influences the extent to which organizations deliver and sustain an intervention, which, in turn, influences how the intervention impacts the intended population. These relationships are conveyed in Fig.
1
. Human resources fall within the conceptual domain of organizational capacity, describing the resources available to public health organizations to deliver essential services and improve population health [
6
,
7
]. Public health organizations require adequate capacity to sustain services at appropriate levels and meet community needs over time. The organizational capacity model developed by Meyer, Davis, and Mays provides a framework for organizational capacity and services [
7
]. This model is grounded in organizational theory for health organizations [
8
,
9
] and empirical evidence [
10
], and it suggests that the level of capacity within an organization influences the services it provides by the organization. The organizational capacity model incorporates multiple components that comprise capacity (e.g., financial, human, physical, and informational resources) and identifies specific variables to operationalize and measure each component. Human resources are identified as a major, and perhaps the most vital, component of organizational capacity and are operationalized as number of full-time employees, staff knowledge and skills, education experience, training, staffing configuration, retention/turnover, and compensation.

To complement our use of the organizational capacity model and its exposition of human resources, Scheirer and Dearing's conceptual framework of EBI sustainability identifies variables for measuring sustainability. This model defines sustainability as the final stage of program implementation when programs are maintained and become integrated into the regular functioning of an organization [11]. Both models hypothesize a relationship between available human resources, EBI sustainability, and downstream community benefits. If the EBI is no longer benefiting the community as a whole, then it may need to be adapted, discontinued, and/or replaced to better align with community need.
Challenges to examining EBI sustainability
Identifying essential resource components, for example minimum numbers of staff dedicated to an intervention, should ideally be part of assessing EBI delivery, sustainment, and intended outcomes. However, examining the relationships between human resources and EBI implementation over extended periods of time is difficult using common research designs. EBI sustainability occurs over relatively longer time periods than earlier implementation phases (e.g., adoption and early implementation). During the sustainability phase, EBI activities ideally persist despite common changes in the agency, like staff turnover [12]. Using longitudinal designs—following organizations over extended periods of time and collecting large volumes of quantitative data—is costly and impractical, making capturing relationships between human resources and EBI sustainability difficult [13]. Additionally, researchers often only assess the influence of EBI delivery on direct recipients of services but cannot capture the impact of EBI delivery for entire communities. Qualitative designs are used to examine organizational capacity and EBI implementation because they offer the necessary detail that is required to explain the relationships that may influence EBI sustainability [14, 15], but the ability to generalize results from these studies across different contexts is limited.
Agent-based modeling to examine sustainability
Agent-based modeling (ABM) is one approach that offers several advantages in examining EBI sustainability. ABMs model the behavior of heterogeneous individuals (i.e., agents) and the interaction between them in an environment. The aggregated individual behaviors of agents illuminate the dynamics of the larger social structures they both comprise and create [16]. Simulations can be constructed using existing empirical data and then manipulated to produce alternative outcomes. These models can also inform hypothesis generation, guide future data collection, and inform theory development. In this way, ABM complements both qualitative and quantitative research approaches by incorporating details of context while providing a virtual lab to generate plausible explanations and descriptions of relationships among variables over a lengthy period of time [17]. A small number of ABMs have been developed to assess the impact of public health policy and services in communities [18–21], organizational behavior [22], and EBI implementation for disease prevention [23]. These ABMs show promise in their ability to demonstrate the impact of EBIs on population health but have been underutilized in dissemination and implementation research [24].
The current study
The strengths of ABM provide an opportunity to examine the sustainability of EBIs in public health organizations over time. The approach may also offer insights into factors and dynamics influencing EBI sustainability that are otherwise difficult to obtain. Guided by the theoretical premise that optimal human resources lead to more sustainable EBIs and greater improvements in population health, we use ABM to explore the relationship among human resources, EBI sustainability, and population outcomes to inform theoretical models of organizational capacity and demonstrate the use of ABM to address pressing EBI sustainability research questions.
Methods
Our ABM models the delivery of an EBI by staff to a population in a hypothetical agency over a period of years. Initially, the model creates an agency with staff hired to provide the intervention and the population. As the simulation moves forward in time, staff are trained and deliver the EBI to a population at risk for human immunodeficiency virus (HIV). As staff leave the agency, the agency hires and trains new staff to fill the number of available positions. We assessed the influence of human resources by systematically adjusting three key human resource variables: the number of staff positions at the agency, the rate of turnover, and the length of time required for training newly hired staff for EBI delivery.
Results
Outcomes from simulation runs are presented in Figs.
2
,
3
, and
4
. We observed the expected general relationship among human resources, EBI implementation, and population risk. Higher levels of human resources (e.g., more staff positions) resulted in more EBI delivery and greater decreases in population risk in a shorter amount of time. Conversely, lower overall levels of human resources resulted in less EBI delivery and limited influence on population risk, such that in some configurations, there was no apparent influence on population risk. Within these conditions, EBI implementation had little influence on population risk because the rate of delivery and achievement of risk reduction were either less than or equivalent to the combined rate of loss to follow up and behavior decay.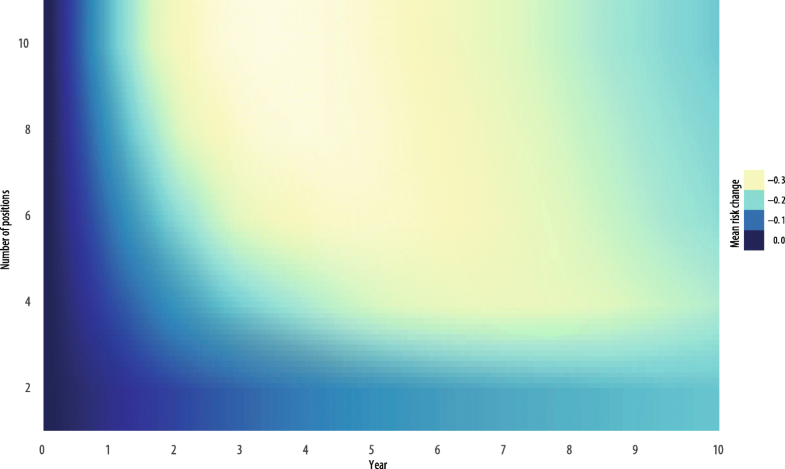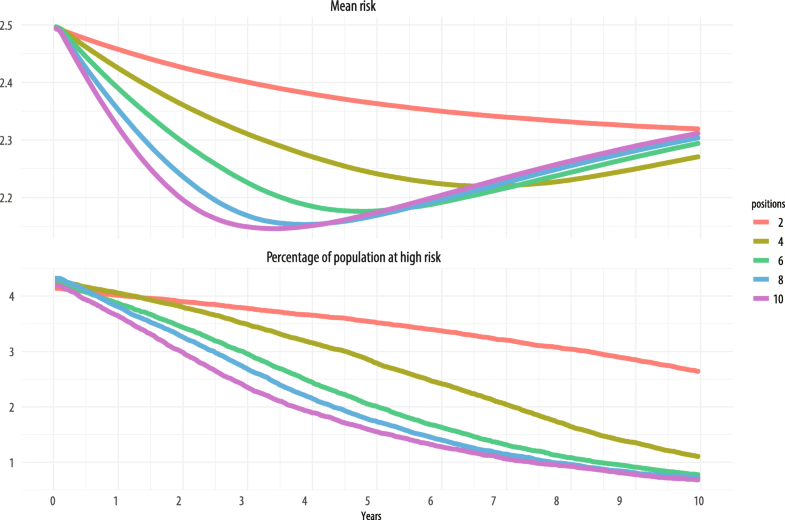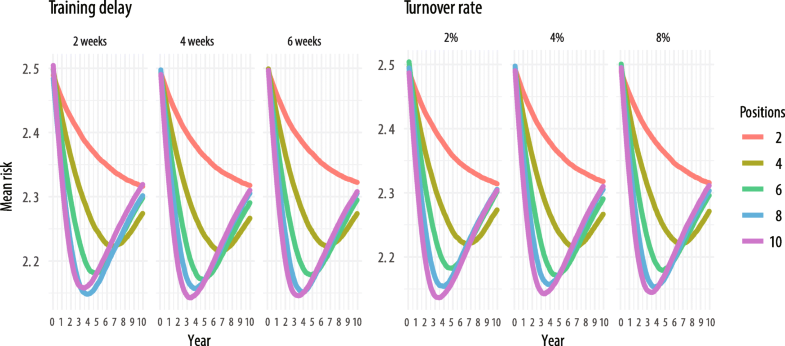 Number of staff positions
Figure 2 presents a contour plot of simulation runs over the full 10 years. The primary human resource variable represented in the figure is the number of available staff positions dedicated to the EBI. The other two human resource variables, staff turnover and training, are held constant at mean values, 10% and 4 weeks, respectively. The y-axis is the mean risk of the population. The x-axis is time in years (0–10 years). Each line in the plot is the number of staff positions (2–10 positions) and is differentiated by color. Less saturated colors approaching white represent greater change in risk, and more saturated colors approaching black represent less change in risk. The plot demonstrates that simulation runs with two positions show a limited amount of influence on population risk at any time point. Among simulation runs with between four and eight positions, changes in population risk become visible around 2 years, with most simulation runs reaching peak change in population risk between 3 and 5 years. Interestingly, there is limited additional benefit in terms of population-level risk reduction among simulation runs with eight to ten positions relative to simulation runs with six positions.
The top panel in Fig. 3 shows the mean population risk over time for two, four, six, eight, and ten staff positions. Here again, the other two human resource variables are held constant at values identical to those in Fig. 2. Like in Fig. 2, we see that most of the largest decreases in risk come between 3 and 5 years into EBI implementation. However, for simulation runs with four staff positions, the largest decrease in risk is seen around 7 years, and for those runs with two providers, the minimum risk is observed at 10 years. More staff positions result in quicker rates of decrease in risk initially, but eventually risk levels out, and at 10 years, the mean risk for any number of staff positions centers around 2.3.
We also examined the influence of staff positions on EBI delivery over time on those at greatest risk and most in need of intervention. The bottom panel of Fig. 3 shows the percentage of population at high risk (risk > 5) on the y-axis for the same numbers of staff positions as in the top panel (with staff turnover and training still constant). Similar to outcomes for the overall population risk, simulations with only two staff dedicated to the EBI showed the least influence on the population proportion at increased risk. In contrast to the outcomes for the mean risk in the overall population, under EBI implementation with more than two staff positions, observable benefits in decreasing the proportion of the population at high risk continued throughout the 10-year period. Of particular note, we did not observe a floor effect—rather, individuals at increased risk relative to the rest of the population continued to benefit from the EBI throughout the entire 10-year simulated period.
Training and turnover
Figure 4 shows the mean population risk (y-axis) over the 10-year period (x-axis), and each panel represents results at a different value of training time or turnover rate. The first set of three panels shows the risk by number of staff positions for the three unique values of staff training times (2, 4, and 6 weeks) holding turnover constant at its middle value of 10%. We see little or no discernable difference between the simulation run results when training time varies, e.g., the difference in mean risk at 10 years with ten staff members for a 2-week and a 6-week training time is approximately 0.02. We see similar results as the annual turnover rate varies from 5 to 15% in the three panels on the right (holding training time constant at 4 weeks). Investigation of potential multiplicative effects, e.g., in simulation runs with the maximum training time and maximum turnover rate, similarly showed no substantial impact when controlling for number of staff positions.
Discussion
We explored the influence of human resources on EBI delivery over time and risk at the population level. Using an ABM based on available empirical evidence, we observed many of the theoretically supported relationships among human resources, EBI sustainability, and population impact [7, 11]. We also were able to explore and describe many of the dynamic interactions among these variables that would otherwise be difficult to examine. The outcomes from our ABM have several practical implications for assessing sustainability of EBIs and their impact on population health.
Conclusions
Adequate human resources, especially sufficient numbers of trained staff, are a key influence on EBI sustainability and population outcomes. However, the relationships among human resources, EBI sustainability, and population outcomes are dynamic and complex. Agent-based modeling helps to demonstrate these dynamic relationships and is an innovative tool for exploring aspects of organizational capacity, EBI sustainability, and population health in the future.
Abbreviations
ABM:

Agent-based modeling
CDC:

Centers for Disease Control and Prevention
EBI:

Evidence-based interventions
HIV:

Human Immunodeficiency Virus
Declarations
Acknowledgements
We would like to thank Heather Bird Jackson, PhD, for aiding with simulation programing and reviewing simulation code. We would also like to thank other members of the dissertation committee, Joseph A. Catania, and Brian Flay for their comments on the early versions of this manuscript.
Funding
This work was supported in part by the Ruth E. Warnke Graduate Fellowship awarded by the College of Public Health and Human Sciences at Oregon State University and the Provost's Distinguished Fellowship awarded by Oregon State University to Virginia Mckay. NIMH RO1 MH085502-01 awarded to M. Margaret Dolcini, NIMH T32 MH019960.
Availability of data and materials
The datasets used to inform the current study are available from the first author on a reasonable request. The programming code from the agent-based model is available as an attachment.
Authors' contributions
All authors contributed to the model design and analysis. All authors contributed in writing all sections of the manuscript. All authors read and approved the final manuscript.
Ethics approval and consent to participate
Not Applicable.
Competing interests
The authors declare that they have no competing interests.
Publisher's Note
Springer Nature remains neutral with regard to jurisdictional claims in published maps and institutional affiliations.
Open AccessThis article is distributed under the terms of the Creative Commons Attribution 4.0 International License (http://creativecommons.org/licenses/by/4.0/), which permits unrestricted use, distribution, and reproduction in any medium, provided you give appropriate credit to the original author(s) and the source, provide a link to the Creative Commons license, and indicate if changes were made. The Creative Commons Public Domain Dedication waiver (http://creativecommons.org/publicdomain/zero/1.0/) applies to the data made available in this article, unless otherwise stated.
Authors' Affiliations
(1)
Center for Public Health Systems Research in the Warren G. Brown School of Social Work, Washington University in St. Louis, St. Louis, USA
(2)
Department of Anthropology, Case Western Reserve University, Cleveland, USA
(3)
School of Social and Behavioral Health Sciences, College of Public Health and Human Sciences, Oregon State University, Corvallis, USA