Research
Open Access
Open Peer Review
This article has Open Peer Review reports available.
Implementation findings from a hybrid III implementation-effectiveness trial of the Diabetes Prevention Program (DPP) in the Veterans Health Administration (VHA)
Implementation Science
2017
12:94
Received: 13 March 2017
Accepted: 4 July 2017
Published: 26 July 2017
Abstract
Background
The Diabetes Prevention Program (DPP) is an effective lifestyle intervention to reduce incidence of type 2 diabetes. However, there are gaps in knowledge about how to implement DPP. The aim of this study was to evaluate implementation of DPP via assessment of a clinical demonstration in the Veterans Health Administration (VHA).
Methods
A 12-month pragmatic clinical trial compared weight outcomes between the Veterans Affairs Diabetes Prevention Program (VA-DPP) and the usual care MOVE!® weight management program (MOVE!). Eligible participants had a body mass index (BMI) ≥30 kg/m2 (or BMI ≥ 25 kg/m2 with one obesity-related condition), prediabetes (glycosylated hemoglobin (HbA1c) 5.7–6.5% or fasting plasma glucose (FPG) 100–125 mg/dL), lived within 60 min of their VA site, and had not participated in a weight management program within the last year. Established evaluation and implementation frameworks were used to guide the implementation evaluation. Implementation barriers and facilitators, delivery fidelity, participant satisfaction, and implementation costs were assessed. Using micro-costing methods, costs for assessment of eligibility and scheduling and maintaining adherence per participant, as well as cost of delivery per session, were also assessed.
Results
Several barriers and facilitators to Reach, Adoption, Implementation, Effectiveness and Maintenance were identified; barriers related to Reach were the largest challenge encountered by site teams. Fidelity was higher for VA-DPP delivery compared to MOVE! for five of seven domains assessed. Participant satisfaction was high in both programs, but higher in VA-DPP for most items. Based on micro-costing methods, cost of assessment for eligibility was $68/individual assessed, cost of scheduling and maintaining adherence was $328/participant, and cost of delivery was $101/session.
Conclusions
Multi-faceted strategies are needed to reach targeted participants and successfully implement DPP. Costs for assessing patients for eligibility need to be carefully considered while still maximizing reach to the targeted population.
Keywords
ImplementationDiabetes Prevention ProgramVeteransConsolidated Framework for Implementation ResearchRE-AIM frameworkWeight managementPragmatic clinical trial
Background
Incidence of type 2 diabetes (referred to as diabetes throughout) was reduced so dramatically (by 58%) in a landmark trial of the Diabetes Prevention Program (DPP) in the USA that the trial was stopped early in 2001 [1–4]. Since the original trial, many large-scale translations around the world, including Finland, Australia, China, and India, have successfully reduced onset of diabetes among patients with prediabetes and/or predictors like weight loss [5].
To gain an overall perspective of the effectiveness of diabetes prevention studies, Balk et al. conducted a review of 53 studies (72% of which were randomized controlled trials), evaluating 66 combined diet and physical activity programs (41% of which were based on DPP), and concluded that such programs are effective in reducing incidence of diabetes, body weight, and FPG [
6
]. Programs varied widely in design: ranging from 3 to 72 months in duration and from no contacts (virtual contacts only) up to 72 contacts with participants. The review concluded that more intensive programs appeared to yield more positive outcomes, but there was little insight into how other program characteristics may contribute to outcomes. Since these studies focused on patient outcomes, they also provided no insight into how to successfully implement these interventions. Aziz et al. partially filled this gap with their systematic review of 38 studies with the goal of identifying factors leading to successful implementation of DPP in "real-world" settings [
7
] using the penetration, implementation, participation, and effectiveness (PIPE) impact metric. Figure
1
shows the distribution of program characteristics for eight dimensions and two outcomes: a wide range of program designs and durations have been implemented within clinical and community settings around the world. Across this diverse array of studies, two thirds reported low participation and 42% reported low weight loss (<4.6 kg) [
7
]. Both reviews by Aziz et al. and Balk et al. concluded that more intensive programs may enhance weight loss outcomes. However, Aziz et al. stress that even modest weight loss can have significant population-level impact if a high proportion of high-risk individuals participate in the program [
7
]. This broader view of impact is essential for policy- and other decision-making.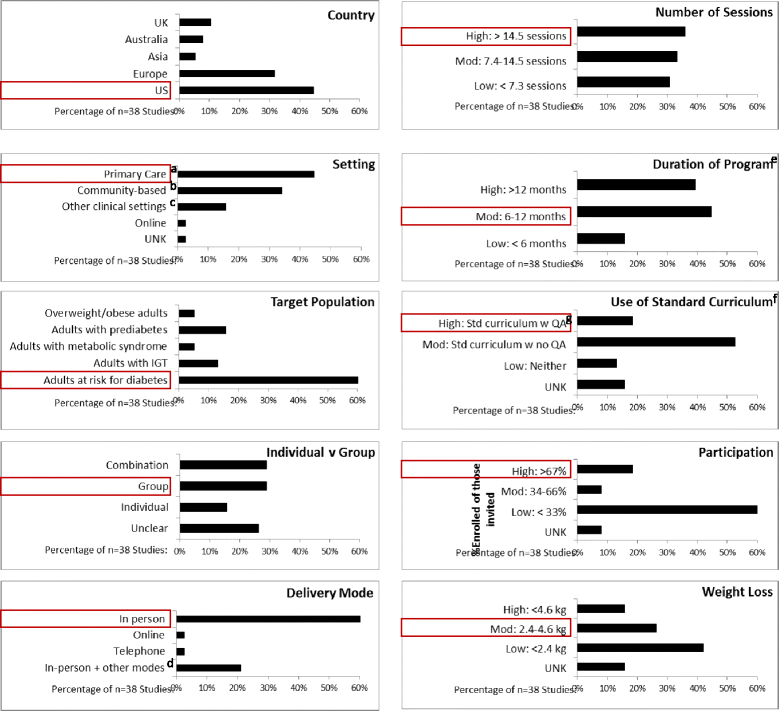 Kahn and Davidson [8] highlighted the dearth of real-world confirmation of the remarkable clinical outcomes reported by the original DPP study [4]. The Balk et al. review of DPP-like programs reported significant reduction in diabetes incidence (0.59; 95% CI, 0.52–0.66, based on 16 (30%) of 53 studies that reported this outcome) [6]. Aziz et al. reported "moderate" or "high" risk reduction for 7 (18%) of 38 studies; this outcome was "unknown" for the remaining 31 (82%) of studies [7]. The low proportion of studies reporting these clinical outcomes may indicate potential reporting bias toward positive results; on the other hand, these downstream effects are more challenging to assess within clinical settings outside of highly controlled lengthy clinical trials. Despite the "voltage drop" [9] often seen in outcomes within real-world settings, definitive guideline statements have been disseminated recommending DPP around the world [10–12]. Despite large-scale population-based availability of DPP in some countries (Finland being a notable leader [13]), within other countries, access to DPP is limited, in part because of the expense, lack of reimbursement by insurance or funding entities, and challenges of effectively implementing DPP across diverse uncontrolled settings and populations [14–17]. Within the USA, interest in implementing DPP is increasing because the US Centers of Medicare and Medicaid Services (CMS) plans to reimburse participation expenses for eligible individuals starting in 2018 [18]; over 1000 programs were listed in the Centers for Disease Control and Prevention (CDC) registry of certified programs [19] as of November 2016 compared to 500 in May 2014 [12].
In the USA, recognition status by the CDC Diabetes Prevention Recognition Status (DPRP) requires at least 50% of participants to have a diagnosis of prediabetes based on blood testing (or have documented history of gestational diabetes) [20], though risk assessments, administered by short surveys, are also available [21–30]. When eligible individuals are identified, outreach is needed to encourage participation in DPP and often clinical testing is used to verify diagnosis. Thus, significant challenges remain: designing and reliably executing robust approaches to identify, enroll, and engage individuals at high risk for diabetes.
Within VA, the national policy office responsible for prevention efforts, the National Center for Health Promotion and Disease Prevention (NCP), commissioned a pragmatic trial to demonstrate impact and feasibility of implementing DPP (VA-DPP) in VHA, in the context of the already existing MOVE!® weight management program (MOVE!) [31]. This clinical demonstration was conducted in three geographically diverse medical centers [31]. Candidate participants included patients with prediabetes (HbA1c 5.7–6.4% or FPG 100–125 mg/dL) who lived within 60 min of a demonstration site, were obese (BMI > 30 kg/m2) or overweight (BMI 25–30 kg/m2) with diagnosis of an obesity-related condition (e.g., hypertension, diabetes), and attended a MOVE! orientation session. Eligibility criteria were confirmed clinically; participants who did not have a HbA1c or FPG within prior 6 months were invited to have HbA1c screening, which is aligned with CDC DPP and national care guidelines [32, 33]. Patients for whom anti-glycemic medication (including metformin) was documented within their electronic health record in the last 6 months and those with contraindications to uptake of intensive lifestyle change were excluded.
VA-DPP characteristics are indicated in comparison to the Aziz et al. review in Fig. 1. In an intention-to-treat analysis, participants in two study arms (VA-DPP, usual care weight management program) experienced significant weight loss (p < 0.001). Participants in VA-DPP lost significantly more weight at 6 months compared to those in MOVE! (4.1 vs. 1.9 kg; p < 0.001) but the difference between programs was no longer statistically significant (3.4 vs. 2.0 kg, p = 0.16) at 12 months [34]. Reach was higher for VA-DPP compared to MOVE!: more participants assigned to VA-DPP completed at least one session (73%) compared to those assigned to MOVE! (58%; p = 0.002) [34]. VA-DPP also had higher rates of participation, e.g., 42.5% completed at least eight sessions compared to 31% for MOVE!. Neither VA-DPP nor MOVE! resulted in changed HbA1c compared to baseline [34]; this trial was not powered to examine differences in diabetes incidence.
This evaluation was guided by the Reach, Effectiveness, Adoption, Implementation, and Maintenance (RE-AIM) framework, which was designed to inform translation of evidence-based programs into practice and heighten public health impact by examining impact on domains beyond clinical outcomes [35, 36]. RE-AIM includes five domains: (1) Reach, the proportion of the targeted population willing to participate in the intervention; (2) Effectiveness, the impact of the intervention on key outcomes; (3) Adoption, the proportion of organizations and individuals within organizations who are willing to initiate the intervention within their setting; (4) Implementation, the fidelity and cost of delivery at the setting level; and (5) Maintenance, the extent to which the intervention is sustained over the longer term at the setting and individual levels. The aim of this study was to identify prevalent contextual factors that may have influenced outcomes within each RE-AIM domain.
Results
The following sections describe facets of the RE-AIM domains that were evaluated, including quantitative measures of delivery fidelity, participant satisfaction, and implementation costs. Common barriers and facilitators were evaluated for their influence on each of the RE-AIM domains. Each barrier and facilitator is demarcated with the associated CFIR construct (in parentheses) in order for readers to easily associate findings with the underlying theoretical framework. Because findings build on earlier published findings, there are additional citations to integrate the rich array of findings.
Discussion
The challenge of implementing complex behavioral programs is well-recognized [6, 7, 49, 50]. The current findings point to the need for multi-level, multi-component strategies that include, for example, maximizing reach by carefully integrating processes to identify high-risk patients and engaging primary care providers. Conducting educational outreach and attempting to heighten clinical priority for preventing diabetes in the face of other competing demands is necessary to engage providers, the main source of referrals in the current study.
Many efforts to vastly scale up identification of high-risk individuals and encourage them to participate in DPP-like programs are underway in other countries [
12
,
51
,
52
]. Lindstrom and colleagues published the IMAGE toolkit, motivated by the premise that "Small changes in lifestyle will bring big changes in health…The time to act is now. ([
53
]; p. 537)" These motivating words are aimed at aligning partners toward a common high-priority goal around diabetes prevention. The toolkit describes foundational principles (e.g., engage partners from multiple strata including communities) and functions (e.g., reach out to high-risk individuals). The CDC also developed a toolkit for implementation [
54
]. Table
3
extends these recommendations by providing potential strategies aimed at optimizing outcomes within each of the five domains of RE-AIM based on barriers and facilitators shown in Fig.
2
, which in turn reflect the experiences at the three study sites. These strategies are offered as hypotheses to be tested in a larger trial.
Table 3
Recommended strategies to address organizational level barriers as described by RE-AIM
Domain

Recommendations

Reach targeted participant population

• Design referral processes that are (1) compatible and integrated with existing clinical processes; (2) effective in identifying and engaging high-risk participants; and (3) easy to use

• Engage clinicians who are the primary source of referrals through personal outreach and by providing easy-to-access, targeted information about DPP highlighting its (1) evidence base, (2) compatibility with local clinical processes, (3) advantages compared to status quo, and (4) organizational and clinical priority for diabetes prevention

Effectiveness of program

• Schedule sessions at a time and place convenient for participants

Adoption by clinical settings; evidenced by visible demonstration of commitment by executive leaders

• Target education and information to executive leadership about DPP including its (1) evidence base, (2) compatibility with clinical processes, (3) advantages compared to the status quo, and (4) organizational and clinical priority to inspire them to adopt the program

• Obtain a formal agreement (e.g., memorandum of understanding), signed by executive leadership, to commit to implement DPP

Implementation with consistency (track costs and adaptations)

• Target education and information to mid-level and clinical managers about DPP including its (1) evidence base, (2) compatibility with clinical processes, (3) advantages compared to the status quo, and (4) organizational and clinical priority to inspire them to help implementation teams solve problems and review progress

• Ensure adequate time to hire and train skilled and enthusiastic implementation leaders and coaches to deliver DPP

• Provide high-quality materials to coaches and participants that can be used effectively to support delivery of effective coaching during sessions (e.g., see http://www.diabetesprevention.pitt.edu/).

• Ensure adequate space availability for sessions

• Schedule sessions at locations and times that are convenient to participants, e.g., in community settings outside of normal clinic hours

Maintenance of DPP in the clinical setting over time

• Effectively report on outcomes and other key benefits from the local DPP to executive leadership, managers, and clinicians (especially those who may refer their patients to DPP) to gain support for the program and build a robust referral network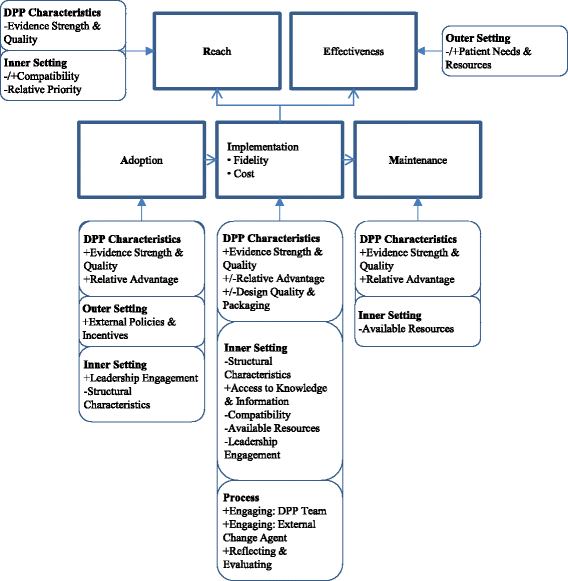 Within VA, the usual care MOVE! weight management program can prevent incidence of diabetes [5, 55]. It is a relatively low-intensity program with no diabetes risk assessment. The present study evaluated a higher intensity intervention based on a CDC-recognized structured curriculum targeted to individuals with clinically verified prediabetes. This trial shows that having national and local leaders who are committed to diabetes prevention is a necessary, though far from sufficient, condition for successful implementation within a large healthcare system.
Reaching and engaging target populations is a universal challenge for comprehensive lifestyle programs across settings [7, 56]. There was relatively high participation in this trial (Fig. 1); more participants assigned to VA-DPP attended at least one session compared to participants assigned to MOVE!. In addition, unlike most behavioral intervention studies, which tend to over-represent non-Hispanic whites [57], 48% of VA-DPP participants identified as a racial/ethnic minority (compared to 25% of national VHA users) [58] and 11% of VA-DPP participants were women (compared to 8% of national VHA users [59]). Robust referral processes and networks to identify and engage participants at high risk are essential [13]. Once high-risk individuals have been referred, scheduling sessions at locations and times that are convenient to participants [60, 61] or offering online programming [62] may help bolster participation.
The single largest investment incurred for the VA-DPP demonstration was the total average $40,348 per site to assess eligibility and implement the program. In the current study, new clinical processes had to be designed and adapted to each local setting to accomplish the required clinical testing of HbA1c or FPG levels. Several countries have administered short self-assessment risk instruments [63, 64]. Individuals at high risk are then encouraged to enroll in a nearby community-based DPP-like program. The later the risk is identified, the more intensive the intervention should be [65]. The current study used more intensive risk identification based on clinical testing that relied on preexisting obesity treatment referral processes already in place. This approach may have resulted in later risk identification and contributed to the smaller than planned sample size but may justify the more intensive DPP. Number of referrals was lower during the demonstration period than in the years leading up to the demonstration, perhaps because of other organizational priorities during that time (e.g., implementation of PCMH during the demonstration) and there was an unexpectedly high prevalence of patients who already progressed to diabetes, especially compared to the general VHA patient population (43 vs. 25%, respectively) [34]. This illustrates the potential missed opportunities to identify and engage high-risk individuals before they progress to diabetes. Additionally, VA-DPP relied on primary care physicians to refer patients; however, there were cases where physicians did not believe in the effectiveness of lifestyle change programs for their patients.
Few studies report the extent to which DPP is delivered as designed, though stated use of a standard curriculum is a recognized contributor to greater weight loss [7, 66, 67]. The current study assessed fidelity of delivery. Though ratings of characteristics of the coaches delivering each of the programs (VA-DPP and MOVE!) were comparable (Table 1), VA-DPP had higher fidelity ratings for delivery of educational content, goal setting, review of goal progress, and group cohesion. Reinforcing this finding, VA-DPP participants reported higher satisfaction for six of eight program characteristics compared to MOVE!. Together, program differences in fidelity ratings [46] and participant satisfaction helped to identify factors that may explain higher participation rates for VA-DPP compared to MOVE!, as well as more weight loss for VA-DPP, [6, 7] at least in the short term. It is not clear what contributed to higher delivery fidelity for VA- DPP compared to MOVE!; specific characteristics of DPP as well as more recent training of DPP coaches may have contributed to this difference. Although there were no statistical differences in effectiveness of VA-DPP versus MOVE! at 12 months (3.4 vs. 2.0 kg lost, respectively; p = 0.16 [34]), the lack of statistical difference between groups may be in part due to the smaller than planned sample size.
The challenge of evaluating implementations of complex behavior change programs like DPP is well-recognized [68]. Use of a theoretical framework provides concepts and language that can be expressed consistently across diverse studies to aid comparisons and build knowledge about complex implementation processes [42, 69]. Based on current findings, Fig. 2 posits relationships between contextual factors and domains of RE-AIM based on common barriers and facilitators to VA-DPP implementation. These relationships are offered as hypotheses that require testing in other settings and within larger-scale implementations. Multi-faceted strategies that address multiple domains of context are needed to implement DPP in a way that maximizes outcomes within each RE-AIM domain (Table 3).
Though DPP has been shown to be cost-effective, including when delivered in a community setting [70, 71], health system and policy decision-makers will not implement programs like DPP without first knowing the upfront investment and ongoing delivery costs. Costs to deliver VA-DPP sessions averaged $101 per session. In the current study, attendance was highly variable across sites, across cohorts within each site, and across sessions within each cohort. While the average cost per participant per session was $46 ($1012 for 22 sessions) for VA-DPP, this cost could be as low as $12 per participant per session ($264 for 22 sessions), if the lowest-cost site ($1410) had the highest observed level of participation (119). This cost range was lower than cost reported for the original DPP (estimated costs of $1399 per person in the first year) [71] and are similar to those of a YMCA group-based DPP (estimated costs between $275 and $325 per person in the first year) [61]. In addition, administrative tasks related to preparing for each VA-DPP session, such as reminding participants to attend and planning the session, which averaged $328 per participant in the current study, must also be considered when allocating staff resources.
It is important to note limitations in this evaluation. First, only three academically affiliated VHA sites participated; therefore, implementation experiences reported may be unique to their respective settings. In addition, the study occurred during an organizational transformation to the VA's model of PCMH within the primary care clinics, which may have contributed to lower than expected number of referrals. Second, fidelity ratings may be biased positively because they were determined by VA-DPP coordinators/coaches who rated their peers. However, this bias may be present for both programs because VA-DPP teams worked closely with MOVE! teams. It is important to note that comparison of ratings for VA-DPP and MOVE! was limited to a sample of program sessions and delivery components at these sites and not a comprehensive rating for all aspects of all sessions. Third, this effort was done as part of an effectiveness-implementation hybrid trial. National partners contributed funding for the clinical teams at each of the three facilities and did not assess diabetes incidence or clinical measures of cardiovascular disease or risks. When funding ended, two of the three sites were not able to maintain the program or continue screening for prediabetes. A strength of this study was that partners and local leaders deemed local activities, including eligibility screening, delivery of VA- DPP, and outcome assessments as part of a clinical quality improvement (QI) initiative that required no additional assessments for research purposes. Patient satisfaction was elicited via surveys funded by research. IRB approvals included use of data collected through local clinical QI activities. Fourth, an economic evaluation of usual care was not completed and intervention impacts on blood pressure and blood cholesterol were not assessed. Costs were estimated for eligibility screening, implementation, and delivery of only DPP.
Conclusions
The comprehensive qualitative and quantitative findings from this pragmatic trial of VA-DPP reveal barriers and facilitators that influence overall program success. Findings suggest a number of strategies that may help support future real-world implementations of DPP, including gaining visible support from system and local leaders, highlighting the evidence base and benefits of DPP for key stakeholders including referring clinicians, and providing sufficient time and resources for high-quality staff training. As the need and demand for DPP increases, it is important to recognize, address, and leverage implementation process and contextual factors that contribute to maximum success of DPP.
Abbreviations
BMI:

Body mass index
CDC:

Centers for Disease Control and Prevention
CFIR:

Consolidated Framework for Implementation Research
CMS:

Centers of Medicare and Medicaid Services
DPP:

Diabetes Prevention Program
DPSC:

Diabetes Prevention Support Center
EHR:

Electronic health record
FPG:

Fasting plasma glucose
HbA1c:

Glycosylated hemoglobin
MOU:

Memorandum of understanding
NCP:

National Center for Health Promotion and Disease Prevention
PCMH:

Patient-centered medical home
POC:

Point-of-care
RE-AIM:

Reach, Effectiveness, Adoption, Implementation and Maintenance framework
VA:

Veterans Affairs
VA-DPP:

Veterans Affairs Diabetes Prevention Program
VHA:

Veterans Health Administration
Declarations
Acknowledgements
The authors would like to thank all of the leadership, coaches, and staff members within the multiple organizations who were involved with this study: VHA National Center for Health Promotion and Disease Prevention (NCP), VA MOVE!, VA HSR&D, VA Diabetes QUERI, Diabetes Prevention Support Center, VA Ann Arbor Center for Clinical Management Research (CCMR), Durham VA Medical Center, VA Baltimore Medical Center, VA Greater Los Angeles Healthcare System, and VA Minneapolis Healthcare System. We would also like to thank the Veterans for their participation.
Funding
This work was funded by the Veteran Affairs (VA) Quality Enhancement Research Initiative (QUERI) program through two research grants (RRP 12-440 and SDP 12-549) and clinical quality improvement funding (XVA 41-048). TM received support from the VA Office of Academic Affiliations through the VA Health Services Research and Development Advanced Fellowship Program (TPM65-010), VA Greater Los Angeles, from 2011 to 2014. MAY is currently receiving support through the VA Health Services Research and Development Advanced Postdoctoral Fellowship Program, VA Ann Arbor. MLM reported receiving support from the Department of Veterans Affairs (RCS 10-391). This quality improvement project was partially funded by operational partners. Our partners helped to inform feasibility of study design alternatives. However, they had no role in final decisions regarding study design nor were they involved in data collection or analysis, decision to publish, or preparation of this manuscript.
Availability of data and materials
A limited qualitative data set is available from the corresponding author on reasonable request. Data will be shared in a way that safeguards the confidentiality and anonymity of the respondents.
Authors' contributions
All authors made substantial contributions to the conception and design or analysis and interpretation of the data and drafting of the article or critical revision for important intellectual content. LJD and CRR designed the study. LJD, CMR, and MAY wrote the manuscript. LJD, CMR, and JBS completed the qualitative data collection and analysis. XMX analyzed the fidelity data. SKD analyzed the cost data. LJD, CMR, MAY, TM, SKD, JBS, MLM, NIS, JEW, MH, LFP, XMX, CB, and CRR reviewed and edited the manuscript. LJD is the guarantor of the article. Portions of this manuscript were presented at the Society of Behavioral Medicine Annual Meeting in 2015. All authors read and approved the final version of the manuscript.
Ethics approval and consent to participate
This evaluation was approved by each of five IRBs at the respective research institutions with which the investigators are affiliated.
Consent for publication
Not applicable.
Competing interests
CB reported personal fees from Novo Nordisk and personal fees from Enteromedics outside of the submitted work. MLM reported ownership of Amgen stock due to his spouse's employment. The other authors have nothing to disclose.
Publisher's Note
Springer Nature remains neutral with regard to jurisdictional claims in published maps and institutional affiliations.
Open AccessThis article is distributed under the terms of the Creative Commons Attribution 4.0 International License (http://creativecommons.org/licenses/by/4.0/), which permits unrestricted use, distribution, and reproduction in any medium, provided you give appropriate credit to the original author(s) and the source, provide a link to the Creative Commons license, and indicate if changes were made. The Creative Commons Public Domain Dedication waiver (http://creativecommons.org/publicdomain/zero/1.0/) applies to the data made available in this article, unless otherwise stated.
Authors' Affiliations
(1)
Ann Arbor VA HSR&D/Center for Clinical Management Research, Ann Arbor, USA
(2)
VA Diabetes QUERI, Ann Arbor, USA
(3)
VA Greater Los Angeles Healthcare System, Los Angeles, USA
(4)
David Geffen School of Medicine, University of California, Los Angeles, USA
(5)
Greater Los Angeles VA Health Services Research and Development (HSR&D) Center for Healthcare Innovation, Implementation and Policy, Los Angeles, USA
(6)
Durham VA Medical Center HSR&D, Durham, USA
(7)
Duke University School of Medicine, Durham, USA
(8)
VA Maryland Healthcare System, Baltimore, USA
(9)
University of Maryland School of Medicine, Baltimore, USA
(10)
Department of Family Medicine, University of Michigan, Ann Arbor, USA
(11)
Minneapolis VA Healthcare System, Minneapolis, USA
(12)
University of Minnesota Medical Center, Minneapolis, USA
(13)
Scripps Translational Science Institute/The Scripps Research Institute, La Jolla, USA
(14)
Louisiana State University Pediatric Neurology Program, New Orleans, USA
(15)
University of Michigan Department of Family Medicine, Ann Arbor, USA