Systematic review

Open Access

Open Peer Review
This article has Open Peer Review reports available.
Factors influencing the adoption of self-management solutions: an interpretive synthesis of the literature on stakeholder experiences
Implementation Science
2015
10:159
Received: 19 June 2015
Accepted: 10 November 2015
Published: 13 November 2015
Abstract
Background
In a research context, self-management solutions, which may range from simple book diaries to complex telehealth packages, designed to facilitate patients in managing their long-term conditions, have often shown cost-effectiveness, but their implementation in practice has frequently been challenging.
Methods
We conducted an interpretive qualitative synthesis of relevant articles identified through systematic searches of bibliographic databases in July 2014. We searched PubMed (Medline/NLM), Web of Science, LISTA (EBSCO), CINAHL, Embase and PsycINFO. Coding and analysis was inductive, using the framework method to code and to categorise themes. We took a sensemaking approach to the interpretation of findings.
Results
Fifty-eight articles were selected for synthesis. Results showed that during adoption, factors identified as facilitators by some were experienced as barriers by others, and facilitators could change to barriers for the same adopter, depending on how adopters rationalise the solutions within their context when making decisions about (retaining) adoption. Sometimes, when adopters saw and experienced benefits of a solution, they continued using the solution but changed their minds when they could no longer see the benefits. Thus, adopters placed a positive value on the solution if they could constructively rationalise it (which increased adoption) and attached a negative rationale (decreasing adoption) if the solution did not meet their expectations. Key factors that influenced the way adopters rationalised the solutions consisted of costs and the added value of the solution to them and moral, social, motivational and cultural factors.
Conclusions
Considering 'barriers' and 'facilitators' for implementation may be too simplistic. Implementers could instead iteratively re-evaluate how potential facilitators and barriers are being experienced by adopters throughout the implementation process, to help adopters to retain constructive evaluations of the solution. Implementers need to pay attention to factors including (a) cost: how much resource will the intervention cost the patient or professional; (b) moral: to what extent will people adhere because they want to be 'good' patients and professionals; (c) social: the expectations of patients and professionals regarding the interactive support they will receive; (d) motivational: motivations to engage with the intervention and (e) cultural: how patients and professionals learn and integrate new skills into their daily routines, practices and cultures.
Keywords
Human values
Self-management
Chronic illness
Barriers
Facilitators
Stakeholder experiences
Sensemaking
Introduction
Self-management (SM) of chronic disease, where patients manage their illness independently but with the support of health care professionals, has been shown to be cost-effective in a range of conditions [1–3]. SM has therefore become the focus of national healthcare polices including the UK's expert patient programme [4] and many care interventions [5–7]. Hence, there is a strong attention on the implementation and adoption of SM solutions, which can range from keeping a diary of activities using notebooks to a complex telehealth system. Key foundations of SM include (a) patients' capability to engage with certain material innovations which may include documented protocols, guides and instructions, electronic devices and diaries; (b) patients' effective engagement with healthcare professionals, peers and family for support and (c) clinicians' effective promotion of SM practices to patients [8–10].
Whilst self-management solutions have shown benefit in academic evaluations, they have been challenging to implement. Self-management studies have sought to understand the reasons for implementation challenges from perspectives such as those of patients, professionals or health systems along with disease specific issues [11–14]. Comprehensive literature reviews and original studies on implementation in the wider healthcare literature have also sought to understand factors that contribute to successful implementation [15–19]. Many of these studies have drawn conclusions about the critical 'barriers' and 'facilitators' to implementation. Despite awareness of these, many solutions still fail in their uptake, adoption and diffusion [15, 20]. Clearly, the identification of such factors alone has not been sufficient. This study therefore focussed on reviewing and conducting an interpretive analysis of the literature regarding experiences of people adopting any self-management solution. In examining the contextual factors and specifically how stakeholders interpreted and evaluated the solutions, we applied a theoretical framework of 'sensemaking'.
Sensemaking is an ongoing process of how people rationalise connections between themselves, events and places and is argued keeps cognition and action together [21–23]. Weick, Sutcliffe and Obstfeld [23] identify that sensemaking has seven characteristics, which include sensemaking organises flux; starts with bracketing; is guided by mental models; is about labelling and categorising; is retrospective, social and systemic and is about action and organising through communication. The process is iterative and is treated as a cycle rather than a linear sequence of actions. Key activities of sensemaking include noticing and bracketing, which happens when changes to flows of experiences occur and when people isolate the changes for closer attention to rationalise them [23]. Kolko terms this type of rationalisation 'framing' and described it as a point of view shaped over a long-term aggregation of thoughts and experiences [24]. Hence, the role of context, which involves factors or mechanisms influencing rationalisation, is important in the sensemaking process [25].
Using this perspective of sensemaking as our theoretical framework, we were not only concerned with what was explicitly stated as barriers and facilitators to adoption but why stakeholders decided in favour or against a solution and the rationale they used to derive at the decisions.
Results and discussion
Barriers and facilitators in the stakeholder groups
Patients
This group includes patients (including expert patients and user groups), their carers and families. In the literatures, patients used SM solutions to manage their conditions by engaging in activities such as setting goals, monitoring their condition and adjusting medication. From the patient perspective, factors influencing adoption of these solutions included knowledge of their condition [10, 11, 31, 35, 36, 38, 45, 50, 58, 62, 72, 82], their capability to comprehend and operate the solutions, their ability to embed or customise solutions into daily practices [33, 39, 41, 44, 46, 56, 57, 69], visible effect of the solution [10, 43, 66, 67, 74], cost and quality of the solutions and their effectiveness to manage the condition such as sending accurate readings [33, 35, 45, 52, 61, 70, 71, 79], family and healthcare professional support [9, 39, 40, 50–53, 58, 75], the need for motivational factors [35, 41, 45] and their ability to make decisions on adjusting medication independently [61, 79].
Healthcare professionals
This group consists of individuals and groups of clinicians such as doctors, nurses, physiotherapists, medical assistants and psychotherapists. In the literatures, HCPs used SM solutions to support patients' management of their conditions such as reviewing the patient's condition and feed back to them on their progress, providing support in goal setting and giving advice on medication dosage adjustment. In these tasks, HCPs, similar to patients, had to adopt a range of 'technical' and non-technical devices and processes into clinical practice. Factors influencing HCPs' adoption included evidence that the solution works [14, 60], the solution's alignment with goals of the organisation within which the HCP worked [37, 42, 68, 75], the integration of the solution into existing systems and practices [31, 32, 44, 60, 68], adaptability of the solution to learning and incorporating change [14, 33, 42, 51, 60, 68], transfer of decision-making power to patients and the effect of the solution on patient-doctor relationship [37, 49, 68, 71], time and resource constraints [54, 78], incentives and motivation to use the solution [14, 71], how the solution is promoted to the organisation within which the HCP worked [14, 51, 71, 75], HCPs' appraisal of level of patient skill and interest in the solution [42, 71, 80] and adaptability of the solution to current roles and responsibilities [14, 32, 44, 49, 60, 68].
Managers
This group is made up of different levels of managers such as trial and intervention programme leaders, healthcare champions, policymakers and other managers with day-to-day responsibility of the trial or intervention. Murray and colleagues called this group implementers [15], and although we do not dispute this term, we will use 'managers' to describe this collection of stakeholders. In the literatures, managers were charged with responsibly delivering the solution to intended users on time and within budget and had tasks such as working with solution designers and developers, consulting with user groups, promoting the solution to users and documenting the effectiveness of the solutions. Along with Murray et al who described 'implementers' as a previously under-studied group [15], we also found that there is still very little literature on managers' experiences. Factors affecting implementation included ability to deliver intended benefits of the solution, engaging effectively with business models, sustainable funding and resources, creating effective policies such as making adoption mandatory for HCPs, compatible commissions process across sectors and buy in senior leadership or active champions [14, 33, 47, 54, 78].
How adopters made sense of the solutions
Adopters appeared to frame the solutions in relation to what the solutions meant to them in their daily goals and routines. This happened at both individual and organisation levels, as we will discuss in detail in the following sections. Therefore, what are traditionally conceived as facilitators such as hard and soft incentives (cost and added value); support from family, friends, colleagues or managers; desire to be seen as compliant (moral obligation); emotional motivation (psychological value) and the solution's fit with existing practice and routines, could also be barriers, as discussed in the following sub-sections.
Discussion: implications for implementation
Overall, our analysis of the literature suggests that factors depicted as barriers and facilitators can have pluralistic (sometimes opposing) meanings, and these are influenced by the context within which stakeholders place SM solutions and of which stakeholders are apart. Taking into account that sensemaking is 'an action oriented cycle that people continually and fairly automatically go through in order to integrate experiences into their understanding of the world around them' [
24
], values related to cost, social, moral, psychology and culture played critical roles in how stakeholders made sense of the solutions; and this influenced their uptake and adoption. Citing Klein, Moon and Hoofman's view [
21
], Kolko explains sensemaking as a process that is both personal and shared, one that takes place over a long period of time and one that is heavily dependent on a perspective or point of view [
22
]. Therefore, the values placed on the solutions are related to how adopters 'framed' [
24
] them or, in other words, their understanding of what the solution 'meant' to them. For instance, 'family support' could be seen as a positive value, perhaps with the
meaning
that 'I can be near loved ones' or as a negative value, with a
meaning
of (unwanted) dependency. Since sensemaking is a continuous process, these values are not static but dynamic, and meanings can change when a difference experience occurs or when a different notion is conceived (Fig.
2
).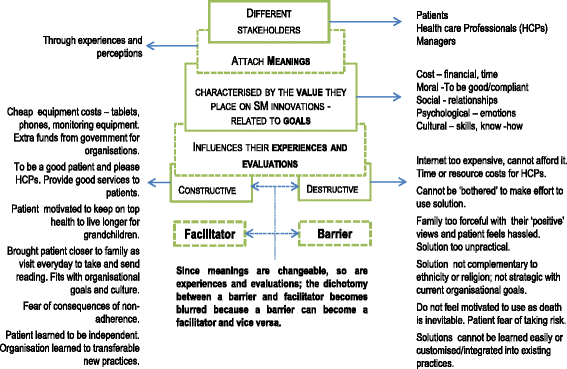 Reframing, or changing meanings, present a challenge for managers, who are charged with implementing, diffusing and sustaining solutions, sometimes, at scale. Managers implementing solutions are guided by a protocol of generalisable factors which may include a list of barriers and facilitators; however, as we have shown, these are contingent and changeable and can increase or decrease adoption. As a result, it was noted in some of the articles that managers formed the view that some adopters were more hostile to new solutions than others. For example, May and colleagues found that 'implementers' viewed HCPs as hostile to new solutions [14]. Hence, managers looked for ways to identify adopters that would be more accepting of the solutions. In the wider literature, some have offered answers to this challenge such as Roger's diffusion of innovations model, which suggests 'promoting' the solution to early adopters, who will then promote it to others [95], or Greenhalgh's concept of 'Bricolage and Bricoleurs', which recommends giving tools of the solution to adopters and allowing them to decide how best to use them [46].
Others have attempted to address this challenge by categorising the approaches people take to adopt self-management interventions [77, 82]. Lindenmeyer, for example, categorised patients' adoption of diabetes management intervention as 'information seekers' and 'programme browsers' and suggested that 'programme engagers' were most likely to adopt and sustain the intervention [77]. Burke et al also used categories such as 'well-disciplined', 'missing the connection' and 'diminished support' to describe people's sustainable adherence to weight loss interventions [82]. Furthermore, Murphy et al showed that overall people desired to be in control of their type 1 diabetes and would like to sustain self-management; however, adoption depended on five interrelated factors (knowledge, empowerment, support, relationship shift and motivation), and they showed that the extent to which one factor mattered was dependent on other factors being in place [72].
What we have shown is that the dichotomy between a barrier and facilitator is not distinct when implementing or adopting SM solutions. We have also shown that dualistic aspects to barriers and facilitators exist in some cases. For example, family support being both a motivator and a deterrent in the same context. Whilst this was not evident in the studies, it is likely that there are cases where a facilitator or a barrier changes to become neutral, rather than to become the opposite, and possibly, this less dramatic change is less likely to be reported in previous work. Also, whilst contexts which are directly linked to the condition were influential, it is possible that other contexts that are not linked to the condition were also influencing how adopters reframed the solutions. Overall, our findings show that adopting a SM solution or innovation is a dynamic process; therefore, approaches other than barriers and facilitators should be considered. In particular, it might be useful to iteratively re-evaluate each potential facilitator and barrier in relation to the adopter's framing of the solution and contextual factors influencing the process, and whether this has changed since the last evaluation. This would be done throughout the implementation process to help adopters retain constructive evaluations of the solution.
Limitations of the study
We followed PRISMA guidelines where applicable, including using a systematic and comprehensive search strategy. Nevertheless, despite searching electronic bibliographic databases and using forward searching and snowballing techniques, it is always possible that some papers may have been missed. The selection of studies and coding of data were undertaken by one researcher; we did not undertake double-coding although a second researcher did check the coding process and emergent themes. For an interpretative synthesis, we did not feel it was necessary to have two researchers selecting and coding every study. The whole team contributed to the interpretation of the coded data, but we acknowledge that a team approach to interpretation will still be influenced by the individual backgrounds of the team members. Another limitation is that we are analysing the data and interpretations provided by other authors in their published studies, and we did not have access to their primary datasets. It is possible that there may be other data that they did not describe in their published studies that may challenge our conclusions. As a qualitative literature review, our findings are descriptive and we hope to bring new insights to a challenging issue; it will be for future studies, and implementation projects, to test these insights in primary research.
Conclusions and recommendations
This study critically challenges the notion of guiding implementation with preconceived barriers and facilitators, because every perceived barrier or facilitator has a possibility of having an opposing effect. We therefore suggest that it would be more helpful for those involved in implementation to consider factors that could help adopters attach constructive meanings when they frame and reframe the solutions in relation to their daily routines and goals. In practical terms, it is important to consider how to promote and sustain constructive meanings in relation to (a) cost: how much resource will the intervention cost the patient or professional; (b) moral: to what extent will people adhere because they want to be 'good' patients and professionals; (c) social: the expectations of patients and professionals regarding the interactive support they will receive; (d) motivational: motivations to engage with the intervention and (e) cultural: how patients and professionals learn and integrate new skills into their daily routines, practices and cultures.
Future studies can explore the contingent nature of barriers and facilitators and the importance of meaning. These should take the perspectives of multiple stakeholders (including patients, professionals and managers), with further exploration on what roles socio-cultural processes play in determining the values people place on SM solutions.
Declarations
Acknowledgements
We thank Nia Roberts, the healthcare librarian at the Bodleian Library, University of Oxford, who conducted an independent search of the literature to facilitate our systematic approach. The research was funded by the National Institute for Health Research (NIHR) Collaboration for Leadership in Applied Health Research and Care Oxford at Oxford Health NHS Foundation Trust. The views expressed are those of the author(s) and not necessarily those of the NHS, the NIHR or the Department of Health.
Open AccessThis article is distributed under the terms of the Creative Commons Attribution 4.0 International License (http://creativecommons.org/licenses/by/4.0/), which permits unrestricted use, distribution, and reproduction in any medium, provided you give appropriate credit to the original author(s) and the source, provide a link to the Creative Commons license, and indicate if changes were made. The Creative Commons Public Domain Dedication waiver (http://creativecommons.org/publicdomain/zero/1.0/) applies to the data made available in this article, unless otherwise stated.
Authors' Affiliations
(1)
Nuffield Department of Primary Care Health Sciences, University of Oxford, Radcliffe Observatory Quarter, Oxford, UK
(2)
Saïd Business School, University of Oxford, Oxford, UK