Research

Open Access

Open Peer Review
Relationships between clinician-level attributes and fidelity-consistent and fidelity-inconsistent modifications to an evidence-based psychotherapy
Implementation Science
2015
10:115
Received: 9 March 2015
Accepted: 5 August 2015
Published: 13 August 2015
Open Peer Review reports
The past decade has seen an increase in efforts to implement evidence-based psychotherapies (EBPs) and psychosocial interventions in public sector mental health settings [1]. Considerable attention has been devoted to factors that influence the implementation and sustainability of EBPs [2–4]. Little is known about the long-term use of EBPs after implementation, but the few studies that have examined the issue have found that fewer than 50 % of clinicians deliver them with fidelity following training [5, 6]. Additionally, consistent with implementation frameworks [7, 8], clinicians report making modifications, defined as changes to the content or method of delivery that are not specified in the standard treatment protocol, to EBPs when delivering them in routine care settings [9–11].
Different modifications can occur in routine care settings, and distinguishing between types of modifications may be useful both conceptually and for the purpose of understanding whether different kinds of modifications have implications for clinical or implementation outcomes. As Fig.
1
illustrates, the concept of modification includes adaptation. Adaptation has been defined as a process of thoughtful and deliberate alteration to the design or delivery of an intervention, with the goal of improving its fit or effectiveness in a given context [
12
,
13
]. Typically, adaptation includes a plan to monitor the impact of the adaptation. However, clinicians also make modifications in the absence of a process that is consistent with planned adaptation [
9
,
11
]. Such modification can occur in response to unanticipated challenges that arise in a given session or context.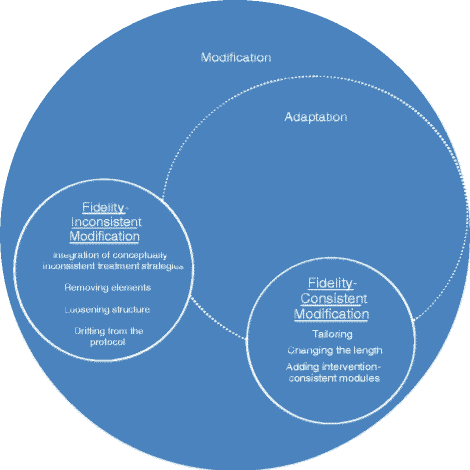 In conceptualizing modifications to evidence-based mental health treatments, it is important to consider the relationship between modification and treatment fidelity. Fidelity has been described as comprising adherence to the intervention components, competence with which the intervention is delivered, and differentiation from other treatments [14, 15]. Implementation frameworks suggest an important difference between modification of core elements of the intervention and changes made to less essential, peripheral components [7]. We therefore define fidelity-consistent modifications as those which do not alter core elements of treatment significantly enough to reduce adherence to a protocol and do not reduce ability to differentiate between treatments. We consider fidelity-inconsistent modifications to be those that reduce or preclude the delivery of core elements or decrease ability to differentiate between treatments. Because the goal of planned adaptation includes preservation of core intervention elements [12, 13], as Fig. 1 illustrates, fidelity-inconsistent modifications are less likely to be planned adaptations than are fidelity-consistent modifications, although there may be times when it is determined that removal of core elements or integration of other evidence-based elements are indicated, based on available data and clinical feedback.
A framework of modifications has been developed to further specify the types of changes that can be made to a protocol [
16
], including the following:
Adding new, intervention-consistent elements that were not originally included in the intervention (e.g., adding a new module on a topic not originally covered in a protocol but using the same general approach to addressing the topic)

Removing intervention components (e.g., not delivering a component of the intervention that is specified in the protocol)

Integrating components of other established interventions (e.g., delivering components of another intervention in addition to the protocol elements)

Tailoring aspects of the intervention (such as language, terminology, or explanations of intervention components) for an individual patient or population (e.g., simplifying worksheets or handouts while retaining key elements of the intervention)

Loosening the structured aspects of the intervention (e.g., allowing structured, specified element of treatments such as check-ins, agendas, and end-of-session feedback to occur but in a less formal or more fluid manner)

Changing the length of the intervention without adding or removing aspects of the intervention (e.g., extending the number of sessions without adding elements to the protocol)

Temporary drift or deviation from the core elements of the intervention as originally designed (e.g., briefly stopping the intervention and intervening in another way before returning to the protocol)
Some of these modifications can be considered inherently fidelity-consistent or fidelity-inconsistent based on several considerations, including implementation frameworks that differentiate between core and peripheral elements of interventions [
6
,
7
], the elements of fidelity (adherence to core intervention elements as specified in fidelity rating forms or identified through research to be necessary to produce desired clinical outcomes, competence, and treatment differentiation) [
14
], and empirical findings regarding modifications that may result in diminished clinical outcomes [
17
]. Based on these factors, we identified modifications in the framework that could be made without altering the content of core elements of the intervention (tailoring, adding new material or interventions that are conceptually consistent with the EBP, and changing the length of the session or protocol without removing core elements) to be fidelity-consistent. We determined those that involved alteration or non-delivery of core elements of the intervention (removing elements of the protocol, loosening the structured elements of the protocol, drift from the protocol, and integration of other established treatment modalities or strategies that are not consistent with the EBP's approach) to be fidelity-inconsistent. Other types of modification in the framework (e.g., adjusting the order intervention components or substitution of elements) might depend on the degree and content of the changes and were therefore not categorized as inherently fidelity consistent or inconsistent.
Emerging evidence indicates that clinicians make a variety of unplanned modifications when implementing EBPs in routine care, some of which are fidelity-consistent, and some of which are not. In a study of clinicians in a community mental health system, the most commonly endorsed modifications were tailoring the intervention to meet the needs of patients, drifting from the protocol, integrating other interventions with the EBP, and loosening the structure of the treatment protocol [11]. Similarly, clinicians on inpatient PTSD units endorsed a number of modifications, including tailoring the intervention, integration, and changing the length of the protocol [10]. Clinician interviews further indicated that some modifications made in usual care are inconsistent with the process of careful, measured modification that has been advocated for successful long-term implementation. Identifying factors associated with modifications that are inconsistent with intervention fidelity, current evidence, or planned adaptation can lead to a better understanding of how to increase the delivery of EBPs with adequate fidelity or planned and thoughtful modifications when necessary.
There is increasing evidence that clinician characteristics can uniquely influence the use of EBPs [18]. Several individual-level factors might influence clinician behavior related to modification, including patient population, training success, and provider attitudes toward EBPs. Interviews with clinicians indicate that some make modifications in response to contextual challenges or to address specific provider or client characteristics or needs that are not perceived to be sufficiently addressed in the standard protocols [9–11]. For example, clinicians who work with particular patient populations might find that they need to tailor the intervention to accommodate differences in developmental stage or cognitive ability [19]. Additionally, the success of prior training efforts may impact the tendency to modify EBPs. Clinicians who have better mastery of the EBP protocol may be better prepared to adapt interventions appropriately while maintaining fidelity to core treatment elements. They may also be more able to identify instances in which they are delivering or deviating from EBPs [20]. A link between provider attitudes and training outcomes has also been observed. Clinician attitudes toward EBPs prior to training, specifically clinicians' openness to the use of EBPs, willingness to use EBPs if required to do so, or perception of their appeal, predict knowledge and fidelity following training [21, 22]. Furthermore, in a recent study in a public sector mental health setting, clinicians with greater openness were more likely to endorse the use of cognitive behavioral therapy with their child clients [18], while those who perceived greater divergence between their practice and EBPs were more likely to use psychodynamic psychotherapy techniques. Taken together, these findings suggest that attitudes may also be linked with use of and modifications to EBPs following training.
In the current study, we used follow-up data from two studies on EBP training and implementation to examine individual clinician-level factors associated with subsequently reported fidelity-consistent modifications and fidelity-inconsistent modifications among clinicians trained to deliver cognitive behavioral therapy (CBT) to child or adult populations. Based on previous literature [22], we hypothesized that training success, defined as meeting criteria for successful completion of an EBP training program, and EBP attitudes, specifically openness to using EBPs and willingness to adopt if the intervention had appeal, would be associated with more subsequent fidelity-consistent modifications (hypothesis 1). Second, we hypothesized that training success, appeal, and openness would be associated with subsequent fewer fidelity-inconsistent modifications and that perceived divergence of EBPs from clinicians' routine practice would be associated with more subsequent fidelity-inconsistent modifications (hypothesis 2).
(1)
National Center for PTSD, VA Boston Healthcare System, and Boston University School of Medicine, Department of Psychiatry, 150 S. Huntington Ave (116B3), Boston, MA 02130, USA
(2)
Center for Psychotherapy Research, Department of Psychiatry, University of Pennsylvania Perelman School of Medicine, 3535 Market Street, Philadelphia, Philadelphia, USA
(3)
Department of Psychiatry, Harvard University Medical School, Boston, MA, USA
(4)
Philadelphia Department of Behavioral Health and Developmental disAbility Services, 3535 Market Street, Philadelphia, USA
(5)
Center for Mental Health Policy and Services Research, Department of Psychiatry, University of Pennsylvania Perelman School of Medicine, 3535 Market Street, Philadelphia, USA
© Wiltsey Stirman et al. 2015