Study protocol

Open Access
A multifaceted quality improvement intervention for CVD risk management in Australian primary healthcare: a protocol for a process evaluation
Implementation Science
2014
9:187
Received: 19 November 2014
Accepted: 1 December 2014
Published: 17 December 2014
Abstract
Background
Cardiovascular disease (CVD) is the leading cause of death and disability worldwide. Despite the widespread availability of evidence-based clinical guidelines and validated risk predication equations for prevention and management of CVD, their translation into routine practice is limited. We developed a multifaceted quality improvement intervention for CVD risk management which incorporates electronic decision support, patient risk communication tools, computerised audit and feedback tools, and monthly, peer-ranked performance feedback via a web portal. The intervention was implemented in a cluster randomised controlled trial in 60 primary healthcare services in Australia. Overall, there were improvements in risk factor recording and in prescribing of recommended treatments among under-treated individuals, but it is unclear how this intervention was used in practice and what factors promoted or hindered its use. This information is necessary to optimise intervention impact and maximally implement it in a post-trial context. In this study protocol, we outline our methods to conduct a theory-based, process evaluation of the intervention. Our aims are to understand how, why, and for whom the intervention produced the observed outcomes and to develop effective strategies for translation and dissemination.
Methods/Design
We will conduct four discrete but inter-related studies taking a mixed methods approach. Our quantitative studies will examine (1) the longer term effectiveness of the intervention post-trial, (2) patient and health service level correlates with trial outcomes, and (3) the health economic impact of implementing the intervention at scale. The qualitative studies will (1) identify healthcare provider perspectives on implementation barriers and enablers and (2) use video ethnography and patient semi-structured interviews to understand how cardiovascular risk is communicated in the doctor/patient interaction both with and without the use of intervention. We will also assess the costs of implementing the intervention in Australian primary healthcare settings which will inform scale-up considerations.
Discussion
This mixed methods evaluation will provide a detailed understanding of the process of implementing a quality improvement intervention and identify the factors that might influence scalability and sustainability.
Trials registration
12611000478910.
Keywords
Knowledge translationProcess evaluationQuality improvement interventionClinical decision support systemsCardiovascular preventionCardiovascular riskPrimary healthcareMixed methodsTheory-based
Design and methods
Taking a mixed methods approach, we will conduct four discrete but inter-related studies to address our study objectives. Specifically, we will adopt an explanatory sequential design whereby the qualitative data analysis will be used to gain a better understanding of the quantitative findings [40].
Logic model
Drawing on the RE-AIM framework, a logic model was developed to assist in the planning, conduct, and evaluation of the research components (Figure
5
) [
41
]-[
44
]. The model assesses five dimensions of the intervention at different levels (individual, health service/clinic or organisation, and community/population): (1) participant
R
each; (2)
E
ffectiveness of the intervention; (3)
A
doption by the target health service; (4)
I
mplementation fidelity, costs, and adaptations made during delivery; and (5)
M
aintenance of intervention effects over time. The model identifies and describes inputs, activities, outputs, and outcomes of the intervention [
45
]. The four objectives have been mapped onto the relevant components of the RE-AIM framework.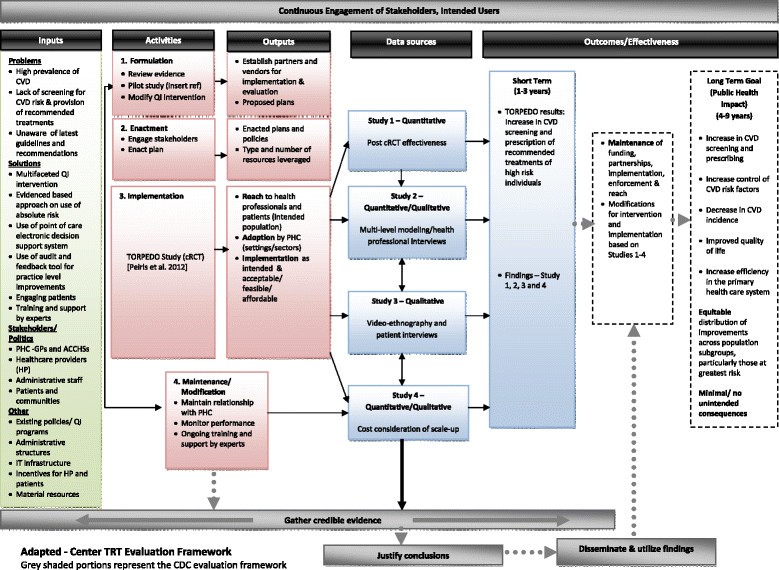 The logic model will be underpinned by three theoretical perspectives—realist evaluation [46], the theoretical domain framework (TDF) [47],[48], and normalisation process theory (NPT) [49],[50].
Realist evaluation
Realist evaluation seeks to answer the question what works, for whom, and in what circumstances?[46]. This is accomplished by identifying and understanding the underlying mechanisms by which the intervention succeeds or fails in varying contexts to produce the patterns of outcomes. Therefore, unpacking of the underlying generative mechanisms of the intervention and its effects is contingent on understanding the features of the context (i.e. roles and relationships of personnel at health services, IT infrastructure, economic conditions, demographic, motivation and skills of health professionals, etc.) [46],[51],[52].
Theoretical domain framework
Successful implementation of evidence-based guidelines and QI interventions depends largely on changing the behaviour of healthcare professionals and patients, who are influenced by external (i.e. organisational, environmental, resources) and internal (i.e. motivation, capability) factors. TDF is a consensus of numerous behaviour change models and comprises 14 domains derived from psychological and organisational theory (knowledge, skills, social/professional role and identity, beliefs about capabilities, optimism, beliefs about consequences, reinforcement, intentions, goals, memory attention and decision process, environmental context and resources, social influences, emotion, and behavioural regulation) [47],[48],[53].
Normalisation process theory
In order for healthcare innovation and technology to become routinely embedded in every day work, we need to understand how the innovation is integrated within the existing practices of a healthcare organisation. NPT assists in understanding how health professionals implement an intervention. NPT identified four main components: (1) coherence (sense making by participants), (2) cognitive participation (commitment and engagement by participants), (3) collective action (the work participants do to make the intervention function), and (4) reflexive monitoring (the degree to which participants reflect on or appraise the intervention [49],[54],[55].
Study 1: Post-trial effectiveness of the intervention (objective 1)
Aim
To assess the effects of the intervention at one year following completion of the cRCT.
Methods
At the end of study follow-up visit for the TORPEDO study, all 60 health services have the option to either continue the use of the intervention or have the intervention implemented for use in the usual care health services for an additional 12 months. A post-trial clinical audit data extraction at minimum of 24 months from baseline will be conducted for the health services expressing interest to use the intervention. The objective of this study is to assess the impact of the use of the intervention over time on the two primary outcomes: (1) proportion of CVD risk factor screening and (2) proportion of appropriate medication prescription in the high risk individuals for the intervention arm and usual care arm at post-end of study following baseline.
Analysis
Log-binomial regression will allow direct estimation of risks and risk ratios (i.e. relative risks) on each outcome. The model will be adjusted with intervention (yes vs. no) and time (baseline, 12 and 24 month) as categorical data where baseline is set as reference and interaction between intervention and time. The model will be adjusted with the intervention (yes or no) and with a random centre effect. Chi-square test and 95% confidence intervals (CI) will be computed.
Study 2: Multilevel modelling study (objective 2)
Aim
To determine what patient and health service level variables correlate with the trial outcomes.
Methods
Patient variables (age, gender, ethnicity, history of CVD, and diabetes) will be obtained from the automated clinical audit tool, and health service level variables will be collected through Team Climate Inventory (TCI) and Warr-Cook-Wall job satisfaction surveys, customised for use with general practices (GPs) and Aboriginal Community Controlled Health Services (ACCHSs), administered to all general practitioners and other practice and health service staff at the participating 60 sites [56],[57]. In addition, health service characteristics such as service size, participation in quality improvement programs, and type of primary healthcare (GP verses ACCHS) will be collected at randomisation.
Analysis
TCI is a 44-item questionnaire, and items are rated on a 5-point scale [56]. Job satisfaction is a 15-item questionnaire, and items are rated on a 7-point scale [57]. Multilevel regression model analysis will be conducted to evaluate the influence of team climate and job satisfaction on the primary study outcomes, controlling for patient's age, gender, practice size, type of PHC, and participation in quality improvement programs. The results will be interpreted within the context of the three conceptual perspectives to better understand what health service factors (if any) are important drivers of use of the intervention in routine practice.
Study 3: Interview study and video ethnography (objectives 2 and 3)
Study 4: Cost consideration of scale-up (objective 4)
Aim
The cost implications for health services to adopt the intervention, and deliver at scale in Australia.
Summary
A business model will be developed for health services to adopt and maintain the intervention. We will both quantitatively and qualitatively explore the factors that will influence costs for the various types of health services (i.e. large, medium and small health services, patient load/GP, etc.), capacity constraints within individual practices, the investment needed to adopt the intervention, and the potential returns to the practice in terms of patient care. These will be assessed across a diverse range of practices. This evidence will be obtained through clinical audit data, surveys, and health professional semi-structured interviews. The findings will be used to determine the economic viability of the widespread adoption and implementation of this intervention and inform policy by ascertaining the support that individual practices will need to accomplish these tasks and ultimately the costs to government of scaling up.
Ethical considerations
The study is approved by The University of Sydney Human Research Ethics Committee (2012/2183) and the Aboriginal Health & Medical Research Council (AH&MRC) of New South Wales (778/11). Participation agreements were signed between the participating health services and the coordinating research institute. De-identified patient level data is being extracted from health service software systems to analyse post-trial outcomes (study 1) and assess health service utilisation costs (study 4). Participants in the TCI and job satisfaction surveys (study 2) and the qualitative study components will be provided with an information sheet and asked to provide written informed consent to participate. Participants will be reassured of the confidential nature of any data collected, and they will be identified by a unique identification number only. Participants will be reminded that they can opt not to answer any questions or can stop interviews or videotaping at any time, and they will have a right to withdraw consent and cease involvement in the study without penalty.
Trial status
Data collection is underway. Preliminary qualitative data analysis is being conducted contemporaneously with data collection. Quantitative data analysis has not commenced.
Discussion
Addressing the challenges of CVD burden requires implementation strategies for increasing the uptake of well-established evidence into practice. Our attempt to address this with a multifaceted QI intervention was moderately but not uniformly successful, suggesting the need for a rigorous process evaluation to understand how and in what ways it was taken up in practice. Such evaluations are crucial to understanding how implementation strategies should be applied in non-trial settings.
Multifaceted interventions, by their nature, invariably lead to complex usage patterns which can make interpretation of study outcomes difficult. In order to maximise understanding that is relevant to other settings, process evaluation is therefore critical. The strength of our process evaluation is its multicomponent, multi-theory approach combining diverse study designs to make sense of how this particular knowledge translation strategy was adopted into practice. Further, by examining implementation from multiple perspectives (provider, patient, health services, and system) the findings are expected to provide both micro- and macro-system perspectives which will be of interest to policy makers and implementers. There are two key limitations to our approach (1) the majority of the data collection will occur toward the end of the trial and in the post-trial phase and may miss critical insights gained from early phase adoption processes; and (2) the study setting is limited to Australian primary healthcare settings and therefore may be only of relevance to health systems with similar contexts, financing, workforce structures, and adoption of electronic medical records.
Despite these caveats, the adoption and successful implementation of computerised QI interventions and strategies are the key challenges for healthcare systems worldwide. In 2009, the US government passed the Health Information Technology for Economic and Clinical Health Act as a stimulus to promote and adopt 'meaningful use' of information technologies. The Act provided incentive payments to hospitals and individual practices totalling $14–27 billion to adopt EHRs within 3 years to avoid financial penalties. This unprecedented investment is a reflection of the importance of information technology adoption for health systems reform. In Australia, the National E-Health Transition Authority was established in 2010 with a government investment of over $467 million to develop and implement e-health systems nationally. Despite such large publicly funded investments, there remains uncertainty around the factors that will promote successful adoption of computerised QI strategies.
This mixed methods process evaluation, grounded in a theoretical framework, will evaluate the impact of a complex, multifaceted intervention and help us to understand the knowledge translation considerations for use of computerised QI interventions in clinical practice.
Abbreviations
ACCHS:

Aboriginal Community Controlled Health Service
AH&MRC:

Aboriginal Health and Medical Research Council
BMI:

body mass index
CDS:

clinical decision support
cRCT:

cluster randomised controlled trial
CVD:

cardiovascular disease
EHR:

electronic health record
GP:

general practice
HIT:

health information technology
NCD:

non-communicable disease
NHMRC:

National Health and Medical Research Council
NPT:

normalisation process theory
QI:

quality improvement
RE-AIM:

reach, effectiveness, adoption, implementation, maintenance
TCI:

Team Climate Inventory
TDF:

theoretical domain framework
TORPEDO:

the treatment of cardiovascular risk in primary care using electronic decision support
Declarations
Acknowledgements
This study would not have been possible without the dedicated health professionals and patients that volunteered their time to improve the quality of care. We also thank our research staff Shannon McKinn, Marilyn Lyford, Genevieve Coorey, and Maria Agaliotis who aided in the data collection. Funding support for this project is provided by an Australian National Health and Medical Research Council (NHMRC) Project Grant (ID 1010547) and NSW Health. BP is supported by NHMRC post-graduate scholarship (ID APP1075308). DP was supported by an NHMRC Translating Research into Practice fellowship and now a NHMRC post-doctoral fellowship (ID 1054754). AP (APP1079301) and SJ (ID 1020430) are supported by NHMRC senior research fellowships. JJ was supported by NHMRC post-doctoral fellowship (ID 1037028). JR is funded by a Career Development and Future Leader Fellowship co-funded by the NHMRC and National Heart Foundation (APP1061793).
Authors' Affiliations
(1)
The George Institute for Global Health, University of Sydney, Sydney, Australia
(2)
University of Sydney, Sydney, Australia
(3)
University of New South Wales, Sydney, Australia
(4)
Queensland Aboriginal and Islander Health Council, West End, Australia
(5)
Bond University, Robina, Australia
Copyright
© Patel et al.; licensee BioMed Central. 2014
This article is published under license to BioMed Central Ltd. This is an Open Access article distributed under the terms of the Creative Commons Attribution License (http://creativecommons.org/licenses/by/4.0), which permits unrestricted use, distribution, and reproduction in any medium, provided the original work is properly credited. The Creative Commons Public Domain Dedication waiver (http://creativecommons.org/publicdomain/zero/1.0/) applies to the data made available in this article, unless otherwise stated.