Research

Open Access

Open Peer Review
This article has Open Peer Review reports available.
The development of effective behaviour change interventions to support the use of malaria rapid diagnostic tests by Tanzanian clinicians
Implementation Science
2014
9:83
Received: 17 December 2013
Accepted: 9 June 2014
Published: 26 June 2014
Abstract
Background
Parasitological confirmation is now recommended for all cases of suspected malaria. The roll-out of rapid diagnostic tests (RDTs) is hoped to enable this goal in low resource settings through point of care testing. However, simply making RDTs available has not led to high uptake of the tests or adherence to results by clinicians, with malaria continuing to be overdiagnosed in many settings. We undertook to design an evidence-based intervention package that would be sufficient to support the introduction of RDTs at dispensaries in Tanzania, to be evaluated through the Targeting Artemisinin Combination Therapy (TACT) cluster randomised controlled trial.
Methods
We describe five steps in our intervention design: formative research, review of existing evidence and theory, a workshop to define the intervention approach and content and results of formative research, engagement with behaviour change theory and literature, detailed design of intervention materials and piloting and pretesting of intervention materials. This involved fieldwork with a total of 19 health workers and 212 community members in northeast Tanzania.
Results
The formative research suggested that RDTs were a potential source of conflict in the health worker-patient interaction, but that health workers used various techniques to resolve this, including provision of antimalarial drugs for RDT-negative patients. Our reviews showed that evidence was mixed regarding the effectiveness of different methods and theories to support change in prescribing practice. Our design process is presented, drawing from this collective evidence. We describe the final TACT intervention package (including interactive small group workshops, feedback text messages, motivational text messages and patient information leaflets and posters) in terms of its programme theory and implementation theory.
Conclusions
Our study suggests that evidence-based design of complex interventions is possible. The use of formative research to understand malaria overdiagnosis in context was central to the design of the intervention as well as empirical research to test materials and methods prior to implementation. The TACT interventions may be appropriate for other settings where clinicians face similar challenges with malaria diagnostics.
Trial registration
Keywords
Complex interventionMalariaRapid diagnostic testsPrescribing behaviourClinical practiceBehaviour change theoryEvidence-based researchFormative research
Background
Parasitological confirmation is now recommended for all cases treated as malaria[1]. This reflects recognition of falling malaria prevalence[2] concurrent with overdiagnosis of malaria, with 47% to 95% of patients without malaria parasitaemia being treated with antimalarials in malaria endemic countries[3]. The roll-out of rapid diagnostic tests (RDTs) is hoped to enable this goal in low resource settings through point of care testing[4]. However, availability of RDTs has not meant universal uptake of the tests or adherence to results, with malaria continuing to be overdiagnosed in many settings[3, 5]. In Tanzania, overdiagnosis of malaria has been reduced with pilot implementation of RDTs[6–8], but research on routine practice suggests that there is still room for improvement, with almost 50% of febrile patients not being tested and 18% of RDT negative cases being treated with an antimalarial in 2012[9]. Qualitative studies in Tanzania and other countries suggest that supporting interventions need to address more complex issues than how to do the test[7, 10–13], but it is not clear what intervention components are sufficient to support change and be replicable at scale.
The dominant pedagogical approach in Tanzania, including for medical education, has been didactic teaching to large classes with limited engagement of the learner in the process[14]. This is mirrored in clinician-patient interactions, where didactic health 'education' is promoted[15]. Student-centred teaching and active, inquiry-based learning have become popular in medical education in Europe and the United States[16], and these constructivist methods have also influenced international education agenda, although their applicability in Tanzania is unclear[17]. The TACT trial at primary healthcare facilities in northeast Tanzania aims to determine whether the addition of small group participatory methods of training for health workers, and communications targeted at patients, are able to improve adherence to national guidelines for use of RDTs and prescription of antimalarial treatment when compared with routine Ministry of Health training.
The processes of development and justification for specific designs of interventions that are trialled in public health are often not published (Chandler et al., under review), hampering development of knowledge of what interventions and theories 'work' under different circumstances[18]. In order to develop an intervention that could be tested in a trial and reproducible and sustainable in practice, we undertook a careful process to develop an evidence-based, theoretically informed intervention package to support the uptake of RDTs and adherence to test results. In this paper, we present each stage of our intervention design and a summary of key findings that shaped the design of the intervention. We then present an overview of the programme theory and implementation theory for the intervention components to be tested in this cluster RCT.
Methods
A summary of the steps involved in the TACT intervention design can be seen in Figure
1
. The remit was to develop methods and materials that could be tested in a three-arm intervention trial, comparing (A) routine training of health workers with (B) routine training plus an extended health worker-oriented intervention and (C) routine and extended health worker intervention plus a patient-oriented intervention. The details of the extended health worker- and patient-oriented interventions were not set, although there was interest in applying a broadly constructivist pedagogical approach for arm B. The trial was to be undertaken at dispensaries, which are small primary healthcare centres typically staffed by two or three clinician health workers, including clinical officers and nursing officers, who undertake the work of diagnosis and treatment. The trial was to take place in areas of low and moderate malaria endemicity, where transmission has been declining over the past decade[
19
].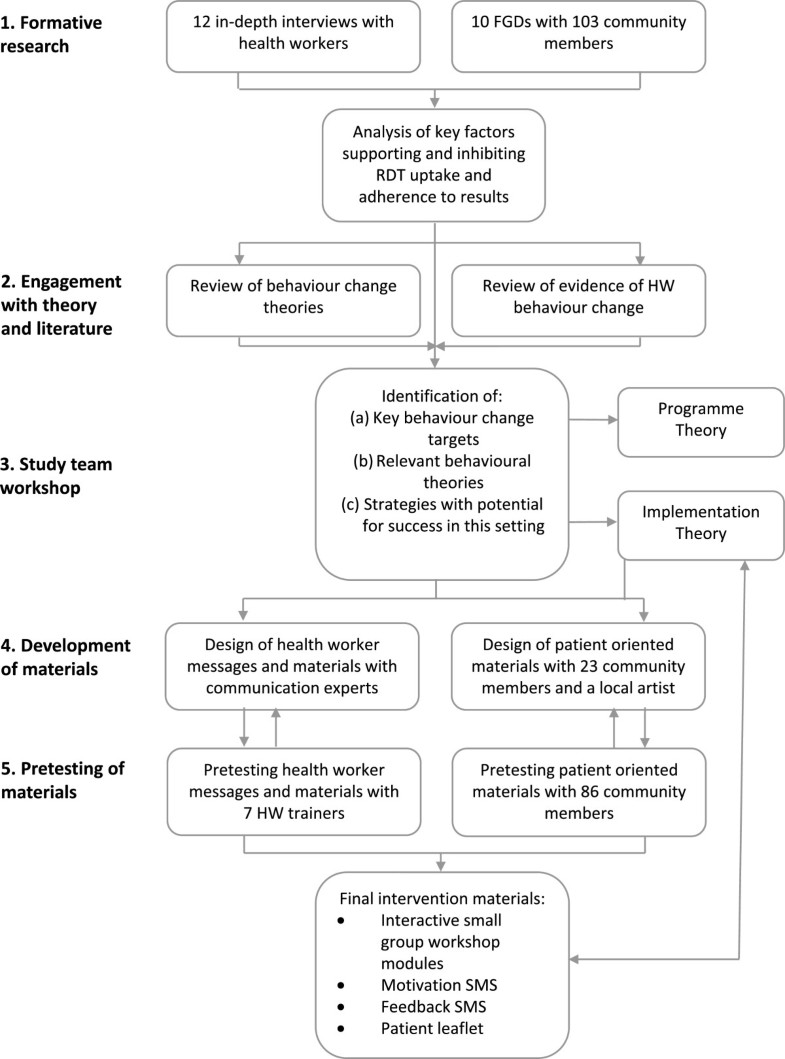 Results
Here we outline selected key outputs from each stage of our intervention design process.
Discussion
Prescribers in resource poor countries are now being challenged by diagnostic tests that present them with a different philosophy of care. This paper describes an 'evidence-based' approach to the design of a health worker intervention and a patient leaflet to support change in practice towards the use of malaria RDTs and adherence to test results. This paper answers the call for clearer descriptions of interventions in order to inform others' future work[18]. The cluster randomised trial that evaluated these interventions showed that both were more effective than the standard intervention implemented to support RDT introduction, and the trial arm with both interventions was most effective, almost eliminating over treatment of malaria (Cundill et al., forthcoming).
The results of our formative research were central to defining and designing the TACT interventions. These formative findings resonate with reports from elsewhere and as such may suggest that the interventions may be relevant to other settings. For example, RDTs also raised conflicts over their own clinical judgement for clinicians in Ghana[12], as was reported previously with microscopy in Tanzania[10]. The narratives employed by health workers in this study to cope with this conflict, which undermined the usefulness, accuracy and relevance of these tests, have also been reported elsewhere, for example in Uganda[58]. Dealing with this conflict posed by RDTs through identifying alternative disease(s) has also been reported in different settings, while simultaneously drawing attention to the lack of support for diagnosing and treating alternative causes across settings with different levels of malaria transmission[12, 58–60]. The experimentation described by both health workers and patients in trying out adherence to test results was also reported in Ghana amongst early adopters of RDTs[12] where the importance of discussion with colleagues in enabling integration of RDTs into routine logistics and practice was also identified. Where such similar experiences and challenges with RDTs are identified, it is possible that a similar or adapted version of the TACT interventions may be effective in increasing uptake of RDTs and adherence to results. Where different challenges are identified, for example concerns about blood taking in malaria RDTs[61], alternative or additional strategies may need to be devised. In any setting, a clear understanding of the current and historical use of malaria diagnostics is likely to be central to supporting the development of effective interventions to support RDT implementation.
This paper demonstrates the time, expertise and resources required for the design of complex interventions, each of which is greater than is implied by the optimistic view that off-the-shelf systematic reviews and behaviour change theories can be directly applied to intervention design[22].
Conclusions
Our study suggests that evidence-based complex intervention design is possible. We recommend that such evidence includes formative research to understand insider perspectives in context of local priorities and histories as well as empirical research to test materials and methods prior to implementation. Drawing on wider evidence and theory from other interventions will continue to be challenging until the design of interventions is routinely published.
Ethics
The study was approved by the Ethical Review Boards of the National Institute for Medical Research in Tanzania (NIMRlHQ/R.8cNol. 11/24) and the London School of Hygiene and Tropical Medicine (Approval no. 5877). The trial was registered with clinicaltrials.gov (Identifier #NCT01292707) and was subject to external monitoring from LSHTM to ensure adherence with the protocol.
Declarations
Acknowledgements
We are grateful to the health workers and community members who participated in the formative research and the development and testing of intervention materials. We thank Annie Willetts and Monique Oliff of the Wellsense team for their hard work on the development of the training materials. We thank Rebecca Tremain and Emily Foster for piloting the training and training trainers. We are grateful to Dr Alex Rowe of the Malaria Branch, Centres for Disease Control, Atlanta and Professor Chris Whitty, Professor Sir Andy Haines and Dr Shunmay Yeung at the London School of Hygiene & Tropical Medicine for their inputs into the intervention design process. We thank Juma Tety for his artistry work.
This study was funded by the ACT Consortium through a grant from the Bill and Melinda Gates Foundation to the London School of Hygiene & Tropical Medicine.
Authors' Affiliations
(1)
Department of Global Health and Development, London School of Hygiene & Tropical Medicine, London, UK
(2)
Joint Malaria Programme, Kilimanjaro Christian Medical Centre, Moshi, Tanzania
(3)
Nutrition and Reproductive Health Unit, Ministry of Health, Mont Fleuri, Seychelles
(4)
Institute of Health and Society, University of Oslo, Blindern, Norway
(5)
Department of Disease Control and Vector Biology, London School of Hygiene & Tropical Medicine, London, UK
References
World Health Organisation: Guidelines for the Treatment of Malaria. 2010, Geneva, Available online at http://www.who.int/malaria/publications/atoz/9789241547925/en/index.html, 2Google Scholar
D'Acremont V, Lengeler C, Genton B: Reduction in the proportion of fevers associated with Plasmodium falciparum parasitaemia in Africa: a systematic review. Malar J. 2010, 9: 240-View ArticlePubMedPubMed CentralGoogle Scholar
Rao VB, Schellenberg D, Ghani AC: Overcoming health systems barriers to successful malaria treatment. Trends Parasitol. 2013, 29: 164-180.View ArticlePubMedGoogle Scholar
Bell D, Wongsrichanalai C, Barnwell JW: Ensuring quality and access for malaria diagnosis: how can it be achieved?. Nat Rev Microbiol. 2006, 4: 682-695.View ArticlePubMedGoogle Scholar
Odaga J, Lokong JA, Donegan S, Garner P, Sinclair D: Rapid diagnostic tests versus clinical diagnosis for managing people with fever in malaria endemic settings (Review). Cochrane Database Syst Rev. 2014, 4:Google Scholar
D'Acremont V, Kahama-Maro J, Swai N, Mtasiwa D, Genton B, Lengeler C: Reduction of anti-malarial consumption after rapid diagnostic tests implementation in Dar es Salaam: a before-after and cluster randomized controlled study. Malar J. 2011, 10: 107-View ArticlePubMedPubMed CentralGoogle Scholar
Williams HA, Causer L, Metta E, Malila A, O'Reilly T, Abdulla S, Kachur SP, Bloland PB: Dispensary level pilot implementation of rapid diagnostic tests: an evaluation of RDT acceptance and usage by providers and patients–Tanzania, 2005. Malar J. 2008, 7: 239-View ArticlePubMedPubMed CentralGoogle Scholar
Masanja MI, McMorrow M, Kahigwa E, Kachur SP, McElroy PD: Health workers' use of malaria rapid diagnostic tests (RDTs) to guide clinical decision making in rural dispensaries, Tanzania. Am J Trop Med Hyg. 2010, 83: 1238-1241.View ArticlePubMedPubMed CentralGoogle Scholar
Bruxvoort K, Kalolella A, Nchimbi H, Festo C, Taylor M, Thomson R, Cairns M, Thwing J, Kleinschmidt I, Goodman C, Kachur SP: Getting antimalarials on target: impact of national roll-out of malaria rapid diagnostic tests on health facility treatment in three regions of Tanzania. Trop Med Int Health. 2013, 18: 1269-1282.View ArticlePubMedPubMed CentralGoogle Scholar
Chandler CIR, Jones C, Boniface G, Juma K, Reyburn H, Whitty CJ: Guidelines and mindlines: why do clinical staff over-diagnose malaria in Tanzania? A qualitative study. Malar J. 2008, 7: 53-View ArticlePubMedPubMed CentralGoogle Scholar
Chandler CIR, Mwangi R, Mbakilwa H, Olomi R, Whitty CJM, Reyburn H: Malaria overdiagnosis: is patient pressure the problem?. Health Policy Plan. 2008, 23: 170-178.View ArticlePubMedGoogle Scholar
Chandler CIR, Whitty CJ, Ansah EK: How can malaria rapid diagnostic tests achieve their potential? A qualitative study of a trial at health facilities in Ghana. Malar J. 2010, 9: 95-View ArticlePubMedPubMed CentralGoogle Scholar
Baiden F, Owusu-Agyei S, Okyere E, Tivura M, Adjei G, Chandramohan D, Webster J: Acceptability of rapid diagnostic test-based management of Malaria among caregivers of under-five children in rural Ghana. PLoS ONE. 2012, 7: e45556-View ArticlePubMedPubMed CentralGoogle Scholar
Stambach A: "Here in Africa, we teach; students listen": lessons about culture from Tanzania. J Curric Superv. 1994, 9: 368-385.Google Scholar
Montgomery CM, Mwengee W, Kong'ong'o M, Pool R: 'To help them is to educate them': power and pedagogy in the prevention and treatment of malaria in Tanzania. Trop Med Int Health. 2006, 11: 1661-1669.View ArticlePubMedGoogle Scholar
Mann KV: Theoretical perspectives in medical education: past experience and future possibilities. Med Educ. 2011, 45: 60-68.View ArticlePubMedGoogle Scholar
Vavrus F: The cultural politics of constructivist pedagogies: teacher education reform in the United Republic of Tanzania. Int J Educ Dev. 2009, 29: 303-311.View ArticleGoogle Scholar
Michie S, Fixsen D, Grimshaw JM, Eccles MP: Specifying and reporting complex behaviour change interventions: the need for a scientific method. Implement Sci. 2009, 4: 40-View ArticlePubMedPubMed CentralGoogle Scholar
Mmbando BP, Vestergaard LS, Kitua AY, Lemnge MM, Theander TG, Lusingu JP: A progressive declining in the burden of malaria in north-eastern Tanzania. Malar J. 2010, 9: 216-View ArticlePubMedPubMed CentralGoogle Scholar
Chandler CIR, Reynolds J, Palmer J, Hutchinson E: ACT Consortium Guidance: Qualitative Methods Training Materials. 2009, Available at http://www.actconsortium.org/qualitativemethodsguidance Google Scholar
Haaland A, Molyneux CS, Marsh V: Quality information in field research: Training manual on practical communication skills for field researchers and project personnel. 2006, WHO/TDR, Available online http://whqlibdoc.who.int/hq/2006/TDR_IRM_PCT_05.1_eng.pdf Google Scholar
MRC: Developing and Evaluating Complex Interventions: new guidance. 2008, London: Medical Research Council, Available online at http://www.mrc.ac.uk/documents/pdf/complex-interventions-guidance/ Google Scholar
Painter JE, Borba CP, Hynes M, Mays D, Glanz K: The use of theory in health behavior research from 2000 to 2005: a systematic review. Ann Behav Med. 2008, 35: 358-362.View ArticlePubMedGoogle Scholar
Grol RP, Bosch MC, Hulscher ME, Eccles MP, Wensing M: Planning and studying improvement in patient care: the use of theoretical perspectives. Milbank Q. 2007, 85: 93-138.View ArticlePubMedPubMed CentralGoogle Scholar
National Institute for Health and Clinical Excellence: Behaviour Change at Population, Community and Individual Levels. 2007, London: NICE Public Health GuidanceGoogle Scholar
Aboud FE: Virtual special issue introduction: health behaviour change. Soc Sci Med. 2010, 71: 1897-1900.View ArticlePubMedGoogle Scholar
Noar SM, Zimmerman RS: Health behavior theory and cumulative knowledge regarding health behaviors: are we moving in the right direction?. Health Educ Res. 2005, 20: 275-290.View ArticlePubMedGoogle Scholar
Eccles MP, Grimshaw JM, MacLennan G, Bonetti D, Glidewell L, Pitts NB, Steen N, Thomas R, Walker A, Johnston M: Explaining clinical behaviors using multiple theoretical models. Implement Sci. 2012, 7: 99-View ArticlePubMedPubMed CentralGoogle Scholar
Yoder PS: Negotiating relevance: belief, knowledge, and practice in international health projects. Med Anthropol Q. 1997, 11: 131-146.View ArticlePubMedGoogle Scholar
Rowe AK, de Savigny D, Lanata CF, Victora CG: How can we achieve and maintain high-quality performance of health workers in low-resource settings?. Lancet. 2005, 366: 1026-1035.View ArticlePubMedGoogle Scholar
Arhinful D, Das A, Heggenhougen K, Higginbotham N, Iyun F, Quick J, Ross-Degnan D: Social Scientists Working Group: International Network for the Rational Use of Drugs. How to Use Applied Qualitative Methods to Design Drug Use Interventions, Working Draft. 1996, Available online at http://www.inrud.org/documents/upload/How_to_Use_Applied_Qualitative_Methods.pdf Google Scholar
Cornwall A, Jewkes R: What is participatory research?. Soc Sci Med. 1995, 41: 1667-1676.View ArticlePubMedGoogle Scholar
Newton L, Newton D, Clark J, Kenny T, Moseley D, Purves I, Wilson R: Patient information leaflets: producing understandable PILs. J Inf Sci. 1998, 24: 167-181.View ArticleGoogle Scholar
Haaland A: Reporting with Pictures. A concept paper for researchers and health policy decision-makers. 2001, Geneva: UNDP/WOrld Bank/WHO Special Programme for Research and Training in Tropical DiseasesGoogle Scholar
Gal I, Prigat A: Why organizations continue to create patient information leaflets with readability and usability problems: an exploratory study. Health Educ Res. 2005, 20: 485-493.View ArticlePubMedGoogle Scholar
Haaland A, Moloney J, Mshana C: Instructions on use of AMs which give users visual logical reasons to finish course, may influence adherence understanding of connection between taking full course of treatment and clearance of malaria parasites in Tanzania and Uganda (poster). Multilateral Initiative on Malaria Conference. 2009, NairobiGoogle Scholar
Fussell D, Haaland A: Communicating with Pictures in Nepal. 1976, Kathmandu: UNICEF Nepal and National Development Service (NDS), Kirtipur UniversityGoogle Scholar
Houts PS, Doak CC, Doak LG, Loscalzo MJ: The role of pictures in improving health communication: a review of research on attention, comprehension, recall, and adherence. Patient Educ Couns. 2006, 61: 173-190.View ArticlePubMedGoogle Scholar
Hoffmann T, Worrall L: Designing effective written health education materials: considerations for health professionals. Disabil Rehabil. 2004, 26: 1166-1173.View ArticlePubMedGoogle Scholar
Mead N, Bower P: Patient-centredness: a conceptual framework and review of the empirical literature. Soc Sci Med. 2000, 51: 1087-1110.View ArticlePubMedGoogle Scholar
Dickinson D, Raynor DK, Duman M: Patient information leaflets for medicines: using consumer testing to determine the most effective design. Patient Educ Couns. 2001, 43: 147-159.View ArticlePubMedGoogle Scholar
Haaland A: Pretesting communication materials with special emphasis on child health and nutrition education: a manual for trainers and supervisors. 1984, Rangoon, Burma: UNICEFGoogle Scholar
Oxman AD, Thomson MA, Davis DA, Haynes RB: No magic bullets: a systematic review of 102 trials of interventions to improve professional practice. CMAJ. 1995, 153: 1423-1431.PubMedPubMed CentralGoogle Scholar
Grimshaw J, Shirran L, Thomas R, Mowatt G, Fraser C, Bero L, Grilli R, Harvey E, Oxman A, O'Brien M: Changing provider behaviour: an overview of systematic reviews of interventions to promote implementation of research findings by healthcare professionals. Getting Research Findings into Practice. Edited by: Haines A, Donald A. 2002, London: BMJ Books, 29-68. 2View ArticleGoogle Scholar
Grol RP, Grimshaw J: From best evidence to best practice: effective implementation of change in patients' care. Lancet. 2003, 362: 1225-1230.View ArticlePubMedGoogle Scholar
Ross-Degnan D, Laing R, Santoso B, Ofori-Adjei D, Lamoureux C, Hogerzeil H: Improving pharmaceutical use in primary care in developing counties: a critical review of experience and lack of experience. Presented at the International Conference on Improving Use of Medicines. 1997, Chiang Mai, ThailandGoogle Scholar
le Grand A, Hogerzeil HV, Haaijer-Ruskamp FM: Intervention research in rational use of drugs: a review. Health Policy Plan. 1999, 14: 89-102.View ArticlePubMedGoogle Scholar
World Health Organisation: Interventions and strategies to improve the use of antimicrobials in developing countries. 2001, Geneva: Drug Management ProgramGoogle Scholar
Mann KV, Gordon J, MacLeod A: Reflection and reflective practice in health professions education: a systematic review. Adv Health Sci Educ Theory Pract. 2009, 14: 595-621.View ArticlePubMedGoogle Scholar
Wenger E: Communities of Practice. Learning, Meaning, and Identity. 1998, New York: Cambridge University PressView ArticleGoogle Scholar
Scho¨n D: The reflective practitioner. 1983, San Francisco: Jossey-BassGoogle Scholar
Kjeldmand D, Holmstrom I, Rosenqvist U: Balint training makes GPs thrive better in their job. Patient Educ Couns. 2004, 55: 230-235.View ArticlePubMedGoogle Scholar
Kjeldmand D, Holmstrom I: Balint groups as a means to increase job satisfaction and prevent burnout among general practitioners. Ann Fam Med. 2008, 6: 138-145.View ArticlePubMedPubMed CentralGoogle Scholar
Kolb D: Experiential learning: experience as the source of learning and development. 1984, New Jersey: Prentice-HallGoogle Scholar
Krasner MS, Epstein RM, Beckman H, Suchman AL, Chapman B, Mooney CJ, Quill TE: Association of an educational program in mindful communication with burnout, empathy, and attitudes among primary care physicians. JAMA. 2009, 302: 1284-1293.View ArticlePubMedGoogle Scholar
Haaland A, Sopiene R, Kuksa L, Skrastina I, Biraua E, Skerbiene A, Gajauskiene V, Kaupiene J, Bielskiene V: Using guided self-observation and reflection Increase motivation to learn communication skills (poster). EACH (European Association for Communication in Health) conference. 2010, Verona, ItalyGoogle Scholar
Zurovac D, Sudoi RK, Akhwale WS, Ndiritu M, Hamer DH, Rowe AK, Snow RW: The effect of mobile phone text-message reminders on Kenyan health workers' adherence to malaria treatment guidelines: a cluster randomised trial. Lancet. 2011, 378: 795-803.View ArticlePubMedPubMed CentralGoogle Scholar
Asiimwe C, Kyabayinze DJ, Kyalisiima Z, Nabakooza J, Bajabaite M, Counihan H, Tibenderana JK: Early experiences on the feasibility, acceptability, and use of malaria rapid diagnostic tests at peripheral health centres in Uganda-insights into some barriers and facilitators. Implement Sci. 2012, 7: 5-View ArticlePubMedPubMed CentralGoogle Scholar
Baltzell K, Elfving K, Shakely D, Ali AS, Msellem M, Gulati S, Martensson A: Febrile illness management in children under five years of age: a qualitative pilot study on primary health care workers' practices in Zanzibar. Malar J. 2013, 12: 37-View ArticlePubMedPubMed CentralGoogle Scholar
Yeung S, Chandler CIR, Tabernero P, Rada O, de Souza M, Boravan M, Nguon C: Rapid Diagnostic Tests in the Cambodian private sector: How (well) are they being used in practice?. American Society of Tropical Medicine & Hygiene. 2011, PhiladelphiaGoogle Scholar
Comoe CC, Ouattara AF, Raso G, Tanner M, Utzinger J, Koudou BG: Willingness to use a rapid diagnostic test for malaria in a rural area of central Cote d'Ivoire. BMC Public Health. 2012, 12: 1089-View ArticlePubMedPubMed CentralGoogle Scholar
Copyright
© Chandler et al.; licensee BioMed Central Ltd. 2014
This article is published under license to BioMed Central Ltd. This is an Open Access article distributed under the terms of the Creative Commons Attribution License (http://creativecommons.org/licenses/by/2.0), which permits unrestricted use, distribution, and reproduction in any medium, provided the original work is properly credited. The Creative Commons Public Domain Dedication waiver (http://creativecommons.org/publicdomain/zero/1.0/) applies to the data made available in this article, unless otherwise stated.