Study protocol
Open Access
Open Peer Review
This article has Open Peer Review reports available.
Innovations in major system reconfiguration in England: a study of the effectiveness, acceptability and processes of implementation of two models of stroke care
Implementation Science
2013
8:5
Received: 5 November 2012
Accepted: 19 December 2012
Published: 5 January 2013
Abstract
Background
Significant changes in provision of clinical care within the English National Health Service (NHS) have been discussed in recent years, with proposals to concentrate specialist services in fewer centres. Stroke is a major public health issue, accounting for over 10% of deaths in England and Wales, and much disability among survivors. Variations have been highlighted in stroke care, with many patients not receiving evidence-based care. To address these concerns, stroke services in London and Greater Manchester were reorganised, although different models were implemented. This study will analyse processes involved in making significant changes to stroke care services over a short time period, and the factors influencing these processes. We will examine whether the changes have delivered improvements in quality of care and patient outcomes; and, in light of this, whether the significant extra financial investment represented good value for money.
Methods/design
This study brings together quantitative data on 'what works and at what cost?' with qualitative data on 'understanding implementation and sustainability' to understand major system change in two large conurbations in England. Data on processes of care and their outcomes (e.g. morbidity, mortality, and cost) will be analysed to evidence services' performance before and after reconfiguration. The evaluation draws on theories related to the dissemination and sustainability of innovations and the 'social matrix' underlying processes of innovation. We will conduct a series of case studies based on stakeholder interviews and documentary analysis. These will identify drivers for change, how the reconfigurations were governed, developed, and implemented, and how they influenced service quality.
Discussion
The research faces challenges due to: the different timings of the reconfigurations; the retrospective nature of the evaluation; and the current organisational turbulence in the English NHS. However, these issues reflect the realities of major systems change and its evaluation. The methods applied in the study have been selected to account for and learn from these complexities, and will provide useful lessons for future reconfigurations, both in stroke care and other specialties.
Keywords
StrokeImprovement scienceService reorganisationOrganisational changeOutcomesLeadershipImplementationHealth services researchCost effectiveness
Background
Significant changes in provision of clinical care within the English National Health Service (NHS) have been discussed in recent years, with the proposal to concentrate specialist services, such as major trauma, cardiac surgery, and specialist paediatrics, in fewer centres[1, 2]. Such 'reconfigurations' have been defined as, 'a deliberately induced change of some significance in the distribution of medical, surgical, diagnostic and ancillary specialties that are available in each hospital or other secondary or tertiary acute care unit in locality, region or healthcare administrative area'[3].
Stroke is a major public health issue, accounting for over 10% of deaths in England and Wales, and much disability among stroke survivors[4, 5]. Evidence indicated variations in quality of acute stroke care, as well as in services provided for the management of Transient Ischaemic Attack, rehabilitation, and life after stroke, with many patients not receiving evidence-based treatments[5, 6]. The Department of Health's National Stroke Strategy recommended major system change for stroke[4]. Recognising the need to improve stroke care at a system-wide level, London and Manchester led the way in this process. Other parts of the English NHS are now also seeking to reconfigure their stroke services[7].
Research has highlighted challenges in carrying out acute service reconfiguration[3, 8, 9], as has previous research on mergers of healthcare providers[10], particularly where there is resistance from professionals and the public[11]. Other research has highlighted challenges of major system change at local level[12]. This evaluation builds on previous research by studying the processes and outcomes of implementing system reconfigurations of acute stroke care in different contexts (London and Greater Manchester) and using different models. It also provides an opportunity to investigate health economic arguments about whether greater investment in acute stroke services might result in savings to the system overall[13].
The reconfigurations
While there were numerous parallels between the London and Greater Manchester reconfigurations, there were also important differences.
Both reconfigurations were supported by local commissioners and received additional finance to support the changes. However, the London reconfiguration received significantly more resource per head of population: the London resource (£20 million) represented £2.42 per head of population (8.28 million[14]), and £1,816.13 per estimated annual stroke admission, whereas the Greater Manchester resource (£3.5 million) represented £1.56 per head of population (2.24 million[14]), and £1,174.81 per estimated annual stroke admission (Note estimates for stroke admission are derived from a peer-reviewed analysis of the South London Stroke Register[15]).
Both reconfigurations went through similar processes, including consultation, data analysis, model development, and specification and selection of services. However, approaches to leadership and governance of these processes differed: the changes in Manchester were led by the Greater Manchester and Cheshire Cardiac and Stroke Network (which facilitates stakeholder collaboration to improve commissioning and provision of stroke and cardiac care across the Greater Manchester area), whereas in London they were led by Healthcare for London, a programme within the city's Strategic Health Authority (the organisation responsible for managing all NHS commissioning and provider organisations within London). Therefore, the London reconfiguration was led by a body with greater executive authority. The proposed changes in London and Manchester both met with a degree of resistance, for example, from local communities, service providers, and public representatives. The ways in which this was managed by reconfiguration leaders had a significant influence on how the models developed.
In terms of the models applied, prior to reconfiguration, in both London and Greater Manchester, patients presenting with stroke were taken to the nearest accident and emergency (A&E) department to receive stroke care. Both of the reconfigurations aimed to concentrate specialist stroke services in 'hub and spoke' models of provision. However, there were significant differences in these models, in terms of the services provided by the different levels of the new systems and the criteria applied in deciding where patients should be treated in the two systems.
In the reconfigured London model (Figure
1A
), the local population is served by eight Hyperacute Stroke Units (HASUs), which provide immediate response to stroke, including assessment, stabilisation and any primary intervention; 24 Stroke Units, offering rehabilitation services; and 24 Transient Ischaemic Attack (TIA) services. Any person presenting with a suspected stroke is transferred to a HASU for assessment and treatment, then repatriated to a Stroke Unit, to a nursing home, or to their own home. In creating this system, a number of healthcare organisations lost either some or all of their stroke services (e.g. closure of stroke unit).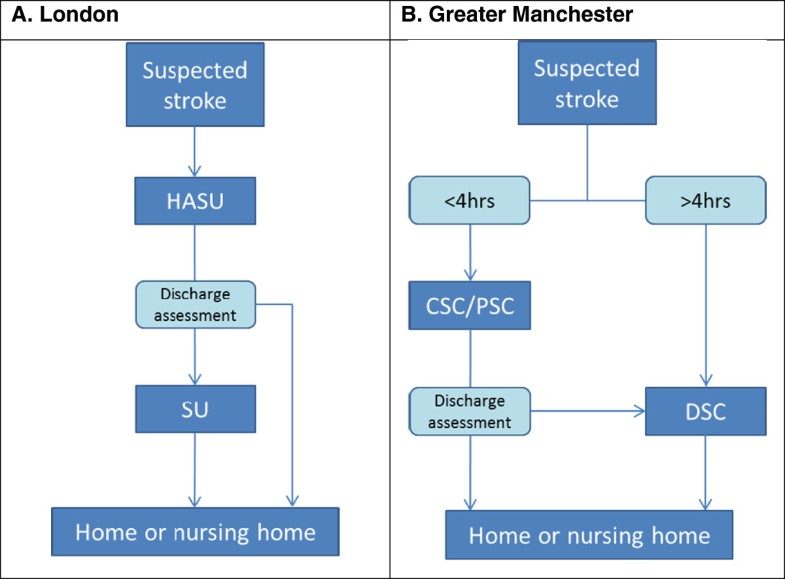 In the reconfigured Greater Manchester model (Figure 1B), the local population is served by 10 hospital organisations, or 'trusts,' providing District Stroke Centre (DSC) services; one Trust also hosts a Comprehensive Stroke Centre (CSC), which offers hyperacute stroke services in a neurosciences centre with access to interventional neuro-radiology and neurosurgery (24 hours per day, seven days per week); and two Trusts host Primary Stroke Centres (PSCs), providing thrombolysis (from 7 am to 7 pm, Monday to Friday). Any individual presenting within four hours of developing stroke symptoms is transferred to either the CSC or PSC for hyperacute care; once stable, he/she is repatriated either to a DSC, to a nursing home, or their own home. If presenting outside this four-hour 'window,' stroke patients in Greater Manchester are taken to the DSC to which they are nearest, much as they did prior to reconfiguration.
While there have been reconfigurations of acute services over recent years[16, 17], there have been few similar examples within the NHS of services being completely restructured for such large populations over such a short period of time; and nowhere else in the world has attempted anything similar for stroke.
Conceptual framework
These reconfigurations represent significant changes to the organisation and delivery of stroke services in London and Greater Manchester. A useful way to understand these reconfigurations is as processes of innovation. Reviews of the literature on the diffusion of innovations and major system change in healthcare draw attention to the need for more research on the processes by which such innovations are initiated (e.g. key drivers for change), implemented and sustained (or not), in what particular contexts[9, 18]. This evaluation aims to contribute to the development of this evidence base by studying in depth the implementation of major service reconfiguration, using the example of stroke services.
We will study these innovations in two contrasting but complementary ways. First, we will take a more traditional health technology assessment approach to address 'what works and at what cost?' On its own, however, this approach pays little attention to structural pressures, e.g. professional pressures or processes whereby organisations innovate as a result of economic, regulatory, or legal reasons[19, 20]. This approach also assumes innovation is always progressive and poor adopters are conservative, whereas resistance may be a rational response[21].
To understand how changes are implemented and sustained, the evaluation will draw on theories of adoption, diffusion, and sustainability of the innovation[18]; the characteristics of the innovation[22], and the role of local structural factors for example[23]. A review of evidence on diffusion of innovations[18] suggests sustainability relates to the nature of the innovation (e.g. the benefits it offers, how complex it is, how it is led, how stakeholders are involved, and use of evaluation and feedback) and the context into which it is introduced (local staff and organisational structures, inter-organisational networks, external pressures). We will also draw on Webster's concept of the 'social matrix'[21] originally applied to adoption of health technologies, where innovation is understood not as a technical, rational set of issues but in terms of requiring 'co-creation' by a range of stakeholders—where such processes create a 'social matrix' that is only as strong as the network of relations that hold it together. Studying the implementation of different models of system innovation in two contexts (London and Manchester) will contribute to understanding of the relationship between implementation and organisational context.
This evaluation was peer reviewed by the National Institute for Health Research prior to being funded (Project ref 10/1009/09), and received ethical approval in September 2011 from the London East NHS Research Ethics Committee (Ref 11/LO/1396).
Study aims, objectives, and research questions
Aims
This study aims to use formative evaluation methods to support and analyse reconfiguration of acute stroke services in two regions of England and, in doing so, identify lessons that will guide future reconfiguration work in stroke and other services.
Objectives
1.

To identify the barriers and facilitators for major system reconfiguration, implementation, and sustainability.

2.

To study whether the reconfigurations have delivered clinical and cost effective improvements that patients and public think are worthwhile.

3.

To identify lessons about major service reconfiguration that might be applied in other settings (i.e. other locations and other service domains).
Research questions
1.

What were the key processes of and factors influencing the development and implementation of two reconfigurations of acute stroke services?

2.

To what extent have changes delivered process and outcome improvements?

3.

Have changes delivered improvements that stakeholders (e.g. commissioners, staff, patients and the public, and reconfiguration leads) think are worthwhile?

4.

Have changes delivered value for money?

5.

Has the additional investment in London provided better outcomes than those achieved for less resource in Manchester?
Discussion
The quantitative and qualitative components of the evaluation both provide learning relating to major system changes of this kind. The 'what works and what cost' component will identify quantifiable changes in provision of stroke services, and what impact these changes had. The 'understanding implementation' component allows identification of influential factors, such as key obstacles to and enablers of change, and how best to engage with these. The concept of the social matrix with its focus on the interactions and networks formed by stakeholders, and how these influence innovation – e.g. in identifying what is important, in developing and engaging in the innovation, and in influencing the definition of an innovation's 'success' (thus influencing potential sustainability)[21]—is likely to provide worthwhile lessons on the realities of negotiating change in complex settings.
In addition, combining the qualitative and quantitative research components, for example, by feeding quantitative findings into the second phase of interviews, will permit an examination of how change activities, contextual factors, and outcomes interrelate. The service-level case studies, which will focus on the various trajectories of change, will permit identification of both generalisable and context-specific lessons.
The evaluation faces a number of methodological and practical challenges: mainly, these derive from the timing of the reconfigurations—relative to one another, and to the evaluation itself; in addition, this evaluation takes place during a period of significant structural changes across the English NHS.
First, the reconfigurations took place at slightly different times, and took different trajectories, with Greater Manchester taking a more phased approach than occurred in London. Therefore, as the reconfigurations have different 'before' and 'after' phases, it is possible that external factors—such as participation in national audits—might have influenced the two reconfigurations differently. Also, conclusions drawn about the relationship between reconfiguration and any improvements seen are less clear in 'before' and 'after' studies. It is possible that any improvements that occur could have occurred anyway and not as a direct result of the policies implemented. Without any randomisation, it is also harder to rule out potential biases and gaming, such as admitting less complex patients. However, these complexities reflect the 'real world' nature of service reconfiguration, and change more broadly, and are thus likely to be faced quite commonly in evaluations of this kind. As our research design actively seeks to analyse such contextual influences, this in fact represents an opportunity to improve understanding of the relationship between national ('macro') drivers for improvement and organisational ('meso') responses to these.
The retrospective nature of this evaluation impacts on the qualitative component of the research. For example, planning and implementation events could not be observed; in addition, interviewees' recollection of events will naturally vary. Ensuring suitable representation of stakeholders—based on documentary analysis—and applying Patton's validity criteria[35] in the analysis will be key to ensuring that important lessons are not missed. In terms of studying patient experience, only patients who have recently experienced reconfigured services will be interviewed, so that no 'before' equivalent will be available. However, we will compare these patient experience data with literature on the experiences of stroke patients and carers[36, 37], so that the analysis can examine whether patients' concerns have been addressed by changes brought about by the reconfigurations.
This evaluation takes place amid the current turbulence prompted by the abolition of organisations directly involved in the reconfigurations, such as Strategic Health Authorities and Primary Care Trusts, and the planned reorganisation of Cardiac and Stroke Networks. This has the potential to limit our access to people working in these organisations. To ensure these perspectives are captured, the study timetable was altered after funding was awarded, so that interviews with these stakeholders could commence earlier than originally planned. Further, the methods will allow us to capture some of the influences of such turbulence, and how these might be dealt with when sustaining change. The distraction and uncertainty brought by changes in associated organisations is common in many settings, meaning the research may have relevance in a wide range of settings.
Finally, it is likely that reconfigurations of this kind will become increasingly common, not just in stroke care, but in other healthcare priorities, for example cardiac and vascular surgery, and major trauma[38]. Reviews indicate that more research is needed to understand drivers, processes, and outcomes when implementing such large-scale changes[9, 18]. This evaluation's theoretical framework offers the potential to contribute significant lessons on such matters, with relevance both within the UK, and internationally.
Declarations
Acknowledgements
This protocol presents independent research commissioned by the National Institute for Health Research (NIHR) Health Services and Delivery Research Programme, funded by the Department of Health (study reference 10/1009/09). The views expressed are those of the authors and not necessarily those of the NHS, the NIHR or the Department of Health.
Authors' Affiliations
(1)
Department of Applied Health Research, University College London, London, United Kingdom
(2)
Manchester Business School, University of Manchester, Manchester, United Kingdom
(3)
Research Department of Primary Care & Population Health, University College London, London, United Kingdom
(4)
Division of Health & Social Care Research, School of Medicine, King's College London, London, United Kingdom
(5)
King's College London Stroke Research Patients and Family Group, Division of Health & Social Care Research, School of Medicine, King's College London, London, United Kingdom
(6)
Guy's and St Thomas' NHS Foundation Trust, St Thomas' Hospital, London, United Kingdom
(7)
The University of Manchester Stroke & Vascular Centre, Manchester Academic Health Science Centre, Salford Royal Hospitals NHS Foundation Trust, Stott Lane, United Kingdom
Copyright
© Fulop et al.; licensee BioMed Central Ltd. 2013
This article is published under license to BioMed Central Ltd. This is an Open Access article distributed under the terms of the Creative Commons Attribution License (http://creativecommons.org/licenses/by/2.0), which permits unrestricted use, distribution, and reproduction in any medium, provided the original work is properly cited.