Study protocol

Open Access

Open Peer Review
This article has Open Peer Review reports available.
Increasing efficacy of primary care-based counseling for diabetes prevention: Rationale and design of the ADAPT (Avoiding Diabetes Thru Action Plan Targeting) trial
Implementation Science
2012
7:6
Received: 30 November 2011
Accepted: 23 January 2012
Published: 23 January 2012
Abstract
Background
Studies have shown that lifestyle behavior changes are most effective to prevent onset of diabetes in high-risk patients. Primary care providers are charged with encouraging behavior change among their patients at risk for diabetes, yet the practice environment and training in primary care often do not support effective provider counseling. The goal of this study is to develop an electronic health record-embedded tool to facilitate shared patient-provider goal setting to promote behavioral change and prevent diabetes.
Methods
The ADAPT (Avoiding Diabetes Thru Action Plan Targeting) trial leverages an innovative system that integrates evidence-based interventions for behavioral change with already-existing technology to enhance primary care providers' effectiveness to counsel about lifestyle behavior changes. Using principles of behavior change theory, the multidisciplinary design team utilized in-depth interviews and in vivo usability testing to produce a prototype diabetes prevention counseling system embedded in the electronic health record.
Results
The core element of the tool is a streamlined, shared goal-setting module within the electronic health record system. The team then conducted a series of innovative, "near-live" usability testing simulations to refine the tool and enhance workflow integration. The system also incorporates a pre-encounter survey to elicit patients' behavior-change goals to help tailor patient-provider goal setting during the clinical encounter and to encourage shared decision making. Lastly, the patients interact with a website that collects their longitudinal behavior data and allows them to visualize their progress over time and compare their progress with other study members. The finalized ADAPT system is now being piloted in a small randomized control trial of providers using the system with prediabetes patients over a six-month period.
Conclusions
The ADAPT system combines the influential powers of shared goal setting and feedback, tailoring, modeling, contracting, reminders, and social comparisons to integrate evidence-based behavior-change principles into the electronic health record to maximize provider counseling efficacy during routine primary care clinical encounters. If successful, the ADAPT system may represent an adaptable and scalable technology-enabled behavior-change tool for all primary care providers.
Trial Registration
ClinicalTrials.gov Identifier NCT01473654
Keywords
Primary Care Provider
Electronic Health Record
Implementation Intention
Diabetes Prevention Program
Electronic Health Record System
Introduction
Type 2 diabetes mellitus (DM2) is widespread throughout the United States, affecting 25.8 million people (8% of the US population), with an expected 48 million Americans suffering from diabetes by the year 2050 [1, 2]. Effective prevention is critical to reversing this epidemic, and several studies have established that DM2 can be prevented through lifestyle behavior changes [3]. The landmark Diabetes Prevention Program (DPP) demonstrated a dramatic 58% reduction in incident DM2, with a comprehensive, resource-intensive behavioral change program for people with prediabetes [4].
Over 80% of US adults visit their primary care provider annually, creating an important venue for lifestyle-change counseling [5]. As such, the primary care provider is charged with identifying patients with prediabetes and counseling them on behavioral changes to prevent incident DM2. The literature has found mixed results of primary care counseling efforts, with some trials demonstrating modest effects in improving lifestyle behaviors such as exercise and diet and others demonstrating minimal or no effect [6, 7]. Characteristics of effective lifestyle-change interventions include goal setting, physical activity prescriptions, and telephone follow-up calls as part of the behavior-change plan [8–10]. In a trial of diabetic patients in primary care, intervention participants who received a goal-setting, computer-guided, physician-led lifestyle counseling program achieved recommended physical activity levels 53% of the time compared with 26% before the intervention (p < .001); 32% of intervention patients lost at least six pounds compared to only 18% of controls (p = .006) [11].
However, traditional clinical encounters do not support effective behavior change [12]. Providers are often poorly trained about effective behavior-change techniques,[13] and the provider-patient encounter is often brief and consumed with mandatory documentation and reporting requirements. The time remaining for counseling for behavior change is therefore very short, unstructured, often ineffective, and can be a source of frustration for all parties. Physicians frequently report doubting patients' willingness to adhere to the behavioral-intervention recommendations, and this has led to only a minority of physicians spending time discussing physical activity and lifestyle changes [14, 15]. These instances represent lost opportunities for health behavior-change counseling.
Health-related behavior change is grounded in multiple theoretical models that drive the current diabetes prevention efforts utilized in the DPP. Commonly used models include the Transtheoretical Model, Social Cognitive Theory, Health Belief Model, and the Self-Regulation Model [16–18]. At their core, these models rely on manipulation of patients' health cognitions such that they consciously choose healthy behaviors over unhealthy ones. Drivers for this change include perceived risk, motivation (intrinsic and extrinsic), relevance, self-efficacy, and response efficacy [17]. There is also evidence that there are many unconscious determinants of behavior as described in the Elaboration Likelihood Model (ELM) [19]. Influence or persuasion psychology incorporates both the conscious (central) and unconscious (peripheral) paths described in the ELM model to promote behavior changes. Together, all of the models suggest that there are multiple pathways to promoting behavior change that leverage both cognitive and noncognitive mechanisms. For example, cognitive-based approaches stress goal setting and feedback as potent means for promoting behavior changes, while noncognitive approaches employ social comparisons to unconsciously influence behavior [20].
Based on this rationale, we developed an innovative electronic health record (EHR)-based tool to help primary care providers rapidly and effectively counsel their prediabetes patients to improve their lifestyle behaviors. To achieve this goal, we have designed a system that incorporates elements of cognitive and noncognitive behavior-change elements adapted to the practicalities of primary care practice, including the time and cost constraints as well as the limited training of providers in behavior-change methods (see Figure
1
). This paper describes the development process of this new system. The ultimate goal is to test the ability of this new system to improve physical activity, glycemia, and diet among patients with prediabetes.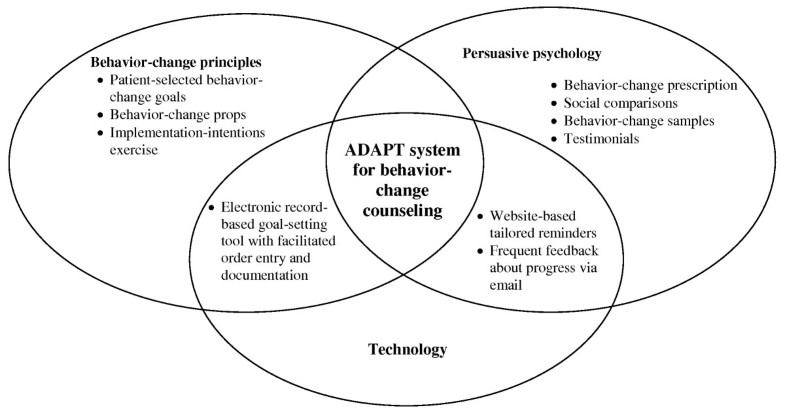 Discussion
While there is consensus that primary care providers need to be part of the battle against the rising epidemic of obesity and diabetes, their effectiveness in counseling for behavior change to date has been limited. Increasing the persuasive power of primary care providers in the provider-patient relationship may help turn the tide against diabetes. The ADAPT study incorporates persuasive design elements grounded in behavior-change theory and delivers them at the point of care in a workflow-friendly manner. The prototype tool is the product of a unique multidisciplinary collaboration and utilized innovative usability methods to create a system that is feasible for daily use in primary care. In addition, it uses web-based platforms to extend the relationship between provider and patient without adding additional work to the provider. It also utilizes each stage of the provider-patient encounter, including the previsit and postvisit period, to embed and synergize persuasive methodologies to help boost the efficacy of provider counseling and help patients change their lifestyle behaviors to prevent the onset of diabetes. Moreover, the ADAPT tool has significant potential to be widely and easily disseminated among primary care providers with an EHR system.
Declarations
Acknowledgements
We would like to acknowledge the support for this research from The National Institute for Diabetes, Digestive and Kidney Diseases (NIH/NIDDK - 5K23DK081665).
Authors' Affiliations
(1)
Department of Medicine, Section of Preventive Medicine and Epidemiology, Boston University School of Medicine, Boston, USA
(2)
Department of Medicine, Division of General Internal Medicine, Mount Sinai School of Medicine, New York, USA
Copyright
© Mann and Lin; licensee BioMed Central Ltd. 2012
This article is published under license to BioMed Central Ltd. This is an Open Access article distributed under the terms of the Creative Commons Attribution License (http://creativecommons.org/licenses/by/2.0), which permits unrestricted use, distribution, and reproduction in any medium, provided the original work is properly cited.