Debate
Open Access
Open Peer Review
This article has Open Peer Review reports available.
Mapping new theoretical and methodological terrain for knowledge translation: contributions from critical realism and the arts
Implementation Science
2009
4:1
Received: 03 April 2008
Accepted: 05 January 2009
Published: 05 January 2009
Abstract
Background
Clinical practice guidelines have been a popular tool for the improvement of health care through the implementation of evidence from systematic research. Yet, it is increasingly clear that knowledge alone is insufficient to change practice. The social, cultural, and material contexts within which practice occurs may invite or reject innovation, complement or inhibit the activities required for success, and sustain or alter adherence to entrenched practices. However, knowledge translation (KT) models are limited in providing insight about how and why contextual contingencies interact, the causal mechanisms linking structural aspects of context and individual agency, and how these mechanisms influence KT. Another limitation of KT models is the neglect of methods to engage potential adopters of the innovation in critical reflection about aspects of context that influence practice, the relevance and meaning of innovation in the context of practice, and the identification of strategies for bringing about meaningful change.
Discussion
This paper presents a KT model, the Critical Realism and the Arts Research Utilization Model (CRARUM), that combines critical realism and arts-based methodologies. Critical realism facilitates understanding of clinical settings by providing insight into the interrelationship between its structures and potentials, and individual action. The arts nurture empathy, and can foster reflection on the ways in which contextual factors influence and shape clinical practice, and how they may facilitate or impede change. The combination of critical realism and the arts within the CRARUM model promotes the successful embedding of interventions, and greater impact and sustainability.
Conclusion
CRARUM has the potential to strengthen the science of implementation research by addressing the complexities of practice settings, and engaging potential adopters to critically reflect on existing and proposed practices and strategies for sustaining change.
Keywords
Knowledge TranslationHealth Care SettingCausal PowerResearch UtilizationImplementation Research
Background
In recent years, knowledge translation (KT) and evidence-based medicine have gained currency in health research through emphasis on moving 'knowledge off the shelves and into practice, making it relevant and accessible to practitioners and patients' [1]. Clinical practice guidelines have been a popular tool for the implementation of best clinical evidence from systematic research to improve the quality of health care. However, it is now widely understood that guidelines do not automatically change practice simply by establishing a knowledge base for practitioners [2]. Viewing clinical practice as 'an activity that simply attaches research to a local worksite' [3] overlooks the profound differences between settings in resources, as well as the established routines and cultural practices that influence and shape care [4].
Contrary to the view that best evidence can be disseminated across time and place and can achieve planned clinical behaviour change with reasonably predictable outcomes, a number of KT models have been developed to address the multiple and interrelated contextual interests, infrastructures, and procedures that are implicated in the adaptation of research to local health care practices [5, 6]. Common to these models is attention to identifying, describing, and assessing the practice environment and its influences, which may facilitate and/or impede the process of research transfer and use [6–9]. Other common features of the KT models are monitoring the progress of the transfer effort, and evaluating usage of the evidence-based innovation and its impact on outcomes of interest [2, 6, 9].
Notwithstanding these significant strengths, many of the existing KT models suffer from particular oversights. First, while they assert an interconnection between the elements of the process of research utilization, most commonly there is no theory embedded within the models to explicate how these elements are interconnected, or how these interconnections facilitate or impede research transfer and use. Despite notable consensus that the use of theory is crucial in the design and evaluation of implementation research [2, 6, 10–12], it is rarely and often ineffectively used [11]. Critics suggest that theory development and use in the KT literature is a linear and discrete process [10, 11] rendering implementation models ill-equipped to illuminate the complex interrelationships between various elements of the process of research utilization, including power relations, and how these interconnections facilitate or impede research transfer and use [2, 13]. A second oversight is that for the most part only quantitative methods are endorsed for the evaluation of the use of the evidence-based innovation and its impact on outcomes of interest [9]. Pawson and Tilley [14] argue that reliance on 'hard' outcome measures alone in evaluation frameworks does not facilitate understanding of the complexity of organizational systems and the multiple realities of stakeholders. This suggests that there is a need for a pluralist approach to the evaluation of implementation research in order to understand the interactions and complexities involved in KT initiatives [2, 8, 15].
A third oversight of KT models is that where effective translation strategies are identified [16–18], arts-based methodologies are neglected despite their educational potential to foster critical awareness, encourage adopters to envision new possibilities, and affect change. Complex social interventions that target cognitive and/or psychosocial behaviour change are particularly difficult [14] because there is considerable leeway for misinterpretation, resistance, or even rejection of the innovation [19]. Therefore, it is imperative that complex interventions make use of approaches that facilitate critical self-reflection by professionals about how contextual and cultural factors influence and shape their understandings, assumptions and practices [8, 20]. For the most part, however, KT strategies do not facilitate this kind of critical reflection; a limitation that is increasingly recognized [20, 21].
In seeking to transcend these oversights without forsaking the strengths of existing KT models, we advocate the integration of critical realism and arts-based methodologies into KT models that can best inform implementation research in the context of health care settings [
12
]. Such integration would: address the complexities of practice as a meaning-making activity; optimize interventions for local circumstances; target crucial factors in the organizational context that influence behaviour; disseminate evidence in a way that captures the imagination of practitioners and engages them in critical thought; and facilitate the achievement of best practice in health care settings. To illustrate this integration we have chosen the Ottawa Model of Research Use (OMRU, see Figure
1
) [
9
], an adjuvant model [
12
] that is widely known and utilized [
22
] to promote the use and application of research in a variety of clinical areas such as neonatal intensive care [
23
], tertiary hospital care [
24
], ulcer care [
25
], and nurse call centres [
26
]. In order to distinguish our integration of critical realism and arts-based methodologies from the original OMRU, we have named our proposed model Critical Realism and the Arts Research Utilization Model (CRARUM, see Figure
2
).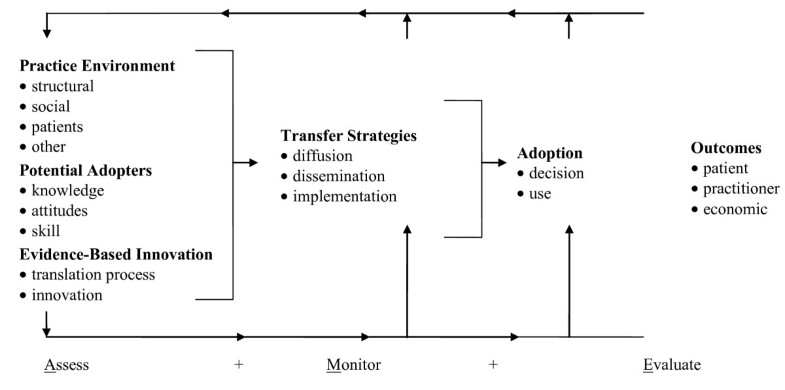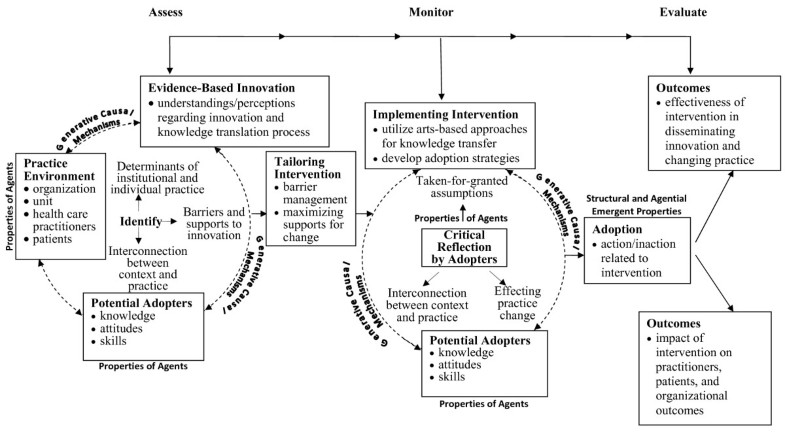 CRARUM shares a basic premise with OMRU, namely, that bridging the gap between research and practice is best achieved through the optimization of intervention and adoption strategies. As with OMRU, this is accomplished through the identification of factors and processes in the practice environment that promote and/or impede the adoption of research, and the setting-specific modifications of barriers and supports. Integral to this goal is the systematic process of assessing, monitoring, and evaluating the following six elements of research utilization: the practice environment; potential adopters; evidence-based innovation; strategies for transferring evidence into practice; evidence use; and outcomes of the process. Where CRARUM departs from OMRU is in its introduction of critical realism [27, 28] into the model of KT. Specifically, it applies key concepts from critical realism such as structural and agential powers, and generative mechanisms [27, 28] to more fully illuminate the processes of assessment, monitoring, and evaluation. The use of critical realism enables CRARUM to more accurately identify how the structural, agential, and intervention elements of the research utilization process are interconnected, and how these elements facilitate or impede action or inaction related to research uptake. Critical realism is a philosophical approach [27, 28], central to which is the ontological claim that there is a dimension of reality that extends beyond observable phenomena, independent of individual perception, that includes deep underlying generative mechanisms that may or may not be triggered depending on circumstance. These mechanisms are real in the sense that they impact human activity, and thus must be accounted for when seeking to explain social phenomena. Yet their impact can only be tendential because of human reflexive abilities to resist or to strategically circumvent structural and social impingements [29]. Thus, the effect of generative mechanisms is contingent upon the reflexive deliberations and creativity of social agents. As such, critical realism is a perspective that can illuminate mechanisms embedded in clinical settings and interventions, and facilitate understanding of the outcomes that may or may not result, depending on whether and how the mechanisms are triggered, blocked, or modified by structural and agential capabilities. Here, critical realism is utilized as a theoretical base that informs the choice and development of interventions as well as the interpretation of implementation study results.
Additionally, as illustrated in Figure 2, CRARUM introduces the use of arts-based approaches for the translation of research evidence. Arts-based approaches are advocated for their potential to foster critical awareness about taken-for-granted assumptions, and the relationship between context and practice [30, 31]. The arts elicits critical reflection by agents on the extent to which contextual/cultural factors influence and shape their understandings, assumptions, and practices, as well as how these factors facilitate or impede change efforts. As such, the use of the arts as a key KT feature can further facilitate tangible and lasting practice change.
Conclusion
KT, which is central to evidence-based medicine, has been identified as the most important contemporary initiative committed to reshaping biomedical reasoning and practice [3]. While the move to establish scientific research as a fundamental ground of medical decision-making has had an enthusiastic reception, it has also generated considerable debate [3, 51, 89]. Critics have focused on the separation that evidence-based medicine creates between research and practice-based settings and the one-way linear model of the relationship between the two that it creates [51]. Indeed, built into the evidence-based movement is the assumption that clinicians can take standardized guidelines and easily translate them into the 'messy' realities of clinical engagement [51]. It is our contention that KT initiatives that neglect the settings for practice change can undermine successful uptake, as well as prediction about what will work best in a given context. Another limitation of KT initiatives is their neglect of methods to engage potential adopters of the innovation in critical reflection about practice, the relevance and meaning of innovation in the context of their practice, and the identification of strategies for bringing about meaningful change in practice settings.
Given the inescapably interpretive dimension of evidence [19] and the complexity of health care settings [90, 91], we advance a KT model, CRARUM, which we believe overcomes limitations of earlier models. We have incorporated critical realism in the model to shed light on the structures, powers, generative mechanisms, and tendencies that characterize clinical settings and the agential reflexive capabilities of health care practitioners. We have argued that these data will not only help successfully embed interventions in settings, thereby ensuring greater impact and sustainability, but also generate understanding of how and why interventions work (or fail) in a particular setting including the actual degree of adoption, and the extent to which the adoption occurred as intended [63]. Furthermore, in its emphasis on arts-based methodologies, CRARUM underscores the importance of engaging potential adopters as agents capable of reflecting critically on their own assumptions, and on the relationship between their practice and its context. Central to this critical reflection amongst practitioners is an examination of the relevance and feasibility of the evidence-based innovation in relation to other political, strategic, contextual, and stakeholder considerations.
Given the ascendancy of KT, CRARUM has the potential to make an important contribution to implementation research. Clegg makes a compelling argument for critical realism, with its underlying themes of critique and emancipation, in that it offers a distinctive approach to the debate about evidence-based practice [51]. We go further by combining critical realism and arts-based methodologies in a way that enables agency to take centre stage and to reclaim KT for critique and emancipation.
Declarations
Acknowledgements
CRARUM was developed during the tenure of Dr. Kontos' Postdoctoral Fellowship (2004-2007) that was supported by the Canadian Institutes of Health Research (CIHR) Fellowship Program (MFE-70433), and the Health Care, Technology, & Place CIHR Strategic Research and Training Program (FRN: STP 53911). Dr. Kontos is presently supported by an Ontario Ministry of Health and Long-Term Care Career Scientist Award (2007–2012; Grant #06388) which facilitated the writing of this article. We extend warm thanks to Karen-Lee Miller for her constructive and insightful comments, and to our reviewers for their helpful critiques and suggestions.
Authors' Affiliations
(1)
Toronto Rehabilitation Institute, Toronto, Canada
(2)
Dalla Lana School of Public Health, University of Toronto, Toronto, Canada
Copyright
© Kontos and Poland; licensee BioMed Central Ltd. 2009
This article is published under license to BioMed Central Ltd. This is an Open Access article distributed under the terms of the Creative Commons Attribution License (http://creativecommons.org/licenses/by/2.0), which permits unrestricted use, distribution, and reproduction in any medium, provided the original work is properly cited.