Debate
Open Access
Open Peer Review
This article has Open Peer Review reports available.
Toward a policy ecology of implementation of evidence-based practices in public mental health settings
Implementation Science
2008
3:26
Received: 17 October 2007
Accepted: 16 May 2008
Published: 16 May 2008
Abstract
Background
Mental health policymaking to support the implementation of evidence-based practices (EBPs) largely has been directed toward clinicians. However, implementation is known to be dependent upon a broader ecology of service delivery. Hence, focusing exclusively on individual clinicians as targets of implementation is unlikely to result in sustainable and widespread implementation of EBPs.
Discussion
Policymaking that is informed by the implementation literature requires that policymakers deploy strategies across multiple levels of the ecology of implementation. At the organizational level, policies are needed to resource the added marginal costs of EBPs, and to assist organizational learning by re-engineering continuing education units. At the payor and regulatory levels, policies are needed to creatively utilize contractual mechanisms, develop disease management programs and similar comprehensive care management approaches, carefully utilize provider and organizational profiling, and develop outcomes assessment. At the political level, legislation is required to promote mental health parity, reduce discrimination, and support loan forgiveness programs. Regulations are also needed to enhance consumer and family engagement in an EBP agenda. And at the social level, approaches to combat stigma are needed to ensure that individuals with mental health need access services.
Summary
The implementation literature suggests that a single policy decision, such as mandating a specific EBP, is unlikely to result in sustainable implementation. Policymaking that addresses in an integrated way the ecology of implementation at the levels of provider organizations, governmental regulatory agencies, and their surrounding political and societal milieu is required to successfully and sustainably implement EBPs over the long term.
Keywords
Mental HealthDisease Management ProgramMental Health ParityPrior AuthorizationMental Health Consumer
Background
Mental health policymaking in the past several decades has explicitly encouraged the adoption and implementation of specific evidence-based practices (EBPs). Purchasers (such as Medicaid agencies) and regulators (such as departments of mental health) have established lists of preferred therapies, have conducted provider profiling, and have provided training and technical assistance – all in an attempt to ensure that best available interventions are being delivered by clinicians to their clients. State agencies, therefore, largely seem to be taking a clinical approach to the implementation of EBPs. Conversely, the emerging literature within implementation science suggests that implementation requires a systemic, or ecological, approach [1]. By ignoring this ecology, current policymaking to support the implementation of EBPs is itself not evidence-based.
In this article – directed toward policymakers and implementation researchers in public mental health settings – we argue that mandating the use of EBPs by individual clinicians and provider organizations, or narrowly focusing on effecting change within individual organizations, is unlikely to result in their successful and sustainable implementation unless the broader ecology within which these interventions are delivered is also supported. Following a brief overview of this implementation ecology, we present a framework to operationalize this ecology and illustrate it in Figure
1
. We end by highlighting potential strategies at each level of this framework that policymakers can deploy in order to support implementation of EBPs and summarize these strategies in Table
1
.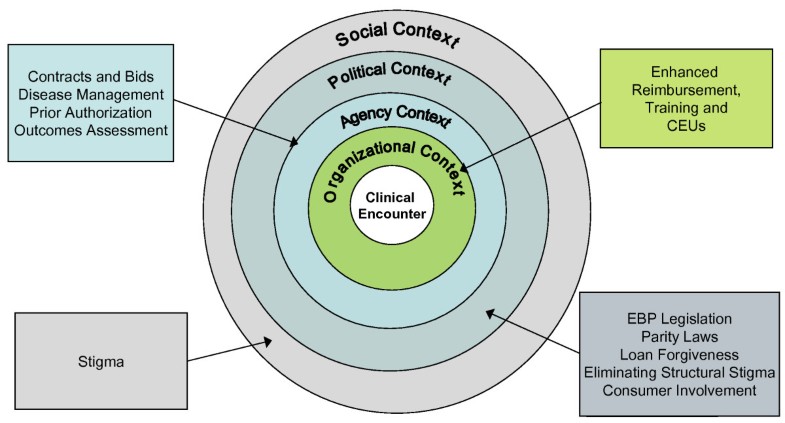 Table 1
Summary of Strategies for Policymakers
| Level in the Policy Ecology | Strategy |
| --- | --- |
| Provider organization | Developing flexible and enhanced reimbursement strategies that accommodate the increased costs of EBP implementation. |
| | Re-engineering continuing education units to support training in EBPs, auditing and feedback, and disallowing of certain courses for CEU credit. |
| Regulatory or purchaser agency | Influencing the type of care purchased by changing contracting and bidding procedures. |
| | Considering expansion of disease management programs as a model for comprehensive EBP implementation. |
| | Using procedural mechanisms such as prior authorization to support specific EBPs. |
| | Developing and measuring client-level outcomes to assess the effectiveness of EBPs, and aligning purchasing to the attainment of these outcomes. |
| Political | Carefully considering enabling legislation to purchase EBPs. |
| | Legislating mental health parity, and supporting the reduction of stigma and discrimination of individuals with mental health diagnoses. |
| | Legislating loan forgiveness programs for providers who adopt and promote the use of EBPs. |
| | Identifying and eliminating structural stigma in all legislation. |
| | Involving consumer advocates at all levels of implementation. |
| Social | Reducing stigma and discrimination that can prevent access to needed mental health services, including EBPs. |
The march toward evidence
Quality improvement within mental health services has long been a goal of policy. Operationalization of quality improvement efforts has occurred largely at the level of individual clinicians and their clients through the development and deployment of specific interventions backed by research evidence, clinical judgment, and client preferences. Pioneered at McMaster University as 'evidence-based medicine' [2, 3], applications of this approach to mental health have resulted in various EBPs [4, 5]. These practices are often packaged with manuals and other materials suitable for demonstrating a particular practice to clinicians [6–9].
Policymaking directed toward mental health quality improvement evolved to support these clinical efforts. Government agencies have supported the development and use of clinical guidelines to standardize care [10, 11]. They also have released reports on various aspects of quality [12] and have supported the widespread dissemination and use of evidence-based mental health interventions [7]. States have also incentivized (i.e., created a reward structure for using) EBPs – Oregon's passage of SB 267 in 2003 requiring the state to spend an increasing share of its budget in purchasing specified interventions is one example [13]. States also have required the use of particular clinical protocols (e.g. Texas' emphasis on the use of medication algorithms) [14]. The District of Columbia's Department of Mental Health has adopted a policy to support 'evidence-based psychotherapy,' which requires that all psychotherapy provided to clients in the District appear on a list maintained by the department [15]. Today, the number of individuals receiving interventions that are evidence-based is one of the Substance Abuse and Mental Health Services Administration's (SAMHSA) National Outcome Measures [16]. Efforts by governmental agencies to improve quality in Britain [17], Brazil [18], and Germany [19], to name a few examples, have also been largely focused at the clinical level.
Summary
Efforts to improve the quality of mental health services should consider the larger ecology that is known to affect implementation instead of solely focusing on specific interventions and the specific locations of their delivery. An integrated approach to policymaking at several levels of this ecology – as summarized in Table 1 – can support a more sustainable, and ultimately more successful, implementation process. In addition, implementation researchers need to be aware of influences at multiple levels of this ecology; absent a conducive environment, gains from even the best-designed approaches targeted solely at individual providers or organizations are unlikely to persist over the long term. Implementation researchers will also need to build in the systematic collection of data at multiple levels of the implementation ecology while designing their studies in order to identify and test change strategies that are likely to succeed. Practice leaders, such as executive directors of mental health organizations, are usually highly attuned to the environment within which their organizations operate, and will be important sources of information on, and change agents in, this ecological approach to implementation. We recommend that all individuals involved with implementation efforts consider these strategies as they collectively strive to increase the availability of EBPs to vulnerable populations.
Declarations
Acknowledgements
Dr. Raghavan is an investigator with the Center for Mental Health Services Research, at the George Warren Brown School of Social Work, Washington University in St. Louis; through an award from the National Institute of Mental Health (5P30 MH068579).
Authors' Affiliations
(1)
George Warren Brown School of Social Work, and Department of Psychiatry, School of Medicine, Washington University in St. Louis, St. Louis, USA
(2)
George Warren Brown School of Social Work, Washington University in St. Louis, St. Louis, USA
(3)
Social Metrics, Inc., Huntsville, USA
Copyright
© Raghavan et al; licensee BioMed Central Ltd. 2008
This article is published under license to BioMed Central Ltd. This is an Open Access article distributed under the terms of the Creative Commons Attribution License (http://creativecommons.org/licenses/by/2.0), which permits unrestricted use, distribution, and reproduction in any medium, provided the original work is properly cited.